Is it lazy to title your mani after one of the polishes you used in it if it fits? I mean, Bee's Knees Lacquer's "I See Plaid People" is the main polish for this mani and the prompt from #NailArtChallengeJan is plaid. Well, I guess it's a lazy day either way since I've been meaning to start writing this post for about four hours now. I found myself doing a lot of other things instead. My bad. :0 Oh, and I also got tired of patching the crack on my pinkie fingernail so I decided to just file my nails down straight. I tend to fail at squared off nails because I keep snapping the tips off, but this is just my non-dominant hand so maybe I can keep it up. Plus, I've been doing a little better at oiling my nails more often and that keeps them flexible and less likely to crack. We shall see! 😀
This was my first time stamping my own plaid design onto my nails and I'm pleased to say I messed it up but I'm still happy with the results. Plaid has always just been one of those fabric patterns that's there and so present in my life (I was attending high school during the "grunge" age) that I always took for granted what silent rules made plaid…plaid! So I jumped right in and stamped pseudo-randomly and things like the lines are not going the right way all the time. More study is needed for more authentic results. Still. Using CICI&SISI's acrylic stamping plate Plaid Overprint 02 was really easy. I had no problem with pickup on my clear stamper as long as I cleaned the plate after each use. And there was plenty of variety in pattern so I can get a ton of use out of this. It even has argyle! Now, I'd still have to want to do a plaid nail design, but I've been really admiring some of the handsome plaid looks I've seen in the past months so I think the answer to that is, yes! I do want to do more plaid nail art in the future!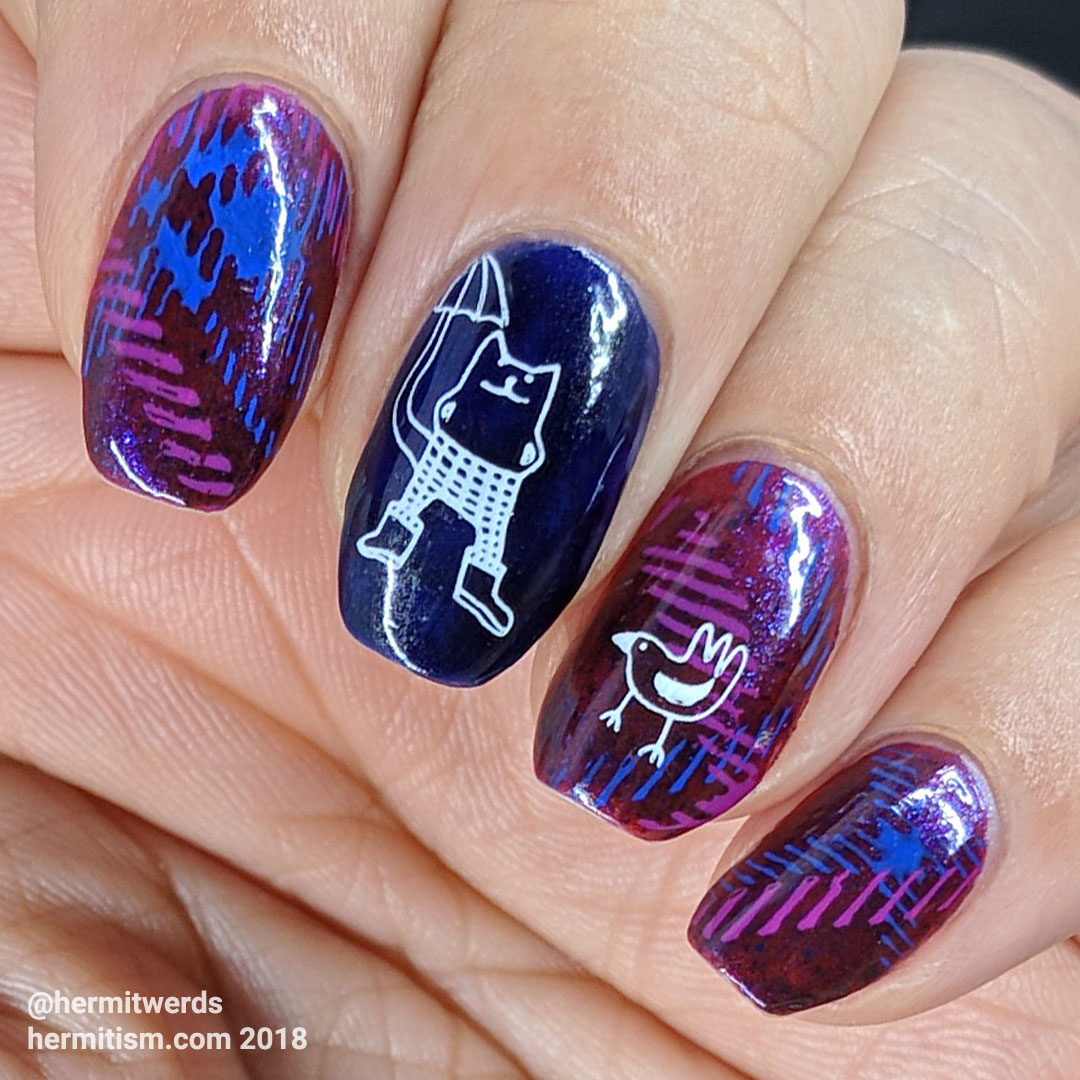 Plaid stamping plate comparison
Edit 20210208: CICI&SISI closed shop over a year ago, and Clear Jelly Stamper has since released bigger and better plaid stamping plates. If you're looking for the best bang for buck plaid stamping plate advice, I recommend you go watch Reza Blade's comparison between UberChic and Clear Jelly Stamper. She also describes different kinds of plaid patterns, how to get best results, etc.
CICI&SISI is not the only mix and match layered plaid plate out there. Clear Jelly Stamper has two 6x6cm plaid plates (Perfectly Plaid CjS-08 and Saint Pat's Pot of Gold CjSH-01 @ $6 USD each). I do not own either of them but, just comparing the patterns, I think the one I picked has the best variety for strictly plaid patterns and at 9.5×14.5cm with a $7 USD price point you are getting more patterns for only a little more money. CICI&SISI also has a whole set in their plaid series. I do not think it is accurately-named because only one of the other plates really feels like it has plaid patterns, but "Layered Plaid Series" is still nicely descriptive of at least two of the plates. The other two plates in the series feel more like CICI&SISI covering more common cloth patterns. I'd probably be all over them if I were more of an abstract/pattern nail artist. 😉
Now I'm not trying to knock Clear Jelly Stamper. I just ordered nine stamping plates from them. I used their stamper (hah) on this mani. But as far as plaid plates go, I've stated where I think the best value is if you can only have one. But don't take my word for it, here's a comparison graphic: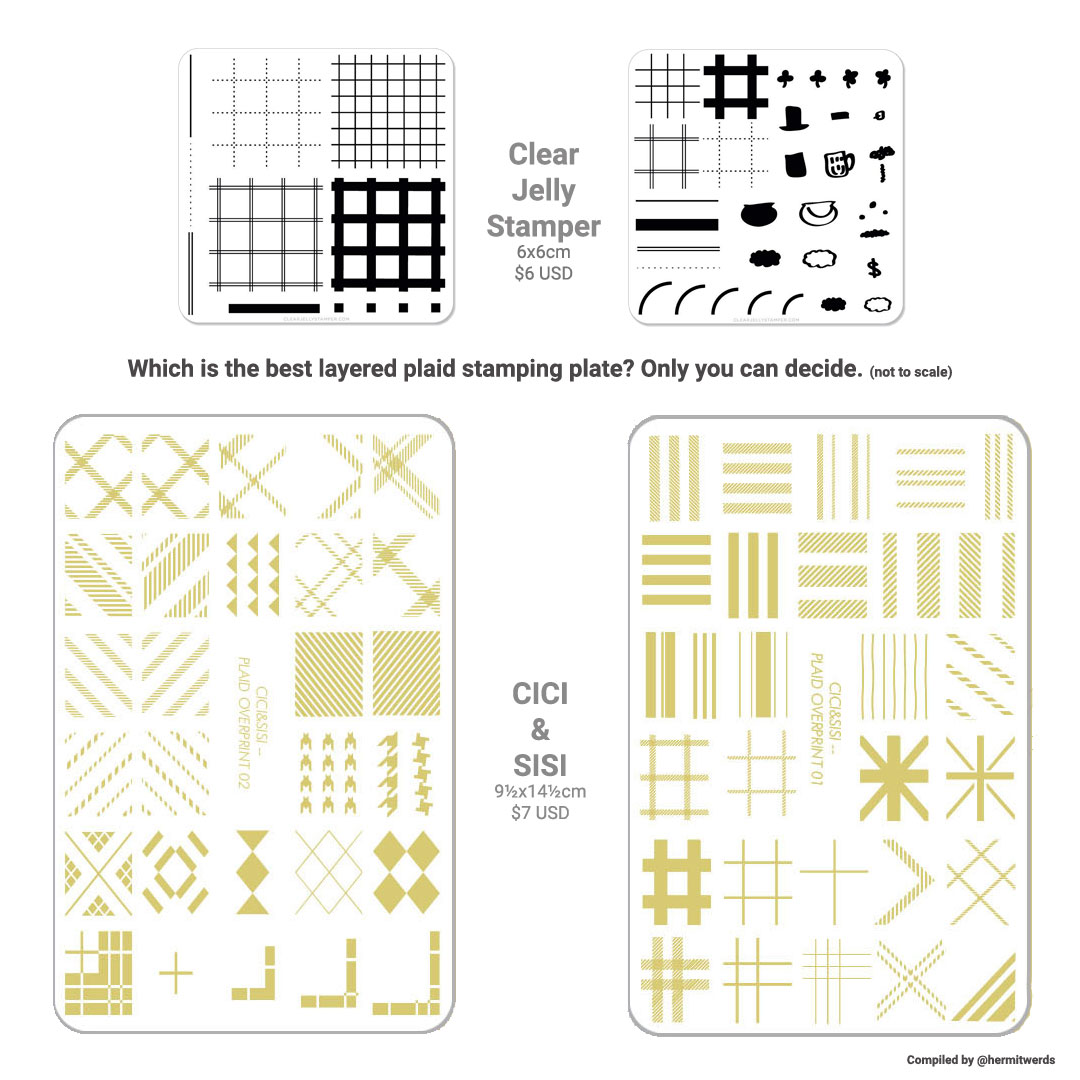 Well, that's enough about stamping plates. How about Bee's Knees Lacquer "I See Plaid People"? "I See Plaid People" is a red jelly base with glowing cobalt shimmer and blue/violet/copper UCC flakes. I am loving it cautiously and entirely due to my own limitations. It seems she has been carefully tweaking the formula so it works at both one and two coats. So if you want just a tinted look with the blue flakies really sticking out, use one coat. If you want to see a darker, richer color with a hint of the blue flakies, you use two coats like I did. Now I wanted to try the one coat thing on nude nail but that's where my limitations come in. Because it takes work and less shaky hands to get an even coat down and my nails are yellow because, duh, they're stained because I paint them all the time! Well the stain shows in sheer looks so I should have used Zoya's purple tinted polish to help counteract that first or sponged on some white on my tips. Something! I did not. So I had to use two coats and it still looks so beautiful I can't be unhappy. I may try this next as a topper, but stamping with a different pattern would be so pretty with the one coat… So many nail arts to do, so little time to do it. Wish life could be like I'm a fully licensed nail technician with a clientele that pays me to do whatever I want to their nails. hehehe
Oh, who am I kidding. I'd still have more ideas than time.