You might be aware of my goal to finish off an old origami daily calendar from 2007 in 2017. I started off the year with daily origami posts to Instagram. And then I started posting my nail art more and more… Long story short, since origami was not an art form I wanted to pursue after the calendar was finished, I eventually stopped posting it to Instagram. Short story long, I followed the calendar for a few months before deciding that too much origami was showing up on my channel and not enough nail art. So I started trying to group things. And then I realized I didn't want to do all of the designs because some of them bored me and others were more arts and crafts than origami. So I sorted out the origami I was interested in and divided it into groups of 8-9 topic-ly similar diagrams that would leave me with one group a month until the end of November. But by the end of July I was so much more into my nail art I stopped folding entirely.
With the end of the year coming up, I decided to finish my last four groups and write one post about my done-ness. I started right after Christmas and finished folding a week ago. My focus was on done rather than perfect so if it took me a few wrong folds to finish a model, well, you'll see it. Lots of photo taking and picking of favorites later and it's time to say our final good-bye to this calendar. We'll see the models, rate them based on how fun/easy/useful they are, rate the calendar as a whole, and end with my favorite eight models from the whole year. Finally, the diagrams for the four new groups of models can be found at the veeery bottom of this post. Let's dive in!
Group 1 – Land and Sea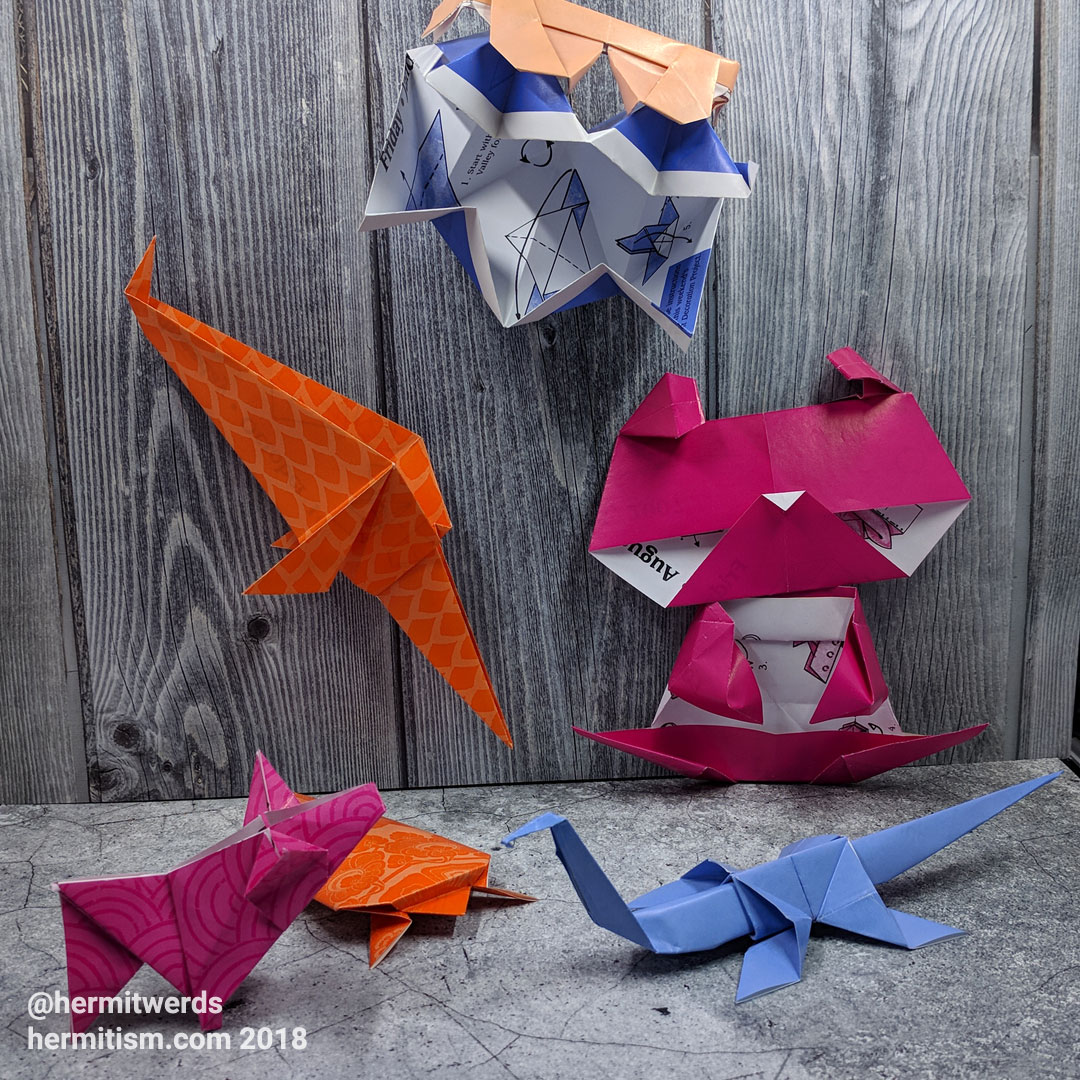 Sunglasses – These sucked with the thick paper of the calendar. The arms just want to pull straight and I must have been off on a fold because the lenses bow out too. They look kinda fun on top of the clam, but the amount of work it would take to figure out the correct scale so you could fold them for a toy…you'd be better off cutting something out of craft foam. And it would last longer.
Clam – I was worried I would hate this one. It ended up being pretty easy and looked nice. However, it will tilt upward on a flat surface since its back half is at an angle.
Swordfish – Cute and easy but can't stand on its own.
Panda – (two pages) Totally impractical. There's no neck for the head to attach to and the body is floppy. Plus I never could figure out how I was supposed to fold the ears. Might make an amusing toy if glued to a Popsicle stick for structure.
Pig – So cute! Pretty easy to fold and it would stand on its own with a thinner paper. This one just wants to lay on his tum all the time. 😉
Turtle – Pretty cute. Folding was super easy.
Dinosaur – (two pages) Really liked this, but harder to fold than the pig. It "stands" very stably and is my favorite from this group.
Group 2 – Animals
Chick – Cute and fairly easy to fold, but won't stand up at all. Zero points.
Hummingbird – Really did not enjoy folding this and the results are fairly unimpressive. I guess you could make a mobile with these that would be cute, but I'd rather make seed bead hummingbirds. I'll have to post a photo of the one I made sometime, but I gave it to my dad so I can't just take new photos right now.
Flamingo – I loved this one even though it sucked to fold with such thick paper. It also can't stand on its own so it's not a favorite but would definitely be honorable mention.
Roadrunner – Terrible proportions, doesn't actually stand on its own, not a favorite.
Ostrich – Very similar to the Flamingo, but the legs are less cool and it still can't stand on its own. I had to tape it to the cap of one of my clear stampers. LOL
Giraffe – (two pages) Not too hard to fold but it does have a tendency to tip over, sadly. Also, unlike the dinosaur, you do have to tape the head/neck onto the body.
Turkey – Difficult to fold, terrible results. Would like to set on fire.
Paloma – Cute little bird that stands well, but the tail doesn't spread out like its supposed to because of the stiff paper.
Group 3 – Holidays Begin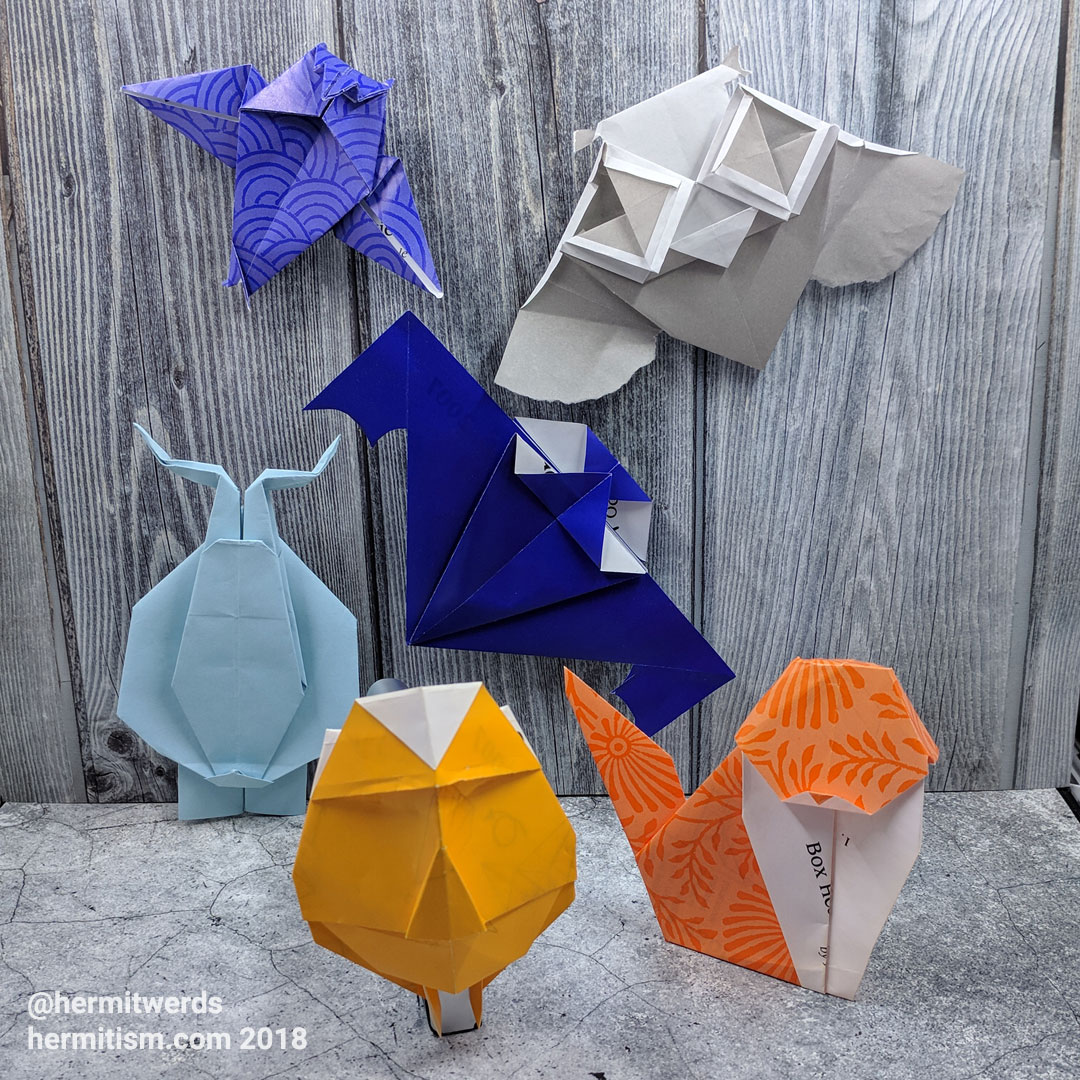 Owl – (purple) Nicely easy to fold and decent results. Win.
Owl – (grey) (two pages) Actually had pretty specific instructions so I had good results until I started ripping carelessly. I saved myself some heartache and folded with regular origami paper. This would have sucked with the thick paper in the calendar.
Prancer – (two pages) Required regular printer paper and results were pretty cool, but can't stand on their own.
Bat – Okay results and such. Would work best as a flock at a distance though.
Dracula – This surprised me with how cute it turned out. Not sure how it could be used afterward though…
Cat – Turned out okay, but was confusing to fold and didn't work out right. So…sadly disliked it.
Group 4 – Boxes and Christmas
Star Box – I've folded this before and it's the base for most of the other boxes. Works decently with a little bit of glue to keep it from unfolding.
Fancy Box – This box is so shallow, it's worthless. Not terrible to fold, but terrible to mold so it has at least some sort of holding capacity. Solid pass.
Christmas Bulb – (two pages) It's a lot of labor, but it turns out pretty cool if you want to make your own ornaments.
Two Piece Tree Ornament – It's two of the Ornament glued together. Boxy, but cool. A little harder to glue together.
Ornament – My favorite in appearance and, happily, the quickest to fold. My favorite of this group.
Party Box – Cooler looking than the Star Box, but has a little trouble keeping its shape.
Container – The most solid of the boxes, but also the least interesting to look at.
Nice Star – (not pictured) The title is a lie, this was impossible to fold. Just pretend you don't even see this diagram because it's not worth it. What are you going to use the star for anyway? BURN IT WITH RIGHTEOUS FIRE!
/cough Where were we? Oh, yes! That's end of individual reviews…
Should You Get an Origami Daily Calendar?
No!
I carried this calendar around, untouched, for ten years. I am clearly not a person who should receive daily calendars. That aside, I still think you should skip origami calendars. Short list: The paper quality is poor and may not be square. You're not going to get 100% origami diagrams every day. A lot of these patterns can be found for free online, exactly where the calendar-makers got it from. Finally, how many people ever finish these craft calendars? I don't know anyone. Technically I didn't even finish this one because I didn't fold everything.
So hit up YouTube or buy an origami book instead. The person who made the patterns will hopefully make some money and you will get more quality material. Plus you get to pick your own origami paper. Squares! And if you want a curated origami experience, craft stores sell kits with cool patterns and origami paper that was specially designed for each form. You won't have to draw a face on the unicorn, it's already printed on! And it's a smaller commitment. It does not take 365 days to figure out if you like something, so why constrict yourself to one thing? A daily craft for the spirits is a great thing but there are tons of groups on the internet where people are doing creative things together. Why not join one and get involved in a community as well? I can't tell you how much I am loving being part of the nail art community. The origami one is just as wonderful. 🙂
Eight Best Models:
Cricistms aside, there were some great models in the calendar that I enjoyed folding. Most of the flowers would work really well in a paper floral arrangement. The jumping frogs, jumping spider, and flapping bird would all be fun for a kid to play with for a few days. And a lot of the other animal models make fun toys for a kid that is interested in them. (My stepdaughter has asked to play with mine, but my stepson has zero interest.) The boxes could be useful in some circumstances. I know of one minimalist who folds a basic origami box out of old newspaper to hold her compostables while she's cooking. Much better than a plastic bag. And a Christmas Tree decorated with origami could only be considered awesome. Yet with all of that, here are my favorites: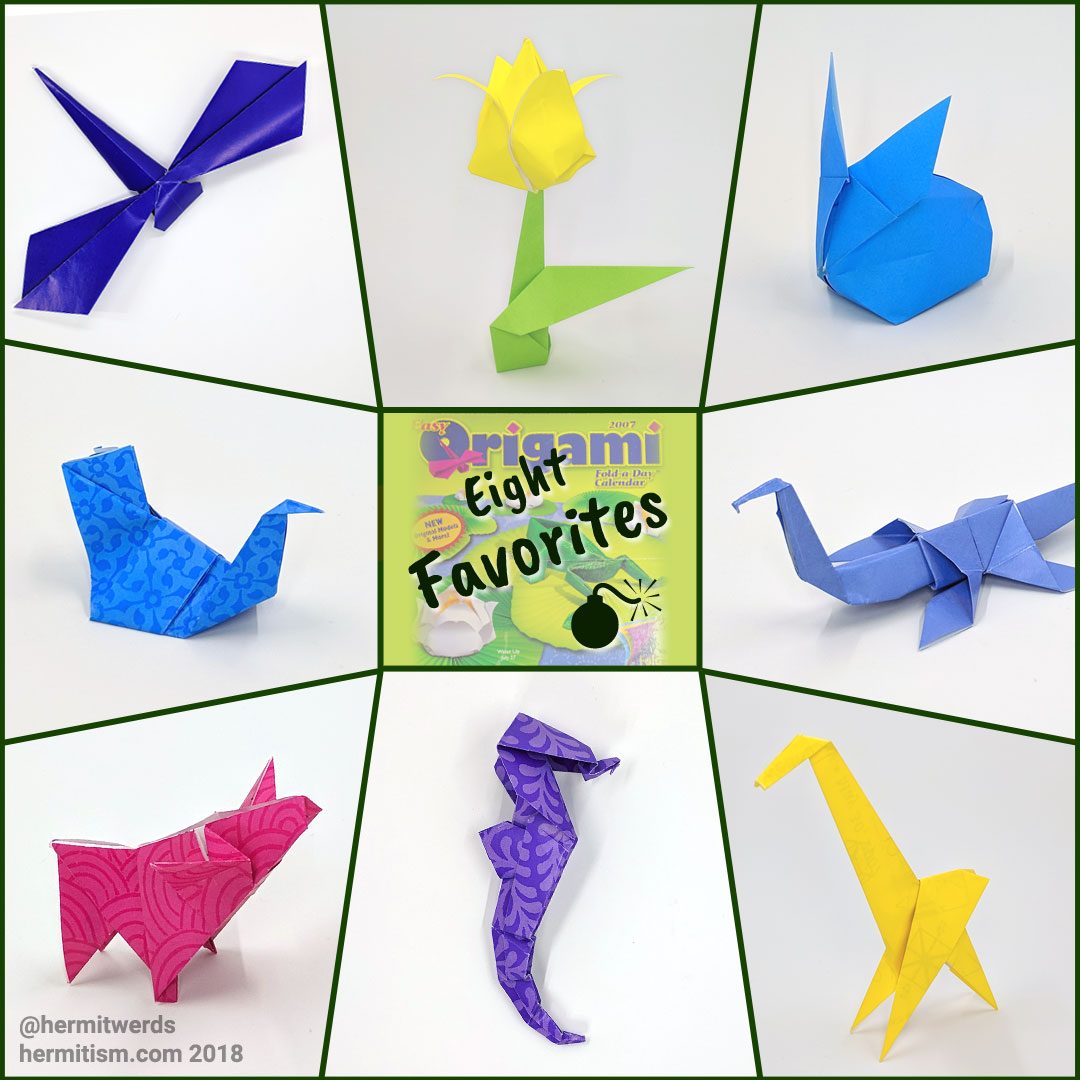 Dragonfly – Beautiful at all angles. This would be a perfect decoration on your wall, in a floral arrangement or in a mobile.
Tulip – (two pages) Slight tendency to tip over, but that could be fixed with a dab of glue. Just…love that round shape.
Bunny – Cute derivative of the balloon shape. This would make an awesome toy.
Paloma – Best of the birds. Folds and stands easily. I also liked the Water Bird, but this was classier looking.
Dinosaur – (two pages) Perfect toy. Very stable and no parts that are super easy to rip off or split.
Pig – Cute and perky and stands pretty well. Also: pigs are awesome.
Seahorse – Just beautiful. The tail wasn't much fun to fold, but it's so pretty…
Giraffe – Also a fun toy and adds some variety height-wise. Does tend to tip over though.
The Diagrams
(Click on the images to see them in full size)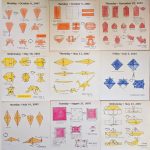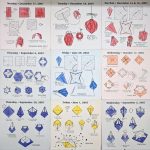 Final Thoughts?
I can't believe it's over. I've had this thing for so long. LOL Hopefully with this out of the way I can start focusing on other craft projects. I'm going to try to kick out the bulkiest of them first. I have a box of bird marionettes just waiting to be strung and then, gloriously, given away.