It has been pumpkin everything season for a while now. I'm not the hugest fan of non-savory pumpkin foods, but I do enjoy a good pumpkin latte (even if I do love peppermint and gingerbread more). I was looking at #coffeenails on Instagram and it is so full of just brown manis. I like brown, but that feels extremely limiting to people who want coffee nails but aren't into brown. I'm thinking of doing an entire rainbow of coffee nail art now, so this covers orange. And I was able to use two of my new orange polishes! Win!
It's always pleasing to use a new purchase right away. Happily I put in my first order for KBShimmer polishes early on Black Friday and Christy's team must have been working their buns off because my order arrived on Monday. I mean, some of my other orders haven't even shipped yet! LOL I've swatched all six polishes on swatch sticks and I'm so happy with all of them. I hope they all end up in regular rotation. I also purchased her matte top coat because reviewers were saying it was dead matte. They are right as you can see in my photos. I have a bottle of Colores de Carol's matte, but it is a satin finish and not completely matte. So now I have glossy, satin, and matte top coats. Very pleasing for me. 🙂
Having "Playing Koi", "Oh My Gourd", and "It's a Piazza Cake" is such a game changer when it comes to orange nails. It's so easy to get your hands on super bright shades of yellows and oranges but finding more muted or darker shades is much more difficult. And I like those shades much more. Fortune has favored me this year and I've been able to expand my color selection in those areas. Hopefully that means I won't neglect the color orange as much as I used to.
One last look at this mani only with a glossy top coat. Pretty and yet I love the matte version so much more. How about you?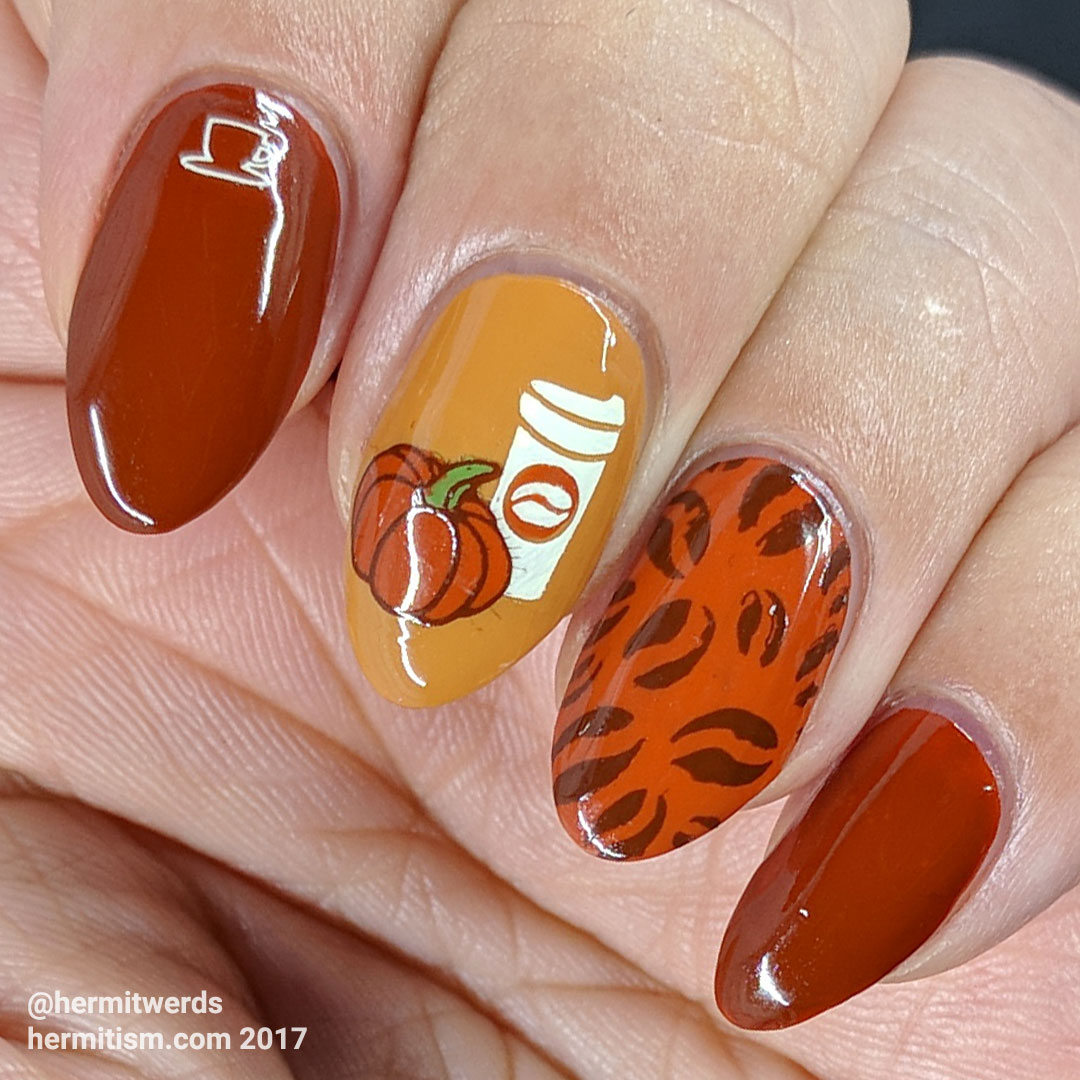 Disclaimer: Yes, I do love your pumpkin pie, Dad. Which is why I refuse to eat other pumpkin pie: I am saving myself to eat your food. Good daughter, am I. 😉