Some of the nail art I finished in September didn't get posted before I had to take a break to focus on day to day life stuff. Today I'm sharing one of them: a nail art meant somewhat to be back to school themed, but also Halloween since it was for the @HalloweenForeverCollab. We had Monster High, wizarding school, and Scooby Doo. So cool! I decided to go with zombies since several movies and tv shows are set in schools with zombie invasions.
The bestest and freshest brains are young and recently filled with knowledge, am I right? 😂
Nail art products used
Base Polish:

The Lady Varnishes' "It Looks Like You're Writing a Letter"

Stamping Polishes:

Maniology's "Nutmeg" and UberChic's "Pure Black"

Advanced Stamping Polishes:

KADS' "46 Peach"; Maniology's "Buttercup" + "Caladium"; and Sinful Colors' "Snow Me White" + "Summer S-Cool"

Stamping Plates:

Beauty BigBang "City-XL001" (school backgrounds with rulers equations books and more); Born Pretty "BP-L064" (school building) + "BP-R001" (brain with eyeballs); Pict You "PY-X015" (zombie with exposed brain); "Qgirl-34" (letters for "brain food"); UberChic "Halloween-06" (running zombies)
Items in italics are debuting on the blog for the first time.
I…should not have stamped background elements in yellow. Yeah, it matched the little yellow glitters in the crelly. And I do love them so much and they are why I bought it. But. It's too distracting as a stamp and pulls focus from the elements that were the main subject. I wish I could go back in time and stamp with grey instead. Ah, well. It is what it is and I love the "Brain Food" nail to pieces so… 🤷‍♀️
Also worth noting for me, I own two polishes by The Lady Varnishes and both of them are grey crellies. I did not plan it that way, but it's very amusing.
#HalloweenForeverCollab – Ghoul School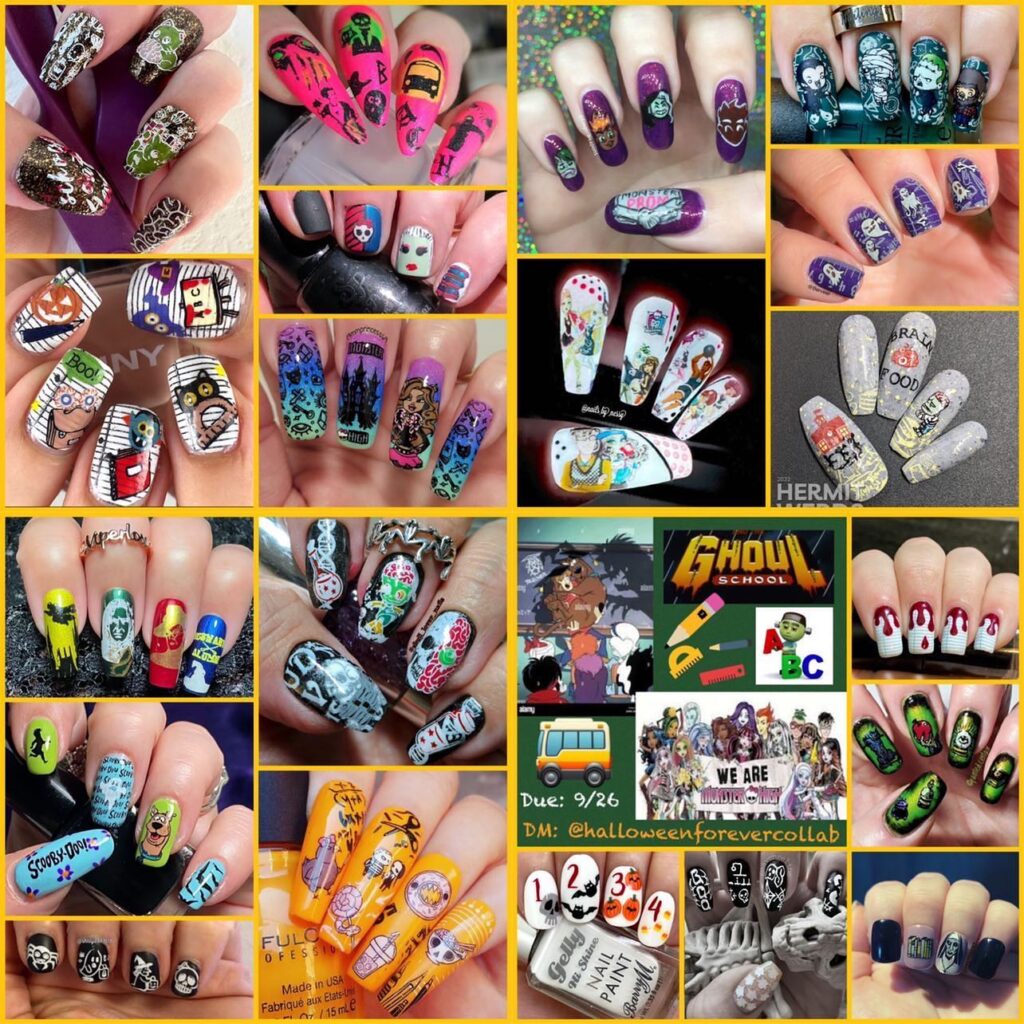 Final zombie nail art photos…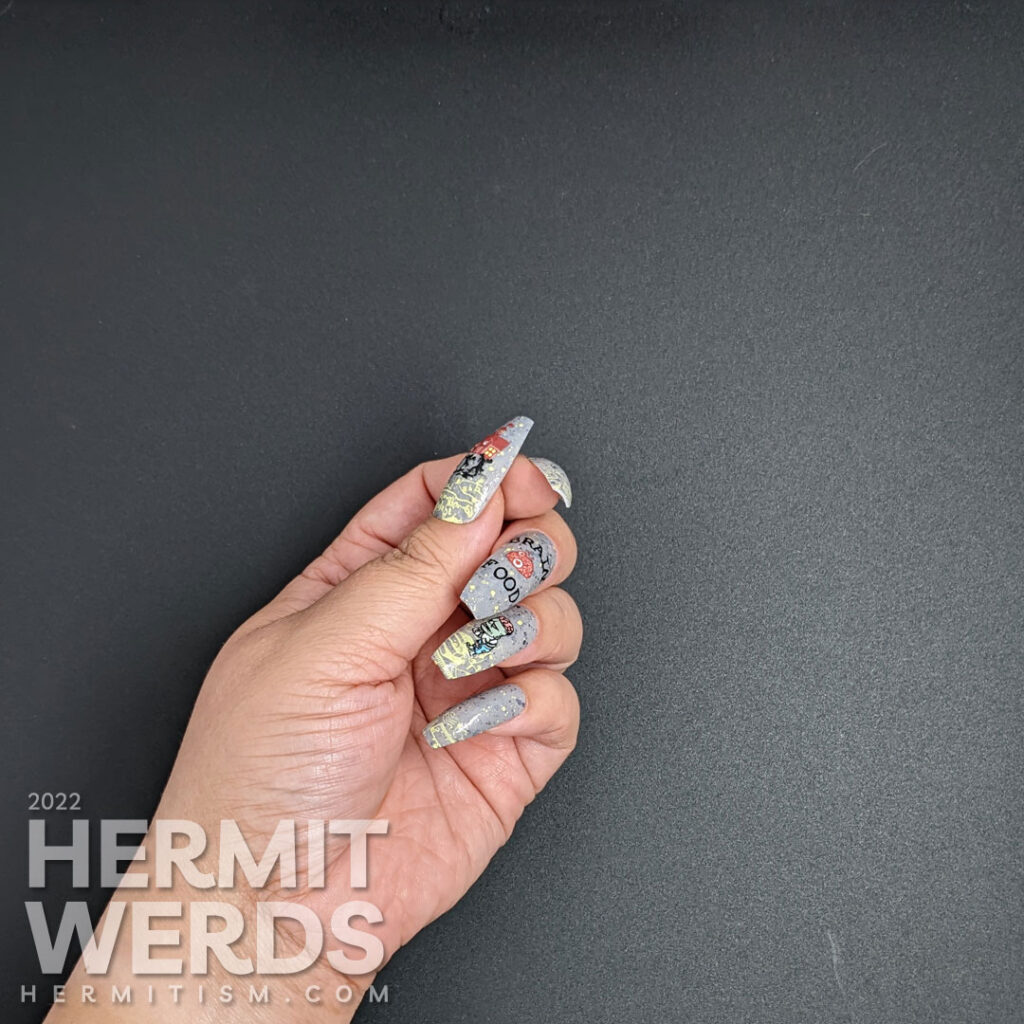 Twitter, bye
It's been coming. I stopped posting to Twitter months ago and removed the Twitter feed widget, but now that the sale is final I am removing other references to Twitter where I can from the site. My account is deactivated so in 30 days it will be permanently gone. I'm not sad since I barely used Twitter, but I do feel so bad for the people who worked at Twitter and for those who used it a lot.
Good luck if you're staying in what was already a cesspit. I know there are so many amazing people who use it for good. Even still, I can't image it getting better with someone who already used it to influence the market for their benefit in charge.
Until tomorrow, friends! Halloween is still coming. You know: the good scary. 😁