I've painted my nails with white gel polish again and it's time for some of my favorite kind of nail art: watercolor!
I painted this one for #AZNailArtChallenge's 'C' is for Cactus prompt, but I missed the collage deadline by minutes because I kept adding more details with the watercolor. LOL It's worth it, though. The more of these I paint, the more I love them. And the level of detail in the stamping image is just perfect for this kind of thing. Maniology's entire Botanical Collection is like this so I'm sure I'll be pairing the set and technique again soon.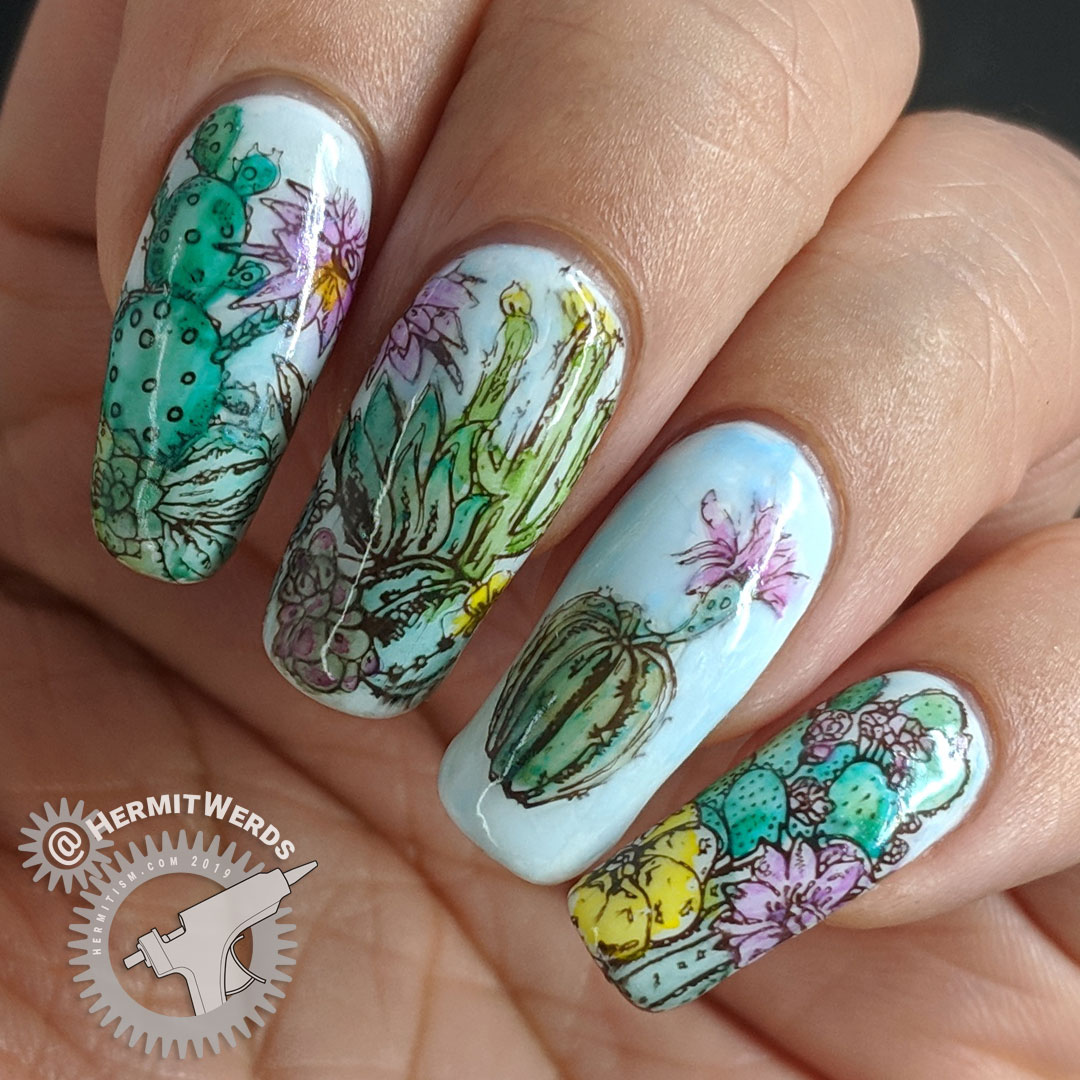 Products Used
Base Polishes:

Stamping Polishes:

Watercolor "Look":

Stamping Plates: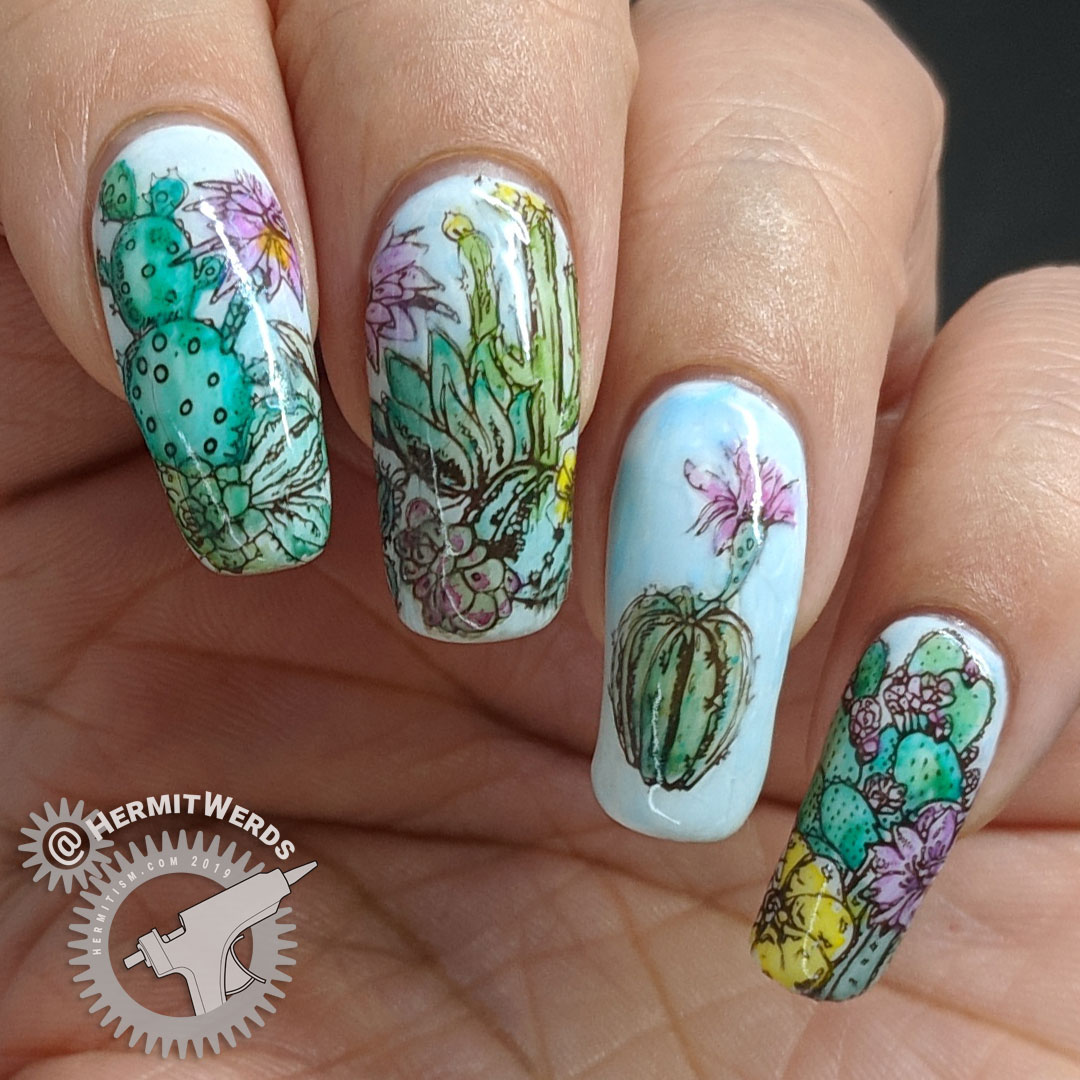 Watercolor Nail Pro-tips
Use a satin or matte top coat after stamping and before painting with your sharpie or watercolor paint. It gives the color a little bit of texture to latch onto so it stays where you put it without a lot of beading up. It's possible to go without, but painting on a glossy top coat sucks so much more. In fact, to see the difference it makes, take a close look at the macro shot. The pink-tipped succulent on the nail to the left wasn't pink-tipped when I top-coated. I looked at the nail and decided it was too green so I added those bits of pink on a glossy layer. The darker ring of pigment around each dot of pink was created because it was a bead of water that dried down instead of a smooth wash of color. That would not have happened if I'd painted it on a matte layer.
If you don't have any matte or satin top coat to use, try filing your glossy top coat just a bit with a fine-grained file or sandpaper. The pointy aloe-like plant above the succulent also got a little more paint after I top coated, but, because I filed that area, the paint blends in more.
Finally, always top coat after you finish painting. Watercolor (and sharpie) will fade away when you wash your hands and could potentially bleed onto whatever you touch! 😱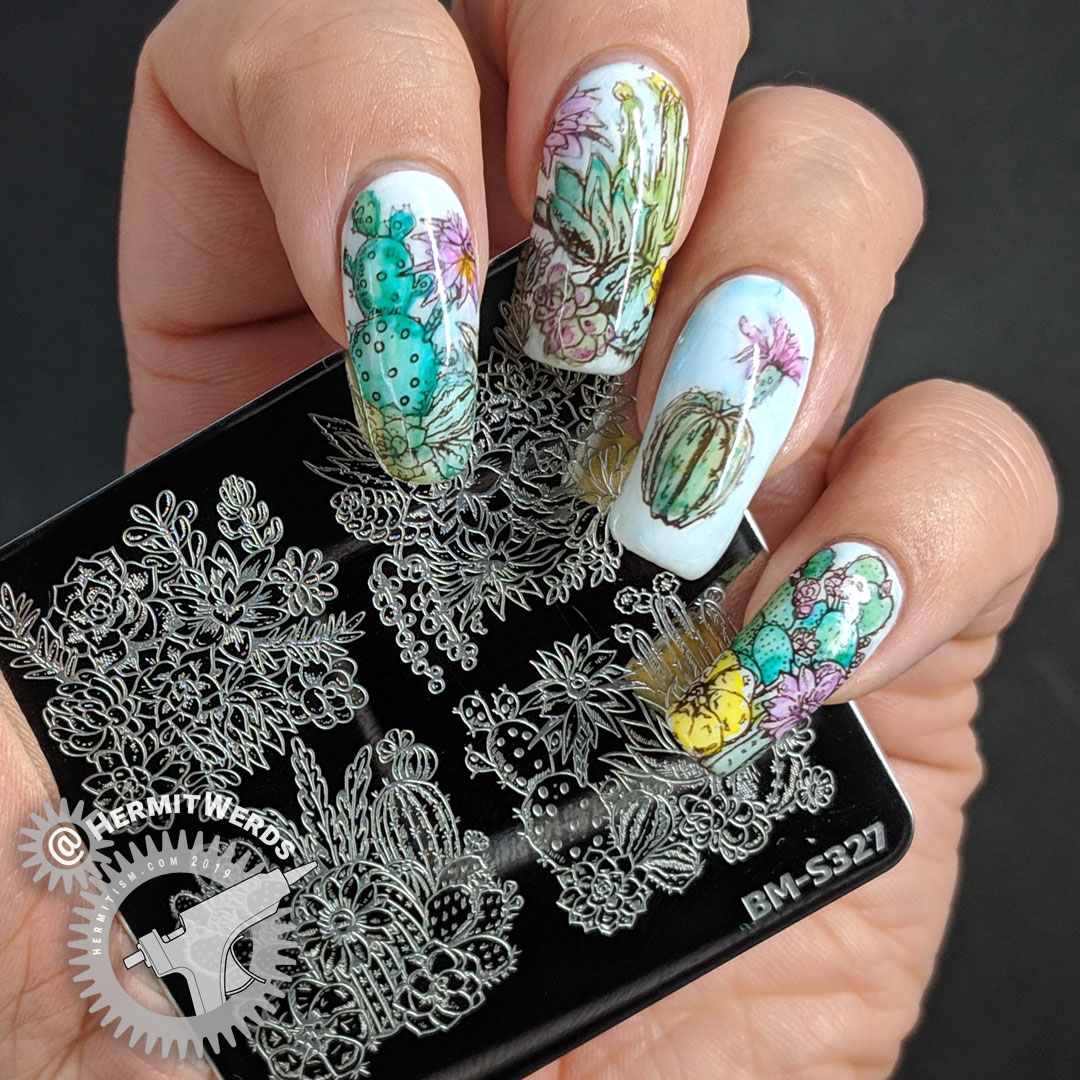 Separating appearance from art supply
Now that I'm posting more art to the blog, I thought it was time to separate watercolor paint from the watercolor "look". This means you'll be able to tell which of my nail art designs are created using the actual paint while still being able to look at any nail art that uses layers of translucent colors. I will be getting rid of the coloring book tag and leadlighting will only apply to looks that use sheer polish to fill in a stamping image. I'll also review the freehand tag and make sure no coloring-in designs fall under it. And all of this is happening after this post goes live because it's late already. LOL
But it sure is nice to have enough work out that I can define things more clearly. And hopefully the clarity will help you navigate the site more easily. Until next time, friend! I've got more ideas for these white nails. 😉