My husband and I have been watching Netflix's animated tv show Disenchanted since it started. It was created by the same person that started The Simpsons and Futurama–both shows that I watched in their early seasons. So if your sense of humor loved either of them, you'll also love Disenchanted. And, yes, all of the characters are assholes. 🤣 This may not be the only Disenchanted nail art I paint since Season 3 just came out and I haven't seen any of it yet!
One of the characters I particularly love is Luci. He's a demon, but he gets passed off as a cat and a surprising number of characters on the show fall for it. Thus it becomes a double joke when he exhibits behaviors that make him seem more like a cat and also when people mistake him for one. Hence I spelled "cat" instead of "Luci".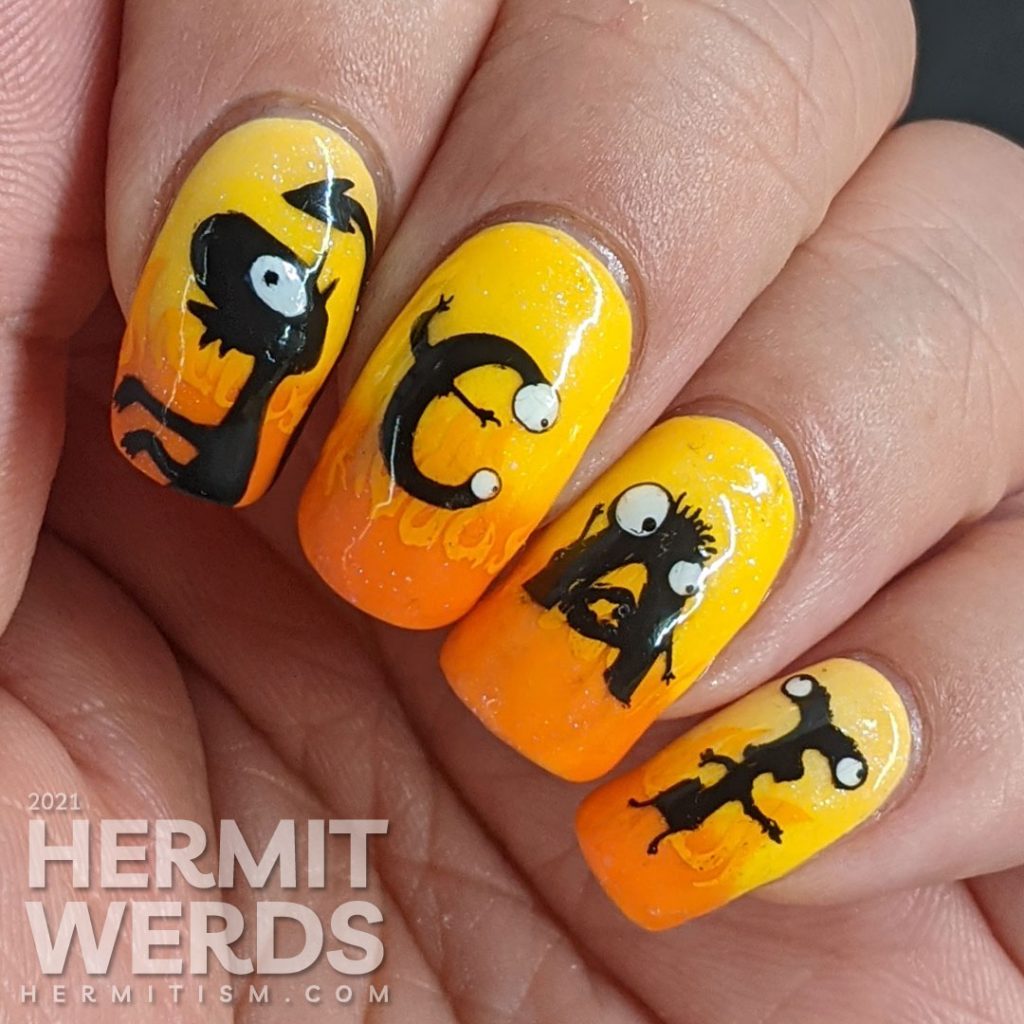 He looks so peaceful when he's sleeping. What a sweet cat demon. 😆
Nail art products used
Base Polishes:

Stamping Polishes:

KADS' "08 Dark Yellow", Maniology's "Pumpkin Head", and UberChic's "Pure Black"

Advanced Stamping Polish:

Smackers' "Wickedly Stylish"

Freehand Painting:

Acrylic paint for the character Cat aka Luci from the Netflix series Disenchanted

Stamping Plates:

"Major Dijit-42" (monster letters "cat") and "Major Dijit-70" (flames)
Disappointing thermal gel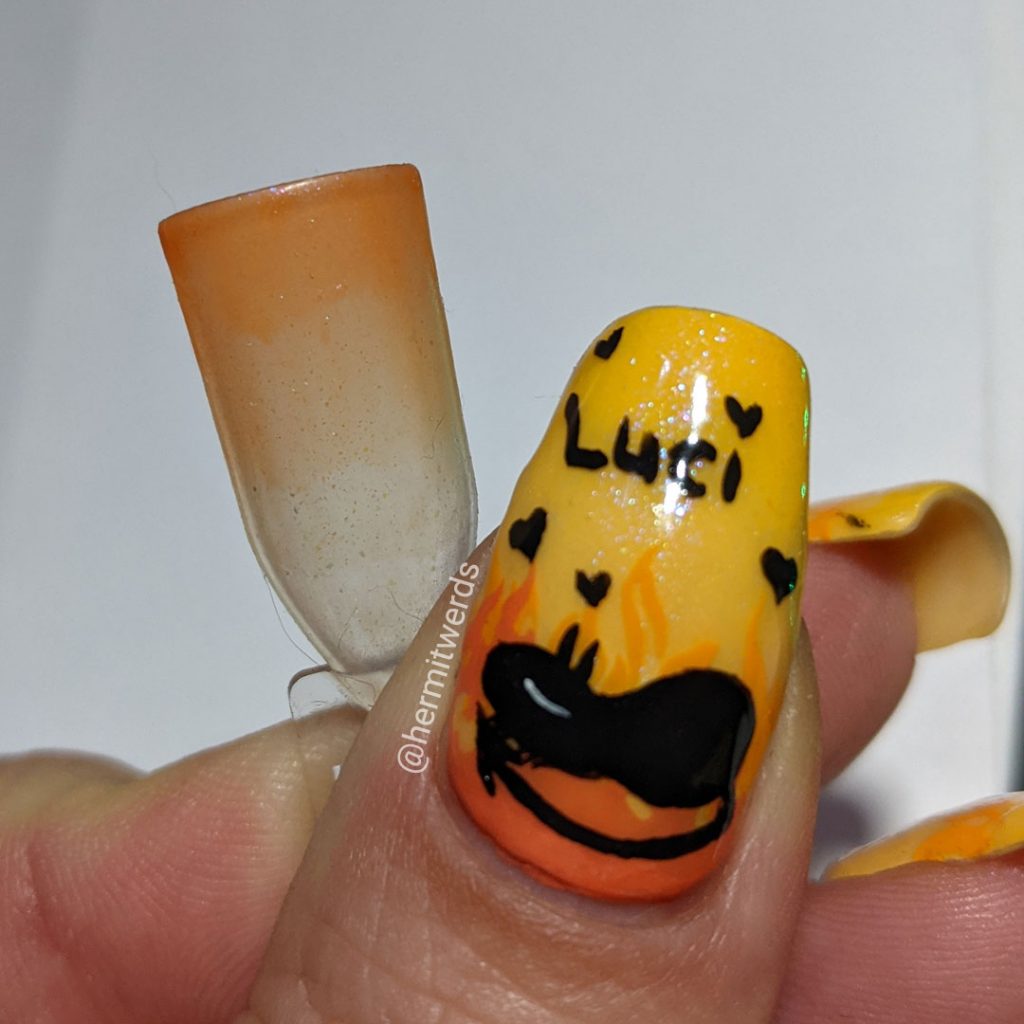 I was a little disappointed with the thermal gel polish I used as my base. Based on my four-layer swatch, I knew it wouldn't be opaque when warm so I painted some yellow polish underneath. However, it also transitioned poorly.
Maybe I'm just running really warm this week, but my nails are pretty long right now and they stayed yellow unless I was walking outside in the cold. And you'll see from my photos that I never got a photo of it solidly orange no matter how long I left my hand in ice water. Disappointing.
What I saw all the time: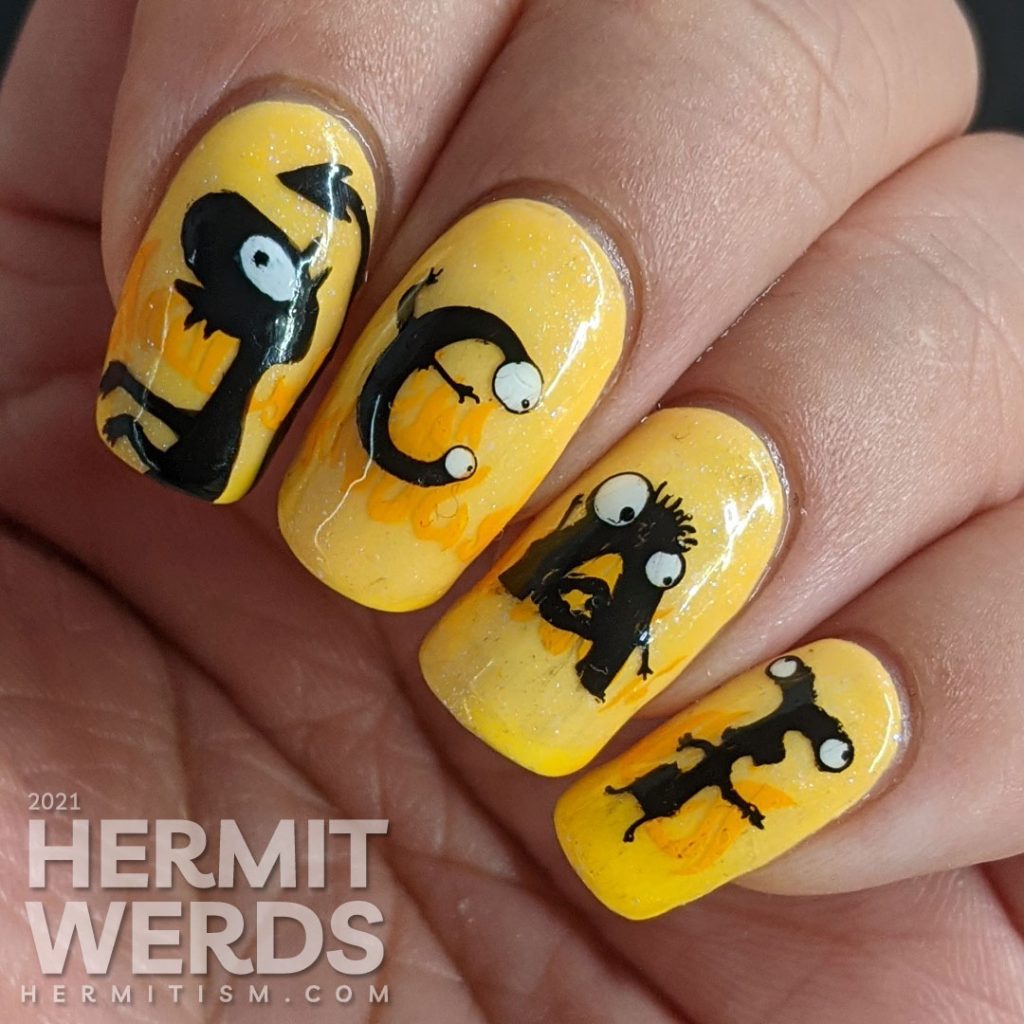 Amazing nail art brushes
On the other hand, I finally tried out the Robin Moses Wand (liner) brush that I purchased in December and omg is it amazing. The letters are little monster letter stamping decals, but the full on Disenchanted nail art bits (i.e. Luci) were all freehand painted with the brush. I definitely felt like I was able to get sharper points and details with it and I previously used proper paint brushes from Michael's.
Hers are better and when you buy the liner and striper brush as a set, she's including a second liner right now. If you have the cash it's a good time to buy. Although maybe I shouldn't endorse too hard right now since I haven't used the striper brush yet. 🙊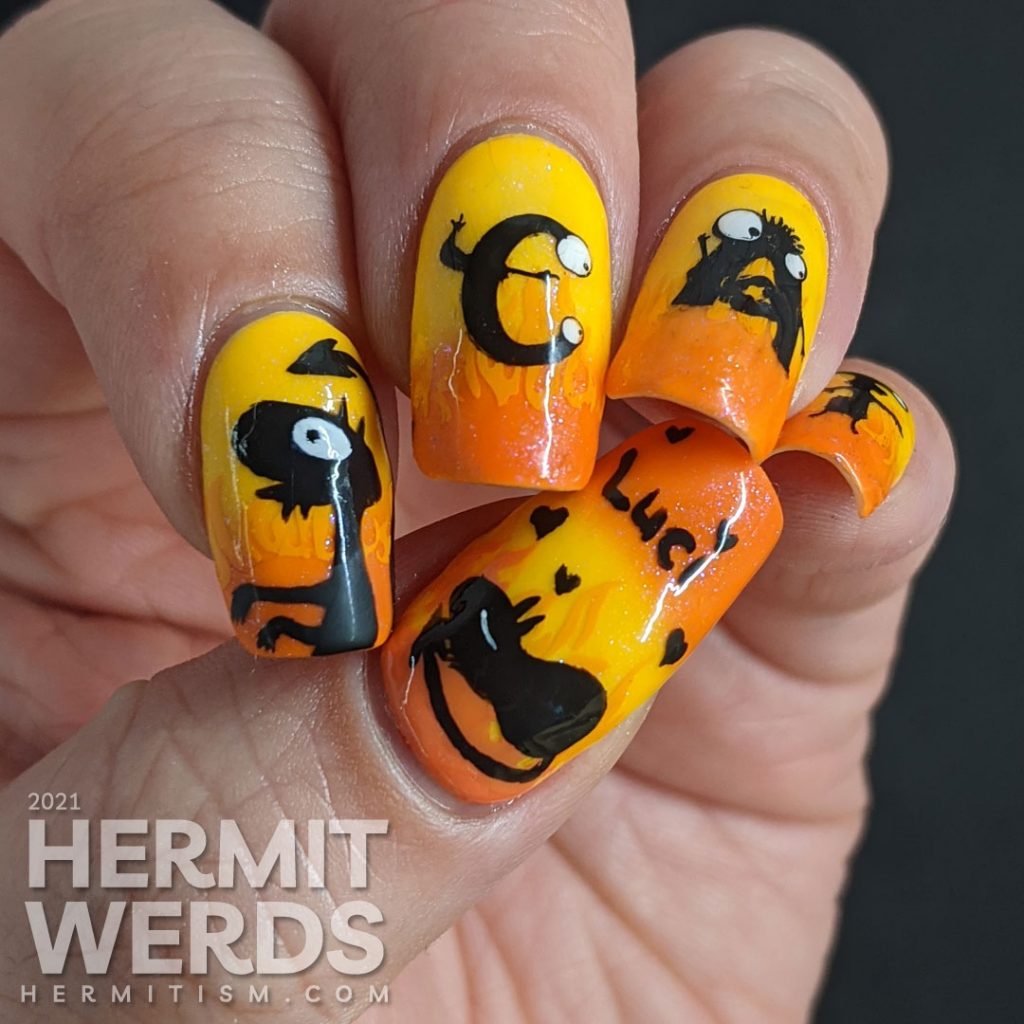 Considering how often I don't freehand nail art and also that I'd drawn Luci maybe three times in my life before I started painting, things went well.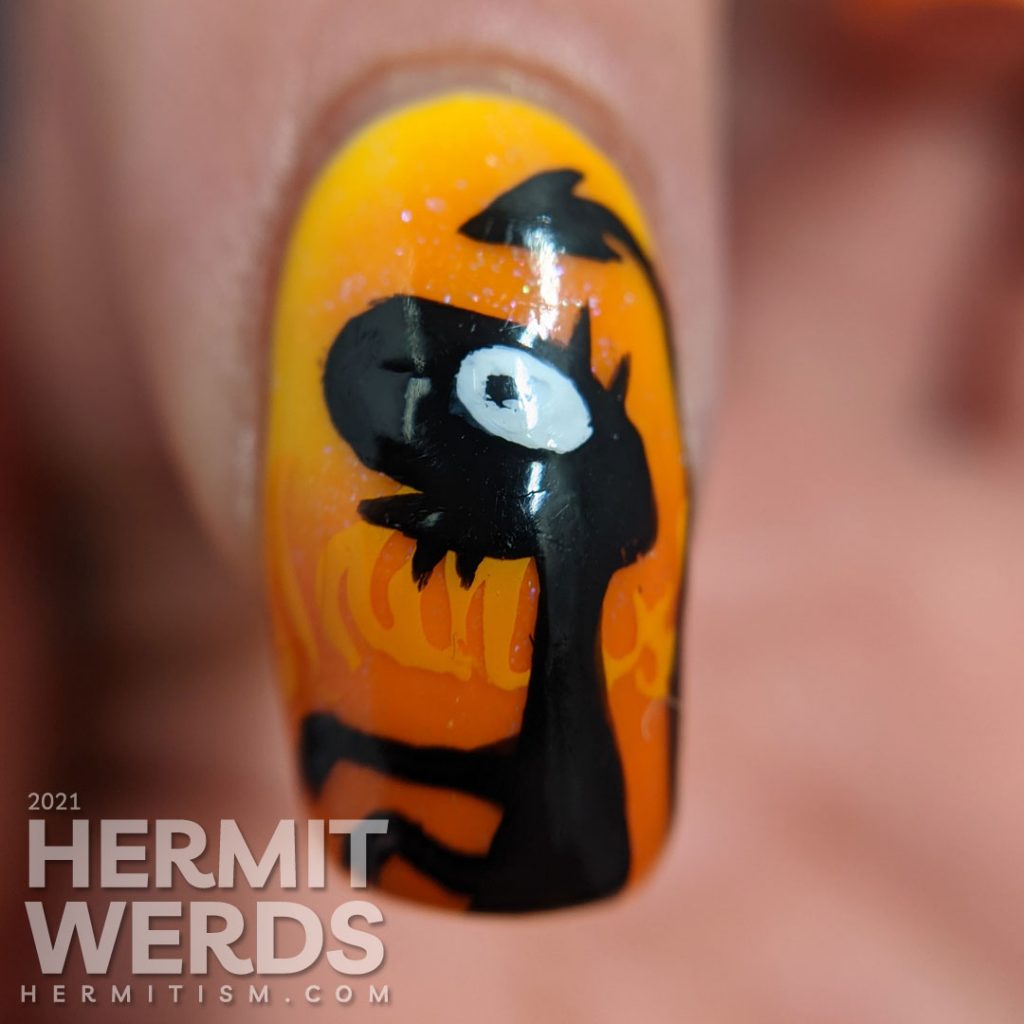 I even added text and the hearts because, well, I could.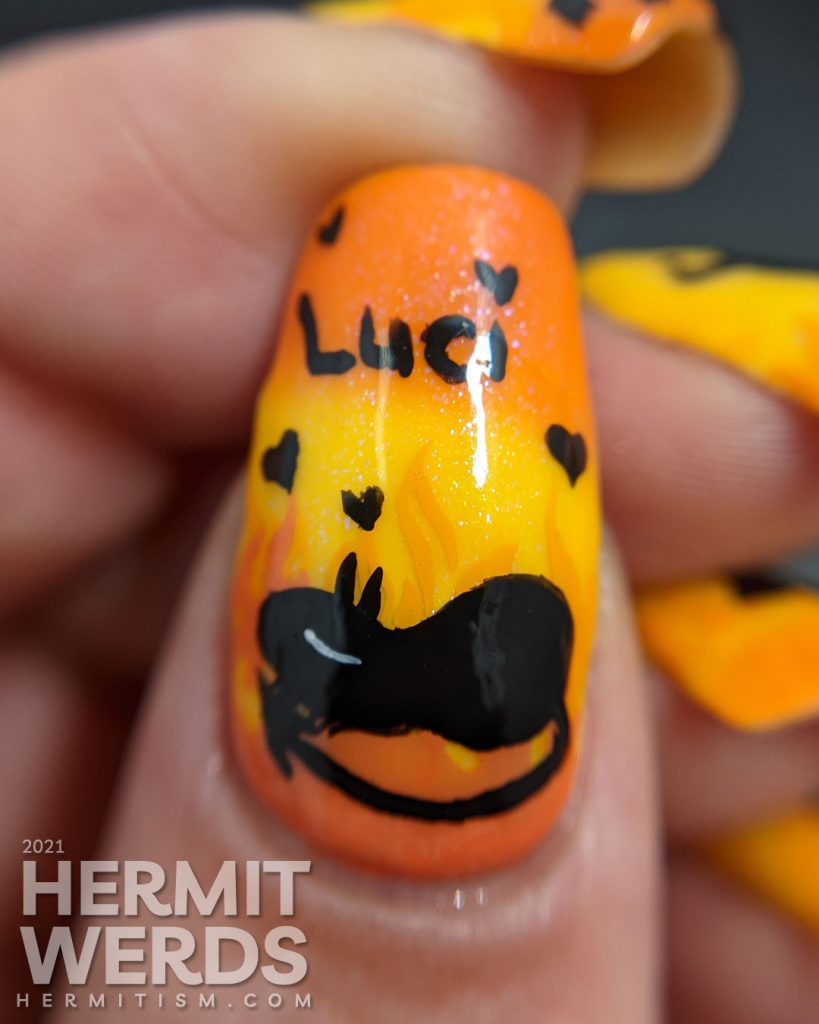 It's a bold design with the yellow/oranges and then stark black, so it holds up fairly well at a distance…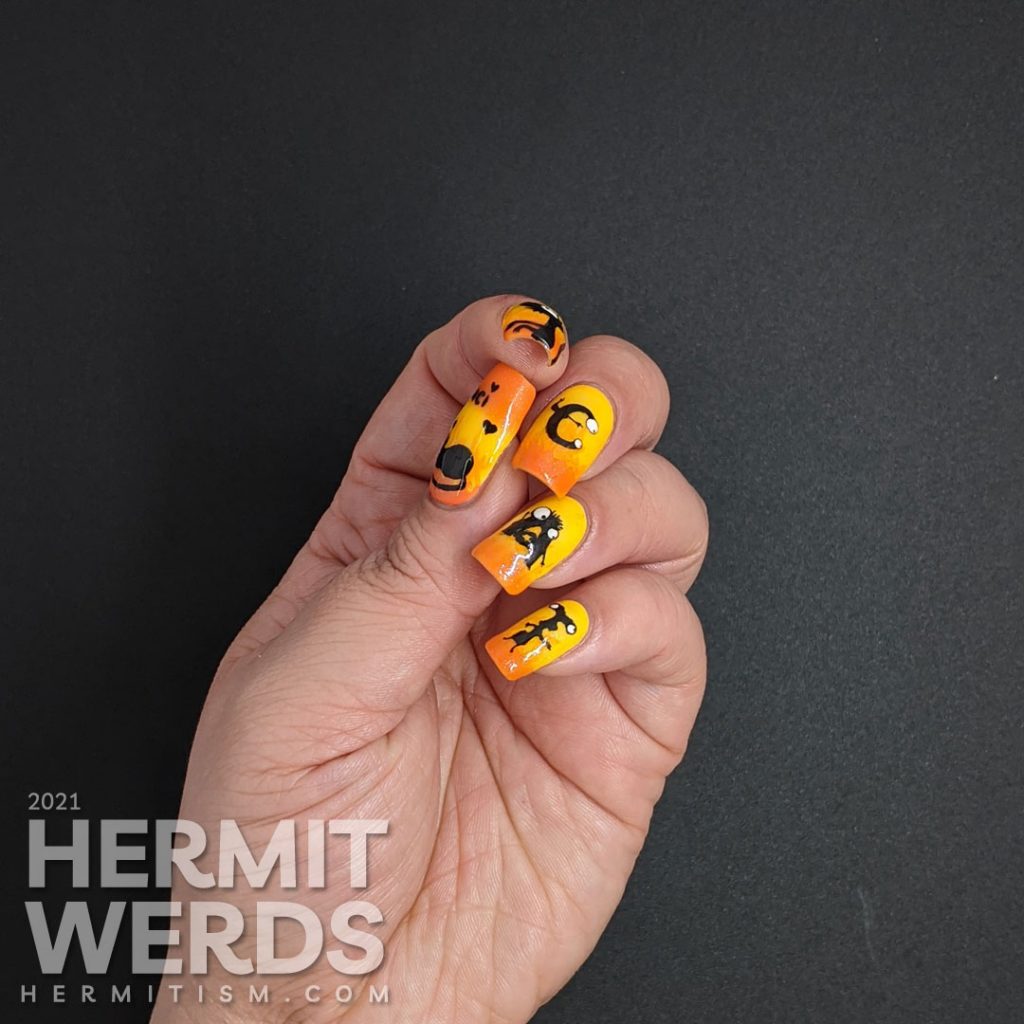 And that's it for today. You can bet I will go against what I said not that long ago about not saving peelies because I want to keep this one around beyond just the photos. Maybe it's because I call my own little black cat "demon" sometimes and Luci looks so sweet all curled up and sleepy. 🥰
Until next time, friend! 🙋‍♀️