[press sample]
The last product(s) that Born Pretty sent to me was a package of products meant to support reviewing a new magnetic gel polish: BP-MSS04 Boundless Galaxy. What I didn't realize at the time was how grateful I should be that they included the magnet. The little $1 paddle magnet I owned (plus several mainstream versions) are pitifully weak compared to the cat eye magnet stick straight from Born Pretty.
Lesson learned: always buy from a brand you trust when it comes to magnets. Off-brand and mainstream magnets suck.
BP-MSS04 Boundless Galaxy
I started by swatching the gel polish on a swatch stick that was already painted half black and white. As you can see the shade of what is beneath will make a difference in the color you end up with. I wonder what it would do if I layered it over a yellow. Hmmm…
There are six shades in the Starry Sky series and they are all quite beautiful. I'd have to say that my favorite of the lot is BP-MSS05 Bright Vega because when it's layered on black, it is what I really think of as a cat eye look (that isn't eyeliner, that is 😂).
Camp More
I decided to go with black as my base color. Which felt appropriate since Emily had sent me a black gel polish (most opaque black gel I've owned to date, but I don't go out of my way to buy the best gel polishes, so…) Magnetic polishes always seem to go so well with galaxy nail art so I dug around my stamping plate collection for inspiration and found a camping scene. Perfect!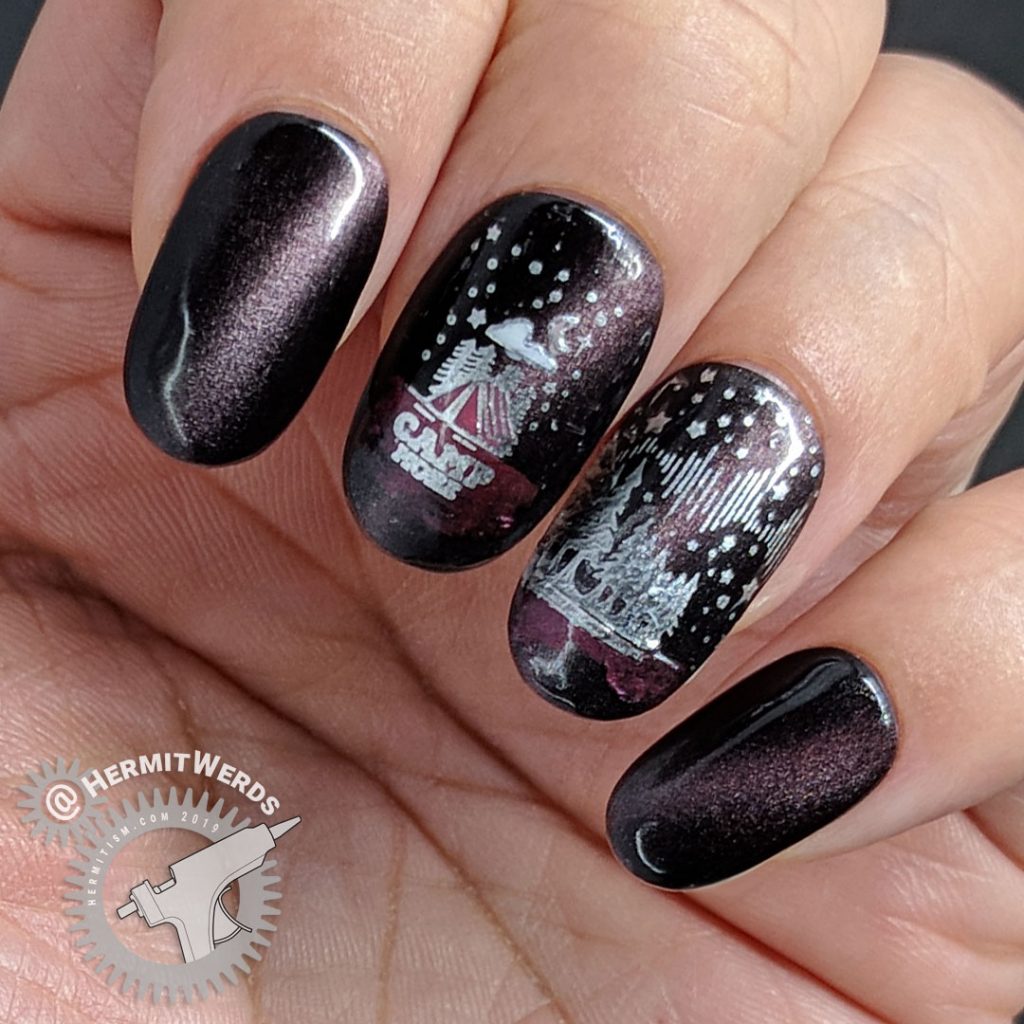 Products Used
Base Polishes:

Black gel base (press sample) with Born Pretty's Magic Starry Sky Series "Boundless Galaxy" (press sample)

Stamping Polish:

Essie's "No Place Like Chrome"

Advanced Stamping Polishes:

Random mixtures of Covergirl's "Royal Purple", Essie's "Mrs. Always Right", L'oreal's "a la meringue", Nails Inc's Magnetic Polish "Kensington Palace", and Sinful Colors' "Starfish"

Stamping Plates:

Maniology Around the World BM-XL157
I used a lot of gradients of darker metallic red polishes and my favorite light red creme to fill in the decals. Everything felt like it fit together really well.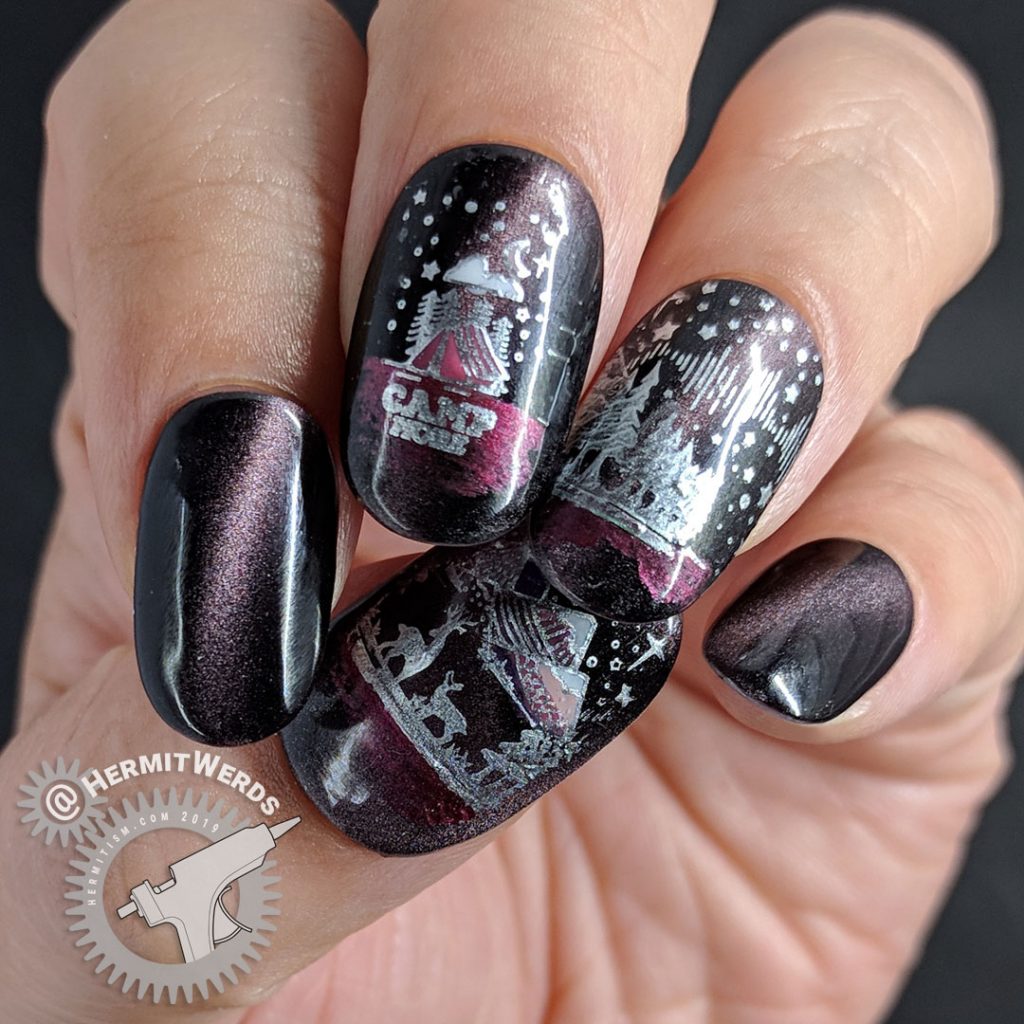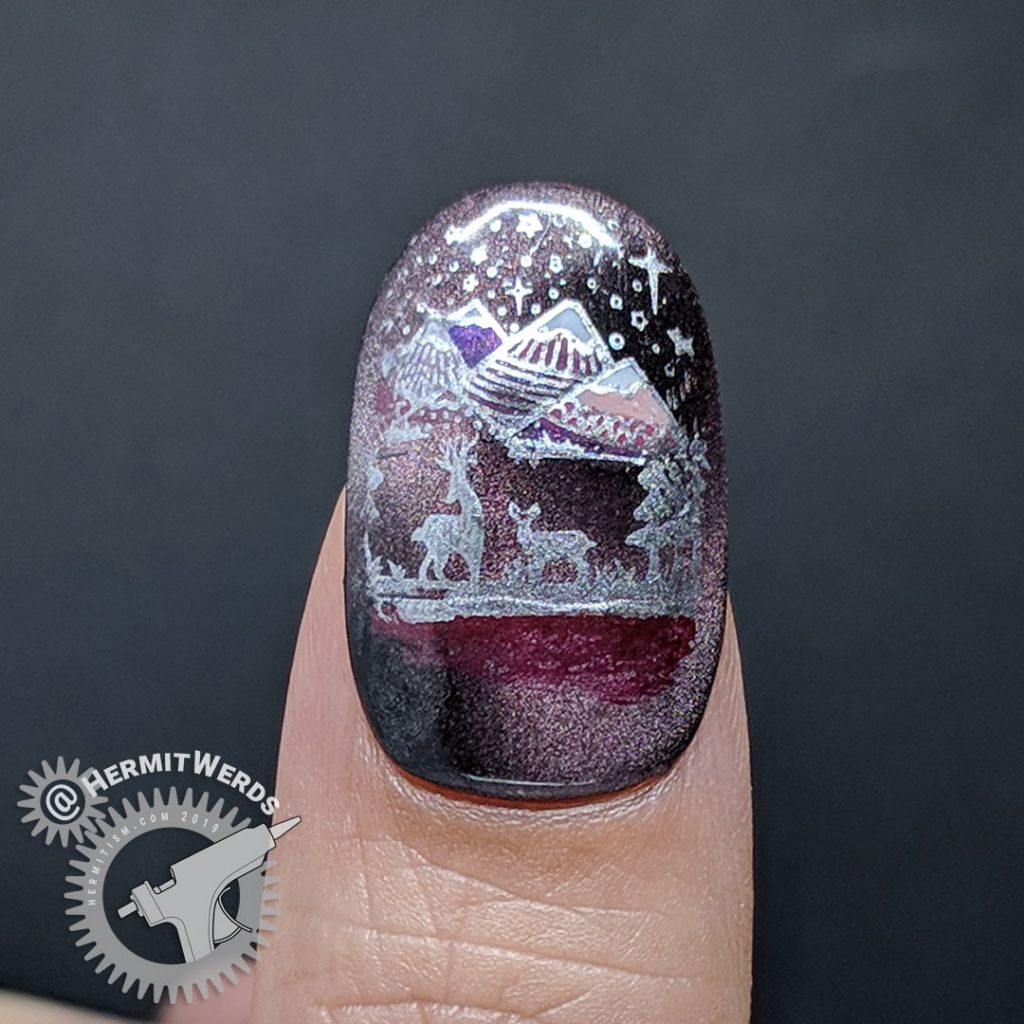 TLDR
While I can't speak to durability since I painted my design on false nails, I can definitely say that the results match the product photos as long as you paint it over the black base they recommend.
But I invite you to think outside of the box and explore using other base colors to really make the gel work for you and give you lots of different looks. 💪
If you're looking to buy any of the products that were sent to me, here's the list: BP-MSS04 Boundless Galaxy (#44227), cat eye magnet stick (#42347), BPBL01 Night (#42869), gel top coat (#42885), and 240/320 nail file (#44824).
End of a review era
There goes my last review for Born Pretty. I very much appreciated the opportunity they gave me, but it's just less pressure and work for me to buy the products myself. 😨 I apologize if you liked reading my blog for the reviews…
(Also, for the record, I haven't gone camping in years because I like my bed and regular showers. #hypocrite 🤣)