[press sample]
I went pink today with as much Halloween cuteness as possible. And what could be better than piling on iridescent glitter and some review items from Beauty BigBang: mermaid sequins in the form of stars and moons (J9735), opal rhinestones (J4197-5C) and a rhinestone glue gel to keep it on my nails.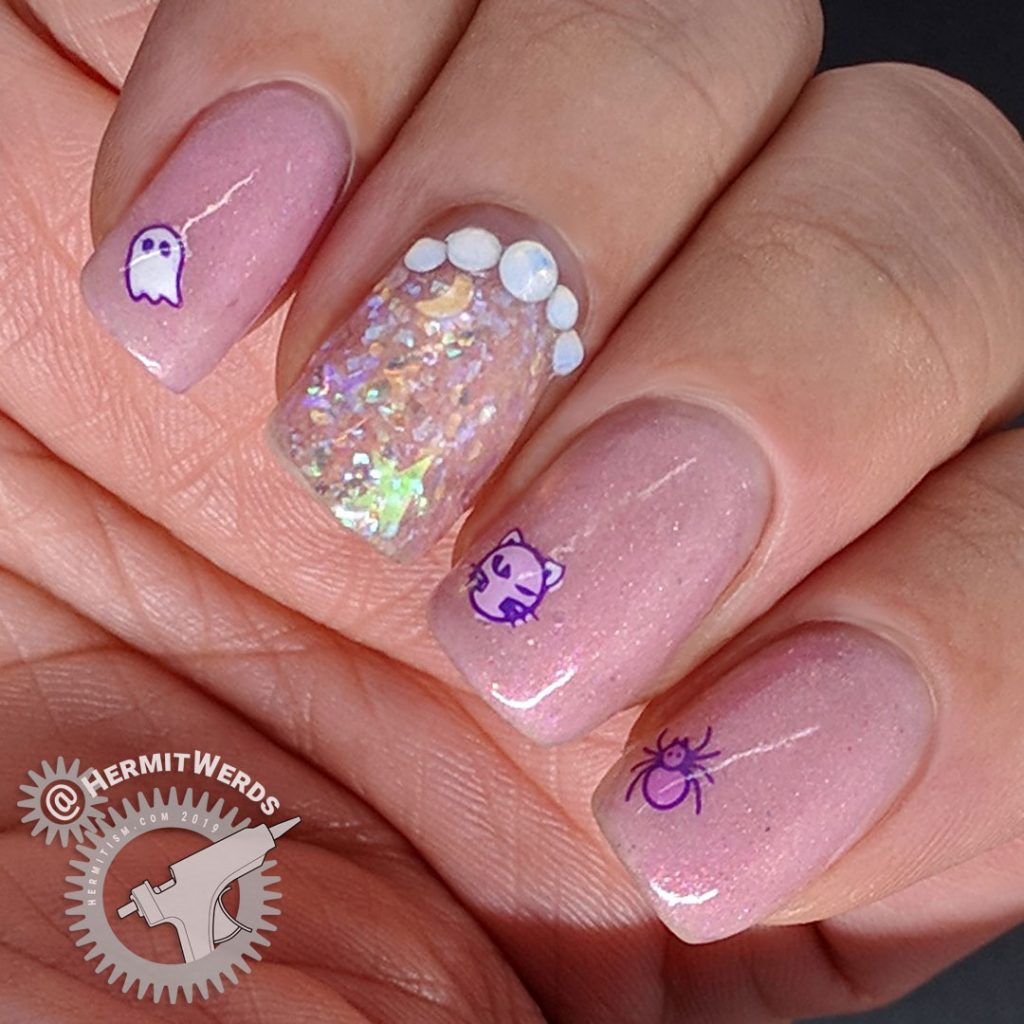 J9735 – mermaid sequins
I've already reviewed the mermaid sequins here. I will say that I had to be utterly ruthless about nipping off tips and filing down the edges of the largest star to keep it from poking out of my topcoat. It took a few tries, but then I added a gel topcoat and the whole thing lasted me for two weeks with nothing sticking out. It is possible to use them on your nails!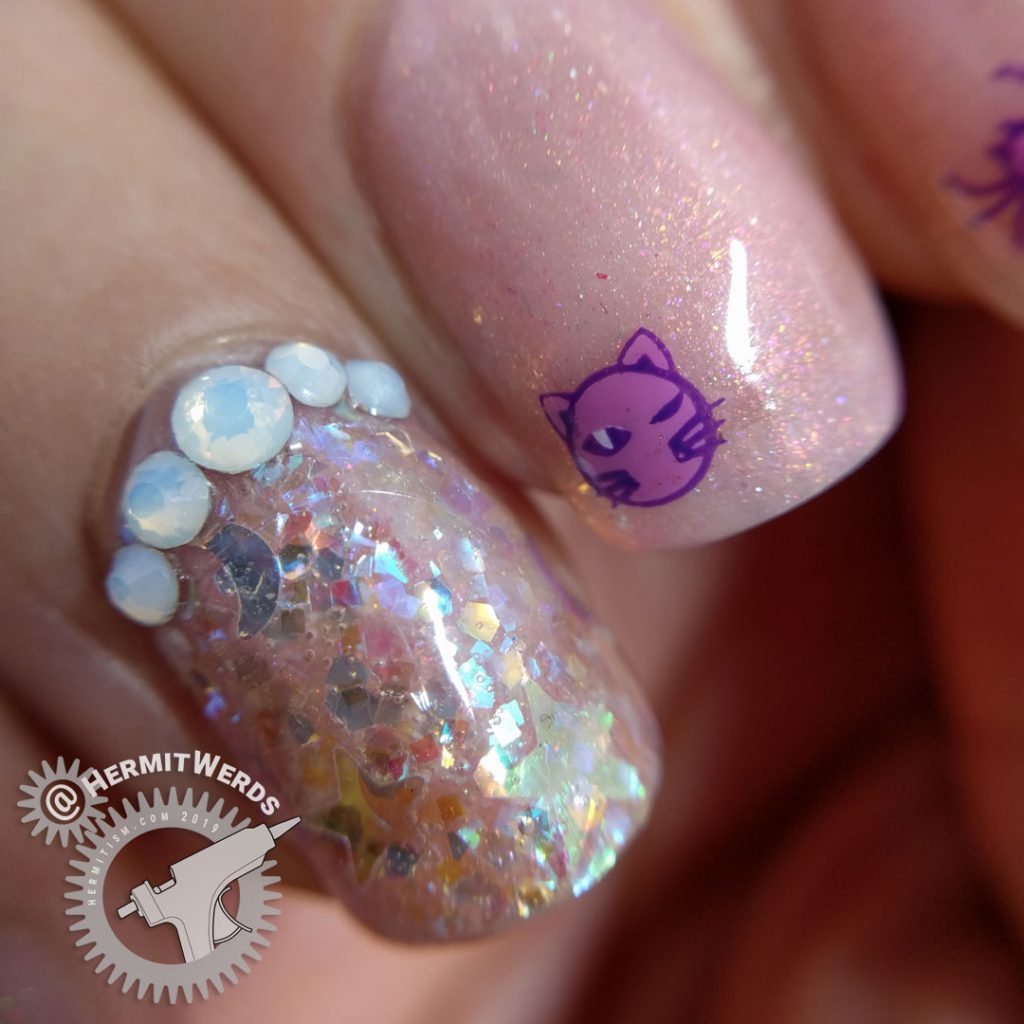 J4197-5C – opal rhinestones
I adore these rhinestones because they remind me of milk glass. They came with a mix of sizes and did not show too much wear during the two weeks that I had them on my dominant hand. I used the rhinestone glue gel to stick them to my nails and (mostly) kept them on for two weeks.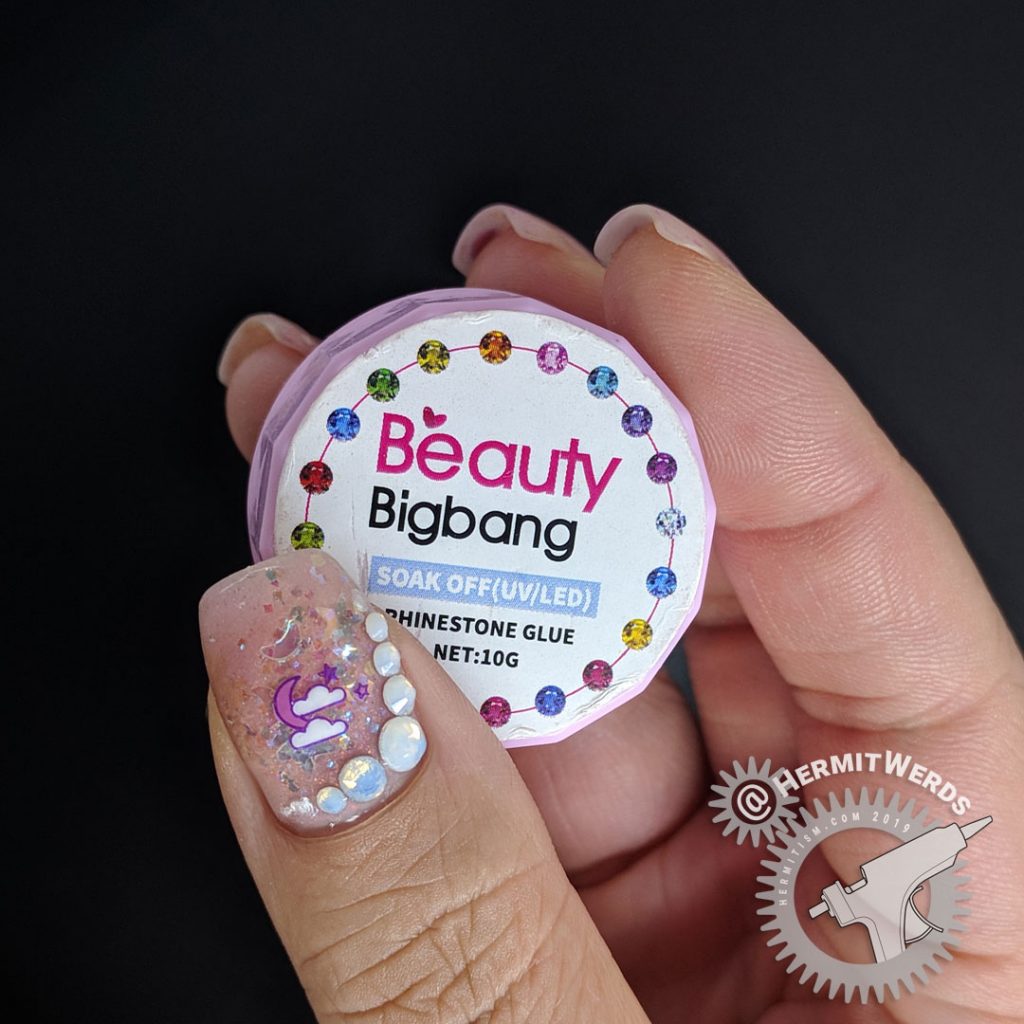 Rhinestone Glue (gel)
My understanding of this is that it's basically a very thick, sticky builder gel. The first time I used it, I had too thin of a layer and I lost three rhinestones on my thumb within 24 hours. So I went back, stripped my nail, and started over with a much thicker layer. I still managed to lose the largest rhinestone to my insidious hair when I was washing it, but I was able to glue it back on with some nail glue.
And I probably would not have lost it if I'd gone back with a little more gel around that vulnerable edge like I did with the googly eyes. I cured the gel and then added my top coat around the rhinestones (not over them) and cured again.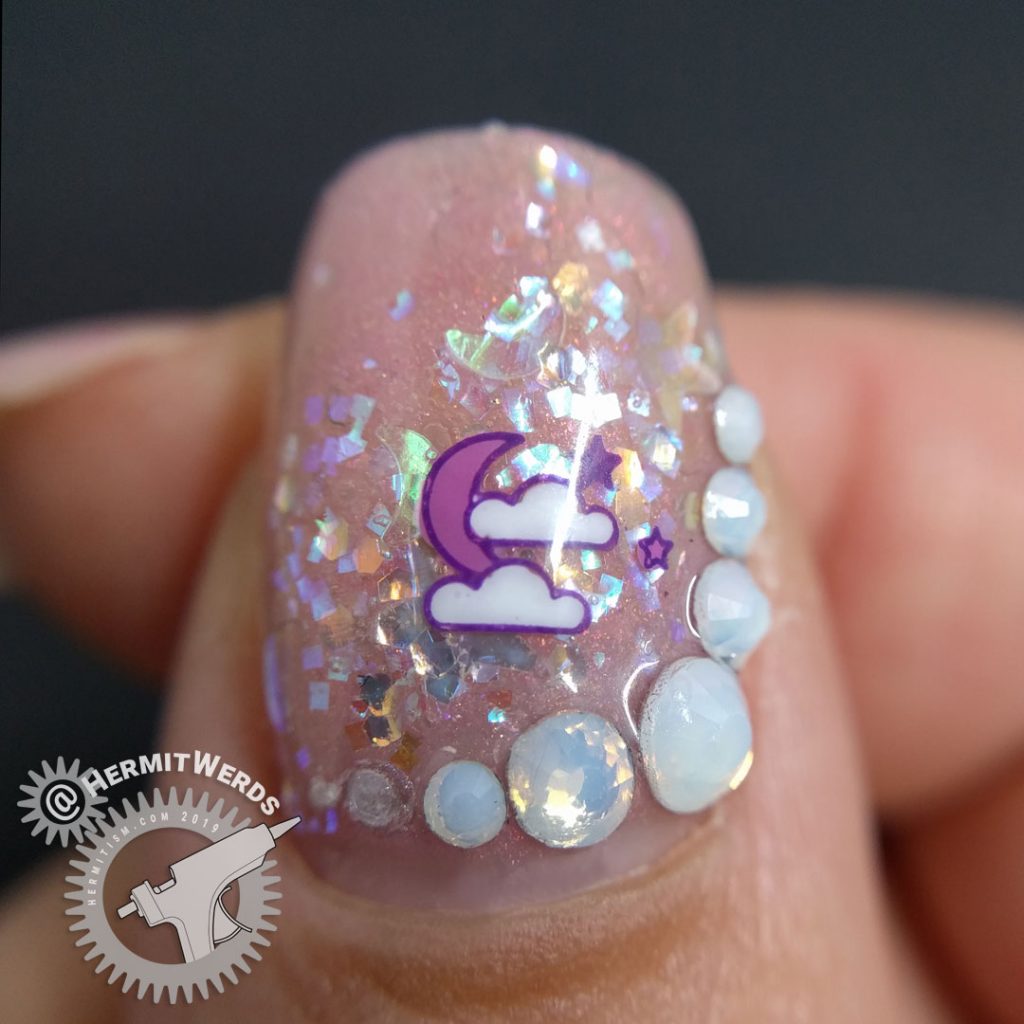 I did turn this in for October's #HalloweenForeverCollab on Instagram. However, since I am scheduling this to post in the morning, I don't have a collage to share. So check out the group tag to see everyone's beautiful creations. Edit 2019-10-28: snagged the collage which you can see at the bottom of this post.
Products Used
Base Polishes:

Stamping Polish:

Advanced Stamping Polishes:

Stamping Plates:
I took two different sets of photos with this nail art. With the earlier ones, I have two colors filling in my decals and that's it. With the older photos, I went back and peeled off the old decals and replaced them with one where I mixed my two colors to fill in the cat so they kind of gradient across my nail.
I also added more of "Nerd" on top. It's a pretty sheer thermal polish but applies so very well. I'm sorry to say it's no longer available for sale or I'd link to it. Either way, you can tell which photos you are looking at by the cat's color and the amount of bare nail showing beyond the rhinestones.
TLDR
The sequins (J9735) and rhinestones (J4197-5C) are both pretty and fun to work with. The rhinestone glue gel worked pretty well and is much easier to use than nail glue initially because you don't have to worry about your adhesive drying out while you're positioning things. Plus it's sticky and holds them in place with no sliding around.
However, I did use nail glue to re-apply things so I don't think it replaces regular nail glue entirely.
My discount code with Beauty BigBang is hermi for 10% off your total order. Feel free to use, ignore or use someone else's code. 😘
Until next time, friends!
Edit: #HalloweenForeverCollab