[press sample]
All aboard the color train! LOL We're back to reviewing stamping plates today with Beauty BigBang's XL-030 and XL-033. The former has several cat images (all of which I loved and used immediately) and the later has this amazing full-nail train stamp that I separated to create a great french tip look. Again, I asked for the whole winter set of five rectangular stamping plates. I have already reviewed two of the plates on Thursday's post.
BeautyBigBang XL-030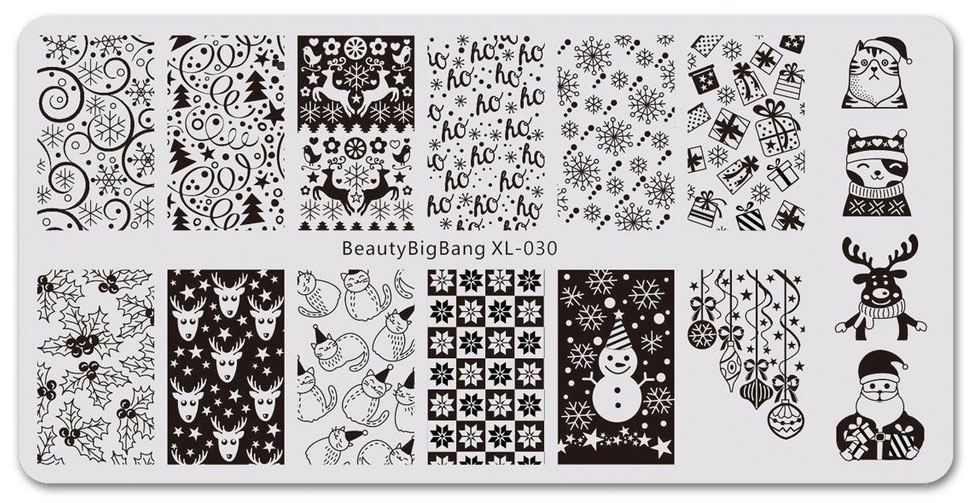 This stamping plate comes with twelve full-nail patterns, with 2 1/2 being negative space, and four cute individual images on the side (okay, three cute, I'm not into that Santa, sorry :p). I am a little fascinated with the half negative space image. I cannot recall seeing another stamping image like that. The images on this plate are all pretty similar style-wise, making this probably the most re-mixable of the entire set of five. And I still can't get over how Santa Kitty looks like he's got a little bit of stubble. Ahhh! 😍
BeautyBigBang XL-033
This stamping plate comes with ten full-nail patterns and eight individual images. I love all the little animals with their scarves. I've seen a lot of nail artists use them in their designs, so I am not alone in that. We also have two "ugly" Christmas sweater patterns and lots of possibilities for plucking out little bits from the full-nail images to make fancy french tips. The train is probably the cutest one. I am also fascinated by the negative space bar of the deer/tree pattern. I think that could make a very interesting french tip. And the little Santa heads with stars just make me think of cookies. That's right, Santa, I want to nom you all up!
Test Samples
Despite how it may look, you can see the image of BeautyBigBang XL-030 yourself and know that it is not only full of cats. Yet I was drawn to them over and over again so even my test sample is cat-ified. For my other test look, well, I really love the image of the apple tree. My placement wasn't very good, but it was because I was feeling annoyed and impatient since my Mundo de Unas' "Brown" had dried out to the point where I couldn't stamp with it anymore. 🙁
Cone-head Cat. Background is Sinful Colors' Kylie Jenner "Haute Koffee". Stamping done with Mundo de Unas' "Geranium" and filled in with Pure Ice's "Dollface" and Smacker's "Wickedly Stylish"
Apple Harvest. Background is Sinful Colors' "Innocent". Stamping done with Mundo de Unas' "Brick" and "Orange".
Kitty Clause
I think if I had painted this in December, I would have put the cat that reminds me of Santa Clause on my middle finger. But since this is the month of love, I put the cat with little hearts above his head in the prominent spot instead. It is sweaters and cuddle weather right now, depending on where you live. 🙂
Products Used
Base Polish:

Sinful Colors' Bling It On "Hit the Dance Glow"

Stamping Polishes:

BeautyBigBang "J6504TM-4A" (press sample) and Mundo de Unas' "White"

Advanced Stamping Polishes:

Essie's "Good As Gold", Jenna Hipp's "Jenna and the Giant Peach", Pure Ice "Dollface", Sinful Colors' "Beautiful Girl" and Sinful Colors' Nail Art "Sunset"

Stamping Plates:
When I first saw BeautyBigBang XL-033, I knew I wanted to take the full-nail train stamping pattern and turn them into french tips. I just had to. And I think it turned out super cute. My original plan also had the magenta part looking much less opaque, but it was my first time using the polish and I didn't realize that it would look slightly dirty until it was opaque. I really wanted that part to be more subtle and now I kind of want to destash the polish both because it disappointed me and partly because, well, I have plenty in that shade? And since I know I can't play with its opacity now, it doesn't feel like I'll really keep reaching for it. *sigh*
But I am still pleased because I used BeautyBigBang "J6504TM-4A" (press sample) on top for a super subtle background enhancement. The little details can mean so much sometimes. 🙂
Pow! So much color and nothing that is traditionally Christmas-y yet it still works. That makes me very happy.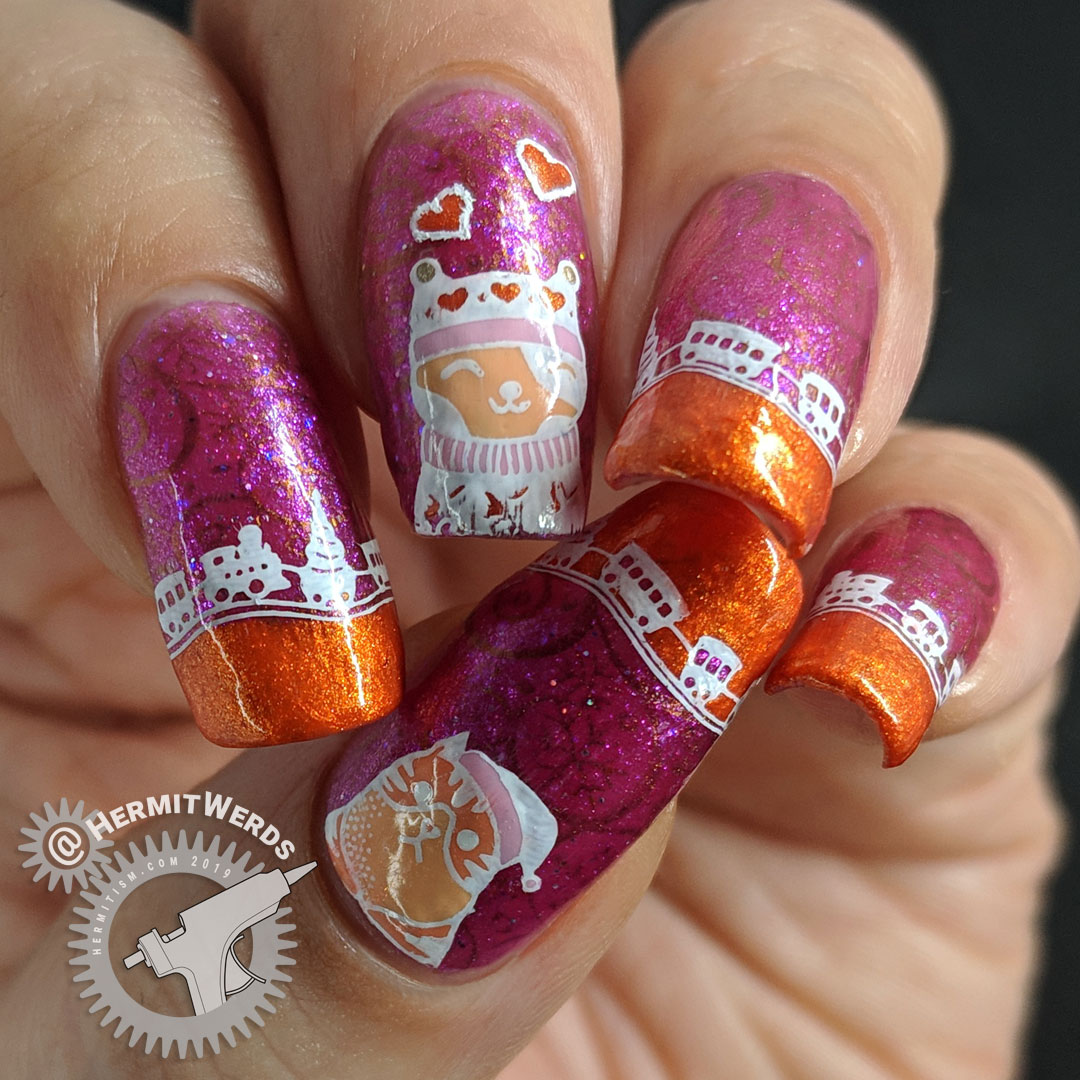 Final Thoughts
There's a great mix of images on both stamping plates. Plus, all of the little animals on both of these plates make me so happy. I just want to pinch their little cheeks and give them hugs they do not want. The possibilities feel endless for both super cute Christmas designs and some winter in general with a few images that can fit any season depending on how they are used. Don't be surprised if the trains show up again for Easter some year. I'm just sayin'…
If you're interested in either of these stamping plates (BBBXL-030 and BBBXL-033) or the five piece set (ZHSP0467) feel free to use my discount code (hermi) for 10% off your order. (Non-affiliate code).
Words. Valentine's Day sale. No pressure. 😉

One stamping plate left to review and another product that fills me with glee! I'm excited for the next review post. Until then! 😀