The best weather for using thermal polishes is rapidly fading away so I thought it was time to use Shinespark's "Snowfall" before it became too difficult to photograph in all its glory. And with my luck the day I used it was rather warm and I still had to dip the tips of my fingernails in cold water so that my photos would reflect as much of a color difference as I was seeing throughout the day. Still, I feel I did it much better justice than I had the first time I used it. Fine lines and scattered bits of holographic pigment do not mix well.
Which is why I double stamped this time: I wanted her outline to be extra clear. The few panels of her kimono that I did fill in were deliberately left translucent. That way the scattered holo could shine through like a field of stars. To me, she is a goddess of the night sky. I hope you feel the same. 🙂
This is one of my few done-before-I-needed-it nail art and blog posts. I ended up turning this in for #AZNailArtChallenge's 'G' is for Galaxy prompt and it also fits #WNAC2018's flower prompt because of all the flowers on her kimono and the extra ones I added. It's not a typical galaxy mani, but I don't really enjoy doing those anyway. And since most of the text was written before I knew about the prompt, I think it's fair to say I already considered her to be a galactic being. The star glitters are just a bonus. 😉
I do love the stamping plate this all came from. I "won" it in a drawing for a set of ten Mezerdoo stamping plates from Aliexpress and it is my favorite of the lot. I wouldn't have bought the whole set on my own though. At the least it has two Christmas stamping plates that don't really fit my style and I have so many Christmas-themed stamping plates I love much more. But I am totally into the tiger stamping plate and there are a few other images I'm pretty excited about. Time will tell how many of these I use and how many I end up de-stashing.
And, sorry, I don't really want to talk about the quality of the stamping plate until I've used them all more. They seem pretty decent, but Aliexpress stuff generally has middling quality and I've received dud plates from different sellers. Having looked at Mezerdoo's store, I will say their individual plates sometimes have themes but are really all over the place on what they depict a lot of the time. Great for people who like one featured nail or having the same thing on multiple nails. Harder for people like me. There are a few that I'm definitely eyeing for future purchase though. 😉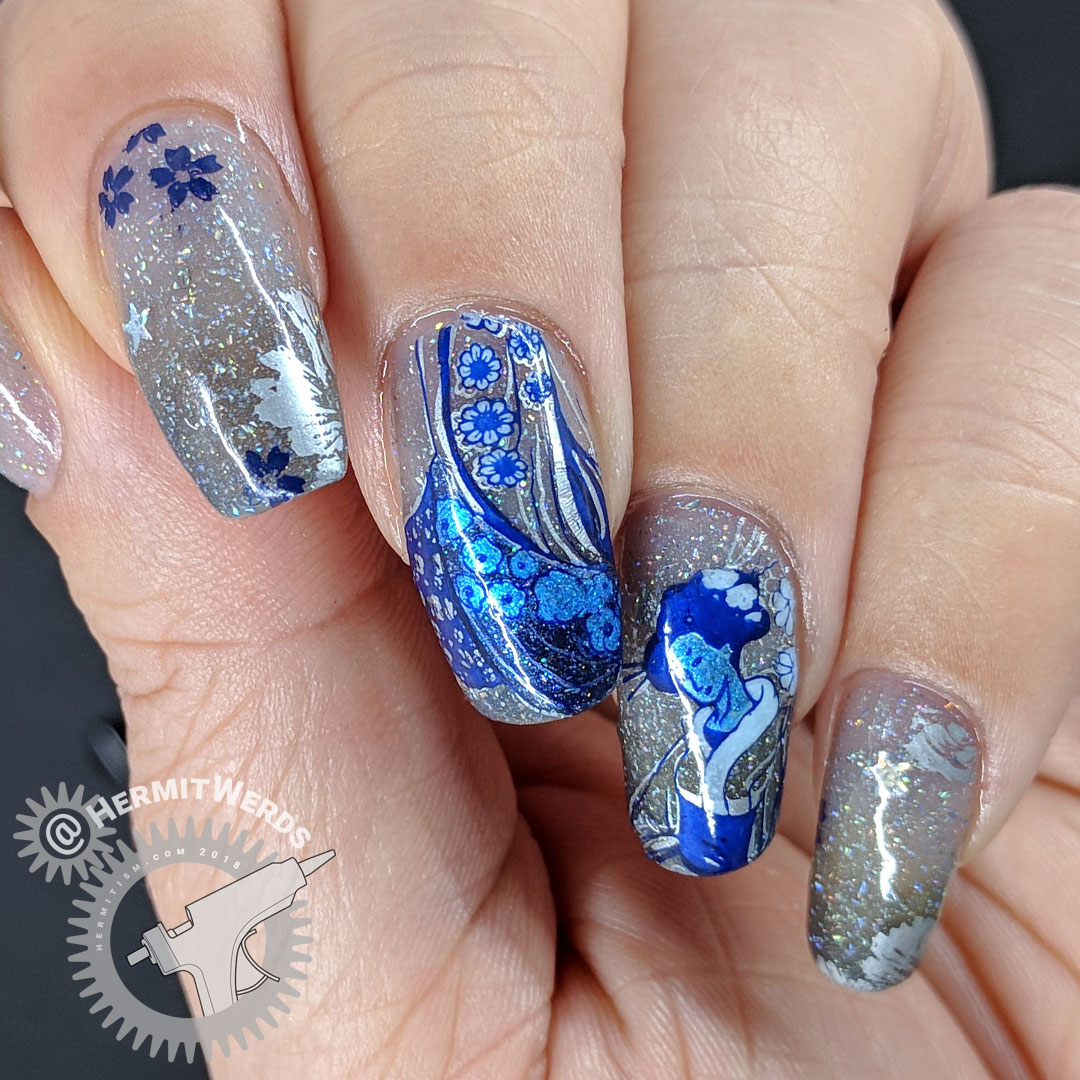 I did post a swatch photo of this polish the first time I used it, but my nails are longer now which is always better at showing off a thermal polish. Plus I'd like to think I did a better job photographing it this time. 😉 If you find yourself falling in love with it, don't wait to buy it since Molly might not restock it when it runs out. Plus it's a very bad idea to ship thermal polishes in hot weather since it can destroy its color changing properties. You can find "Snowfall" here.
Edit: Molly is no longer with us and I'm not sure what her family is going to do with her remaining stock. 🙁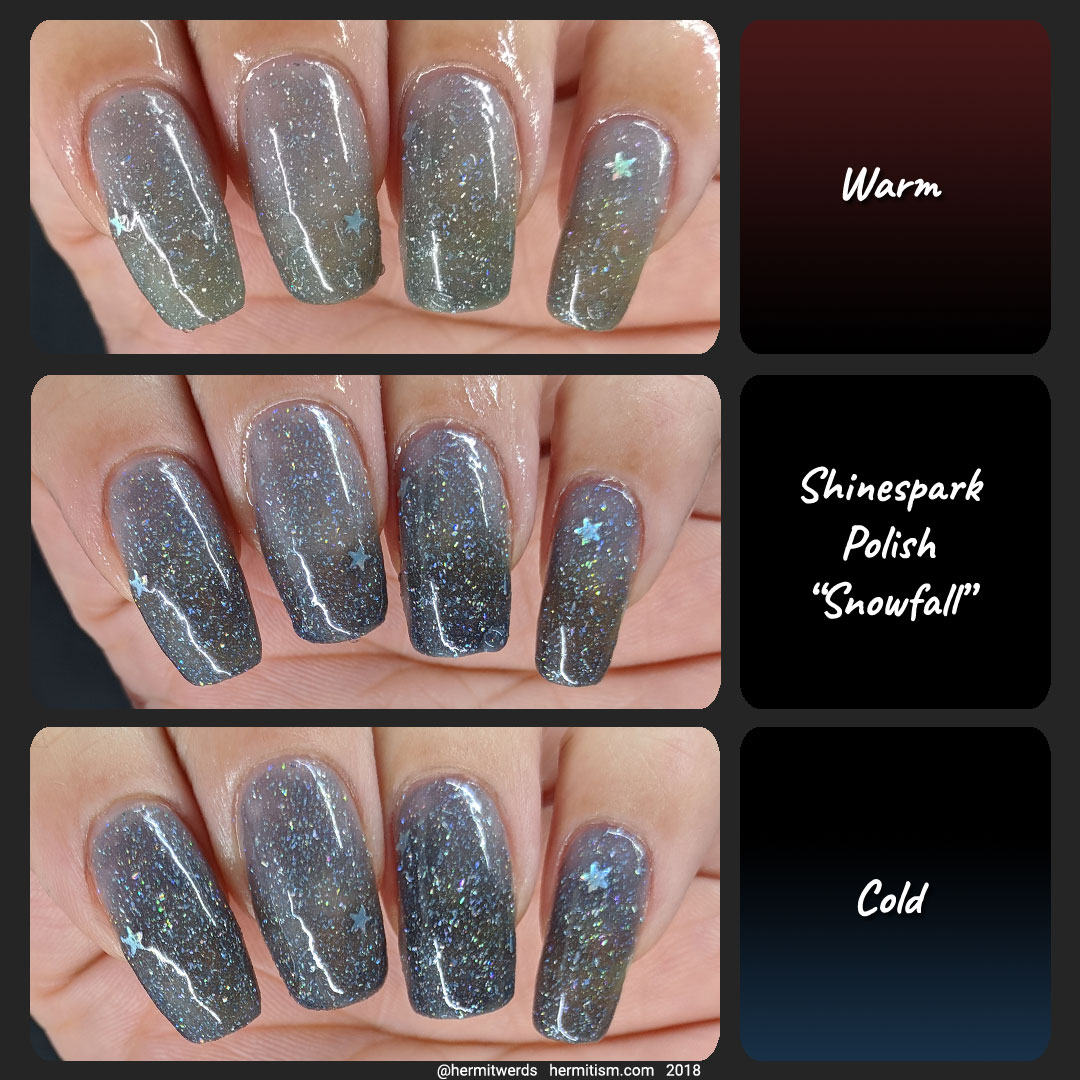 Finally, here is the collage of all the nail art for 'G' is for Galaxy from the #AZNailArtChallenge. So many fields of stars. 🙂