I've been wanting to experiment with transparency with a citrus-y manicure and so the letter 'L' in last week's ABC Challenge was a perfect time to play with some lemons and limes. Here's a quick look at the nail polishes I used to create the look.

Jelly Polishes: Sinful Colors' Neon Collection 2016 "Light It Up" and Sinful Colors' "Yellow Out There"
Regular: Wet 'n' Wild's "Do Pass Go", Essie's "Blossom Dandy", Milani's "Yellow Whiz", and Finger Paints' "Master Muse"
Stamping: Born Pretty's black and Color Club's "French Tip"
Nail Plates: Ya Qin An Y004, Bundle Monster BM-308, and CF Series CF05
To start, I began painting a series of clear circles on my plastic bag. I needed three slices of fruit for each hand so I kept making these while I worked on other nails. I ended up painting three yellow jelly layers for the lemons and one layer of green with three layers of yellow for the lime. Then I used acrylic paint to create the sections and pith. (Here's a tip: eat something or at least don't try to survive on coffee alone if you're painting freehand things. Learn from my mistakes because I suck at learning from them.) Then I used a darker yellow for the outside of the lemons and a fully thick layer of the green for the lime.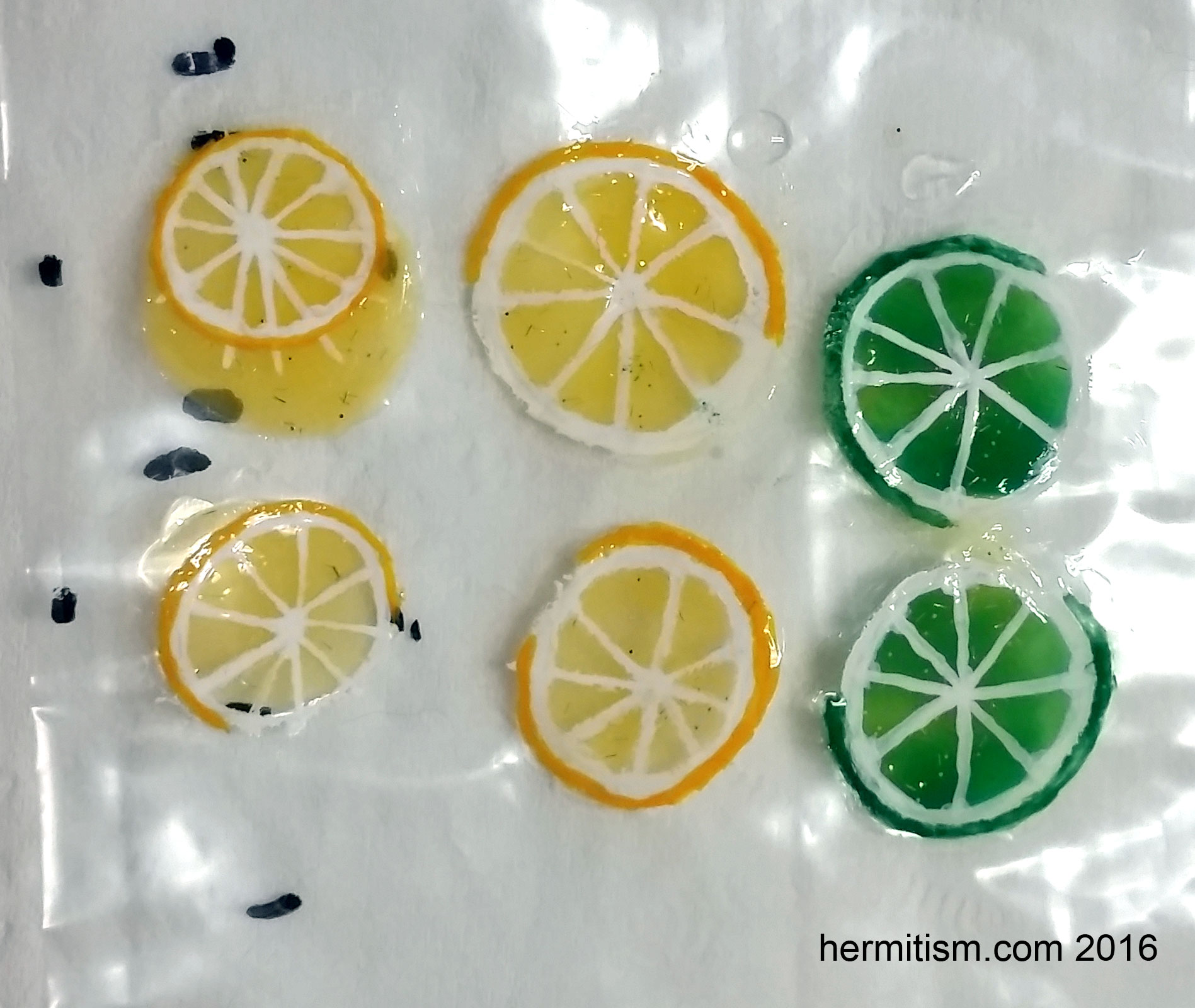 Meanwhile I painted on my base colors. Light blue on the thumb, middle, and ring finger, bright yellow on the index, and a layer of green jelly followed by two of the yellow jelly on the pinkie. Then I created a reverse stamp with CF05. My first one, I didn't use black stamping polish and I regret that. However, to keep from having a black center for the lime, I had to use tape to remove it and fill in the entire space with white. Then I created another stamp of just the center in green. I should have dug around a little more to find a darker green, but I just used the jelly green I already had out and it came out too light. Still. Double reverse stamp! For control freaks!
Another reverse stamp for the middle finger. I used Ya Qin An Y004 to get the single lemon using black stamping polish and the non-jelly green and yellows for the middle finger. The pinkie was the simplest nail. I stamped with white polish using Bundle Monster BM-308.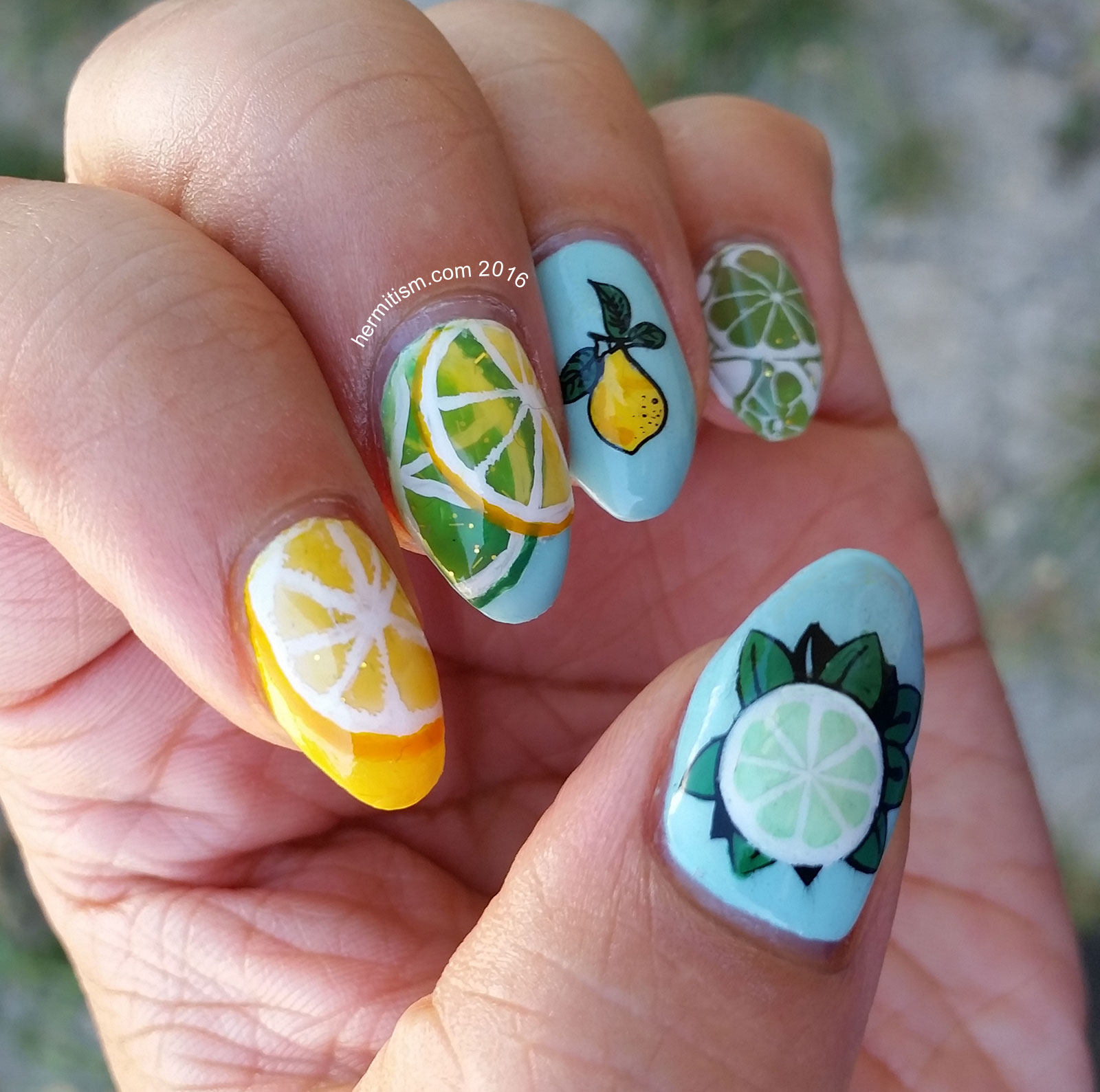 Time for my transparent fruit slices. I ran into trouble when it came to peeling my fruit slices off the bag. They weren't quiiite dry yet and wanted to stick. So I threw the bag in the freezer and pried them up a bit at a time. Whenever I reached a point where it stuck again, it went back in the freezer. Fruit liberated! I stacked them on top of each other, trimmed them down to the nail size and painted a layer of white behind them to make sure the colors would pop. Then I stuck them to my nails and it was time to clean up.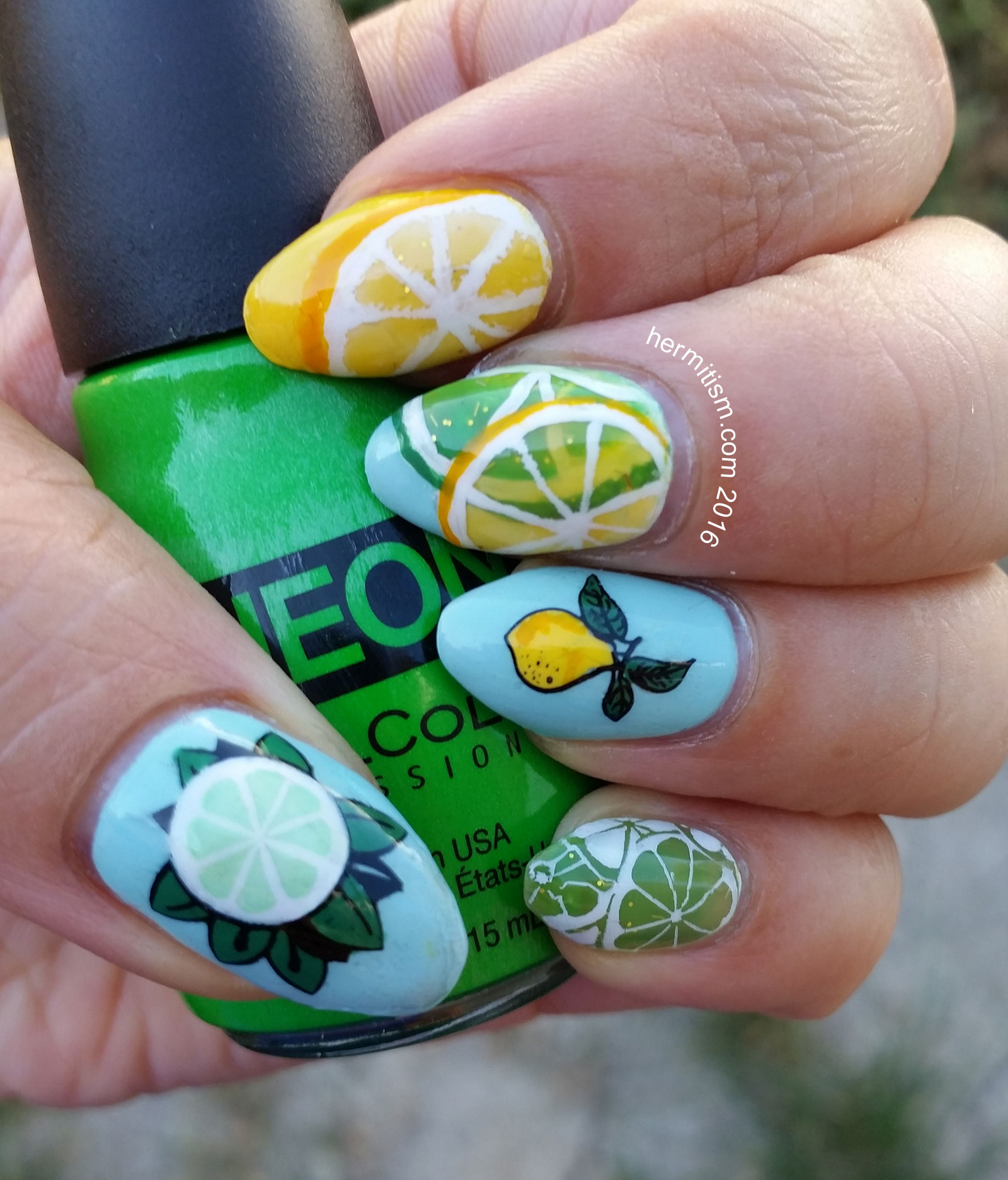 Fun manicure, but it took waaay too much time to complete. If I were to play with transparency like this again, I would probably try colored cellophane first.
And now for the other lovely ladies who took on the ABC Challenge (including a fellow lemon):