Ah, the Carnival of Brazil. I've seen images and videos of Brazil's annual festival held between the Friday afternoon before Ash Wednesday and Ash Wednesday at noon. It marks the beginning of Lent, the forty-day period before Easter. I love the feathers and the colors and the feathers and the music and the feathers. Did I mention feathers? Feathers…purrrr….
So when #AZNailArtChallenge posted their 'E' is for Exotic prompt, my brain immediately went to feathers the Carnival of Brazil and all the gorgeous samba outfits. Wait! I have a stamping plate with images of that. Maybe I should use it…
This nail art consisted of a lot of gradient stamping and filling in tiny details as best I could. I mean…I feel like I could have done better if I'd grabbed a different brush or cleaned the one I was using properly (I've found a backward dragging motion as you roll the brush in your fingers helps to maintain a fine point and I totally didn't do this here). I also should have maaaybe used a different brown because the polish I used for stamping it clearly wasn't opaque enough. And yet with all these criticisms that tumble through my head when I think about my process, I really didn't want to take these off.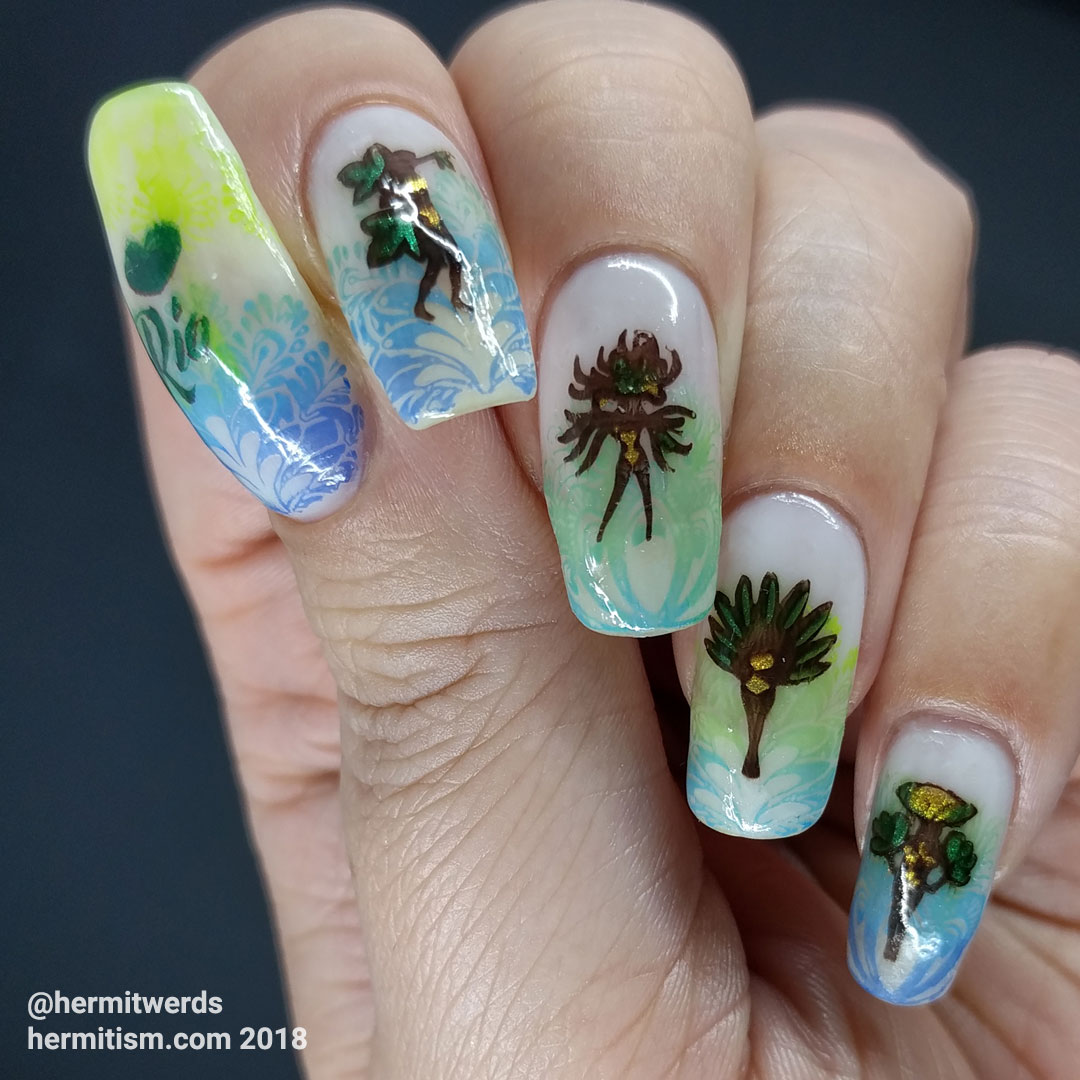 First Impression: using foil glue to help stamping adhere to the nail
Lately I've heard several nail artists say that they use nail foil glue to help stick the stamping to their nails. So I tried it this time and in many ways it worked really well. With the humidifier on, I was able to pick up things well with my clear stamper for once and transfer it directly to my nail. For the record: this rarely works for me in my dry climate. Usually I get fine lines sticking up or refusing to transfer at all. I still couldn't use the clear stampers to pick up the samba dancers cleanly enough, but I was still able to save a step with the background!
However. The foil glue is very sticky and continues to be sticky everywhere that isn't covered. So I either should have top coated after getting the background stamping done or I should have had my other decals ready to be stamped on immediately after. I got so much lint stuck on my nails while I was filling in the samba dancers. Gross. I scraped them off as best I could. :p
And I don't know if it was my cheap no-brand nail foil glue ($.99 USD on ebay!) or what but it left a very bumpy surface afterward and I had to put glossy top coat on my nails twice to smooth things out.
Finally, lets check out the group collage. I am very late posting this, so I'm sure most people have already shared their individual posts on Instagram. Birds seem to be a common theme so see how well I kinda fit in? LOL The next topic is F is for Flowers and it's due on May 2nd.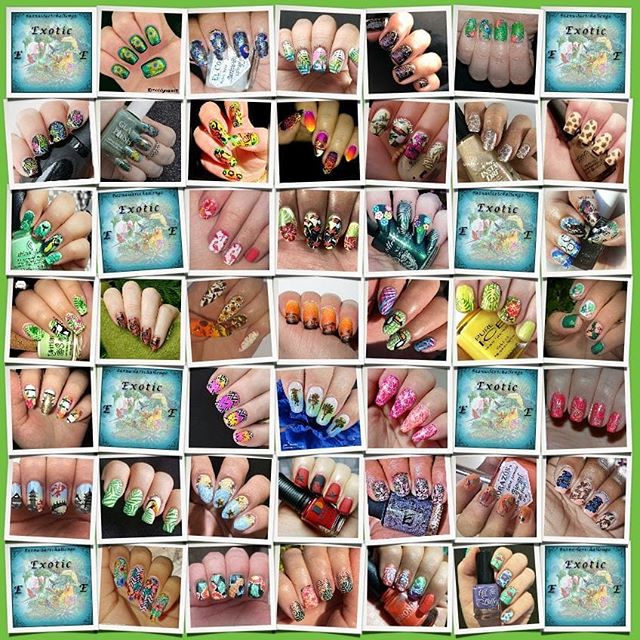 I am feeling an overwhelming urge watch Rio again…