[Press Sample]
Stephanie, the founder of Dimension Nails, reached out to me through Instagram to see if I would like to review some of her products. I happily agreed the minute I realized she had a mustard-colored polish. LOL I picked out three polishes and she had them shipped out to me the next day. I posted a picture of the opened package as an Instagram story, but here's a quick look at how beautiful it all looked when I opened the box. And she even included a cute little rabbit nail charm! I think I'll use it in an Alice in Wonderland design…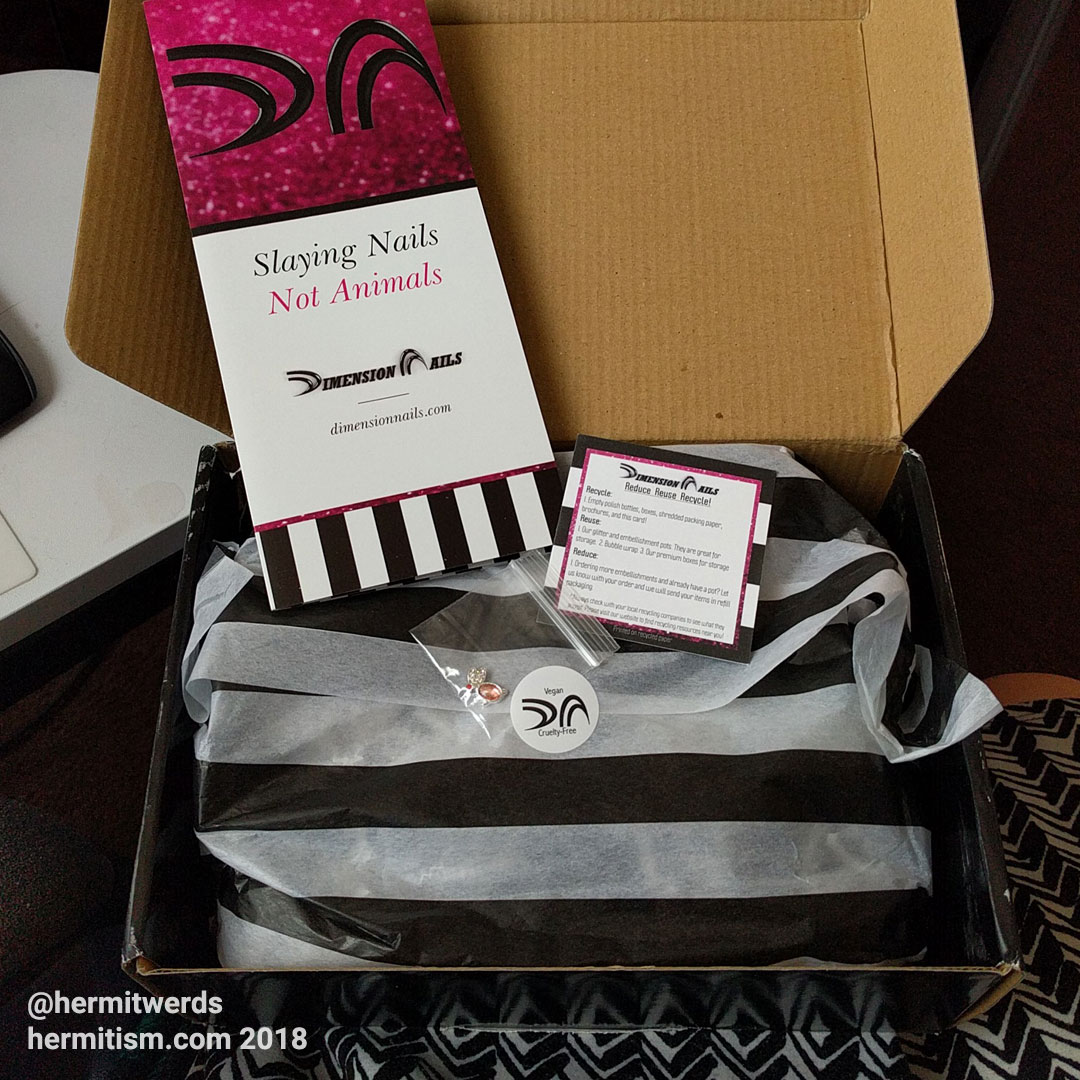 Before I get into the products, I'd like to take a moment to talk about the company making them. Dimension Nails is an indie company started by Stephanie Warren, who blogs @ The Vegan Doll where she covers everything from fitness to cosmetics through a vegan lens. Since Stephanie herself is vegan, she strives to make 100% cruelty free products which also includes making 10-free polish (ie free of formaldehyde, formaldehyde resin, dibutyl phthalate, toluene, camphor, tphp, parabens, xylene, ethyl tosylamide AND lead). She sells gel polish, regular polishes (what I picked), crystals, nail charms, cosmetic grade glitter, stamping plates and stampers.
One thing I really appreciate is that if you already have containers for your embellishments, you can request that they are sent in refill packaging. Now that is caring about the environment!
Okay! Let's dive into some product reviewing. There will be swatch comparisons and some notes about formula and then I'll talk about the formula in general at the end.
"Hawaiian Blueberry"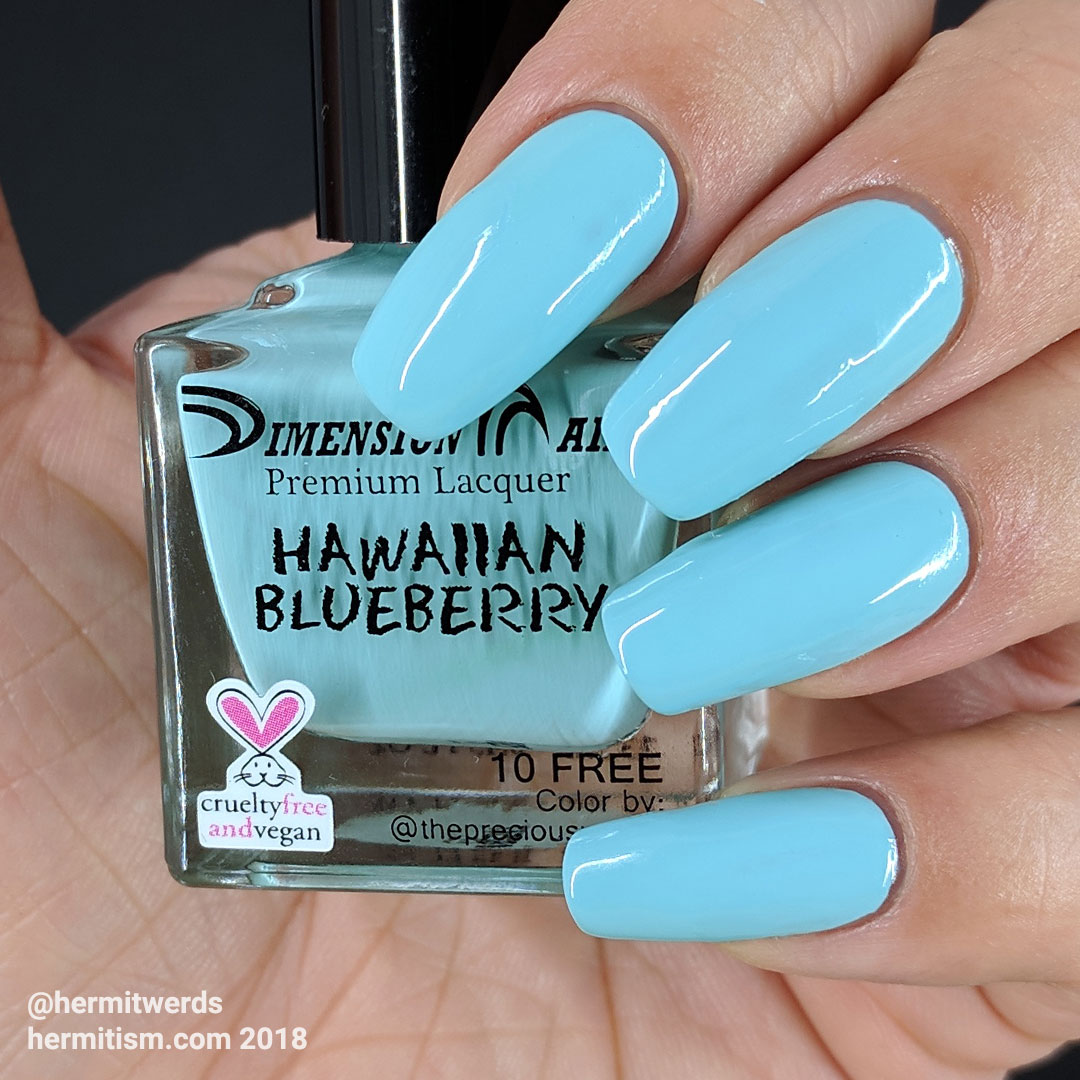 Pictured above is two coats of "Hawaiian Blueberry" on my natural nail with glossy top coat. It has great coverage and a smooth, glossy finish on its own. I ended up having this on my nails for two days and experienced no staining through UNT's peel off base coat. UNT doesn't protect from staining and my nails are only semi-prone to it so this one is pretty safe, though I'd always recommend using some form of base coat.

"Hawaiian Blueberry" was created in collaboration with @thepreciousvegan on Instagram. It is a slightly muted light cyan. When I saw it in the bottle I was afraid it would turn out to be too muted to be the light and bright color I was looking for to fill in the gap between Sinful Colors' "Bright Lucite" and Essie's "Blossom Dandy". But once it's on your nails it turns out to be slightly lighter than the other two and just muted enough to not be garish. Huzzah! I think I can call my search for that particular color over which makes me really happy since I tend to use light blues as my background color a lot. You guys have no idea how often I've had to stop myself from falling back on that too much. LOL
Currently selling for $10.50 @ Dimension Nails: "Hawaiian Blueberry".
"Juicy Papaya"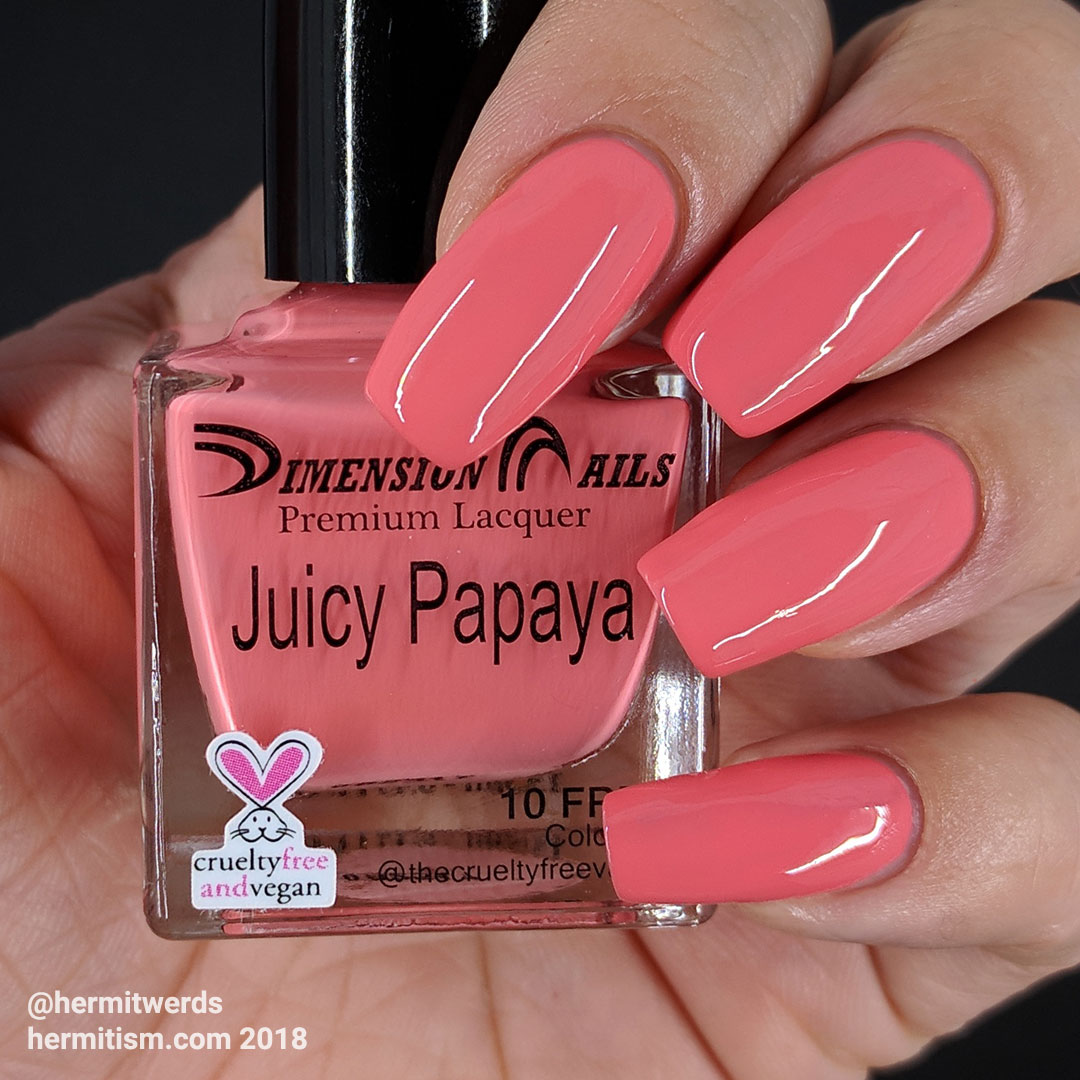 Pictured above is three coats of "Juicy Papaya" on my natural nail with glossy top coat. It also has great coverage and a smooth, glossy finish on its own. I did not have this on my nails long enough to really have any information to give on staining.

"Juicy Papaya" was created in collaboration with @thecrueltyfreevanity on Instagram. It is a delicious melon/coral creme polish. I'll admit this is not a color that I will grab for often simply because it's just not a part of the rainbow I favor heavily. I picked it because last year I had a coral color prompt and I had next to nothing to use. I was so afraid what I had would be deemed too orange and I wasn't sure what I would do if it was. Now I have a good friend in this polish. As you can see, it is clearly not an orange like Sinful Colors' "Hazard" is and it's slightly darker and more pink than China Glaze's "I Just Cant-eloupe". It's such a yummy color, I could bite it.
Currently selling for $10.50 @ Dimension Nails: "Juicy Papaya".
"Mustard Bird"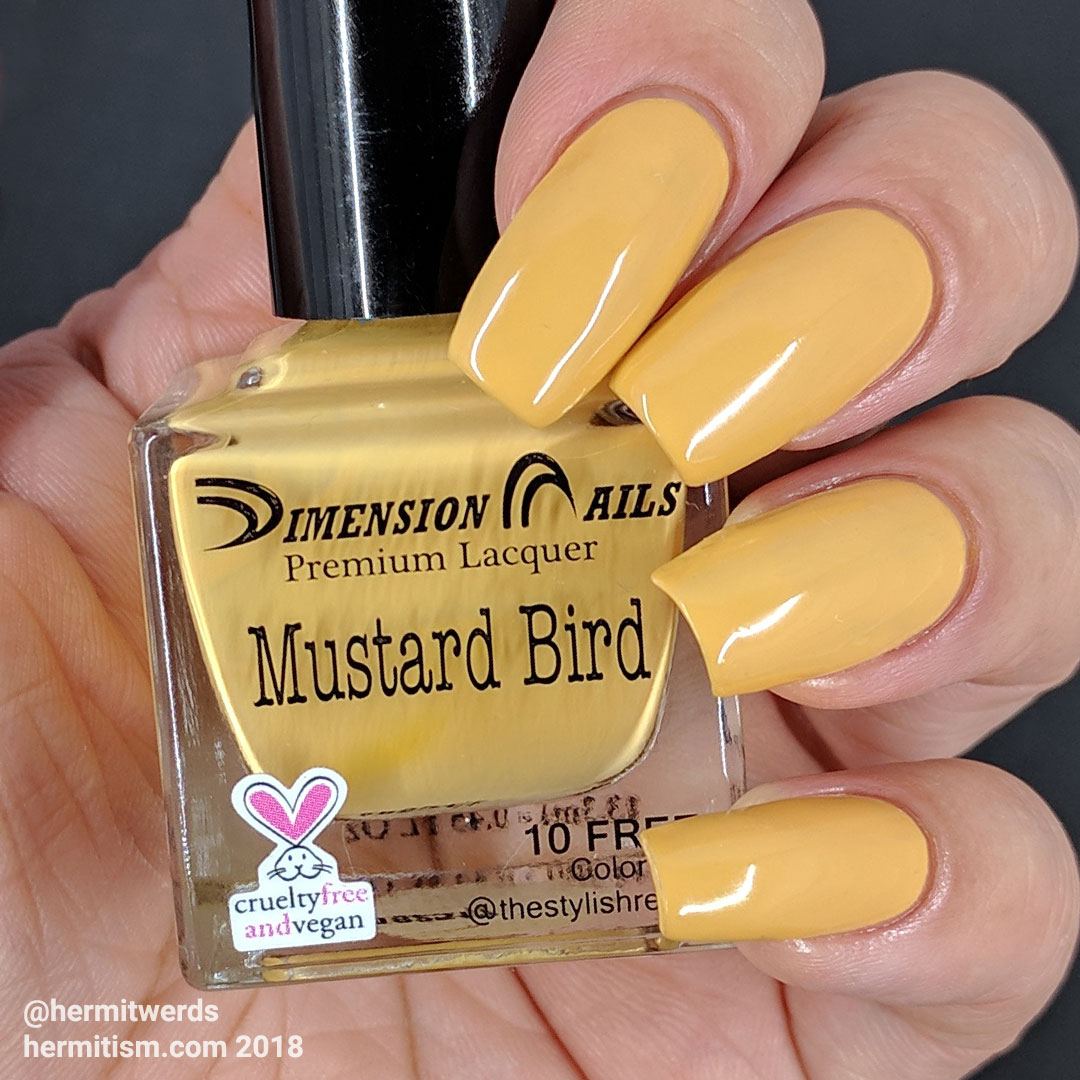 Pictured above is three coats of "Mustard Bird" on my natural nail with glossy top coat. It has great coverage and a smooth, glossy finish on its own, but I did have to dab a tiny bit to ensure I didn't have bald spots. Yellow polish is a hard forumla to master, but I feel comfortable saying that this is not only my new favorite yellow shade, but also the easiest to paint on my nails. I had this on one of my nails for two days and experienced no staining through UNT's peel off base coat.
It is also amazingly hardy. I top coat after I finish painting my base colors on because I am de-structive. I somehow always manage to scrape off a chunk of polish or deeply embed some random lint without a hard shell on top. I had this on for at least twenty minutes with no protection as I obliviously filled in some decals and it was fine. Fine! This does not happen to me.

"Mustard Bird" was created in collaboration with @thestylishrebel on Instagram. It is a light mustard creme polish and my clear favorite of the bunch. It is so hard to find an unusual shade of yellow. I currently have three dupes of the same bright sunny yellow and it's only a matter of time before I start frankensteining one of them. This treasure is both lighter and more muted than OPI's "Never a Dulles Moment" (my former favorite yellow polish) but is clearly too yellow to be a tan color when compared with China Glaze's "Classic Camel".
It's perfect for spring, swings easily through summer, mustard-y enough for fall, and is a great yellow for filling in decals during the winter. You cannot lose with this polish if you love mustard colors.
Currently selling for $10.50 @ Dimension Nails: "Mustard Bird".
The Formula
Straight up, I would not recommend these for someone just beginning with nail polish. The problem is that, while its coverage is positively lovely, it doesn't like to be "worked" with. You need to have the skill to paint your nails in three main strokes. The judgement to know when your nails are long enough that you will need to dip again to get three perfect strokes. And a light enough hand to gently dab more polish in just that one eensy spot that is a little bit bald. If you don't have these skills you will find yourself going back for that fifth stroke and dragging all of the color back off your nail. And it will suck.
If you do have these skills, oh my are these polishes amaaaazing. The formula is thin but not inclined to flood the cuticles or drip down the brush's stem. It dries quickly and is harder to damage even without top coat. It self levels well and is nicely opaque. I wore it for about two days and experienced a tiny bit of wear on the tips but no chipping. I am hard on my nails. My fidgeting includes scraping off the polish at the tips of my nails which then invites chipping. Surviving me is no easy thing.
So to all but beginners, I think these polishes are a great buy. I know I will reach for them without hesitation when I'm nail art-ing. In fact, tomorrow I have some nail art to share with you using them. But before we end today I thought we could answer the question of…
…Do They Water Marble?
And the answer is…*turns on humidifier*…beautifully! If I were a smarter person, I would have taken photos of them water marbled in the cup. Instead I put them on my nails and kept having to re-do things because I'm not an expert at water marble and I kept flailing and carving chunks of polish off my design before I could take a photo. This is my third attempt to not destroy my work. Both fingers are from the same marble, I just dragged through the left one more so the lines are finer and the color is thinner. If you want a brighter look, I'd recommend using a white undie.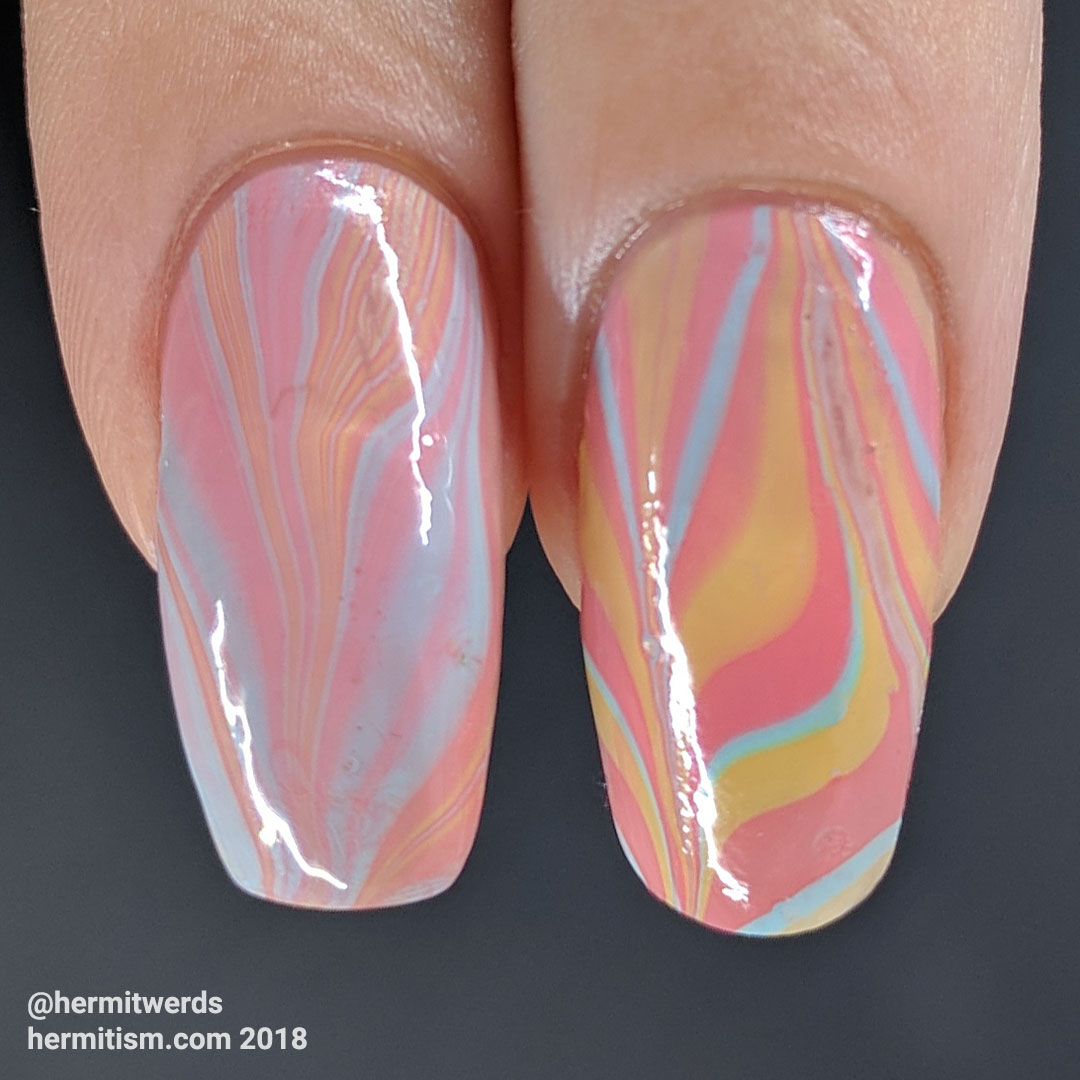 That's it until tomorrow! This is my first official review of nail polish so I hope I hit all the points that people are looking for. Feel free to ask me questions in the comments if I missed something. And thank you so much, Stephanie for sending me such lovely products to review! 😀


Edit: Thought I'd add this complete info graphic with the color comparisons and stamping for use as a quick reference.