I've been totally neglecting my nails lately. In fact, they've just had clear polish on them for over a week! The horror! Luckily I have a few manis that I haven't shared with you yet and one of them fits #26GreatNailArtIdeas' prompt of Things that are Round. The flowers are a round shape, the lion's head is cartoonishly round, and a slice of delicous ham is also round. Round enough for me!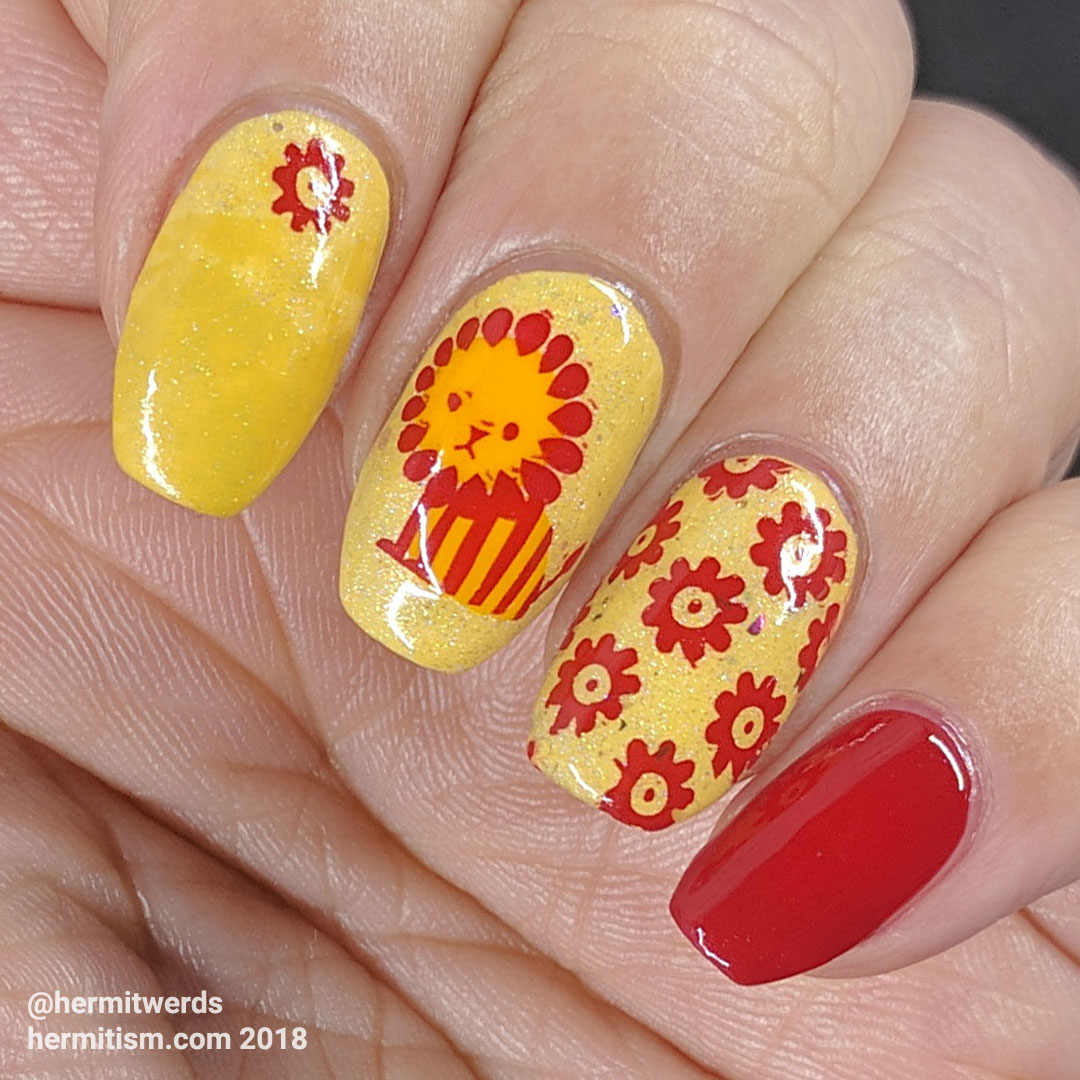 Oh, I'm just so happy I can share this mani with all of you right now. I haven't posted any cat nail art since Sushi Cats at the end of January. Criminal! And I love that little grumpy lion face! In fact, it was the deciding factor on whether or not to buy the stamping plate it's on. If fortune favors me, I will use that little face again someday. In fact, I can already think of how I'd do it…
I bought Colores de Carol's "Camellia" for the express purpose of using it to make colors I don't own in holo holographic and I just never think to grab for it. Remembering to include toppers in my designs is definitely a weakness of mine. But, wait! Didn't I mention ham? Maybe we should include what's on my thumb. Just a little…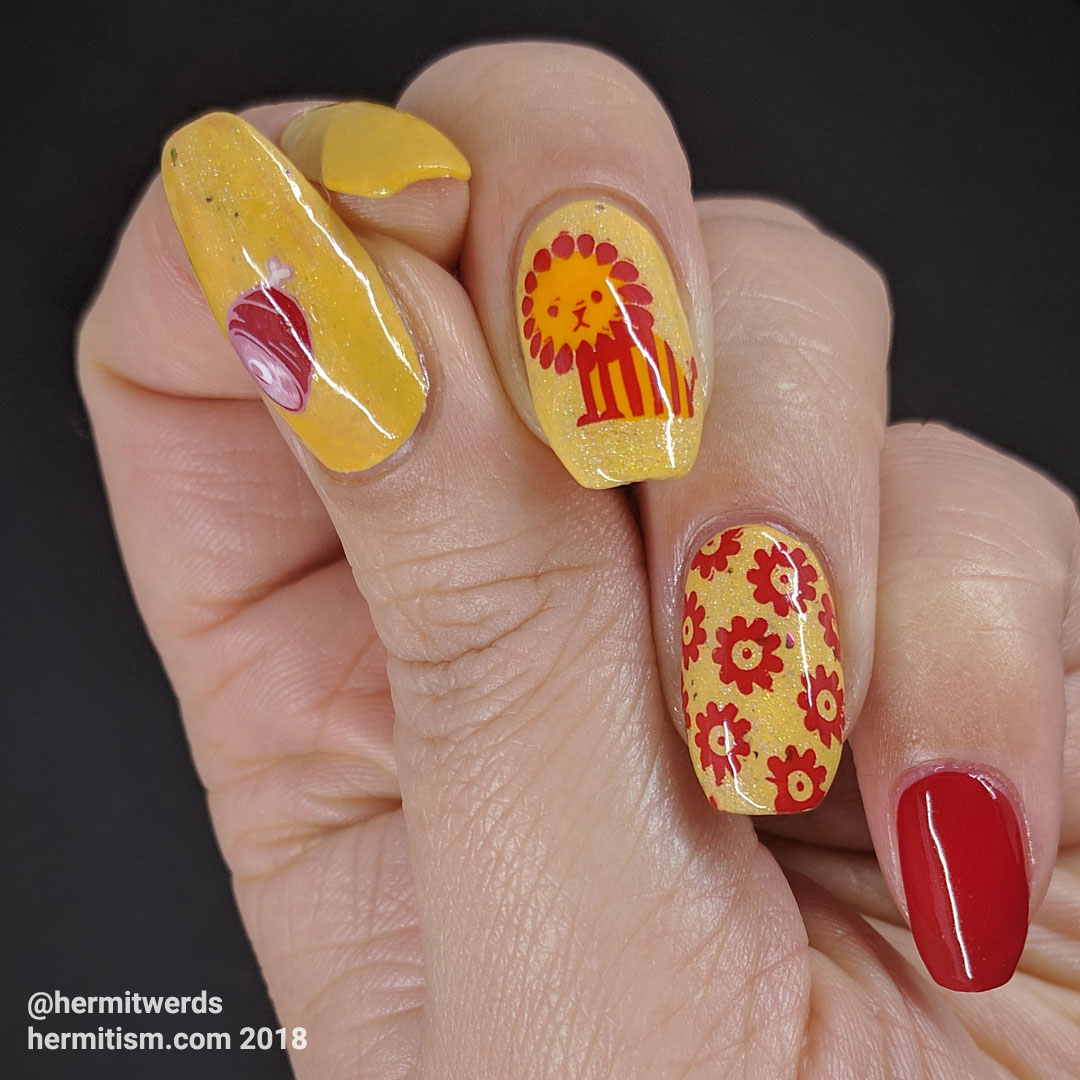 Oh, marbled ham goodness. Please, can I have pig tonight? Or at least more nail art celebrating roundness… 😀
The Purge
The cleaning out of my workroom has continued. My goal was that I wanted to see the floor. Yep! I am one of those the floor is a shelf people. Sadly, the best way to clean is to have less things. I took a car full of Stuff off to be donated and threw out a few garbage bags of things as well. I also started scanning in paperwork like old journals using my ShotBox and an app called Notebloc. I just take picture after picture through the app on my Android phone and then it spits out a file which I can backup to places like Google Drive.
Now I wish that I didn't have to click through so many screens to get each page (the designer in me notes they could have saved me one screen with no loss in function *sigh*), but the app has also managed to adjust the color of the page so that my writing when I was using neon ink on a white page is still legible. Omg, past self, what were you thinking?! I confess: I picked a highly rated app instead of trying a bunch so it may not be the best app out there, but it's working. I've thrown out five notebooks already. That's 502 pages!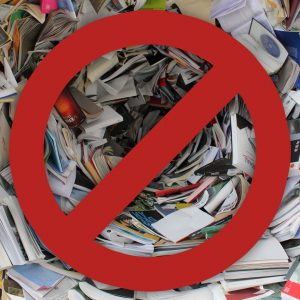 I've wanted to do this for so long. Paper is heavy and sucks to haul around. Plus, if your house burns down, it's gone anyway unless you're doing exactly this: scan and preserve it in a digital file that can be backed up in multiple places. For years I toyed with the idea of getting a document scanner, but I'd need a more expensive color one and then what was I going to do with it after I was done? Lug it around so I could keep my paper trail down? Much better to use tools that I already have and already use for other things. This might be a little slower than a scanner with an auto-feed, but maybe not given what I have to scan. I'd have to rip the pages out of the notebooks, trim them, fluff them so they don't stick together, and buy an even more expensive scanner that can scan both sides of the page. Then I'd have to check through to make sure I hadn't missed anything… Is that saving time compared to scanning the page one by one and getting to verify it as I go? Not enough of one, I think.
I've done multiple paper purges before so I'm down from a filing cabinet and 2 boxes to 1½ boxes. I'm hoping I can get down to a half or maybe even a third of the box. I do still want to save some originals of both art and important documents, but so much of it can go.
So much of a lots of things can go. If you remember from last time I said I finished up some marionettes for donation. Since then I've added thermal backing to curtains for my stepdaughter and turned an old sheet into pillow cases using this lovely tutorial. I have two more satin sheets to cut up as well since satin pillowcases are better for your hair and changing your pillow case often is better for your skin. Pillow cases are a thing I want to have plenty of.
I've had this sewing desk for over a year and I finally used it to sew! I wasn't fooling myself about the level of discipline I'd need to keep my desk clear enough to use it for nail art, computing, misc hobby crafting, and sewing, but still! So hard! I really hope I can keep it up because I have things I want to make like the start of the wee hats in the photo below and a bustle or two and, of course, more nail art. I really am going to paint my nails today…
Maybe.