Earlier today I had a real water marble on my nails and…it bored me. I mean, I did sit there for a while being proud that I had actually managed a standard water marble pattern. Self back pats. Yessss. But I kept it simple and plain and those kinds of nails are just not enough for me. I admire so much the nail artists that make these incredible designs all the time, but for me it must apparently be water marble + something else.
So next I did a smoosh marble with something else. And it's not even a whole lot of something else, but I adore them and don't want to take them off. This is going to suck shortly because my plans involve a reusable white gel base so I can knock out a whole bunch of fun designs and now…well, I can always repeat this design if I miss it. It seems like blasphomey because I have more design ideas than time these days, but it's still an option.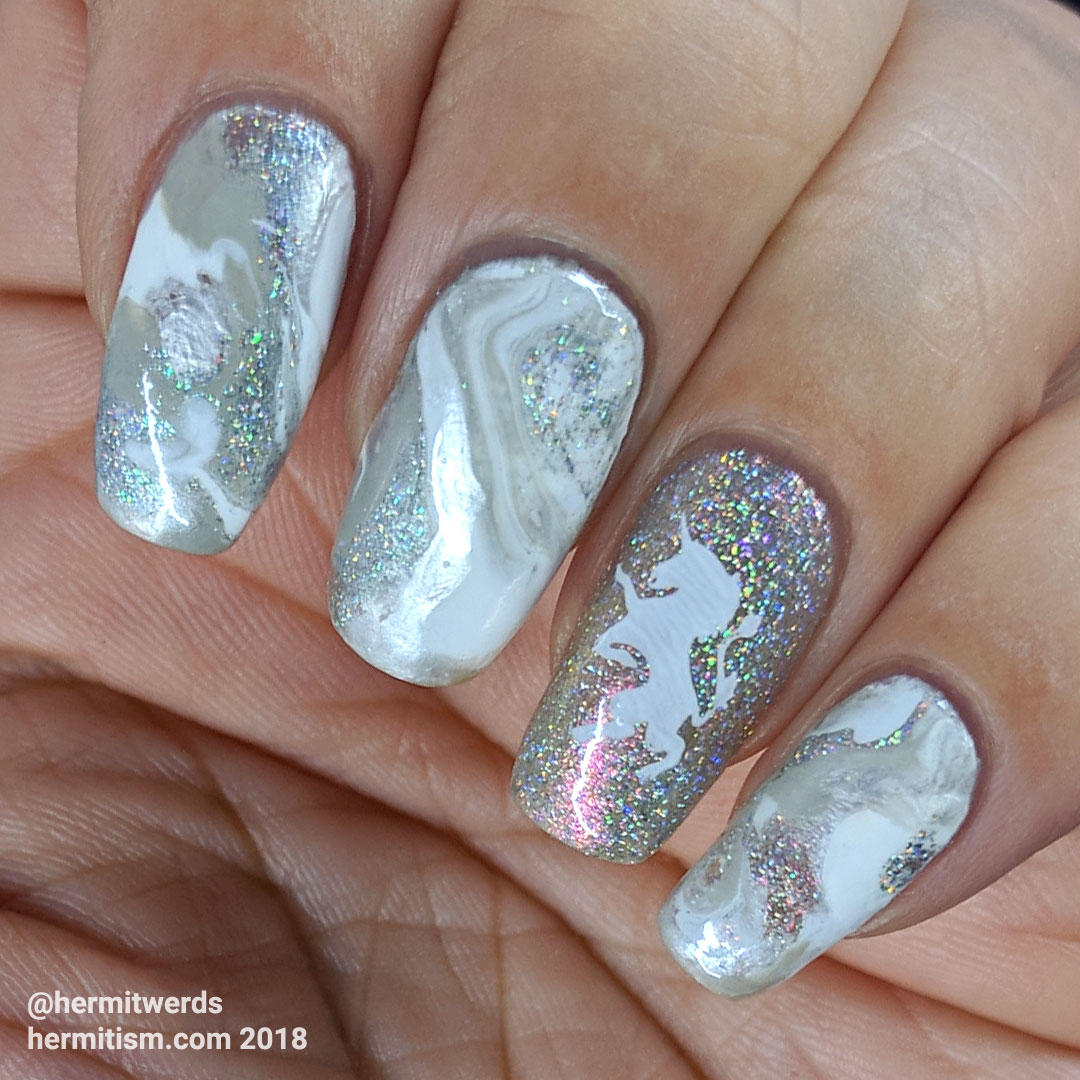 Maybe it has something to do with this great unicorn rampant. Ah, I love heraldry and wish I'd gotten into it more for the short time I was a member of the SCA. It would have been fun working with people to develop their heraldic symbol. Anyway, this is pretty much my favorite silhouette unicorn rampant with the feathers on the legs and the wonderful lion's tail (although Born Pretty has a nicely stylized one on its BP-27 stamping plate). I've said it before and I'll say it again: unicorns that are horses with a horn are beautiful, but they are not what my heart says a unicorn should look like. In fact, let's just take a break so I can celebrate some non-horse unicorns and the artists behind them.
Featured Unicorn Art
The first unicorn is from Tina Leyk and I love it. It's also in her scrap folder on Deviant Art because it's not only from 2004, but she has a beautiful body of work that is both colorful and beautifully detailed and this drawing is only the merest hint of her level of skill. I also love her attitude about unicorns. 😉
Next we have this lovely piece by Teal Newcomb. It is from 2014 and I'm happy to say she is still active and better than ever. Her work has a lovely softness to it and I adore the way she portrays plants.
Here you are in luck, Julia Beutling has an entire series of junicorns that draw inspiration from different hooved beasties. I cannot get enough of them and her gorgeously vibrant style.
Finally we have Ursula Vernon, an artist that I have been following for yeaaars. This wonderful unicorn came to life clear back in 2005, but I have remembered it all this time. Ursula is both a writer, artist, bird watcher, and gardener so instead of linking to her rather dusty Deviant Art account, I'm pointing you to her blog.
Yeah, I'm a hack compared to these wonderful artists, but there's room for all of us in this wide world. 🙂
Has your heart recovered yet because I wasn't done talking about me. Errr…my nail art. Yeah. Products. I used products.
Products
Challenges
#clairestelle8 – Unicorns
#ConceptNailArt – Marble
#NailChallengeCollaborative – Pastel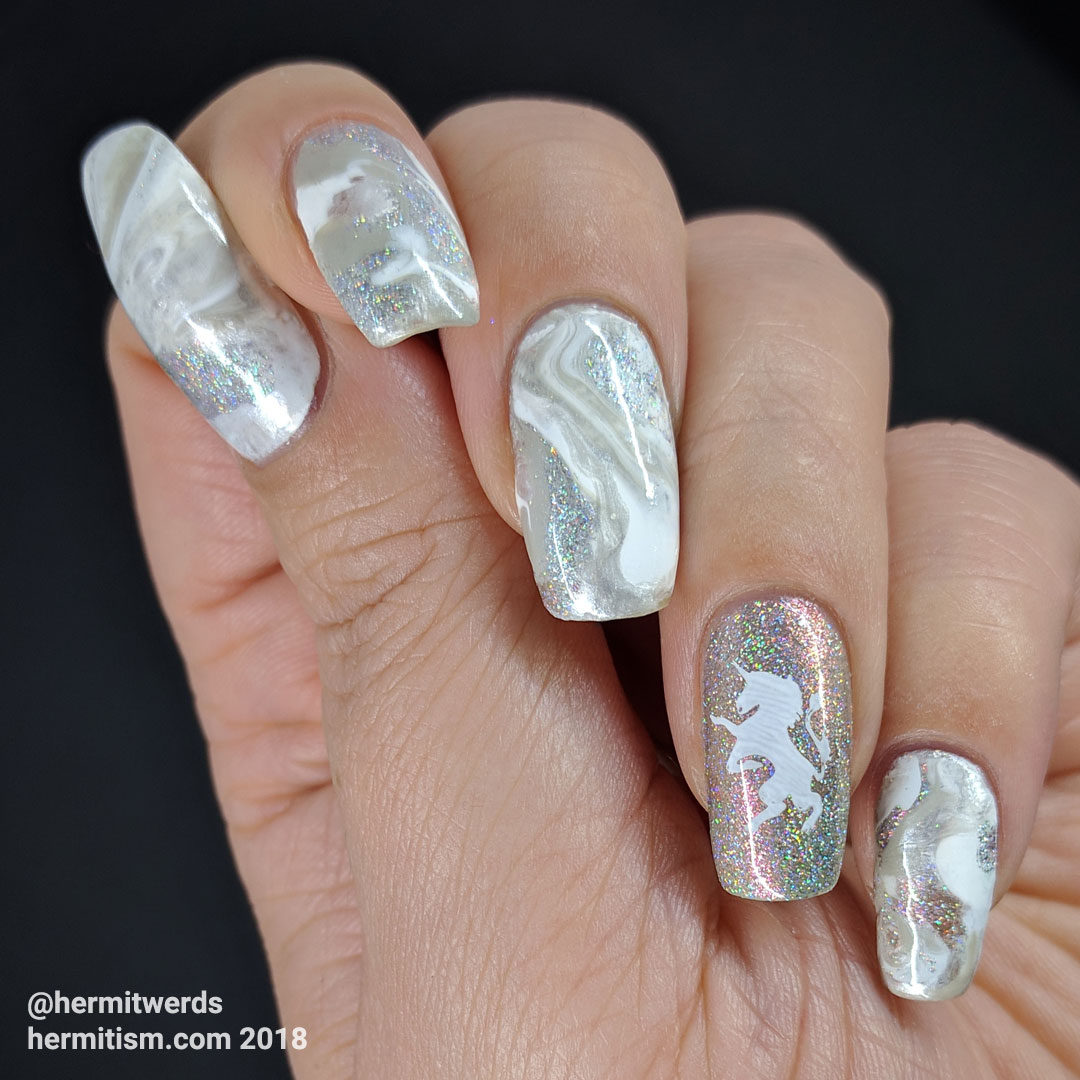 Ah, "Tokyo Pearl". I love you so much because you're always there for me. This smoosh marble is what I thought I was getting from the nail foil I used in an old nail art. Instead it was a poorly printed design with no iridescence or anything. Luckily I had the perfect kind of glitter to throw on top and achieve the effect I was looking for, but I don't use or buy nail foils often because of it. Betray me once and I have other toys. Forget you. I really should throw the rest of it out. I will never use it.
Smoosh marbles are so easy and so much more versatile because you can use any polish you have in them. Even if you wait too long to use it and the polish becomes dry and brittle (like I did with this one), all you have to do is paint a layer of clear polish on top, wait a few minutes, and it's nice and flexible again. Go stick it on your nails. No one will know unless you tell them. I mean, from this macro shot can you tell I wasn't working with ideal conditions?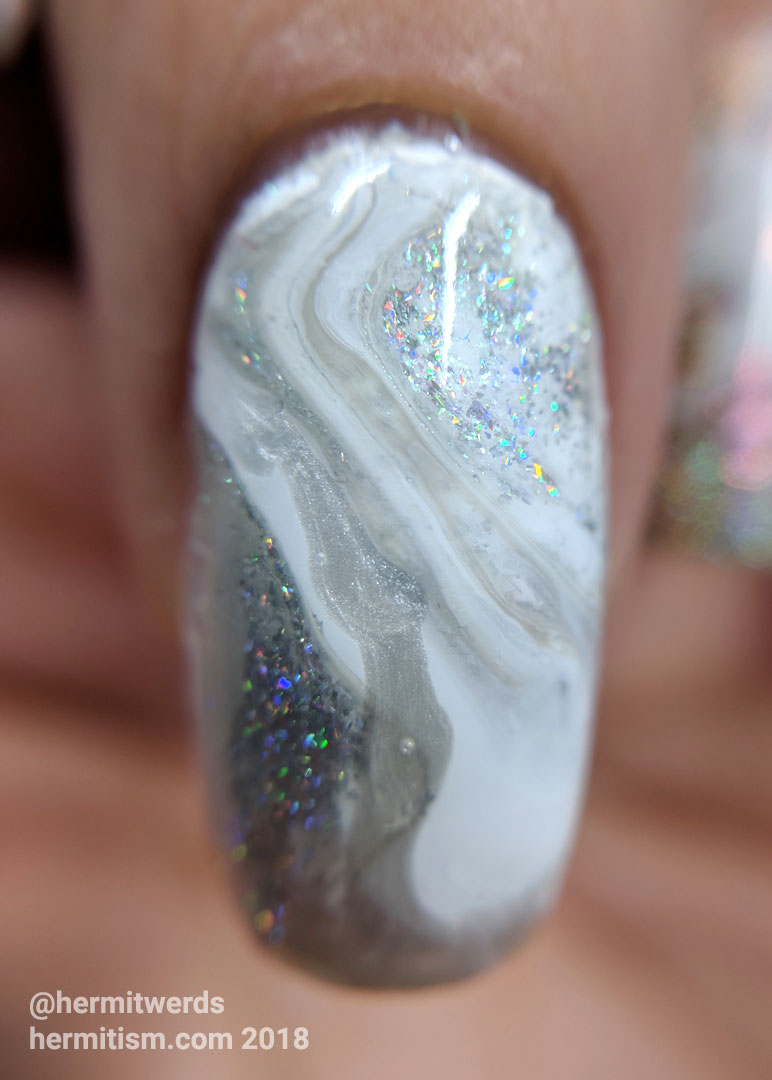 You can hurt my feelings and say 'yes'. I'll just never speak to you again. 😉
Check out more pastel-themed nail art in the month of March from #NailChallengeCollaborative: