Do I remember how to write these? It's been a while, so I thought I'd start by sharing the three nail art designs I posted to Instagram with the intention of catching up on the blog some day? Subject-wise there isn't much else to connect Earth Day, fairies, and rainbow zebras. I will try to do better than "I did this!" in the future. 😆
Oh, and this is my 501st post. I totally missed that my last post in March was the 500th. Inadvertent milestone! 🎉
Earth Day 2020
I always intended to paint this design ever since I bought Born Pretty's BM-408 because the upturned hand just looked like it should be cradling the world. And I do believe that we should be stewards of the earth instead of sucking up all the resources just so we can be the most comfortable and beef-filled at every moment.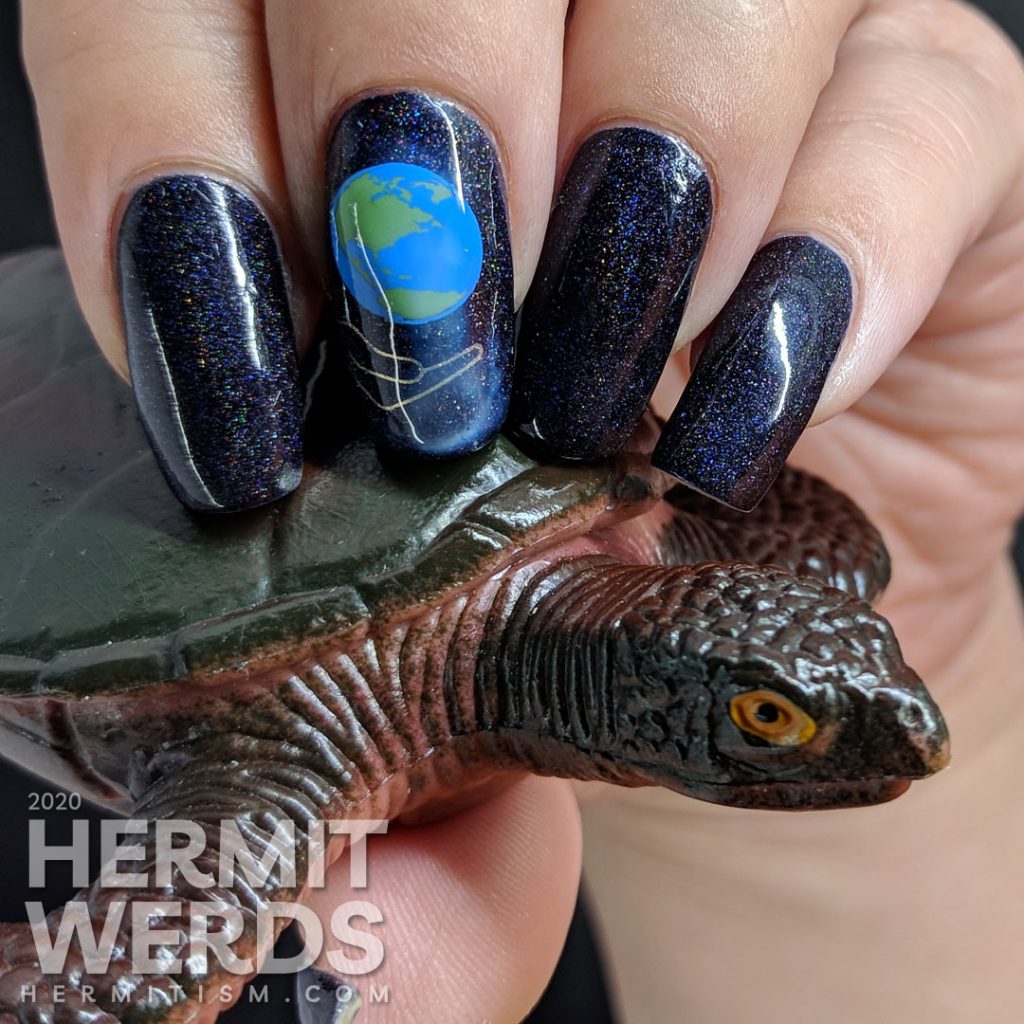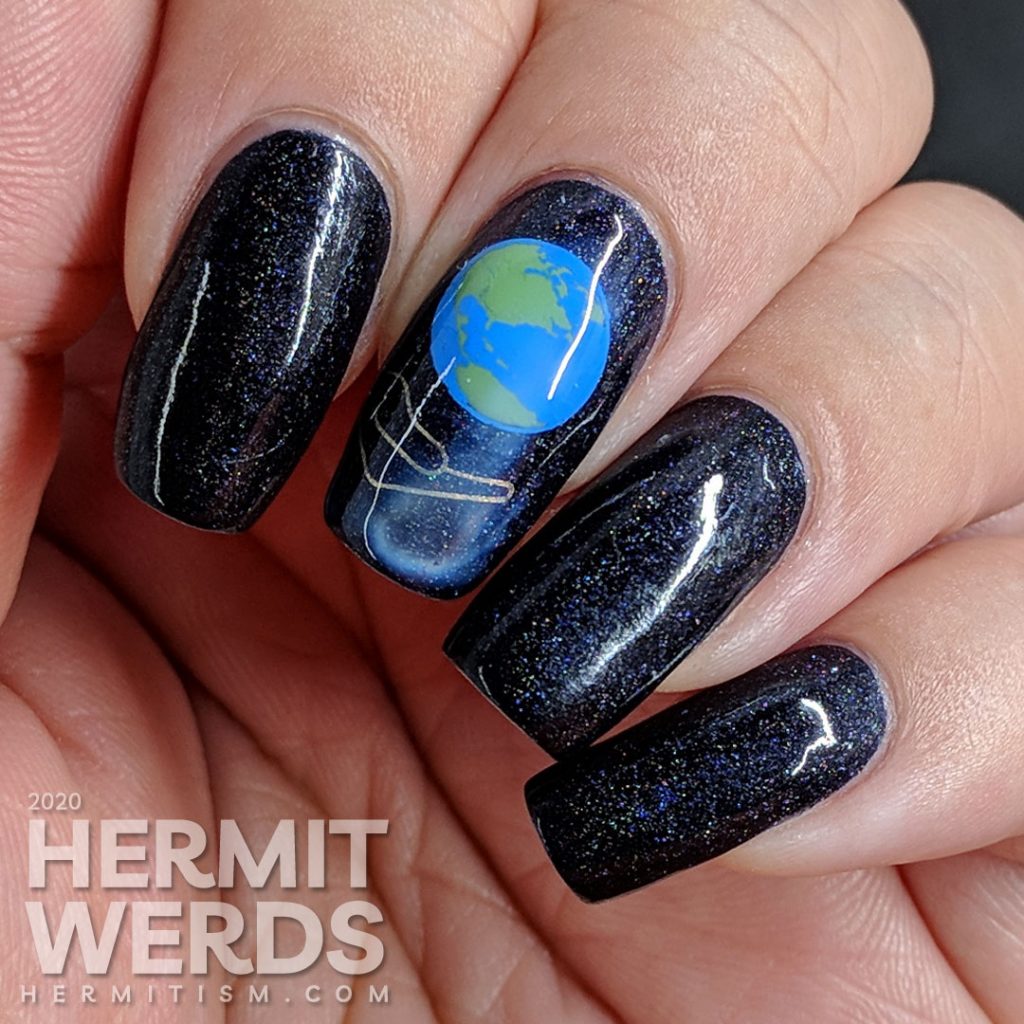 And yet…I also chose my turtle prop for a reason…
While the ban straws trend has (mostly) passed, I think it's important to understand that there is a group of people who do need those straws. Jessica Kellgren-Fozard has a wonderful YouTube channel full of opinion, fashion, lifestyle, and more videos. She's also disabled in a number of ways and her video Banning Straws Hurts People and its follow-up What's Wrong with Re-usable Straws are very enlightening in this area. I mean…I have literally forgotten to bring my Costco card when my errand was to go to Costco. Expecting a disabled person to always remember to bring their re-usable straws with them is asking a lot of a group of people who have more things to track than we do. Not ok.
And I fell for the straw thing too. It felt like an easy change we could all make that would help the environment! But it's not that easy for some of us. So while it's perfectly appropriate for me to harass my stepchildren when they immediately try to use the disposable utensils a restaurant provides (seriously, they don't know how to use chopsticks and they would still try to immediately unwrap them) you don't know what's going on in a stranger's life. Meanwhile, getting rid of All the Disposable Things often boils down to a racket to sell us all water bottles.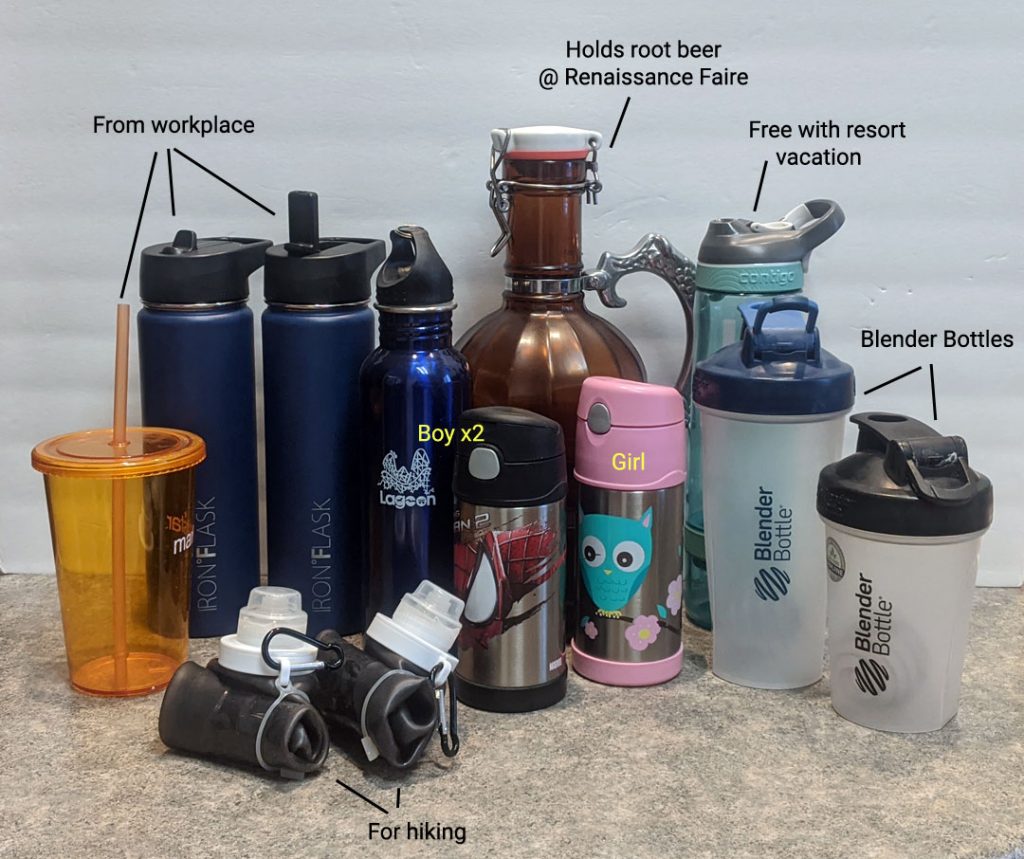 De-stashed in past year:
4 tumblers like the orange one only twice as large (work)
Another plain water bottle like the resort one (work)
A smaller blue bottle from the Renaissance Faire
I'm pretty sure there are more Environmentally Sustainable Re-usable Bottles than people in America. Far surpassing the car to people ratio. Keep in mind this is from a household of two people who have kids around every other weekend or so. And we have plenty of other drinking glasses and mugs.
I could say…so much more on this topic, but I have two more nail art designs to go so I'll wrap this up. There are no easy answers to saving the planet from ourselves, but the answers do not lie in giving up all drinking straws or you as an individual becoming Zero Waste or some fresh unattainable crap someone comes up with. Change must come from the bigger systems. Instead of searching for the one kind of carrot in the store that is not pre-packaged in plastic, ask the store itself to stop selling them pre-packaged. Now you've forced everyone who buys there to change! Suckas!
And vote.
Vote for people who are ethical. Who actually care about the environment and believe in climate change (aka science). Who will pass laws to make the big companies who are the real polluters to change. Vote in the big elections and vote in the smaller ones. Don't let jerks get their foot in the door in elections that don't seem to matter as much and work their way up through the system. Maybe…run for office yourself. *eyebrow waggle*
And that's what I wanted to say for Earth Day. I will now stay off my soap box for the rest of this blog post. 😁
Planetary Products Used
The dark blue color was brought to you by In'es #pantone2020summerchallenge's Blueberry, which I sadly stopped participating in when I stopped painting my nails. Still, an excuse to share her gorgeous collage.
Base Polish:

Stamping Polishes:

Advanced Stamping Polish:

Stamping Plates:
On a purely product note, that ghostly white smear is from Moyra's so-called smudge proof top coat. It sucks. I thought maybe I messed up in this mani and didn't let it dry enough before top coating with Seche Vite, but…nope! Did the same thing to another design. And I can't use it for decal-making because it's water-based and crackles up when it dries too much. I will probably end up sending this bottle to Zoya for proper disposal or something. Very frustrating. I try so hard to use my utility polishes to the last drop. ☹
Dark Fairy
No particular reason for me to paint this one except that I was knocking two of my unused purchases off the to-use list. 🤷‍♀️ The dark purple is as close as I have to OPI's famous "Lincoln Park After Dark".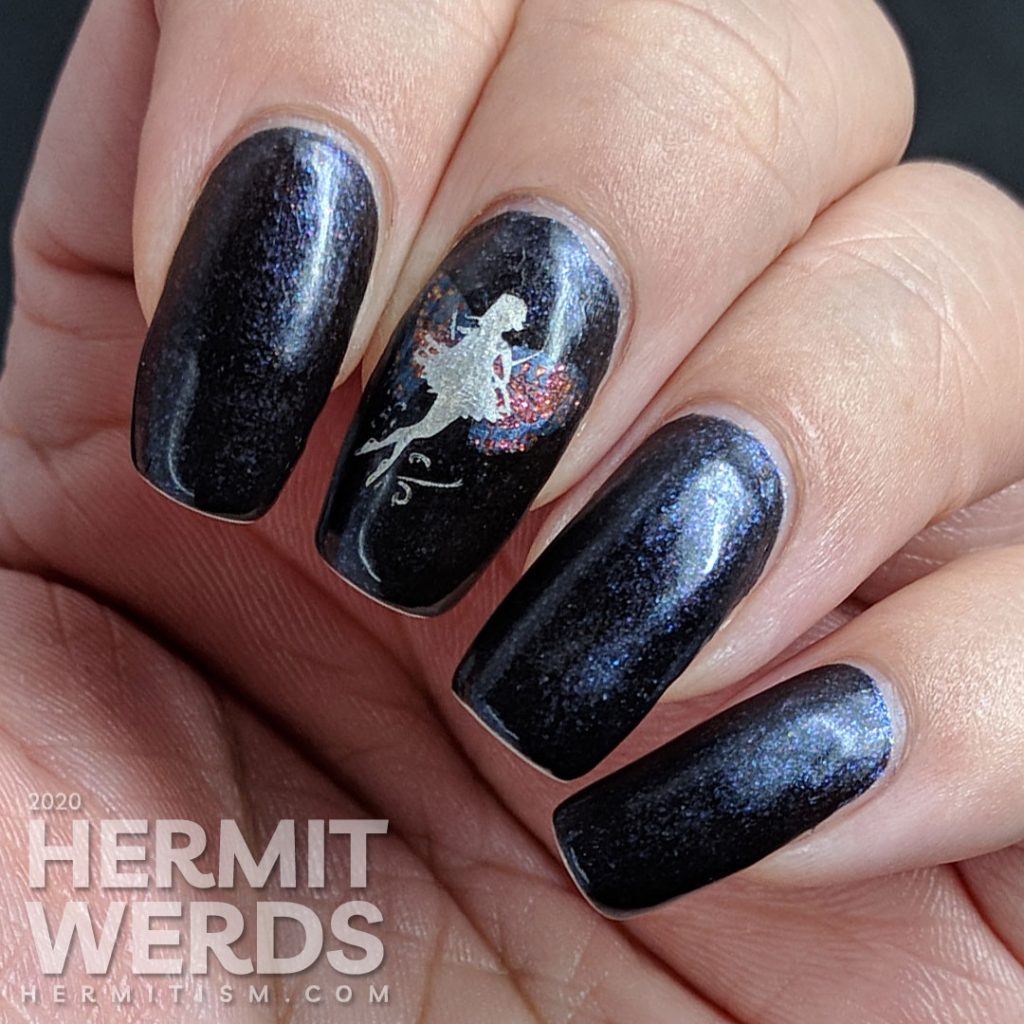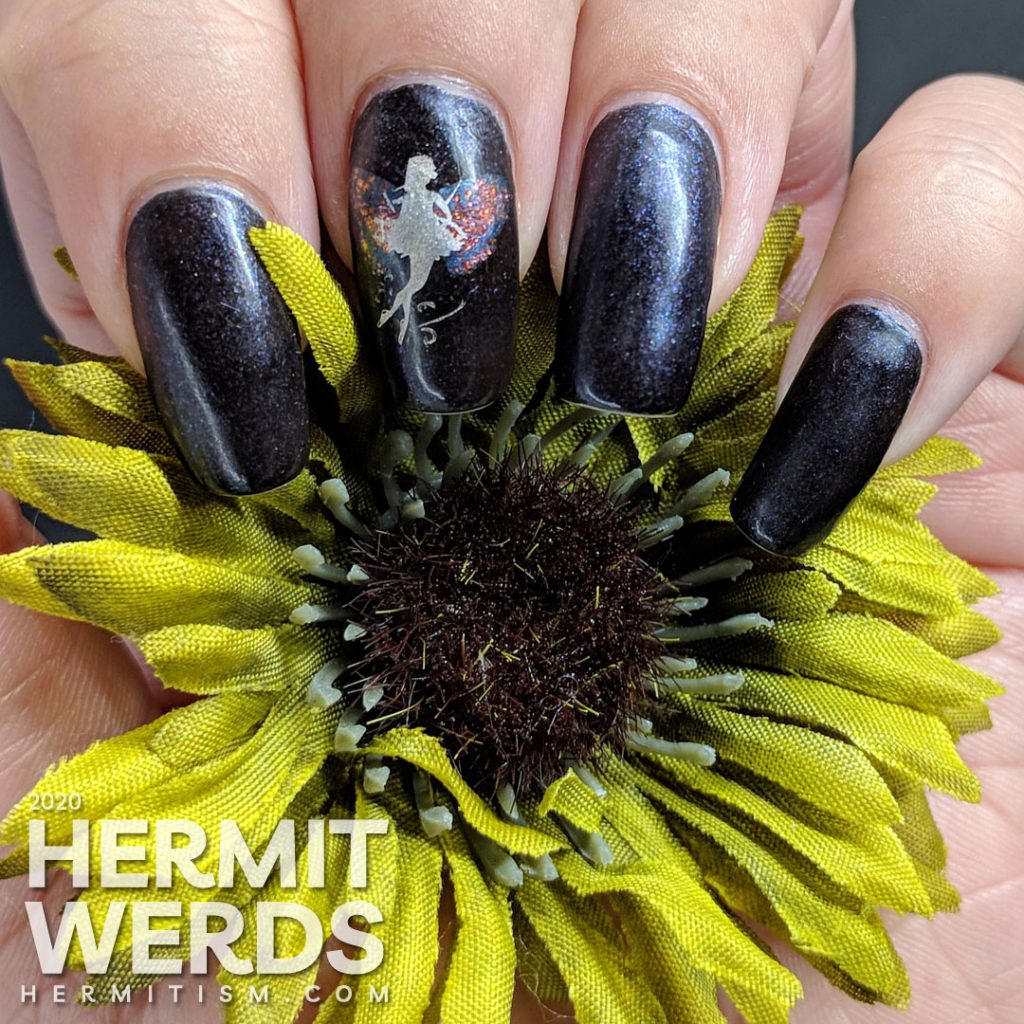 Fairy Products Used
Base Polish:

Cherimoya's "Love Drug"

Stamping Polishes:

Born Pretty's "Pentagram" and Essie's "No Place Like Chrome"

Advanced Stamping Polish:

Sally Hansen's "Lava"

Stamping Plates:
So here's another hot garbage polish even though it's pretty. The Cherimoya brand polishes I have chip so quickly. I owned twelve bottles at my peak Cherimoya level and it's just not a brand I can recommend. No good formulas. Poor self-leveling. And the glitter polishes have a poor base to glitter ratio. They also suffer from the typical red glitters will eventually stain the base problem you get (most often) in retail brands.
Fairy Pro Tip
Since I used only one stamping plate, it's not clear that the butterfly wings and "fairy" are two different decals I layered on top of each other. Pretty much any image of a person can be made into a fairy if you can find a pair of wings that fit their stance. 😁
But do learn from my mistake and pick a better color for the wings so they don't blend into the background too much. Oops.
Rainbow Zebra
For my last nail art to share, I tried a new (to me) technique called sharpie stamping. Basically you take alcohol based markers–typically Sharpies–and scribble all over the stamping plate before throwing some white stamping polish down, scraping, and picking up with your stamper. You have to move quick so uncap your markers and polish before you start. And you may find, like me, that some of your markers just don't want to play nice.
Alas, turquoise marker. We could have made beautiful nail art together.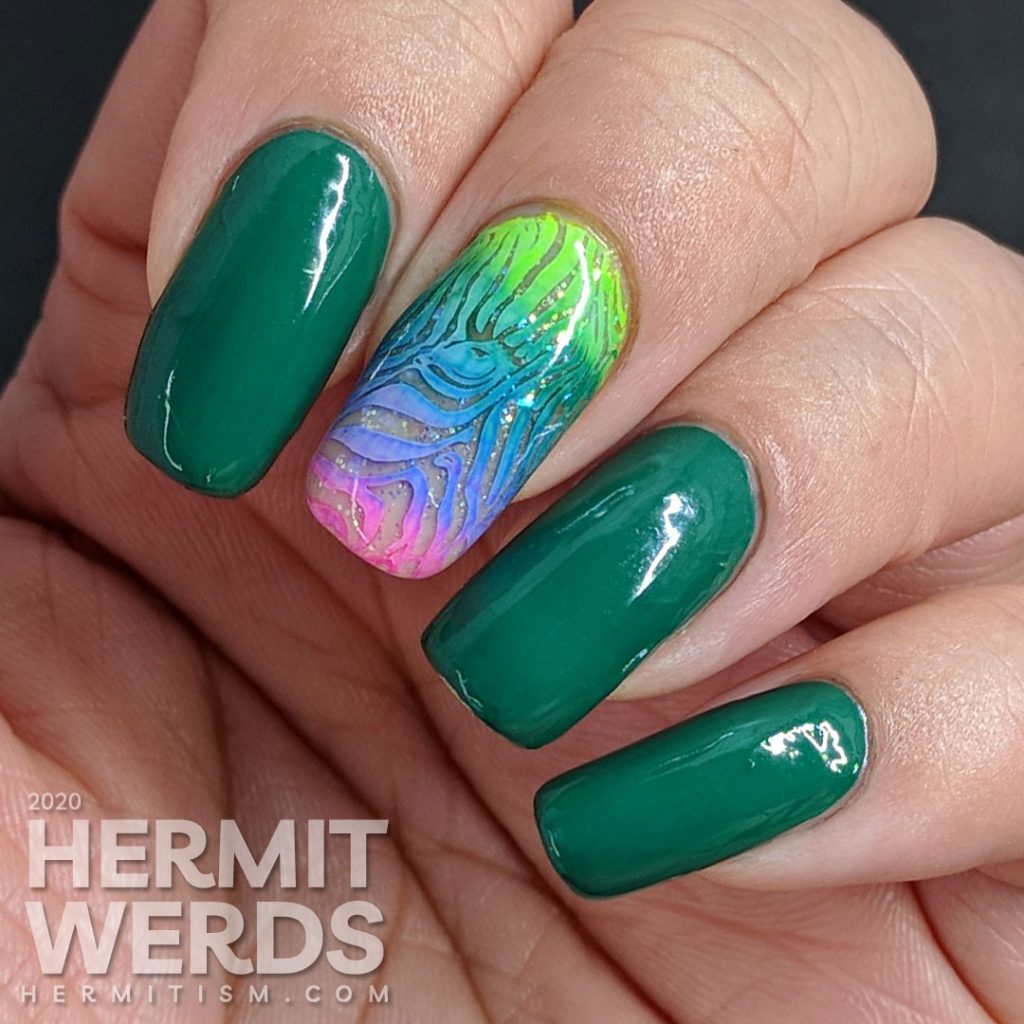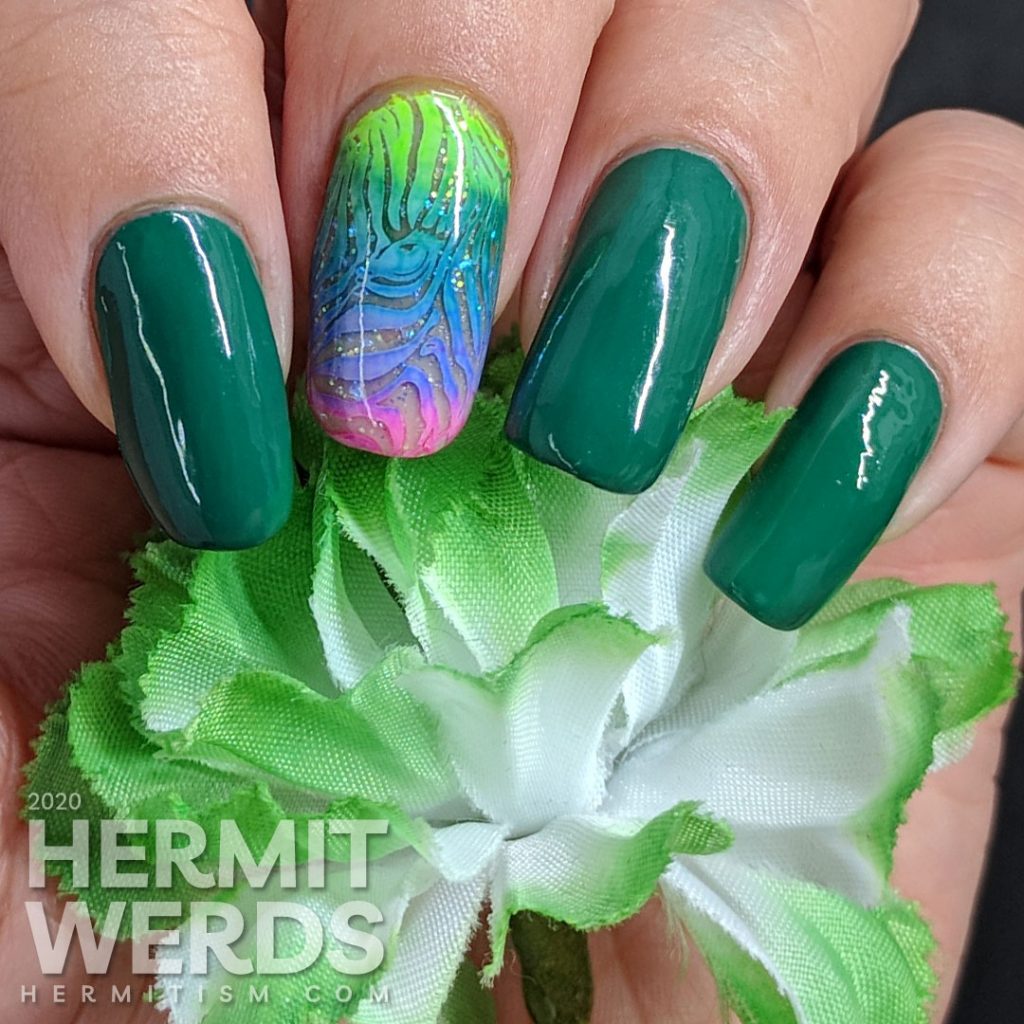 Zebra's Products Used
This design was also inspired by #pantone2020summerchallenge's Storm. Maniology's Tree of Life was my closest bet, but the actual color really does have more blue in it. And I wish I had it! 😭
Base Polishes:

Maniology's "Tree of Life" and Sally Hansen's "Scale Up"

Stamping Polish:

Uber Chic's "Essential White" with a rainbow of sharpie ink scribbled on the stamping plate first.

Stamping Plate:

Maniology BM-S151
I love the sparkle behind the zebra decal, but it doesn't really help make the image clear. If that had been my main goal, it would have been wiser to go with a black or white background or use the sharpies more precisely instead of going for a linear gradient. But either way, rainbow happened! 🤸‍♀️
I really hope this is not my last time using both the sharpie stamping technique and, separately, painting me some rainbow-colored zebra nails. Let's hear it for rainbows!
tldr
I painted things. Take care of the Earth by voting for people who will make big changes and ask the companies around you to make changes as well. We can do this. 😁