I started looking at buying from KBShimmer when they collaborated with one of the YouTubers I regularly watch. MissHollyBerries not only did a swatch and review of their Fall Collaboration Collection but had made a contribution of her own with #squadghouls. I knew I was getting it. It is hands-down the most stunning ugly/pretty green polish I have ever seen. It is a dark green jelly filled with opalescent glitters in fall shades. I just can't stop waggling my fingers at me. It's delightfully complex. Here's a photo that doesn't have the best focus, but shows the full range of colors I am seeing from the glitters: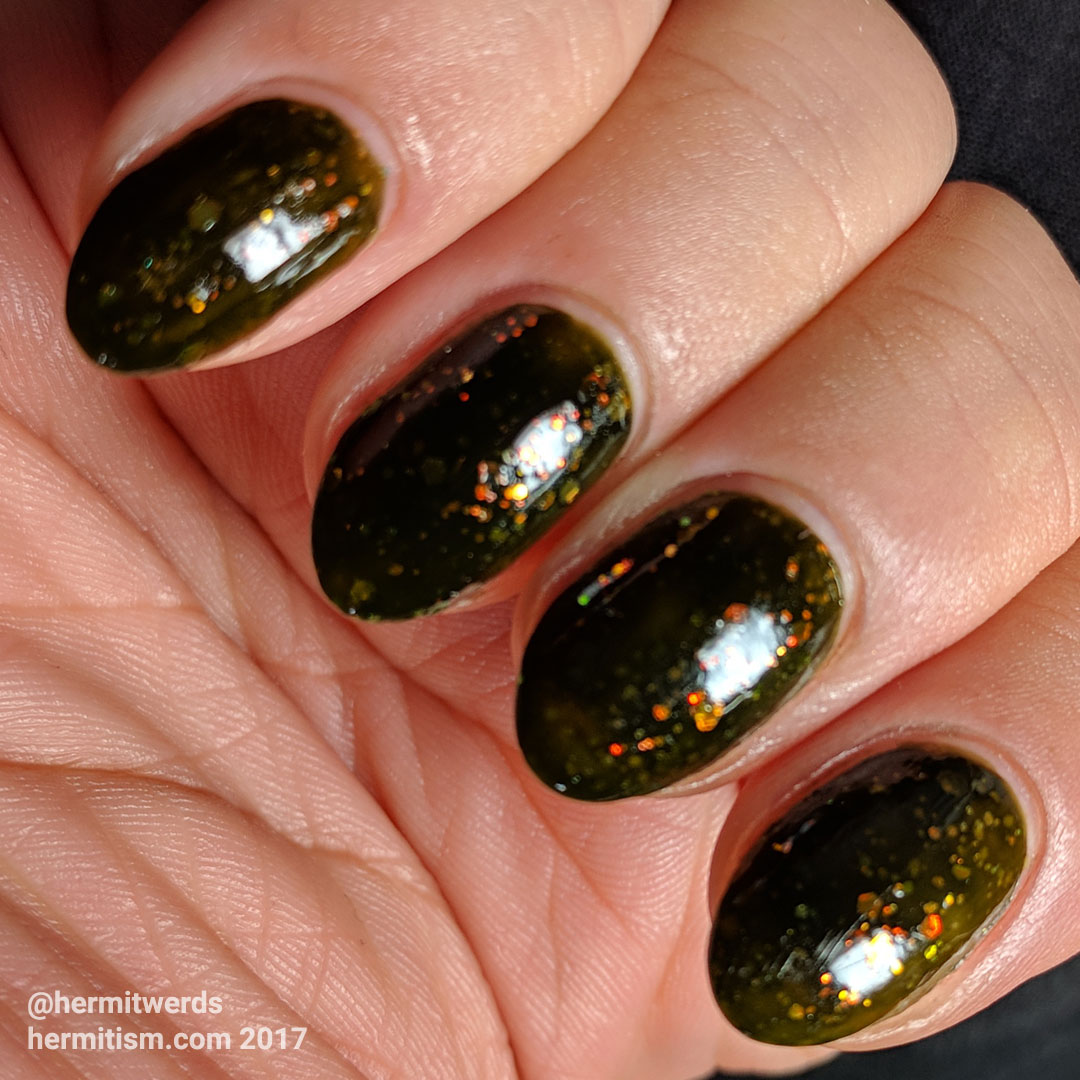 Then KBShimmer offered a great deal on Black Friday for six polishes packaged in a holographic bag. So, yeah. I picked out five other polishes (Oh My Gourd, For Fox Sake, Tiers of Joy, Sage It Ain't So, and Men are from Marsala) and added her (dead) matte top coat and (another) free gift: her mini nail file. That file is…woah. I've had a Czech glass file for years now and I use it for eeeeverything. Like, I even chucked the buffer from my nail repair kit because I just use this file to smooth everything out. The KBShimmer file is the companion sister to this file because it has a rougher grit. So when I'm trying to shorten my nails, I can shorten things fast with the KBShimmer file and go back with the Czech file to refine and smooth. (Pro tip: Don't cut your nails with clippers if you want to grow them out, just file.) I am sorry to say she isn't offering it for sale, you just have to buy enough to qualify for that level of free gift. Also, I just noticed that my middle finger is noticeably shorter than the others. I'll go and sit in the corner after posting this because…it's my cindy hand and I gel top coated so this is it for a week… 😬
Obviously, I had my Green for #firedazedchallenge's Green/White Winter/Holiday prompt. White was…white. I decided to add in my green-tinted silver Sinful Colors' "Moss Have" instead of using plain silver (which would have been allowed). I'm very glad I did because it's there, but its duller appearance doesn't distract the way bright silver would. Great polish for stamping if you'd use the shade.
@NailChallenge_Collaborative – Winter/Christmas
@firedazedchallenge – Green/White Winter/holiday
Yep, this also fits the collaborative. I have already completed four winter/Christmas manicures this month, but it was for a Beauty BigBang stamping plate review. I decided it didn't feel right to use that with a nail art challenge with an inlinkz. Speaking of that inlinkz, here it is with all sorts of beautiful nail art from the group:
One last thing before we go. I'd like to point out that none of the stamping plates I used for this mani are expensive in any way. I think if you're looking at holiday stamping plates that are really hard to use outside of the season they are made for, it really is okay to go cheap. Especially if it's not your favorite holiday. I like Christmas, but I looove Halloween. So…yeah. I can look at my stamping plate collection and see that clearly spelled out in dollars spent on stamping plates. LOL
XY-Merry Christmas 02 is a decent sized acrylic stamping plate from Aliexpress. The etching is good, but the second acrylic plate I bought (XY-Merry Christmas 03) was etched backwards. It doesn't make a difference unless you're using an image with text and then it's an additional step to flip it over. Annoying, but workable. Hopefully I will use it soon.