I might as well end this crap year with something that makes me very happy. So today on New Years Eve I'm sharing the mani I painted for the #halloweenforevercollab: a Halloween Tree. The Nightmare Before Christmas has forever cemented a love of blending Christmas and Halloween together and so the only thing to do was add in some glow in the dark goodness to make my happiness complete.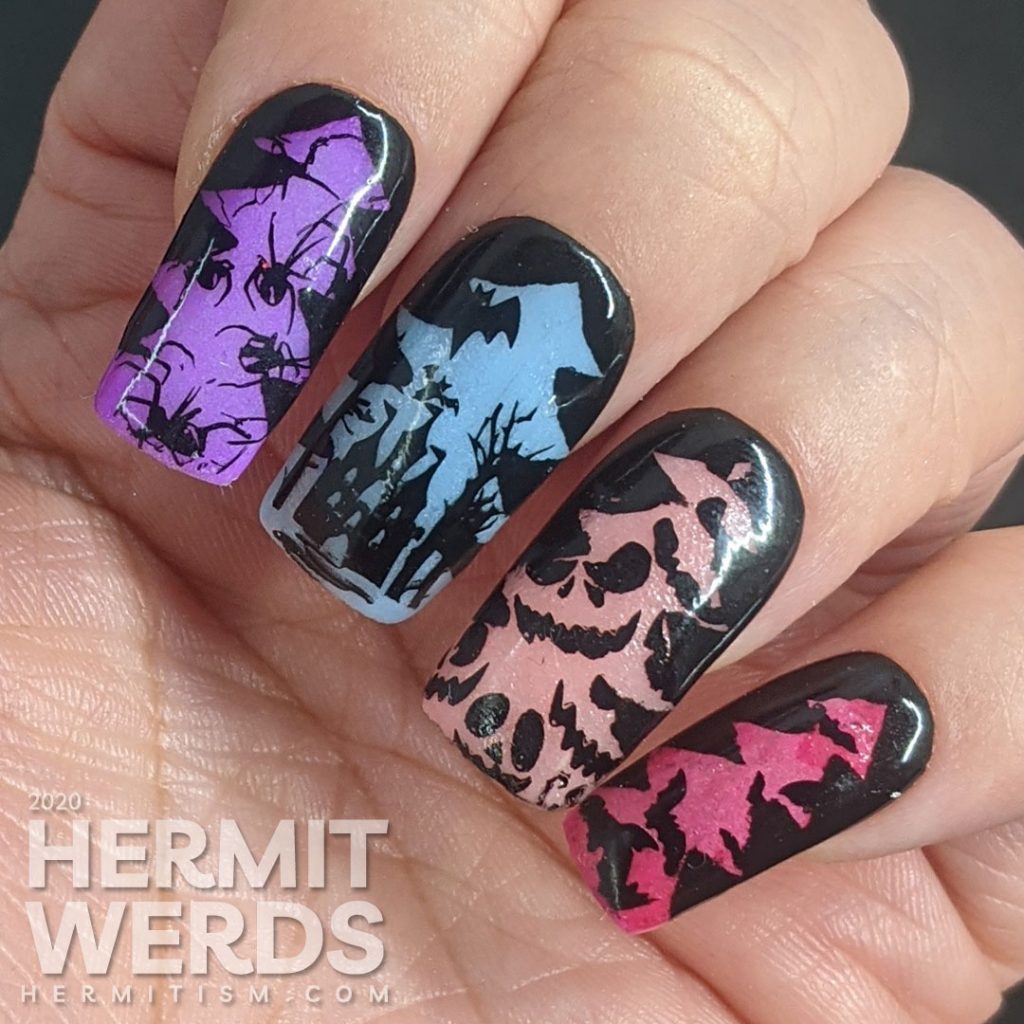 I won't tease. Here's my image comparing the daylight/glowing images:
MAGIC! 🤣
Nail art products used
Beauty BigBang gitd powders (press samples)

Nicole Diary Dipping Powders

Stamping Polish:

Freehand Painting:

Stamping Plates:
The painting process
By the time I started these, I had two hours before the prompt's collage was going to be put together because I suuuck. It had been in my plans to get the glow in the dark powders/dipping powder onto my falsies days before I had to paint the rest, but it as one of the things on my schedule that kept getting shuffled off. So I used the quickest technique I could and it probably would have been fine if I'd only been doing one color but someone in this room decided it had to be rainbow and *looks around* I am alone. So I'm the one making my life harder.
But rainbows make us happy so…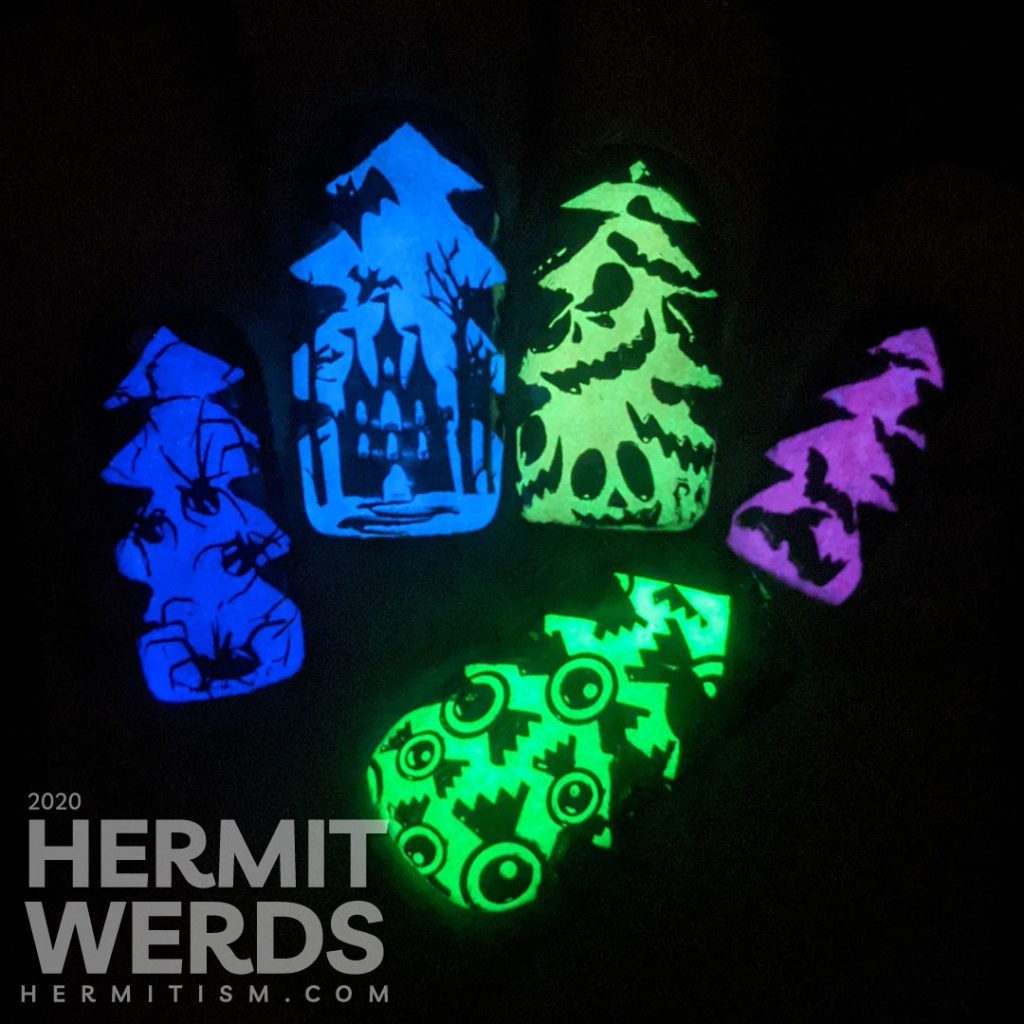 Worth it.
Glow in the Dark
For the regular powders, I just threw down a gel base coat, dipped it as best I could in the powder baggies, cured, and repeated until the glow was strong enough to make me happy (that's two to three layers).
For the dipping powder that I was using for the first time ever, I'd only gotten the base and activator bottles, so I used them as best I could. I probably should have looked up instructions first, but there was no time for it now and it wasn't like I was going to wear these out anywhere. So I'm not going to say specifically what I did because I could be instructing you wrong.
Decals and framing
I chose to make stamping decals out of the full nail patterns because that usually causes less accidental stretching of images for me. Plus these were the main event so I wanted them to look nice. Then, since all the powder left the surface of the nails very dry, I brushed some sticky base coat on top, gave it a minute to dry a bit and applied the decals.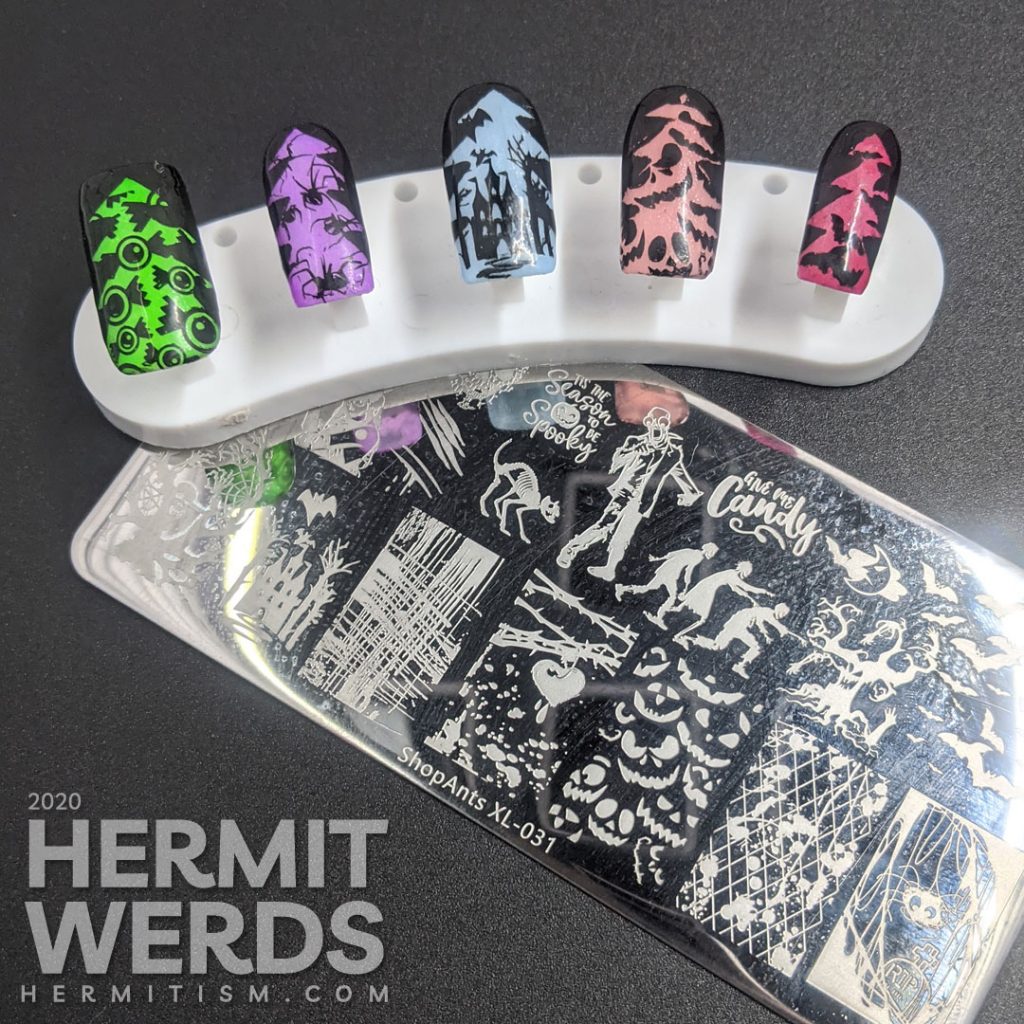 To frame the trees I ended up using black acrylic paint. I didn't even have time to practice or anything because I think I had 20-25 minutes left at that point and still had to take photos. So the trees are a little sloppy, but I think that kind of works for this design. I do remember freaking out halfway through because it felt like my idea was failing and there was no time to do anything but finish what I'd started. 😱
The #halloweenforevercollab Collage
At this point I had maybe three minutes left, so my photo in the collage is just them on the stand where I painted them and no top coat. No glow either. *sigh* But I made it! 💪 Check out the group tag to see everyone's work as they post it.
I let all the nails dry for a day and then added top coat since I wanted to post them as my last mani for the year. And here we are now.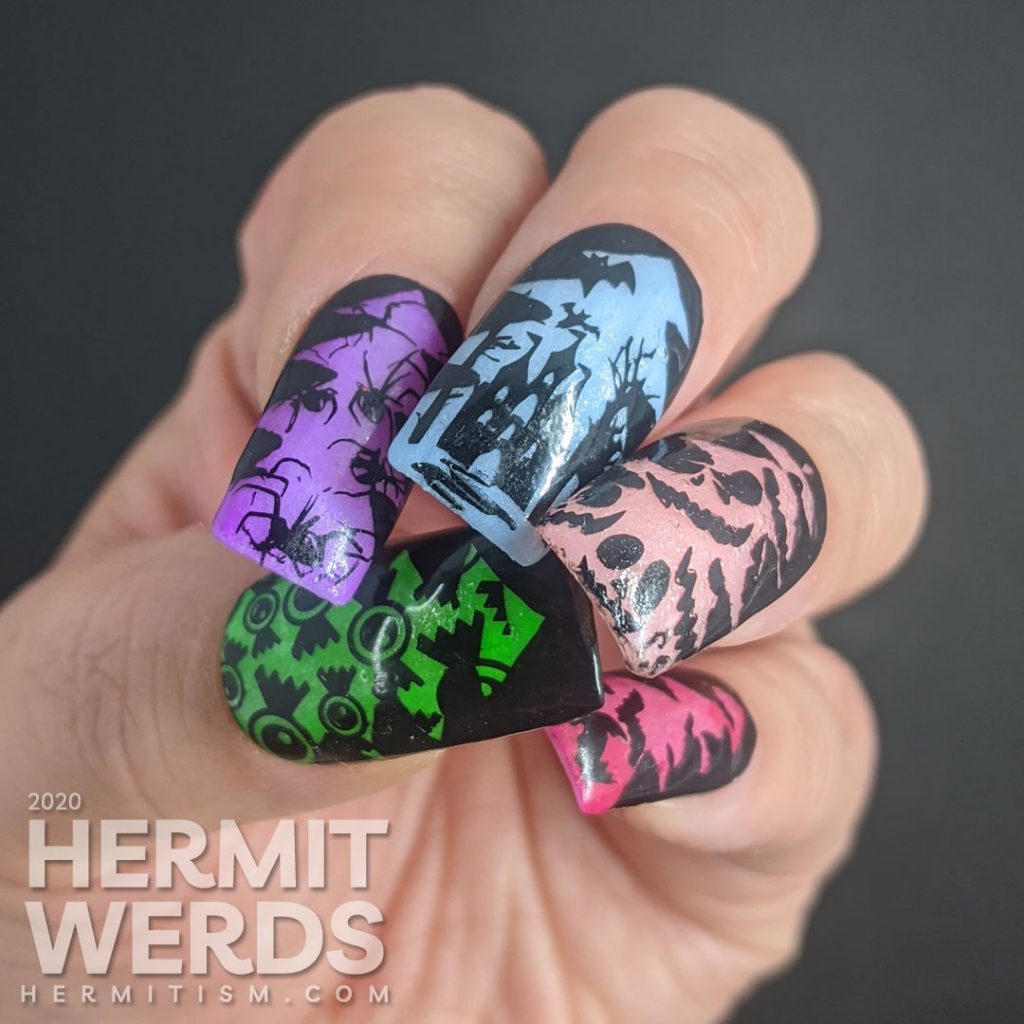 The Christmas tree framing worked really great for me since such large nails are not going to get covered by most full nail patterns. I even stuffed some extra spiders into the spider nail. (You can never have too many spiders. That's why they keep coming into your house. Nature is infinitely generous. 😂) But I think in the end I love the eyeball candy nail the most. Do you have a favorite?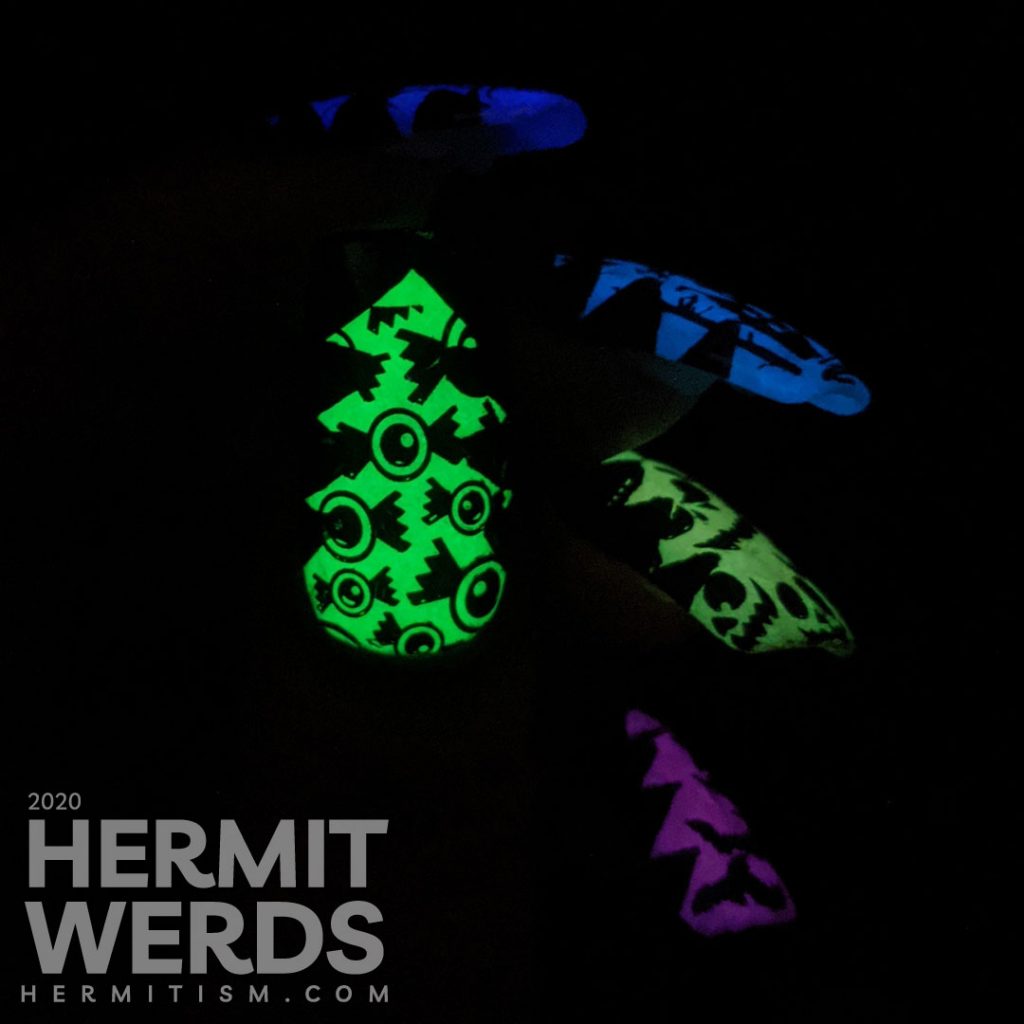 Also, I bought a wee UV light that is not used to cure gel polish. It made it much easier to take this photo where you can see the supposedly orange glow for the jack-o-lantern nail. I'm rather disappointed with that product. It was supposed to be orangey-peach, but instead it glows yellow-green once charged. 😢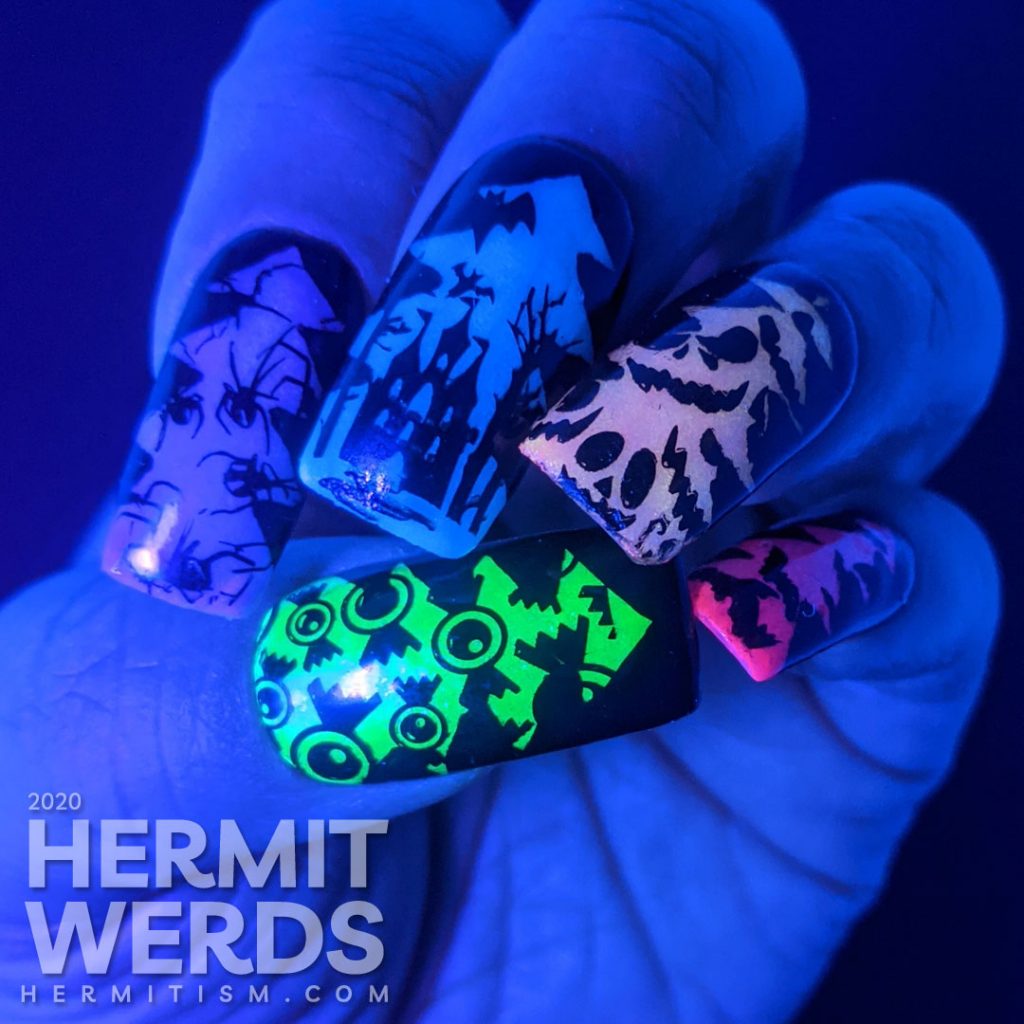 All good things must come to an end. And so here is the last far photo of the year (that I'm sharing on the blog. I have a backlog right now! *glee*)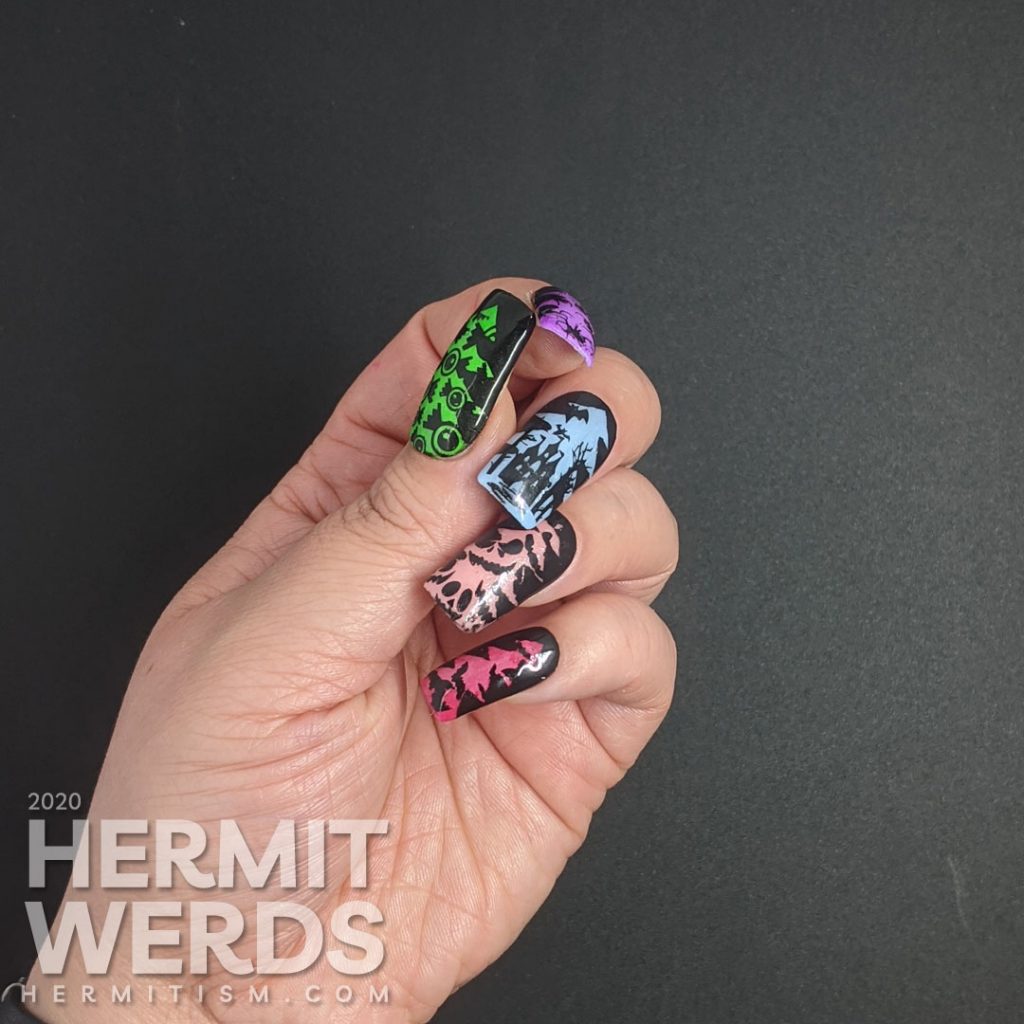 I hope you have a wonderful New Year's celebration, friends. Here's hoping 2021 sucks less! 😆😭🤮😆🤪…🍻