Happy Thanksgiving! Today's look has taken a while to reach you. I painted it clear back in 2020 after Thanksgiving. So I told myself I would share it next year and never even got around to editing to photos. To continue the tradition, I meant to post it a day early and maybe even paint another one for the day of, but alas you can see I'm a day late. This look was super cute and a little silly, but I will not be eating turkey. We already had Mexican food yesterday so that tradition has been celebrated. I think I'll be making Shakshuka for the first time, which is a recipe from Middle East and North African regions. I hope whatever lands on your plate today is extra yummy whether or not you're also celebrating today.
Nail art products used
Base Polishes:

Nail Vision's "BB01" and Night Owl Lacquer's "Leaf Peeping with Sasquatch"
I'm not linking to the tri-thermal. The formula was so terrible that I ended up disposing of it properly at the dump when I destashed a bunch of polishes that had such poor formulas I couldn't donate them. It never really transitioned unless I put it in hot water, which is what I did to take the photos.

Stamping Polish:

Maniology's "Cocoa"

Advanced Stamping Polishes:

Maniology's "Indio"; OPI's "Going my Way or Norway?" and "Lost on Lombard"; Revlon's Parfumerie "Orange Blossom"; and Zoya's "Cala"

Stamping Plates:

Born Pretty's Thanksgiving L001 (turkey) and Creative Shop 145 (feathers and wanted poster)
Items in italics are debuting on the blog for the first time.
You'll notice all the photos try to cover the different thermal states. I've also thrown in some matte vs glossy, which was an effect worth playing with because the other polish is an indie topper when you only use one layer.
A lot of details were lost at the darker and colder end of the scale. Two years ago I was trying a lot harder to avoid using black for my outlines. With a more recent nail art I would still have kept the brown for the feather pattern because it fading out like that is kind of cool, but the turkeys would have had black outlines. They are the focus of the show after all. This year I might have even thrown in a feather background in a light to dark gradient to add a little texture without taking away the show.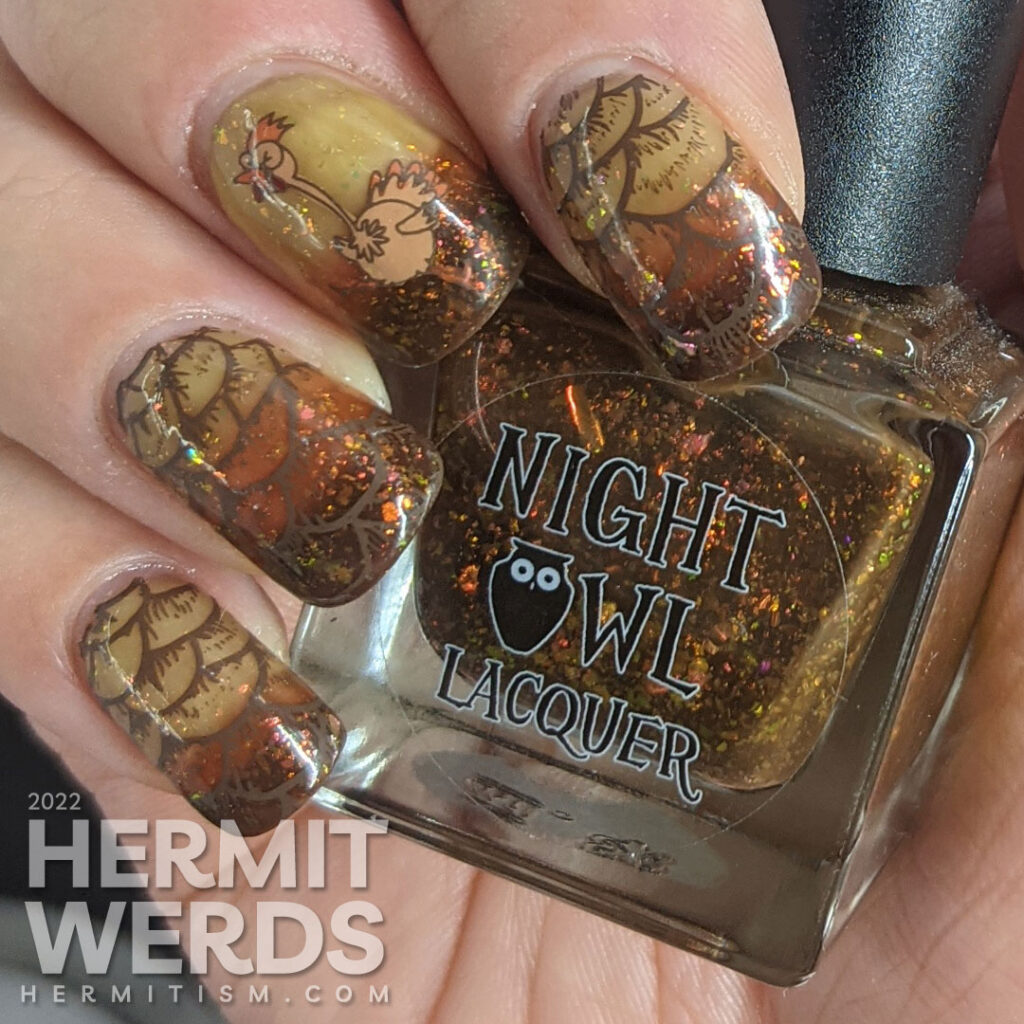 Final Thanksgiving nail art photos
Doomed. He's doomed, poor soul. Someone's going to eat him today, even if it's not me. 😂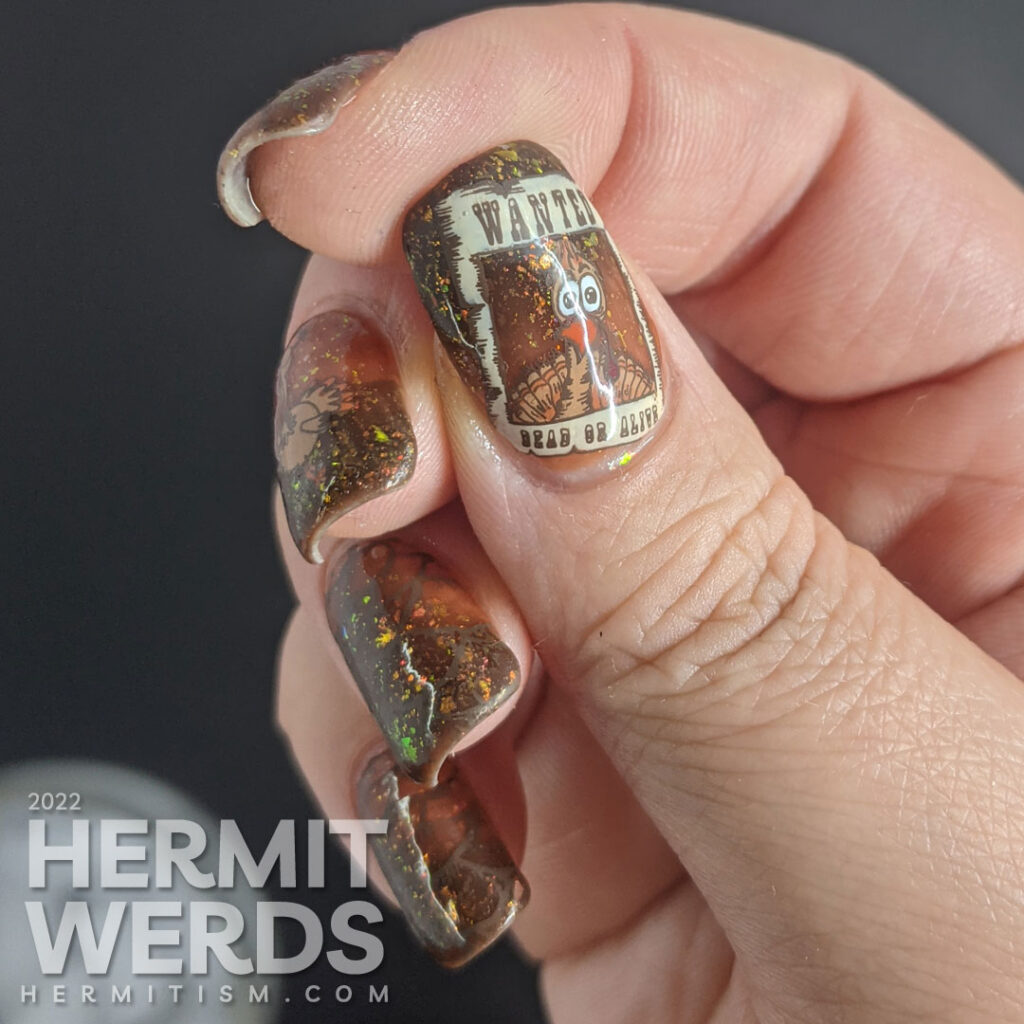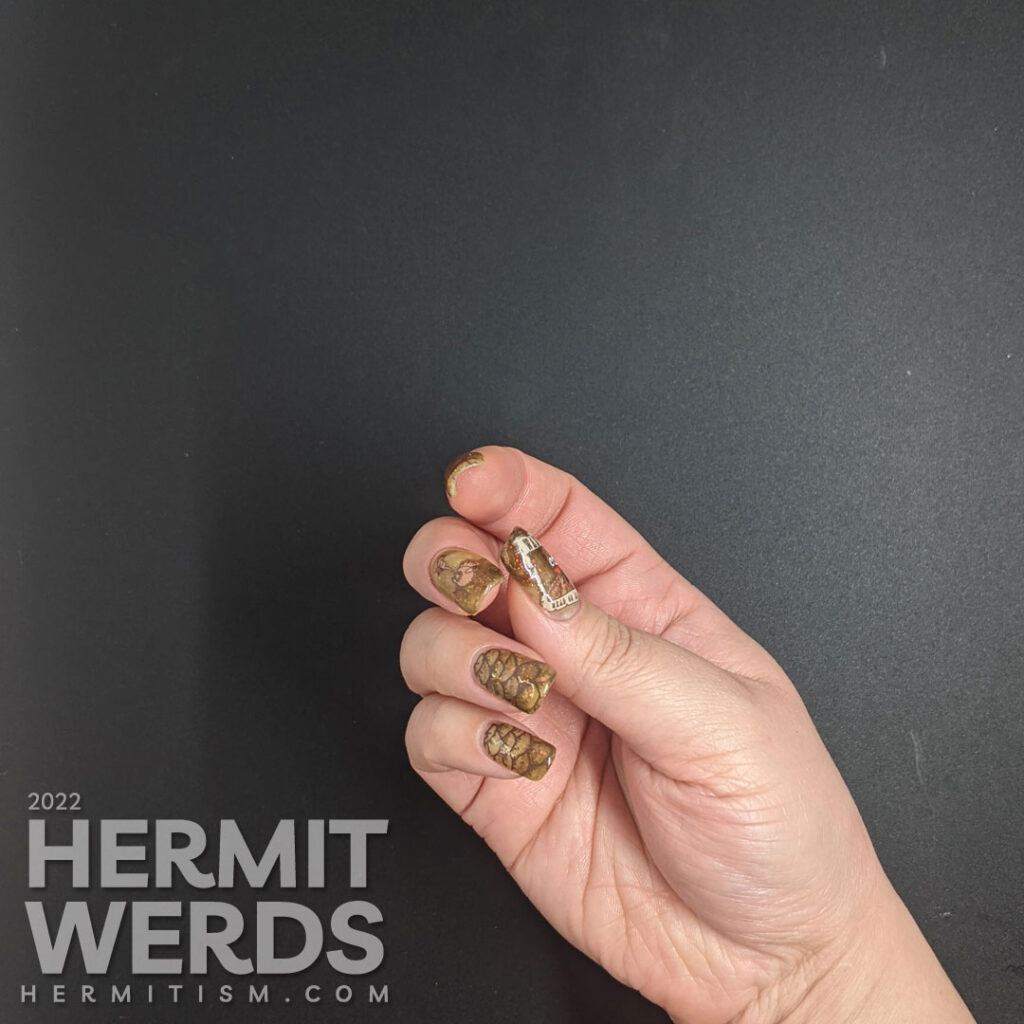 Until next time, friends! And Happy Thanksgiving if you're from America (or just celebrating a food day)! 🙋‍♀️