I'm behind on the nail art challenges I normally try to do, so instead of doing them I decided to stamp some nail art over the one polish manicure I'd already been wearing for three days. Normally I would not wear one color of polish let alone do nail art on it, but I went the the Salt Lake City Fan-X con and I knew from previous experience that no one would care what was on my nails. So I spent my time on what I was wearing instead. ILNP's new Color Kissed Ultra Holos polish "Rosewater" is a super holographic flaky polish with a pink flash. I've seen a lot more people featuring it than the other polishes in the collection so I'm guessing it's the favorite? I have no idea. I just wanted to contrast it with a pearly finish and some low saturation green and also make it a little Victorian/steampunk.
I filed down the wear on my nails, painted a fourth coat (note: this wasn't necessary except I'd already worn it for several days and I wanted to hide the wear) of "Rosewater" on my nails and got started with filling in decals. This time I tried something different and painted a clear polish over the stamp and then filled in colors. This helped prevent accidentally picking up a line of polish with my brush as I painted, but I also had to re-stamp a decal because it wasn't dry enough and I smeared the lines. I think I will be using this method from now on. Better to mess up sooner than have to use a decal I messed up on because I don't want to start over. Or, y'know, start over. Whichever one matches my current energy levels. 😉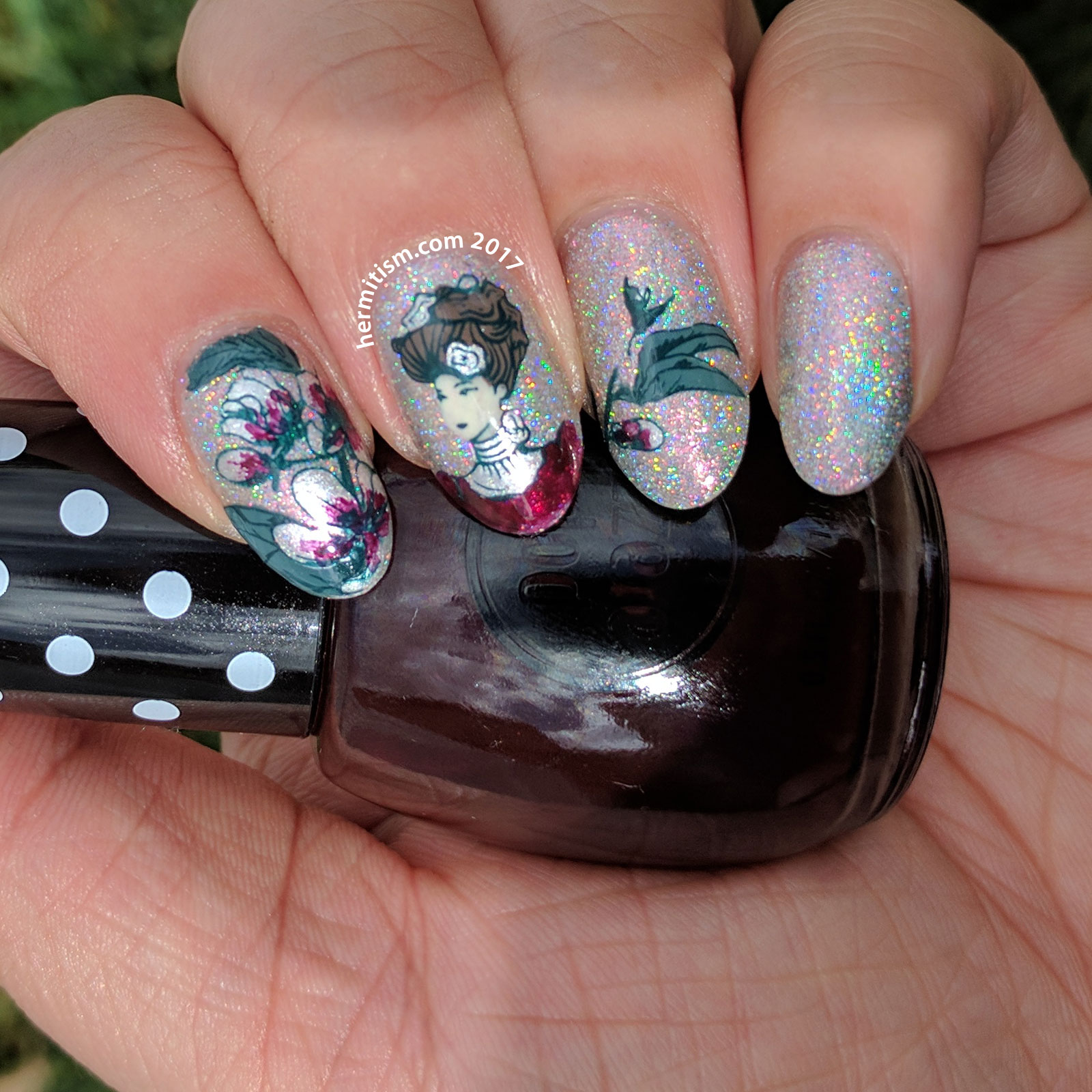 Items listed in italics are being used for the first time.
And now a photos of my nails before the nail art. The first is under a natural light lamp and the second is outside on a cloudy day.