I wanted to stick absolutely to a black and white color scheme so the challenge for me was to play with the finish and figure out what stamps I wanted to use. I finally settled for a water marble-y flower with some heart shapes swirled into it and a bunch of hearts. I wanted the background to be matte and the stamping to be shinier. The etchings on the nail plates were not cooperating with my clear stamper (and anyway I used my domed stamper to shrink one of the flowers to a smaller size) so I made decals out of the stamps and used a matte topcoat (NYC brand) instead of clear so I could have a matte background. It worked out in the end and now I know that matte topcoat can be used to make decals. I learned something! 😀
I think it turned out okay, but the two polishes I used for the base coat were miserable to work with. I'm thinking about de-stashing them. While it's nice that they dry matte, they also take forever to dry and do not self-level at all. I had to start over several times because even after they dried enough to not be sticky, they dented at the slightest pressure. Probably the only reasons I have for keeping them is because then I have the "set" of Demi Mattes and also because I like how Blackboard is a lighter shade of black than the usual. It allowed me a little extra leeway to stamp on top of it with a darker black.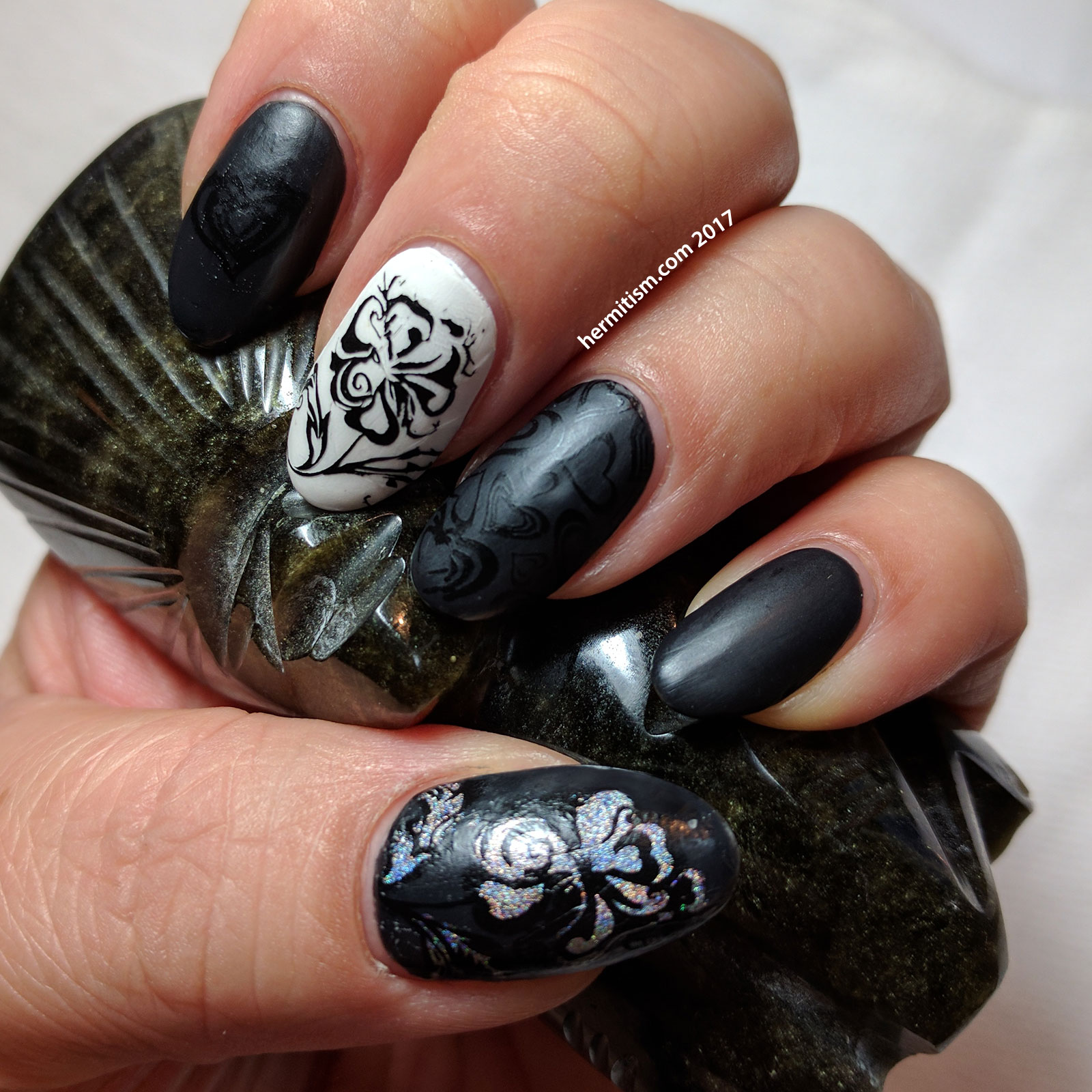 I really should do more matte finishes. They're rather unforgiving but can look so sophisticated. (Probably because they are less forgiving. Hah!) Still. Polishes that come with a matte finish really don't impress me. They usually have more trouble with self-leveling and either dry really fast (increasing your chances of playing with the polish too much and creating ridges) or take foreeeever to dry. I can't sit still long enough for nails to dry most of the time. Unless I use a fast drying top coat like Seche Vite my nail art will be destroyed before I can photograph it. But then the Seche Vite makes them shiny so the matte finish is negated. I will always have to use a matte topcoat to get the effect. I don't mind though. The best part about matte topcoats is that they dry to different kinds of matte. There are some that dry to an absolute matte and some that have a more satiny finish. Just by buying these bottles you effectively increase the range of your polish collection by every single bottle that didn't have that finish. Who could fail to be excited by that thought?
Okay, enough geeking out. Here's the linkup of all the lovely manicures people came up with for the theme Black & White Valentines: