I've been waiting to do this manicure until we got to the letter 'K', but it has been eating at me extra ever since my Bundle Monster Secret Garden Collection BM-725 nail plate arrived. The stamping plate is a mixture of five different flower-patterned fish and water lilies. I had intended to do more reverse stamping with gold and lots of oranges for the fishes because…koi!, but then I picked Sinful Colors' "Magik Touch" from the Kylie Jenner Trend Matters collection as my base color instead of doing a plain white. It is more of a cool blue-ish purple near-white than a pure blue and suddenly my manicure was headed in a different direction. I even spaced that I was going to do a gold glitter gradient on my pointer finger as an accent nail. You would think after being excited about doing this nail art for over a month I would not be led so easily astray. You would be wrong.
Then, instead of grabbing Zoya's "Robyn" (a jelly-like blue that would have brightened things up), I grabbed Zoya's "Frida" instead (a dark teal jelly) and slathered that on my nails in my usual I want color texture and nobody is watching style. On my thumb and the veeeery tip of my pointer fingernail I added a rather translucent dark blue jelly that I frankensteined ages ago. Water done. Original color scheme dead. Long live new color scheme.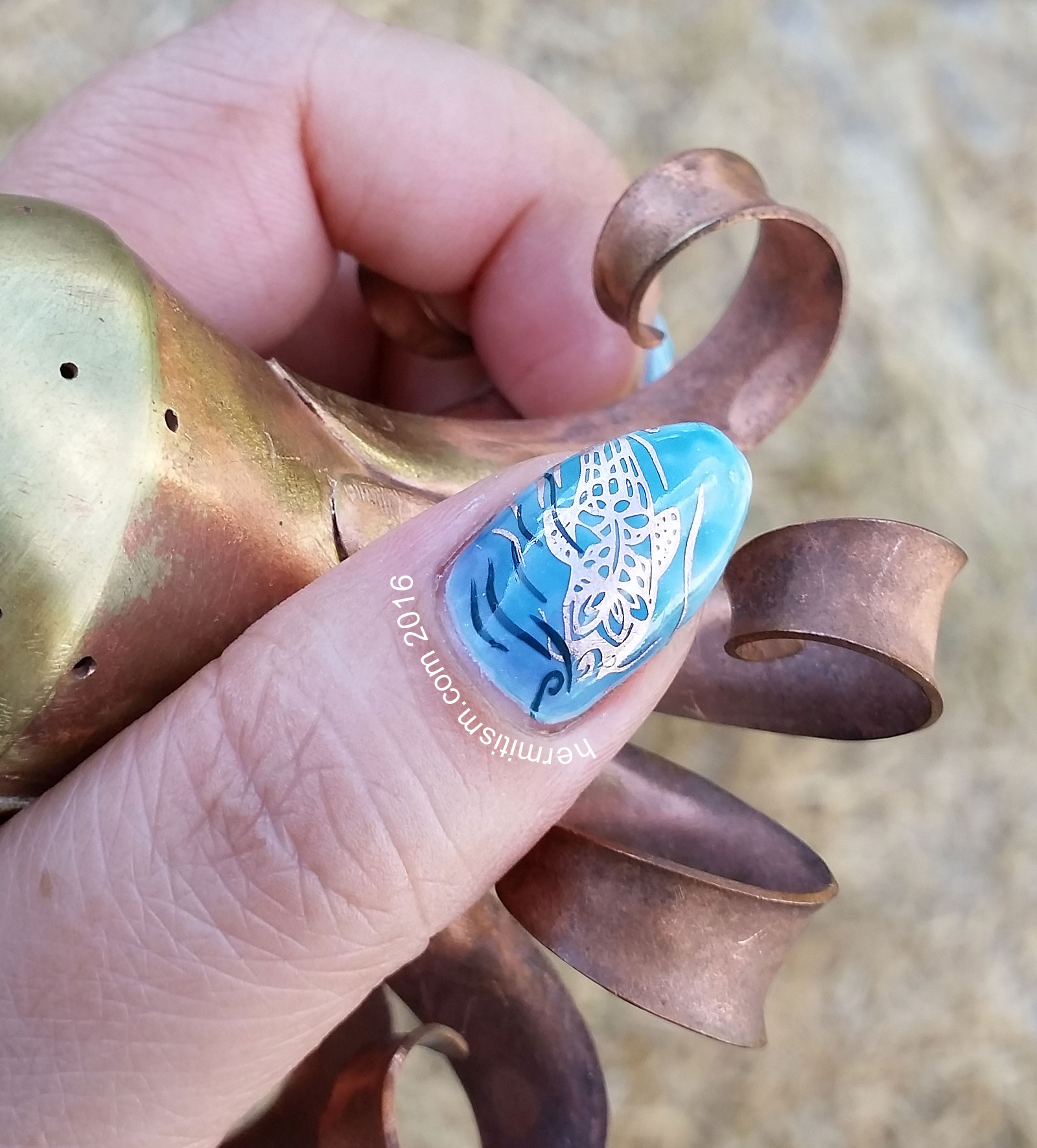 From there, not even the use of gold was going to survive. Why? Because Essie's "Good as Gold" separates very quickly and so it's not-very-copper "Penny Talk" frequently gets mistaken for it because it looks gold and the gold does not. I submit to you fate! Along with the copper, I used my favorite Sinful Colors' green "Calypso". It leans just a little bit teal and is dark enough to pass for black depending on what you use with it. Stampin' time! And it was one of those days where the stamps did not want to stick to my nails. Cleaning the nail surface did not improve things, so when a stamp didn't take the first time I just slapped some clear Essence gel polish on the stamp and made it a decal. Do not mess with me, nail polish!
Previously, I've always used more of the clear polish to get decals to stick to my nails, but I saw Janelle use base coat in her recent Youtube video and thought I'd tried that instead. I didn't really notice a difference in effectiveness though. Possibly it doesn't matter. Possibly I was using Orly's bonder rubberized base coat and she's using OPI's natural nail base coat and that's the difference.
Gah. Even the sparklies from the base color peeping through the jelly polish makes my heart go wee. *sigh* I am going to have a really hard time getting myself to take this manicure off in time to do 'L' on Friday. Probably I will just be late again. So bad.
The 'K'-related eye candy does not end here. Check out what the other ladies did for their nail art: