It's been a while since I had true neon polishes to stamp with since my Mundo de Unas bottles got streaky. So I purchased a neon set from Maniology in May. And, ugh, the timing is not great because this is a very heavy Maniology post shortly after they gave their milk toast statement about Roe v Wade being overturned.
So let me state: Maniology sells products that mostly women buy and they know it. They've spent a lot of time building up a community of mostly women to help sell those products. They are based in the US. With all that in mind, their statement wasn't good enough. Anyone who wants to stop using their products or feeding into the community that helps sell them (ambassador-ship, swatching, reviews, etc.) because of it should.
Abortion, birth control options, and privacy about these decisions are a right that everyone should have. To say otherwise is to say that individual people are not capable of best understanding their own circumstances and cannot make the best decision for themselves. That's pure bullshit and misogyny. And I get where Maniology might feel like they can get away with not making a clear statement on it because, frankly, the company was started by and is owned by men. And it's located in Hawaii, which is one of the states where you can still get an abortion.
But they should.
I'm not happy, but not to the point where I will stop buying their products. It's just hugely undermined my willingness to help build or participate in the communities they control. There are worse companies. Like the ones that moved to Texas recently and may only be giving lip service about helping their employees if they need it. Feels a lot like those companies that only talk about supporting the LGBTQ+ community in June. These companies have lobbyists looking out for their interests in the US government. How about using them for some public good for once?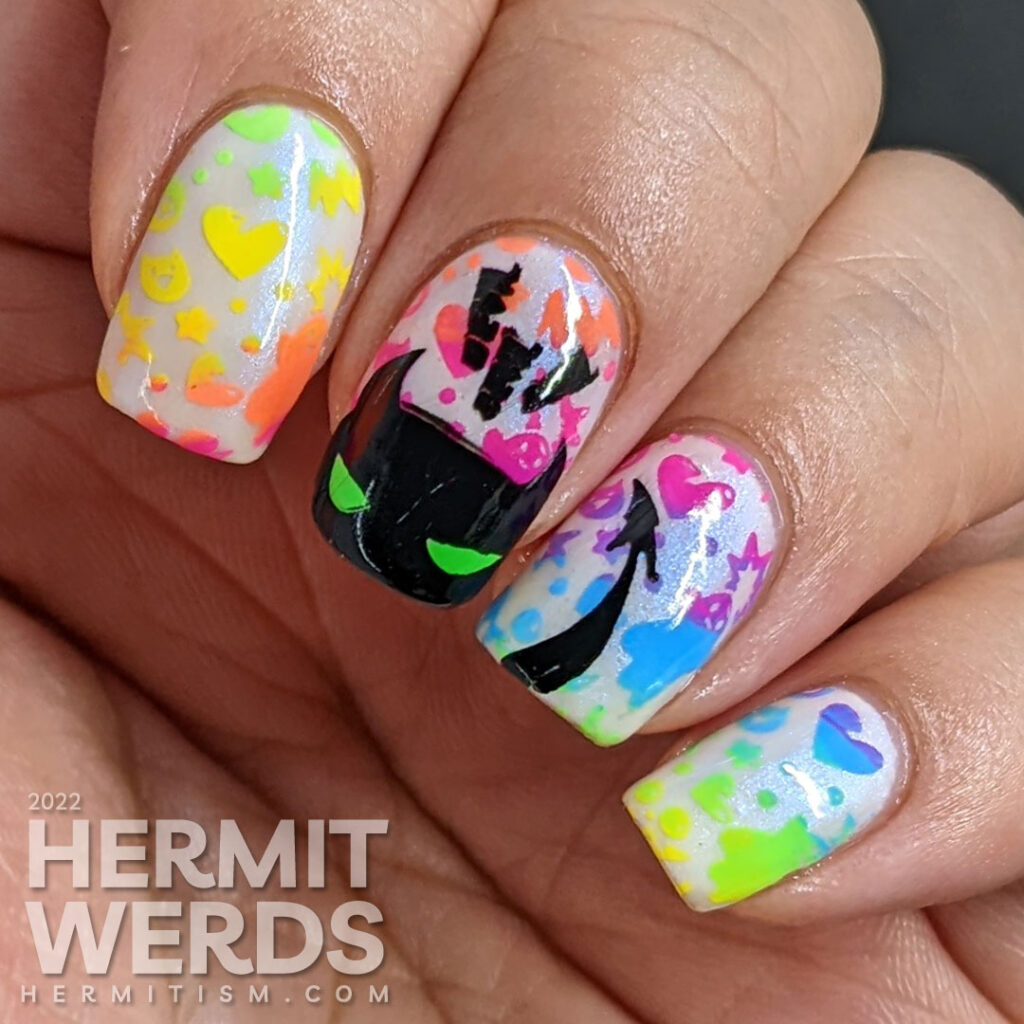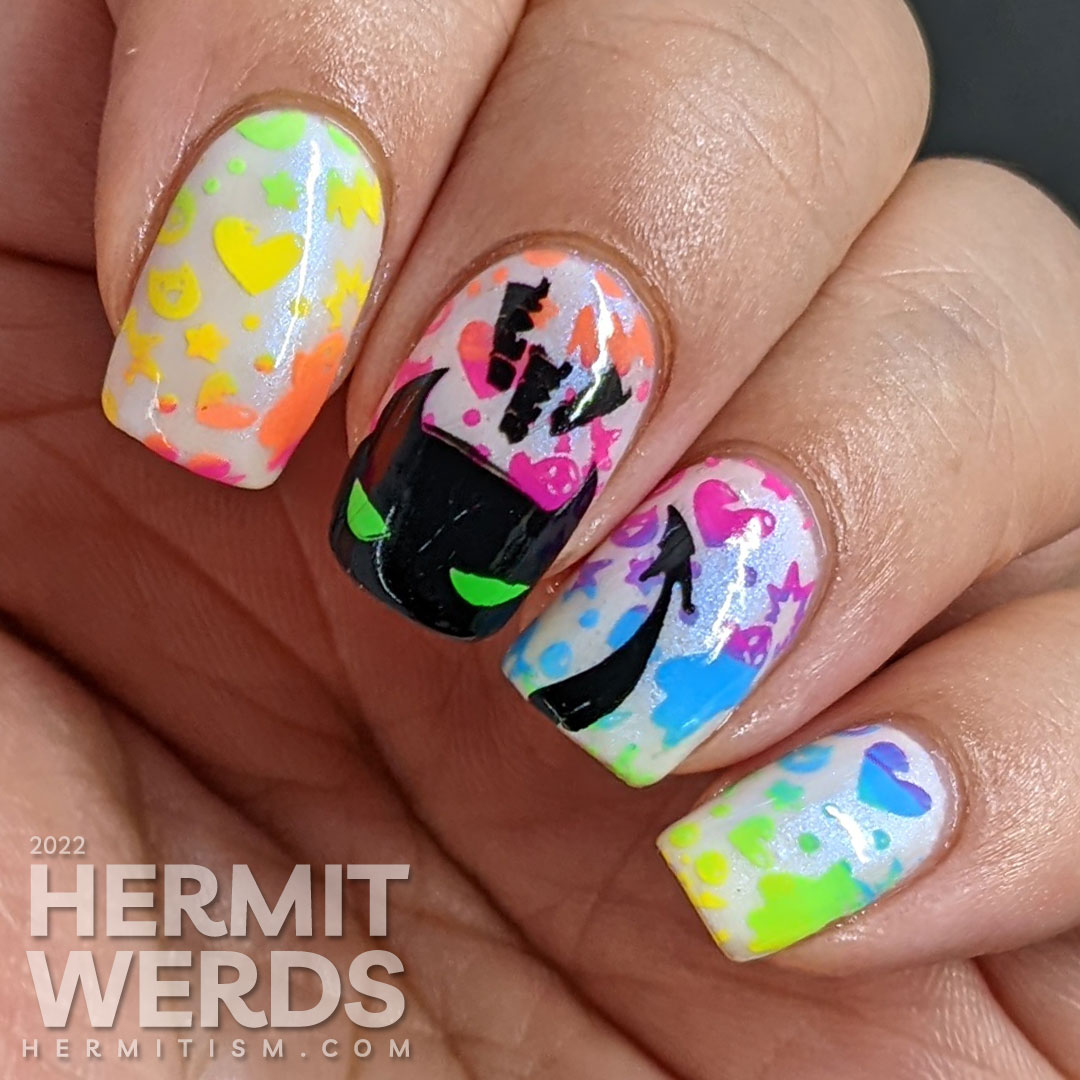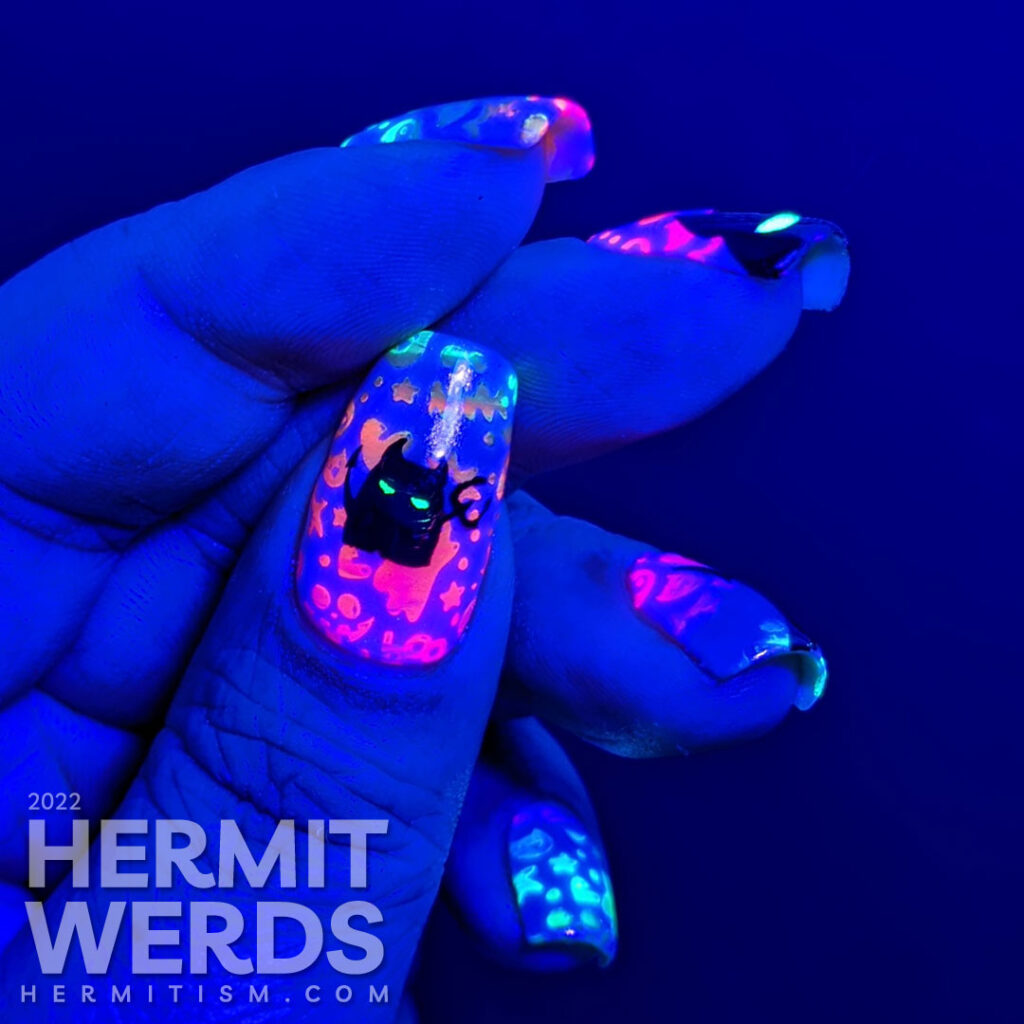 Nail art products used
Base Polish:

Stamping Polishes:

Advanced Stamping Polish:

Stamping Plates:
Items in italics are debuting on the blog for the first time.
Since the theme was supposed to be "Cute Halloween" I went with a cute full nail background. I'd originally intended to go all ghosts with the mani because the ghosts looked gender neutral so it leaned towards love is love in the end, but then I realized a demon would work better for my purposes. So it ended up not being a one stamping plate only mani.
And now a mini tutorial…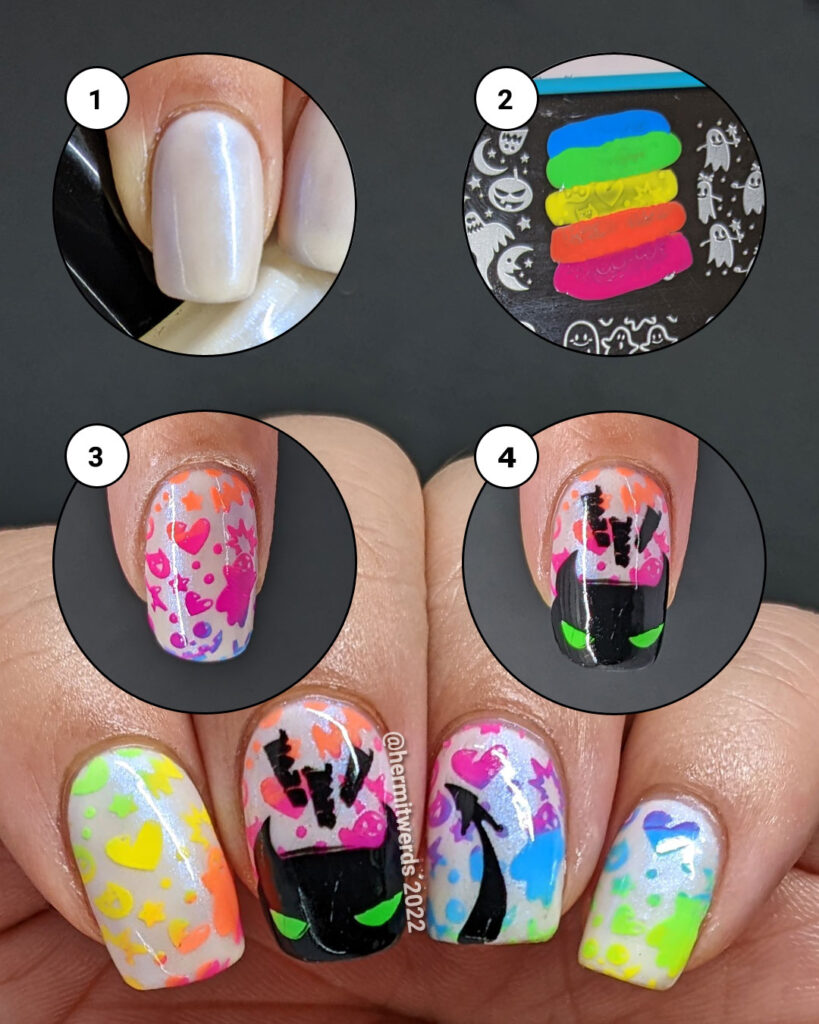 The Devil is Neon Mini Tutorial
Start with a white base. I used four layers of a semi-sheer polish (Saki Cosmetic's "Swallow") with blue shimmer. Blue and purple shimmer on a white polish always looks extra elegant/magical.
Next, line up six polishes you're going to gradient stamp with. Open all the bottles since you need to move fast when stamping.
Using five of the colors (1-5), lay down a line of polish at a slight diagonal in the order you prefer. Then for the next nail, start at the second color and use 2-6, then 3-6 + 1 and so on. This creates a diagonal gradient stamp across all your nails.
Swipe once with your scraper if you don't want to blend the colors very much.
Swipe a few times and shift your scraper over a slight amount on each swipe for a softer blend of colors like I did for my thumb.
Stamp it on your nails starting with your index finger and ending with your pinkie. Stamp your thumb however you like.
Add a few more stamping images. I used black to really help it stick out.
When coloring in the reverse stamping decal, I added a layer of white behind the green eyes of the demon to ensure no other color would bleed through.
If you're looking to buy some neon stamping polishes, but don't want to buy from Maniology:
Clear Jelly Stamper is located in Canada and has a 7-piece neon set. And Mundo de Unas is located in Mexico and has five neon shades in their store. Hit the Bottle is located in Australia and has a 7-piece neon set on their site as well as a 9-piece set on Lantern & Wren.
Just the neon gradient stamp
It's my style to have a focal point in the nail art, but this design works really well as just a gradient stamp too. I could totally see just this getting far more likes. 😅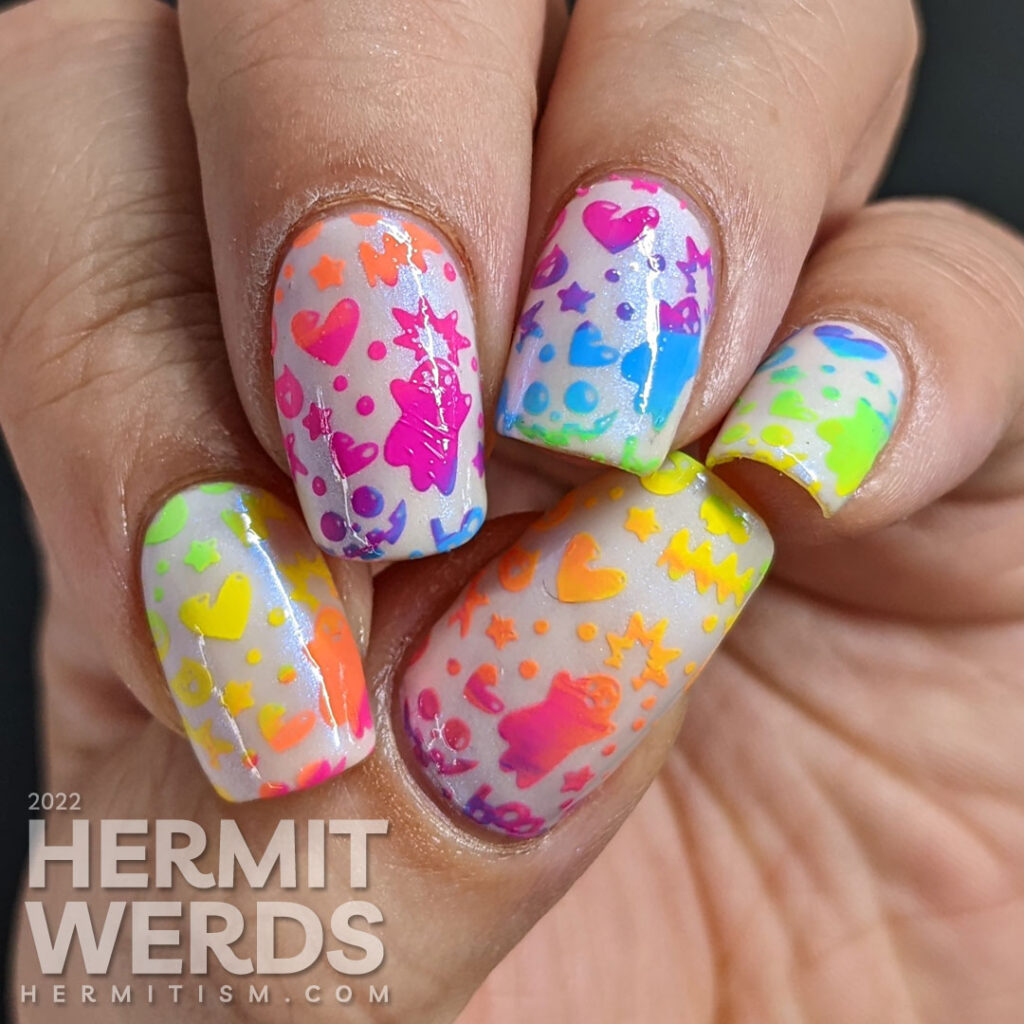 #HalloweenForeverCollab – Pride Month Halloween
As prompted, we went rainbow for pride month. I chose a demon as my subject, not only because of the #AZ challenge, but because members of the LGBTQ+ community are often demonized. Othering people (even if you hate them because they're taking away your reproductive rights) is one of the worst things you can do. To both yourself and the group you're othering.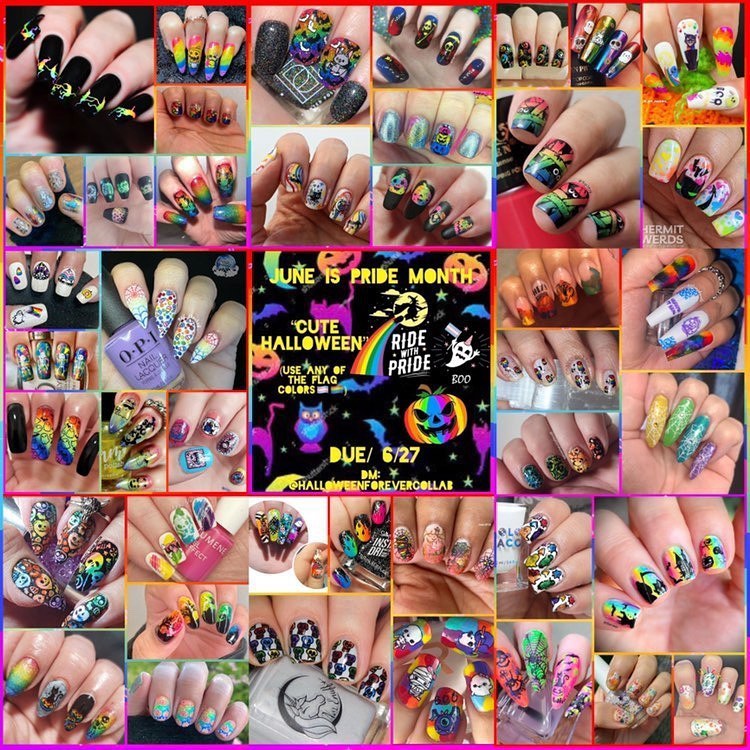 #AZNailArtChallenge – 'L' is for Lucifer
While I could have painted some Disney Cinderella nail art with Lucifer the cat, the prompt image made it pretty clear that Leonie meant Lucifer the devil. Again, I'm not in the collage cause I was busy selling my house and moving when this prompt happened.
UV Glow
Neon polishes tend to be florescent and therefore glow-y under a black light. You've already seen a few black light images of this nail art so I can tell you that the yellow, blue, and purple don't really work, but pink, orange, and green all do. But I have a UV reactive top coat by Night Owl Lacquer called "Moon Glow" that can make everything glow as you see below. However, it also caused some colors to get washed out and blend in with the white.
If you want this special effect polish, it's on Night Owl Lacquer's site, but is also being sold during Polish Pickup, which starts tomorrow.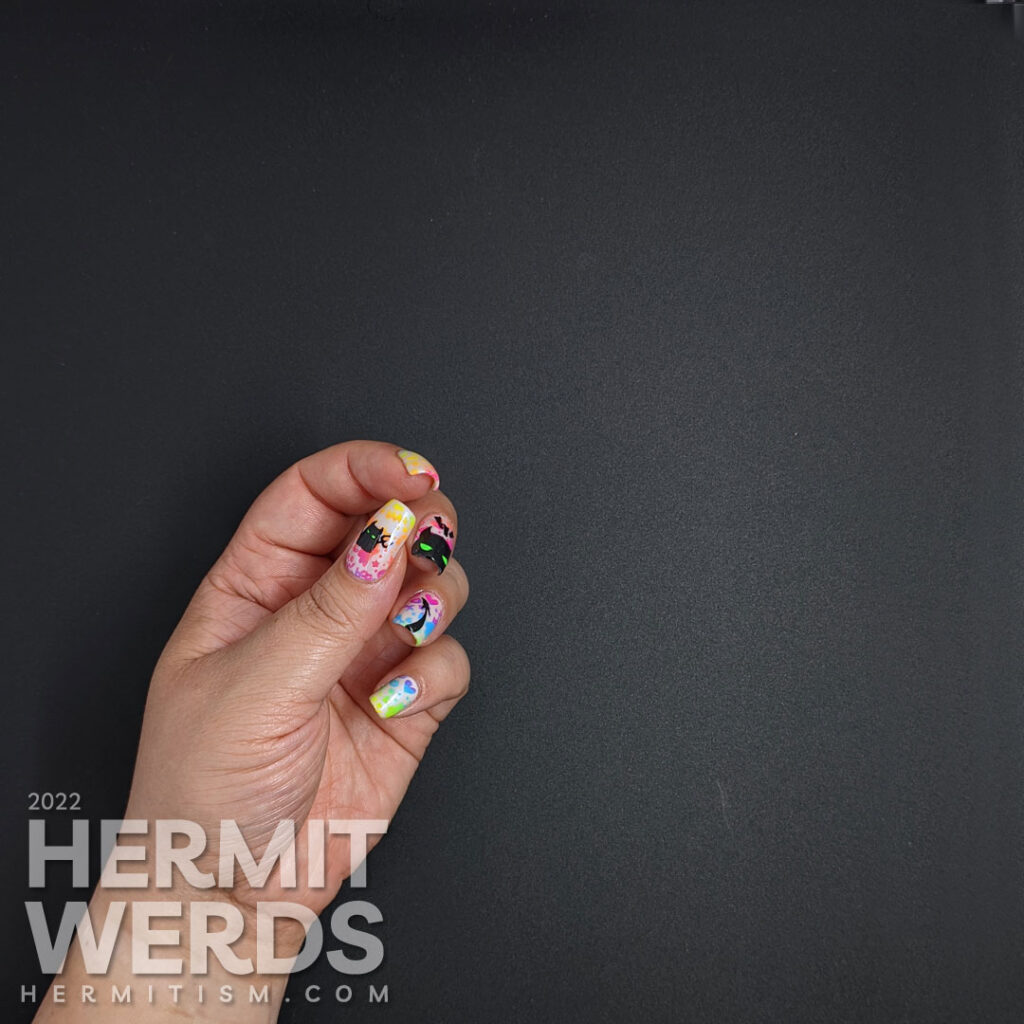 Until next time, friends! 🙋‍♀️