Today's look has been living in my head for a while. I snagged several bottles of Just Add Sun polishes (which I'm quickly reviewing) when they were on sale in my local grocery store and have been slooowly using them all. I thought they would look really neat in a smoosh marble with a negative space stamp on top. And I found the perfect stamping image on one of my indie stamping plates. It has hibiscus flowers and a slight texture in the negative space for even more color to peek out of. So I ended up just using that one full-nail image on every nail, even stretching it out to fit on my thumbnail. 🤣
Hopefully I will find use for Esmaltes de Kelly "Bugs and Flowers" again soon. Likely not since it's now in the "used" category and next month could end up more chaotic than this one.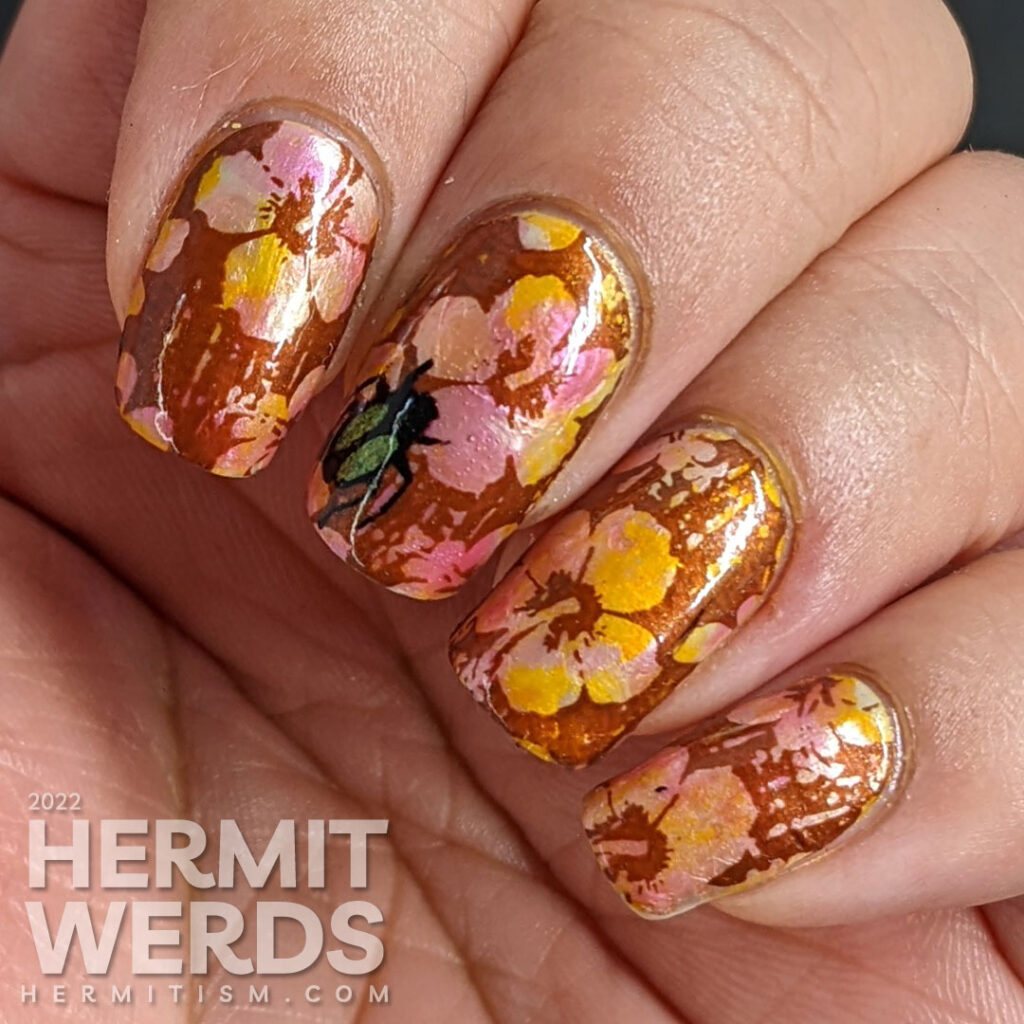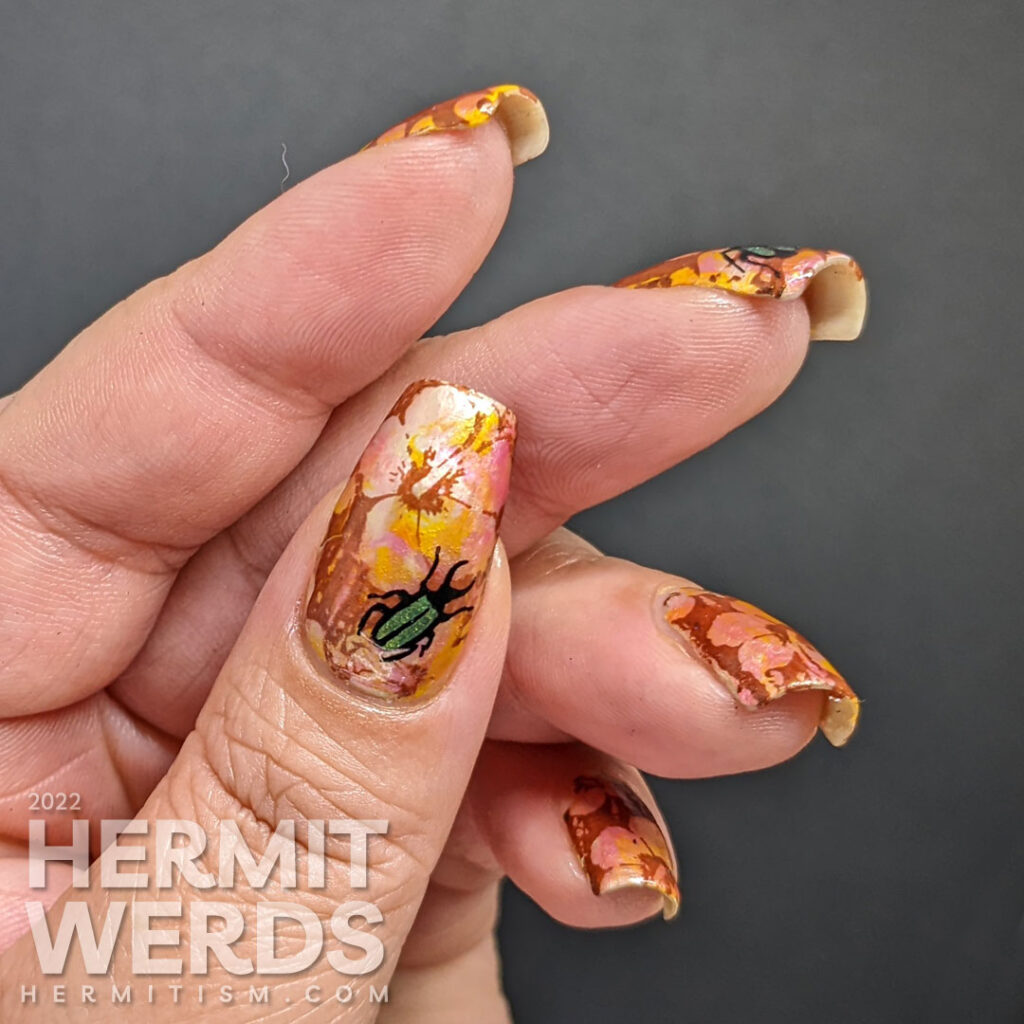 Nail art products used
Base Polishes:

Stamping Polishes:

Advanced Stamping Polish:

Stamping Plate:
Items in italics are debuting on the blog for the first time.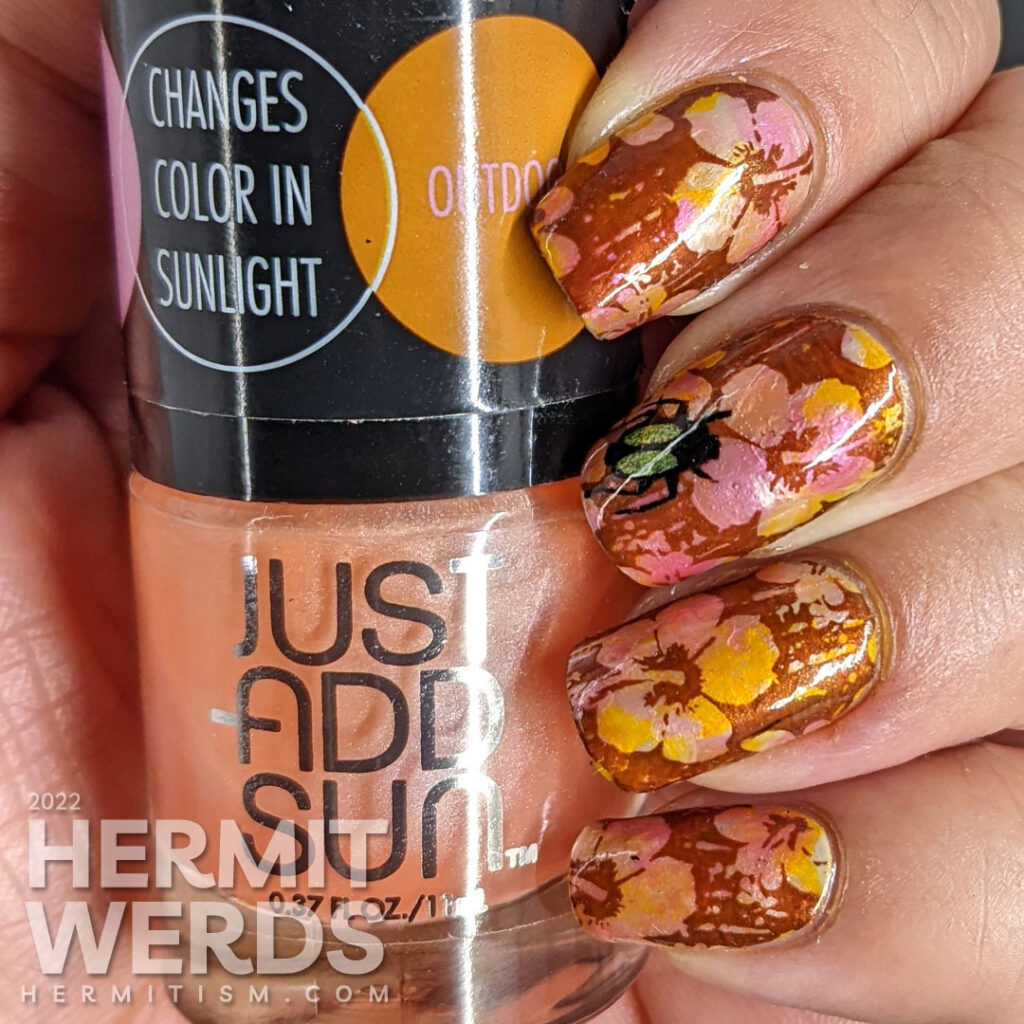 Quick brand review – Just Add Sun
I can't even find Just Add Sun's website anymore, so it's possible they've gone out of business. I can't say I'm sorry since I've found them to be an inferior product. The formula is watery, difficult to work with, and prone to wear and chipping. "Pinky Toes" is supposed to transition from a dusty lavender to orange, but instead goes from light orange to maybe a slightly darker orange? Still a lovely color, but not what I bought it for.
The bottles themselves are poor quality, causing the polish to dry out even when the cap is secure (lost two polishes to that). Overall, there are other brands releasing solar polishes these days and I'd recommend trying those. I'm just using what I already have. 😁
tldr: pass on Just Add Sun
I was clever-er this time and remembered to photograph my base both indoors and "outdoors". I achieved the outdoor look by exposing my nails to a UV light and quickly photographing it.
Since only one polish is really transitioning, I think this single photo will suffice for showing the outdoor state with all my stamping on top.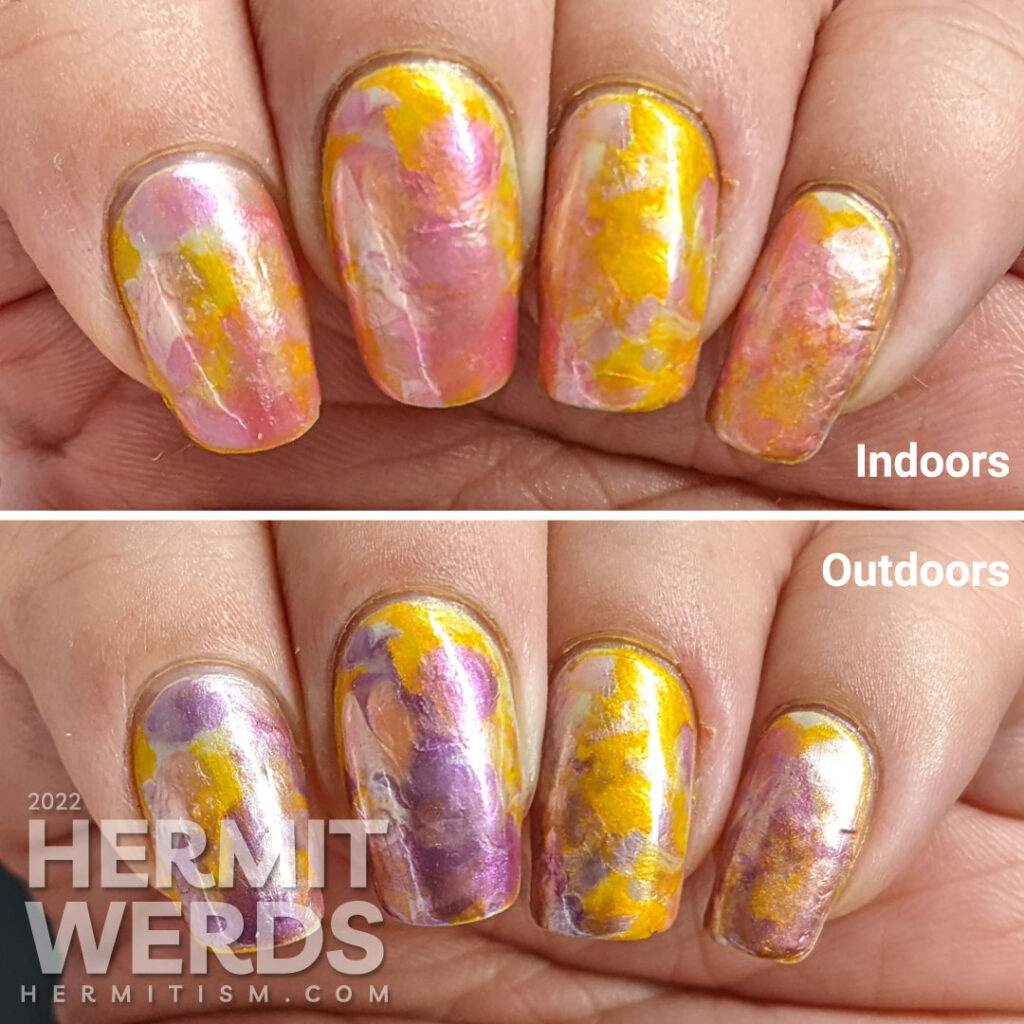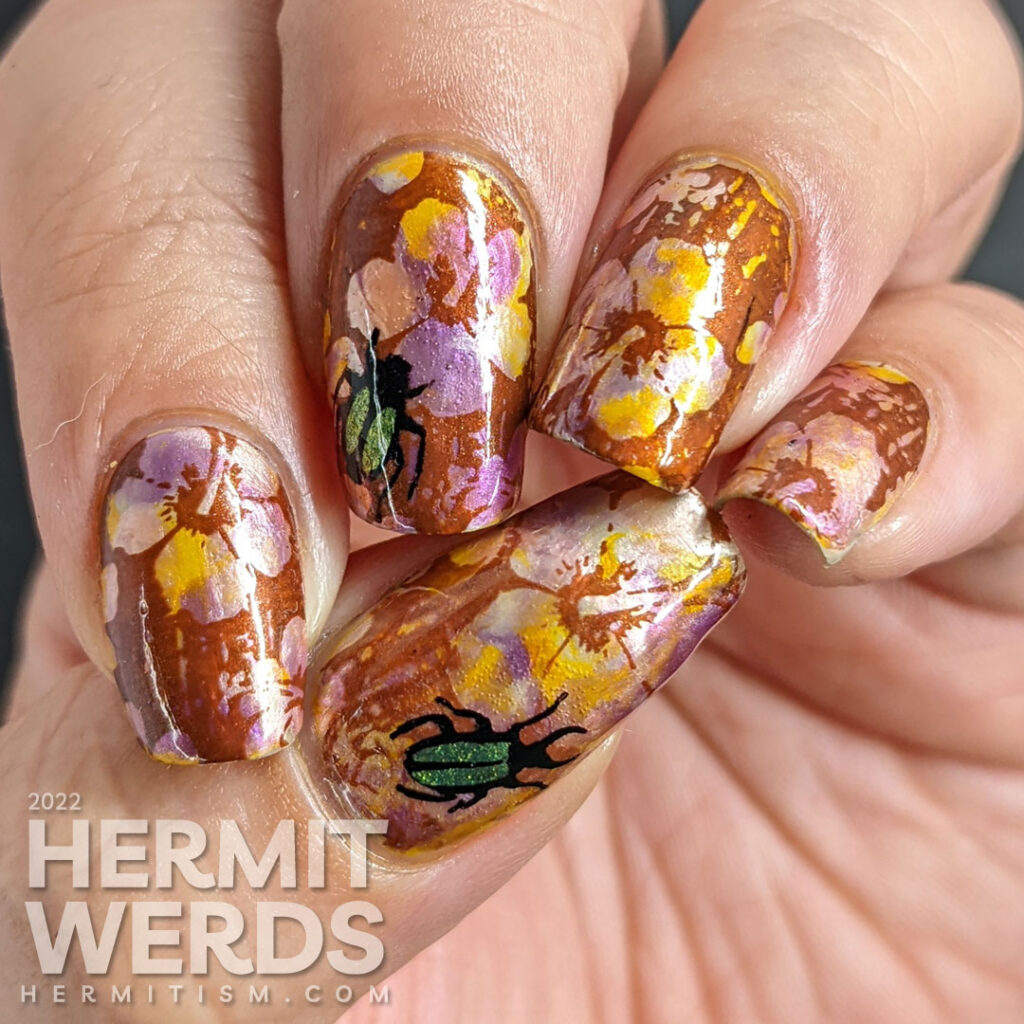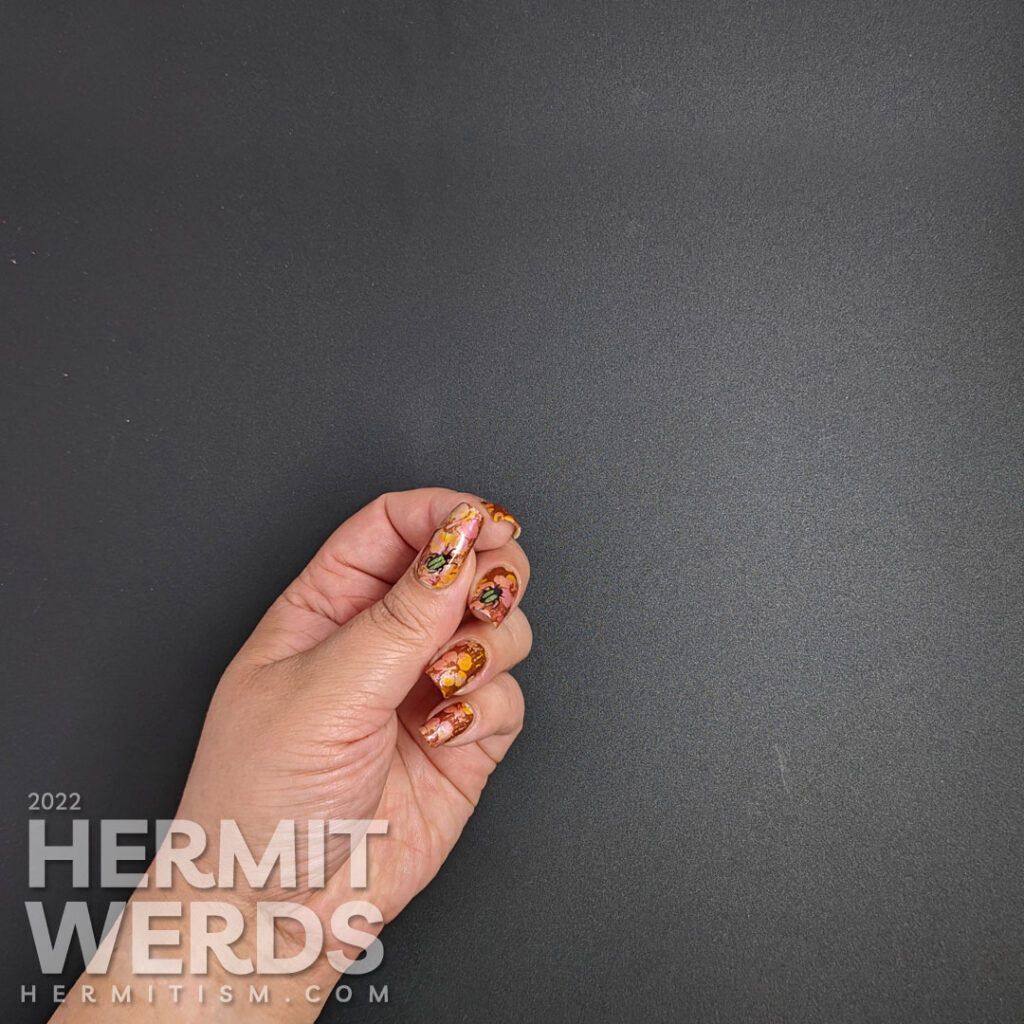 Until next time, friends! 🙋‍♀️