June was hard for some reason. I had to scale my nail art plans back to only the stuff I really, really wanted to paint and the @halloweenforevercollab was one of them. I really, really want to not miss this one all year. I've come close a few times, but I'm now at the half way mark so…maybe! 💪
Anyway, with the Fourth of July (a.k.a. Independence Day) coming up, our great leaders picked the topic Monsters in the USA…and a few days later had to clarify that we should keep politics out of it. It's a great topic for this time of year, but keeping politics out was…hard. Because I have opinions. Lots of them. So I ended up going for the lowest hanging fruit which is zombies. Seriously, zombies go with everything.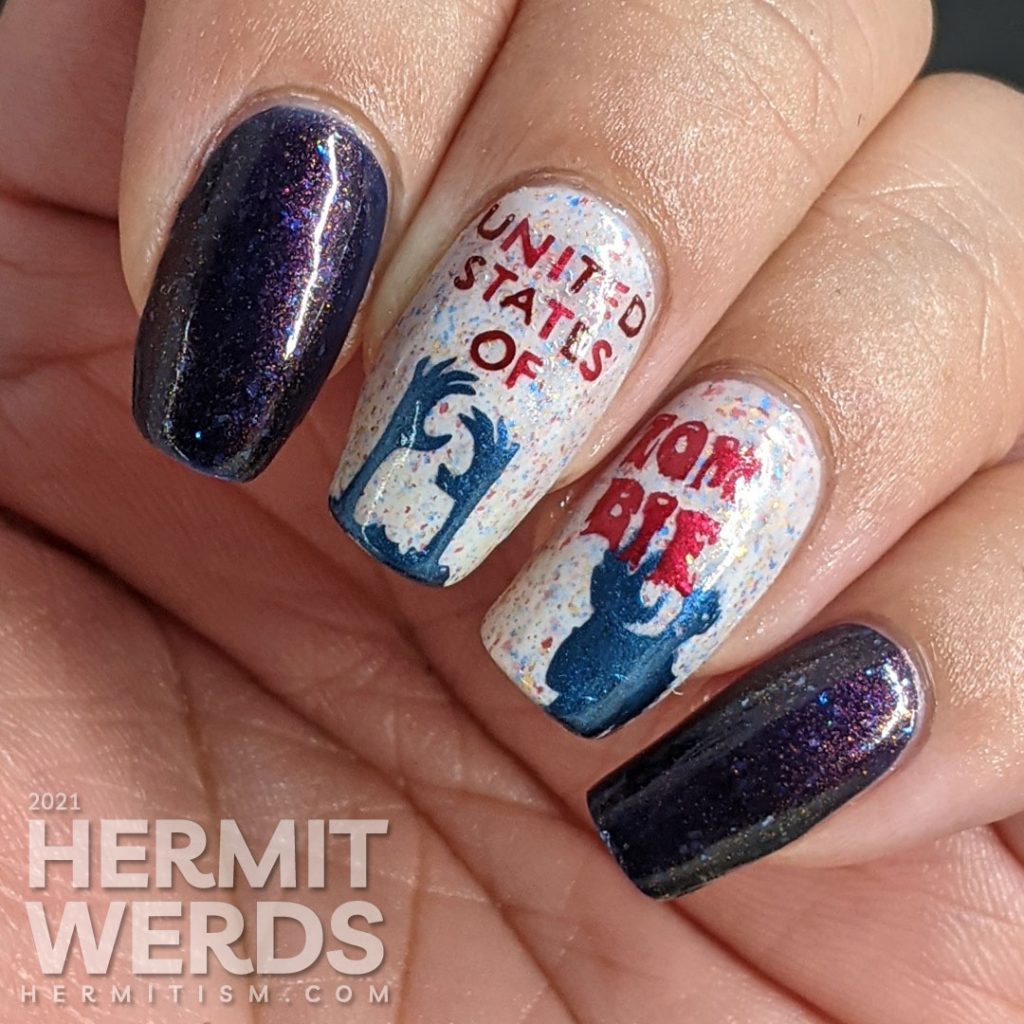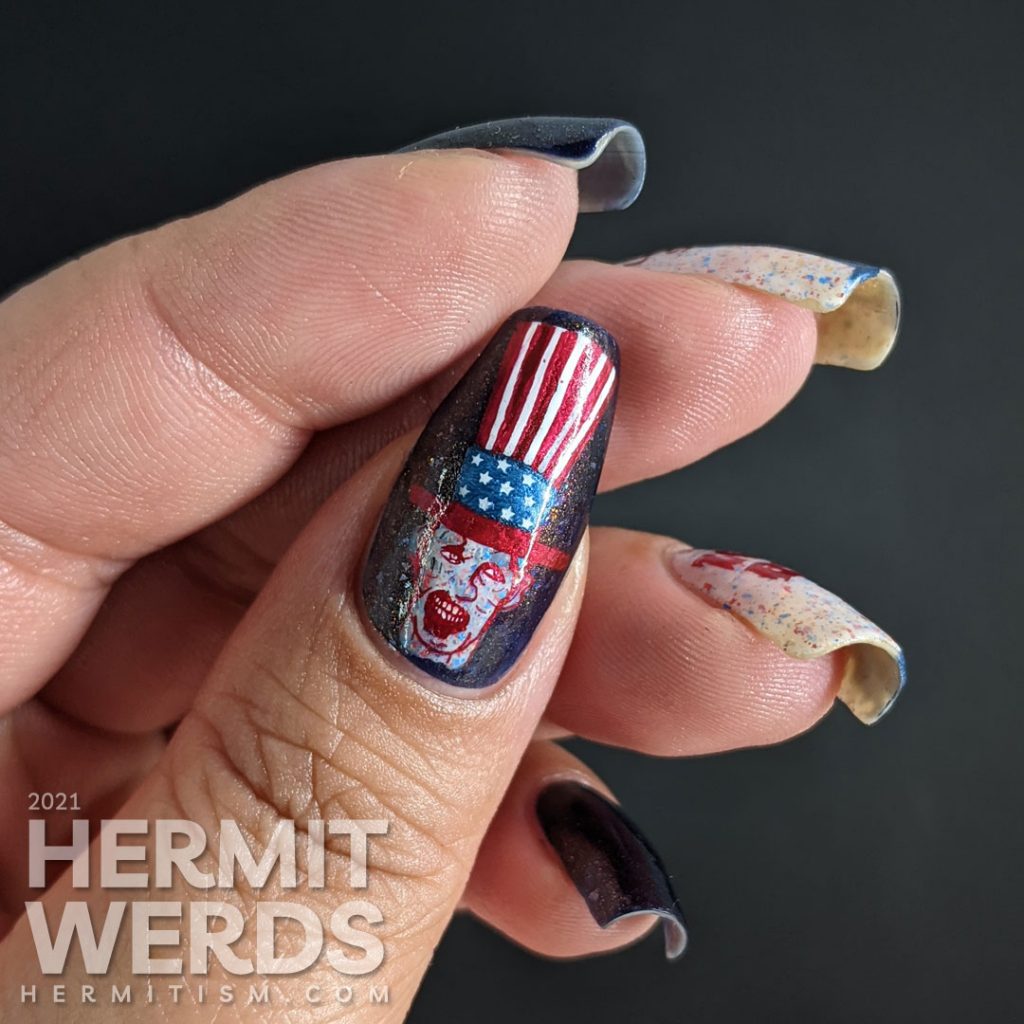 Halloween Forever Collab
Without politics it was a little hard to figure out how to represent Monsters in the USA. As you can see in the collage, we all leaned heavily on the red, white, and blue, but all kinds of monsters showed up. Everything from Frankenstein's monster to kitty ghosts. So check out the group tag and see the true variety this prompt brought out.
(Pssst! July's topic is Skeletons at the Beach. I think I know what I'm doing, but I may procrastinate for the entire month before I do it. 🏆 )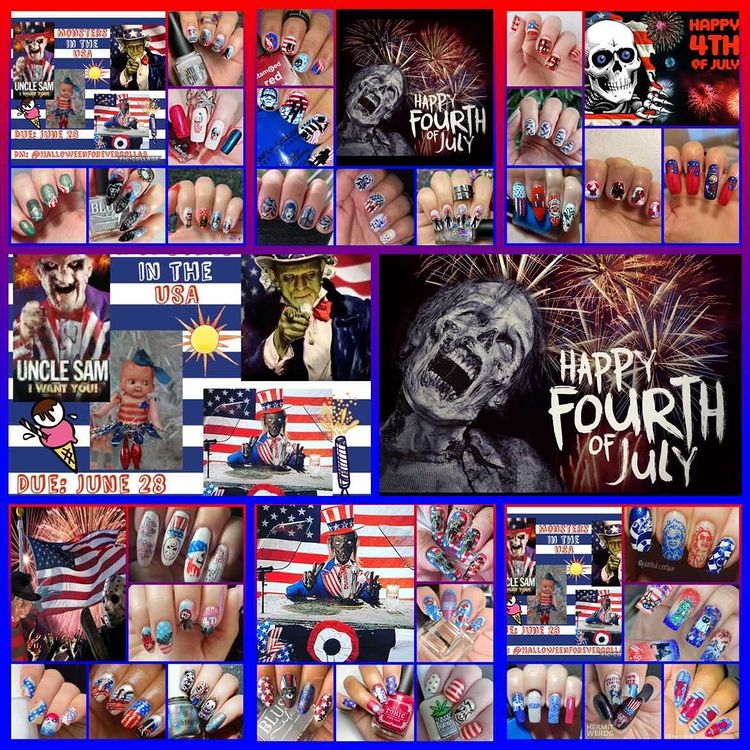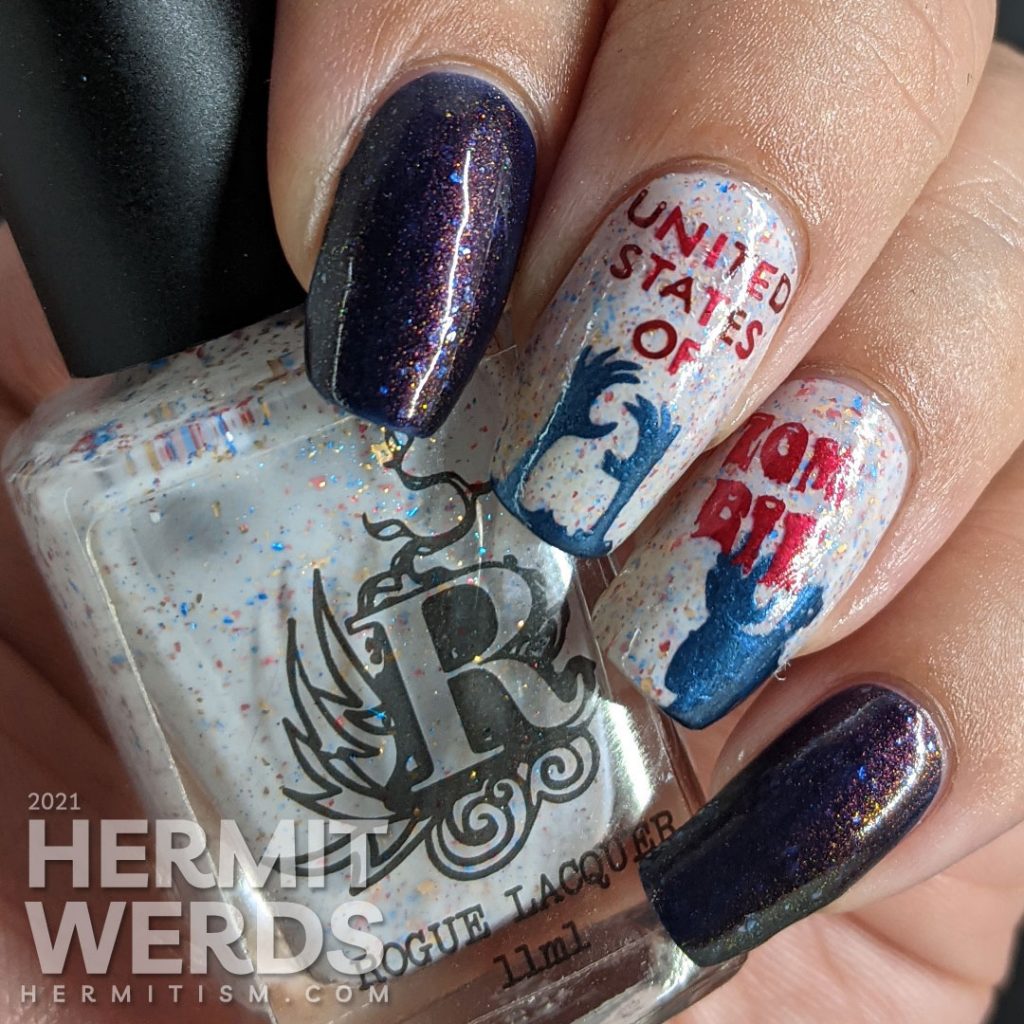 Nail art products used
Base Polishes:

Stamping Polishes:

Advanced Stamping Polishes:

Stamping Plates:
I started my look with Rogue Lacquer's "Jaw Breaker" which is a red, white, blue (and gold) crelly that I bought for patriotic nail art and has now served that purpose twice. I also (luckily) had a stamping image with a really cool hat that was clearly designed with the American flag in mind. So I popped that on the head of a zombie and spent faaar too much time piecing together the phrase "United States of" from a lettering stamp. As Rachel Maksy says…"Gooood Enooooough!"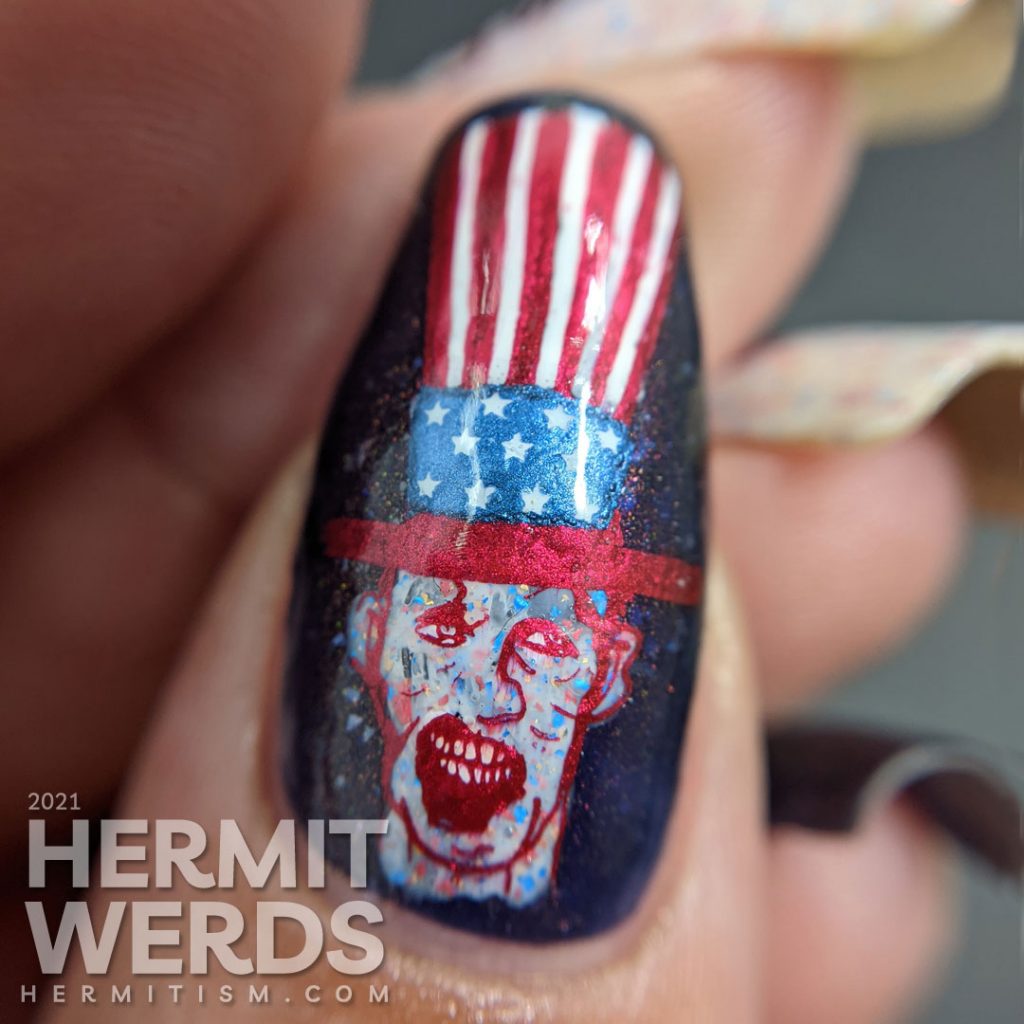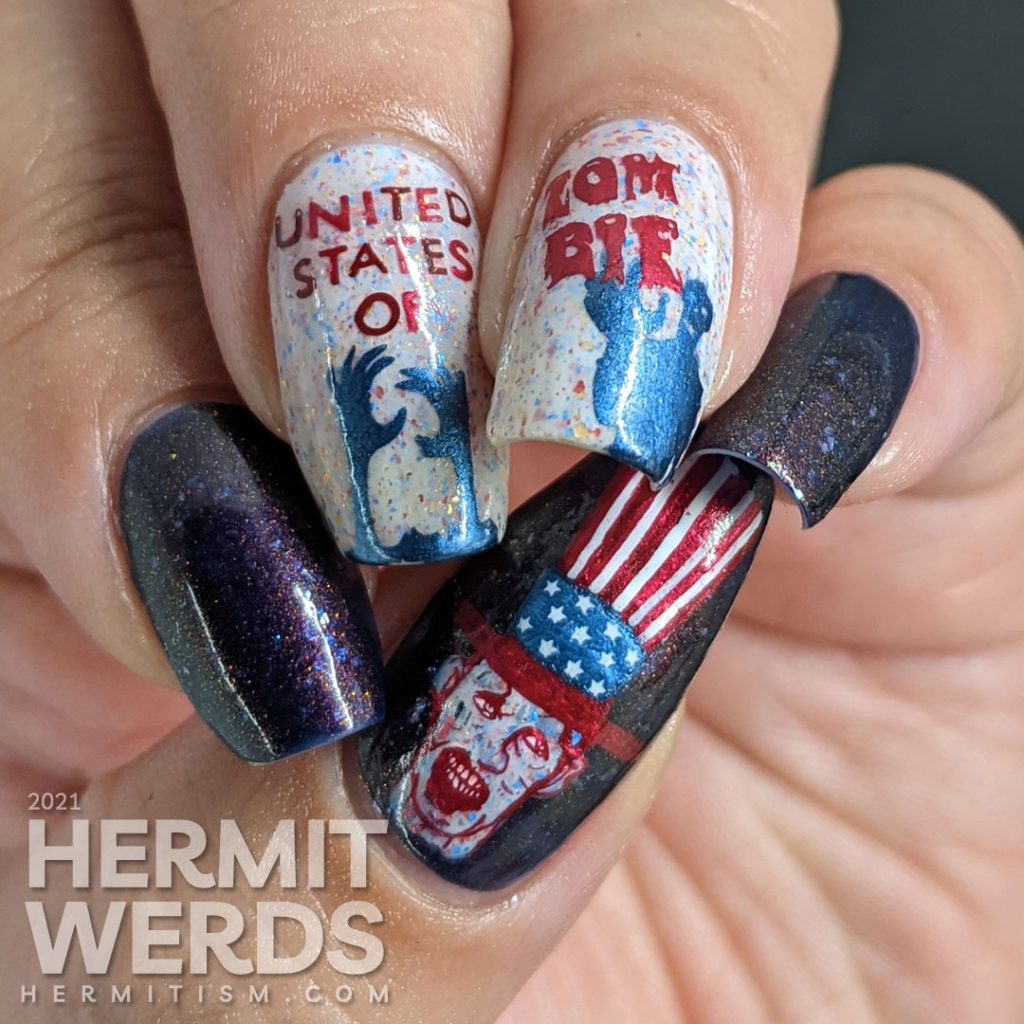 I ended up being really happy with this look, which is always nice. I've been struggling with loving this country for the past couple of years and that definitely comes out when I try to paint something nice with it in mind. Even from far away, I think this looks "slays". Heh.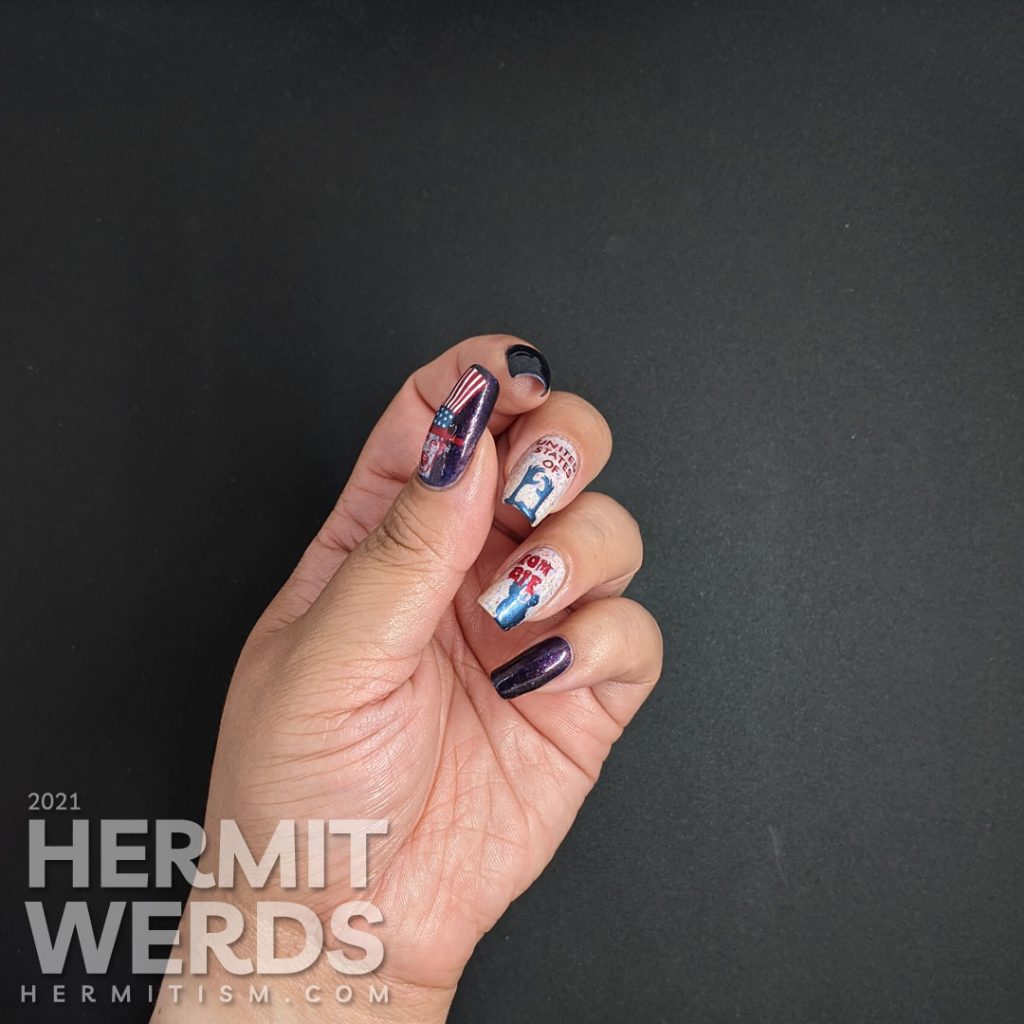 Until next time, friends! And have a great Fourth of July if you're in America and want to celebrate. (Just please no fireworks if your area is in a drought. *glares at neighbors*) 🙋‍♀️