Today's look is all about sweet, beautiful sunflowers. Until it's not. Hee hee! I truly love both sides of this nail art for different reasons, but holy cow it was a lot of layers. One layer for the spiders. One layer for the spider webs. Three layers of the magenta b/c it's very jelly-like. One layer of nail line blur to keep the magenta from coloring the base polish. Two to three layers of the base polish. Then the sunflower stamping decals. Fun. Beautiful. And also noticeably thick. I could use these babies as a shield! 😂
Nail art products used
Flipside Nail Polishes:

Hit the Bottle's "Apricot Sour" and Maniology's "Zombie Hut" stamped under Maniology's "Corpse Reviver"

Base Polishes:

Sassy Sauce's "Zion Sunset" over a pink-ish VNL blurring polish

Stamping Polishes:

Hit the Bottle's "From the Ground Up" and "Swept Away"

Reverse Stamping Polishes:

Apipila's "Galo da Serra", Hit the Bottle's "Swept Away", Maniology's "Caladium", and OPI's "Never a Dulles Moment"

Stamping Plate:

Pretty Fingers "Spiders in the Garden"
Items in italics are debuting on the blog for the first time.
Flipside fun
The stamping plate I used had sunflowers and spiders. So I thought it would be fun to have a pretty normal mani and then some wicked spiders underneath. Plus it gave me an excuse to use the two polishes that came in the ManixMe box for September. Sadly, not going to use the plates this year in respect for the tragic fire in Maui. A tropical Halloween theme is just a little too close to home for me.
Note: You're seeing the UV light photos instead of the glow in the dark ones because it was easier to see.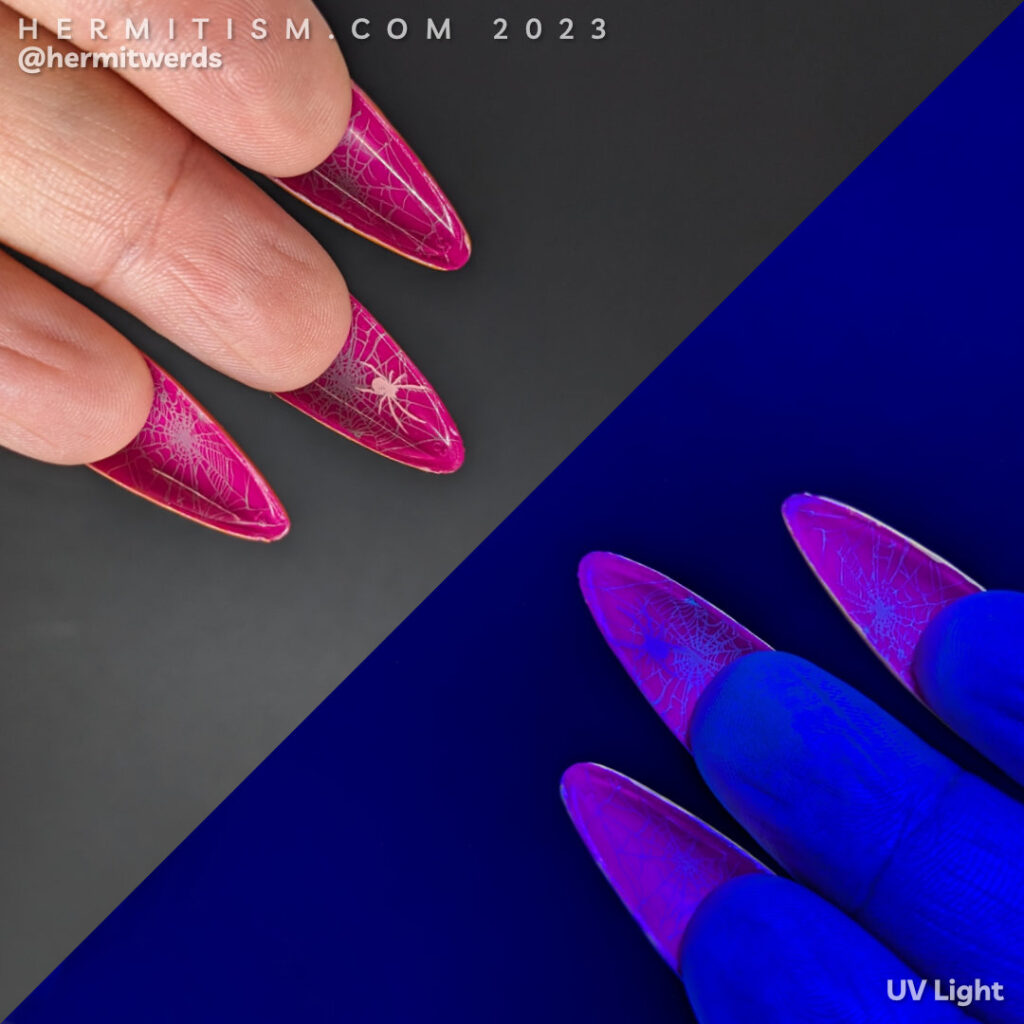 I have become quietly obsessed with polishes that combine orange with purple/magenta shimmer. I have three so far. Sassy Sauce's "Zion Sunset" is the first one to appear on the blog, but I am eyeing a fourth like some unstoppable monster. It's just…so me. You should not be surprised to find that I used to wear an orange dress with a purple blazer like I'm some sort of real life Joker. Missing the green hair though.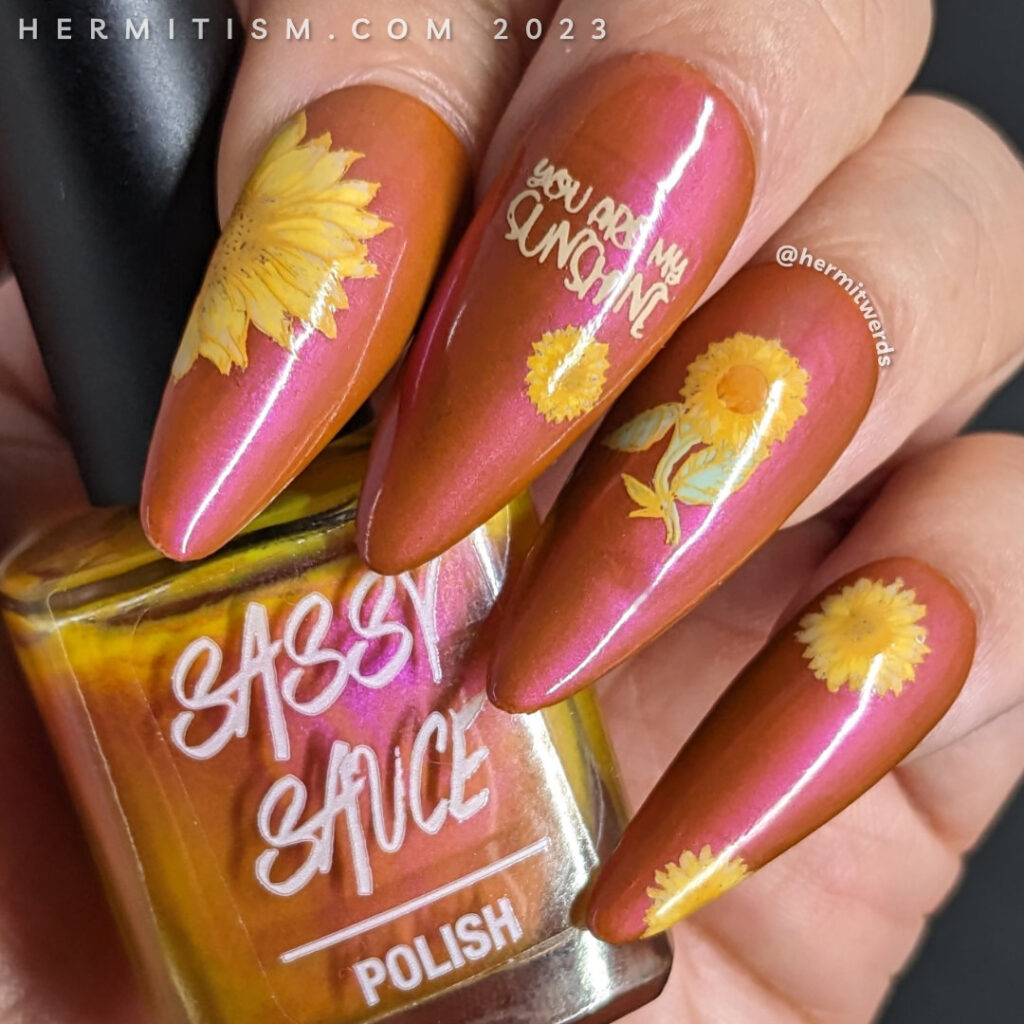 @GlamNailsChallenge
So I typically don't include much information about the non-collage Instagram challenges, but I felt like it this time. Glam Nails Challenge has been around for longer than I've been posting on Instagram. I really don't know how Darlyn (@gridqueen) has found the energy to keep it up all these years. (Definitely check out her account if you have never heard of her because she's also an amazing nail artist.)
Inconceivable to me, she manages to post the prompts for the next month halfway through the current one, which I love because planning the nail art is in some ways more fun than all the doing it part. So I tend to participate a lot even if I don't finish all the prompts. But I managed this month and hopefully will get to everything for October! Halloweeeeen!
Final sunflower nail art photos
Until next time, friends! 🙋‍♀️