I did take French when I was in public school, but I never went very far with it so I never had to read Le Petit Prince on its original language. Instead, I read it on my own in English and loved it. In many ways, the fox's words to the Little Prince "You become responsible, forever, for what you have tamed." has shaped my own relationship with my cat. She is both my responsibility forever, but also has her own life. In other words, an indoor cat that gets supervised outdoor time.
And too many kisses. Possibly the fox would object to that part.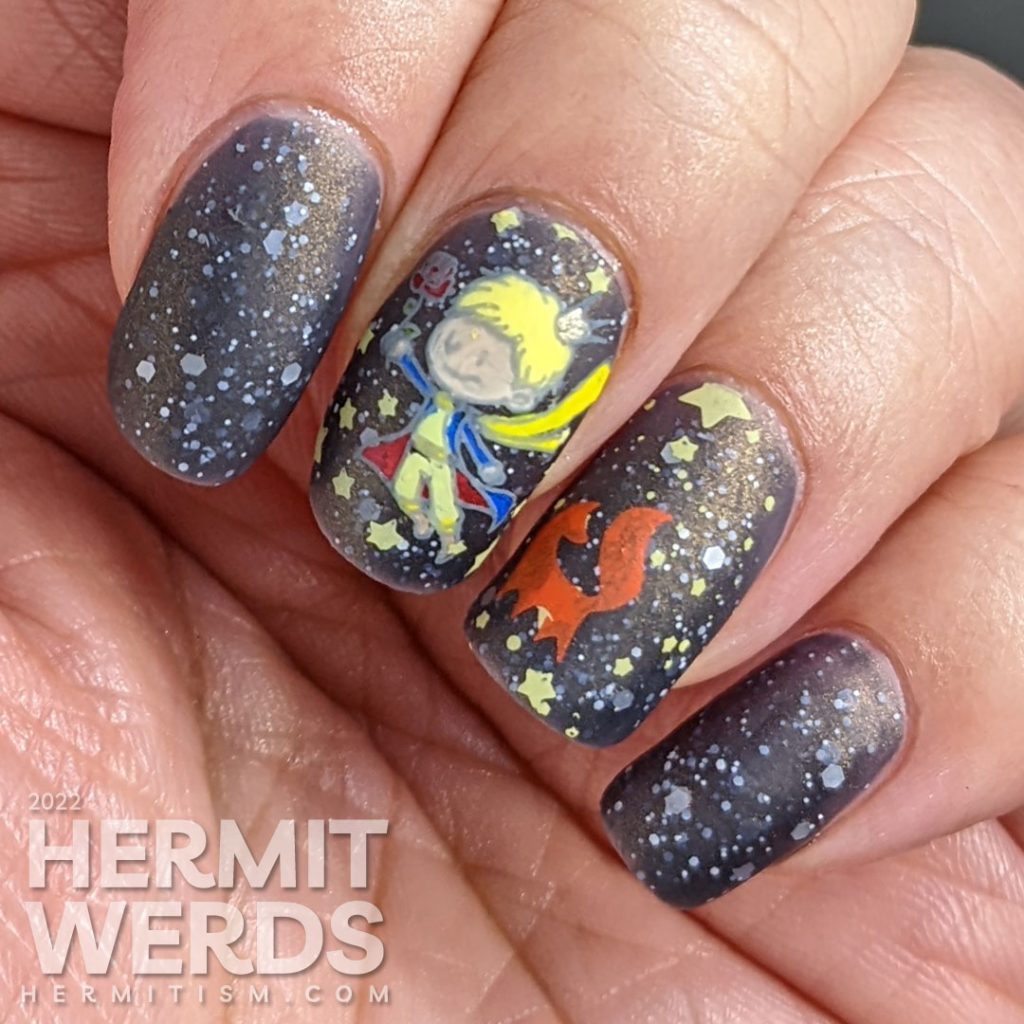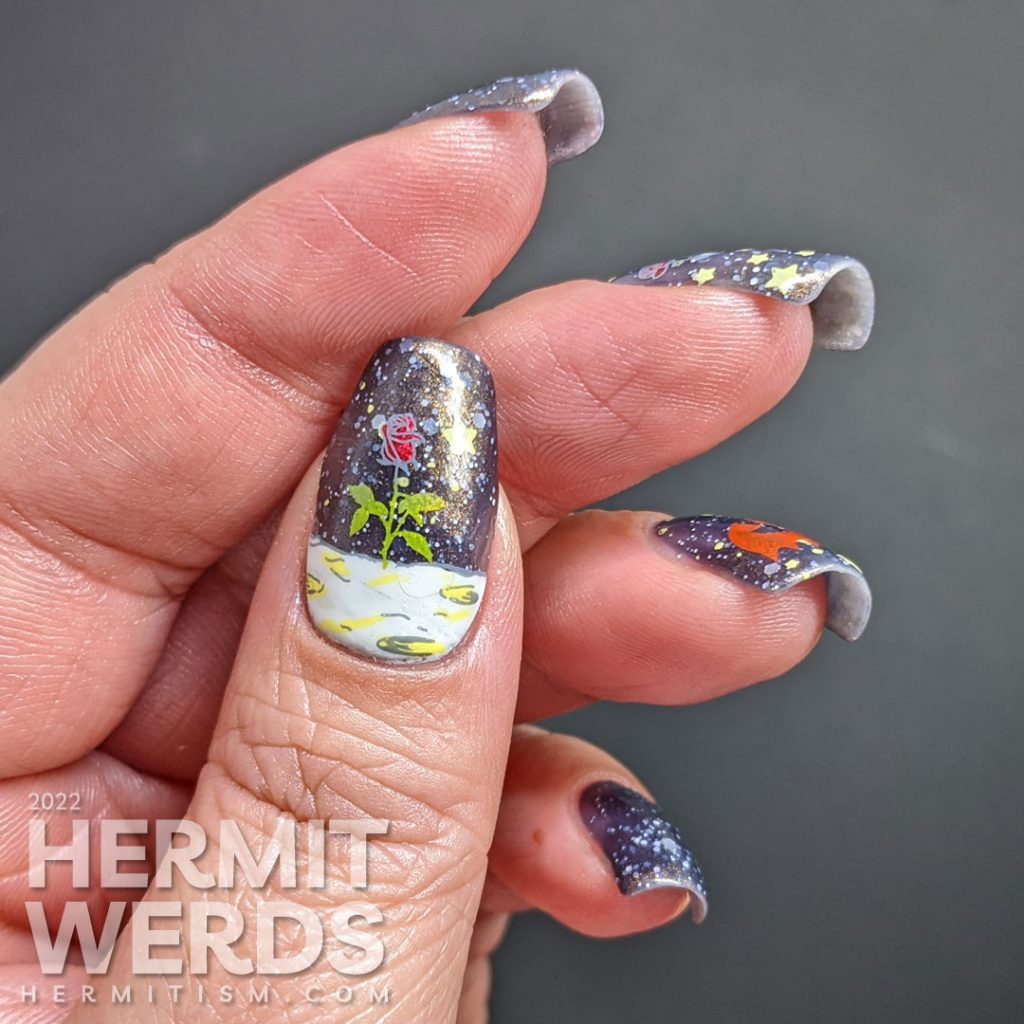 Nail art products used
Base Polish:

Crystal Knockout's "Souls of Wind and Thunder"

Stamping Polishes:

KADS' "16 Pearly Orange" and "Pearly Yellow Green" + Maniology's "Folklore" and "Zinnia"

Advanced Stamping Polishes:

B. Loves Plates' "B. a Cherry Lollipop"; Essie's "Good as Gold", Frankensteined "Grey French Tip"; KADS' "Pearly Yellow Green", "9 Yellow", and "12 Yellow Green"; Maniology's "Flotsam" and "Zinnia"; Nee Jolie's "NJ-005"; and Zoya's "Spencer"

Stamping Plates:

Born Pretty "BP-A09 Deep Cosmos" (asteroid surface) and "Outer Space-L002" (stars); "Mr Fox-LB015" (le petite prince and fox); and "Nicole Diary-194" (rose)
Crystal Knockouts "Souls of Wind and Thunder" really did make a fantastic outer space background. However, I do wish I'd tried a few different stamping polishes before deciding what to make my reverse stamping decals with because "Folklore" feels a little too light. Or I could have just used black. Ah, well. There isn't time right now for re-doing things and I still like what I did so… 🤷‍♀️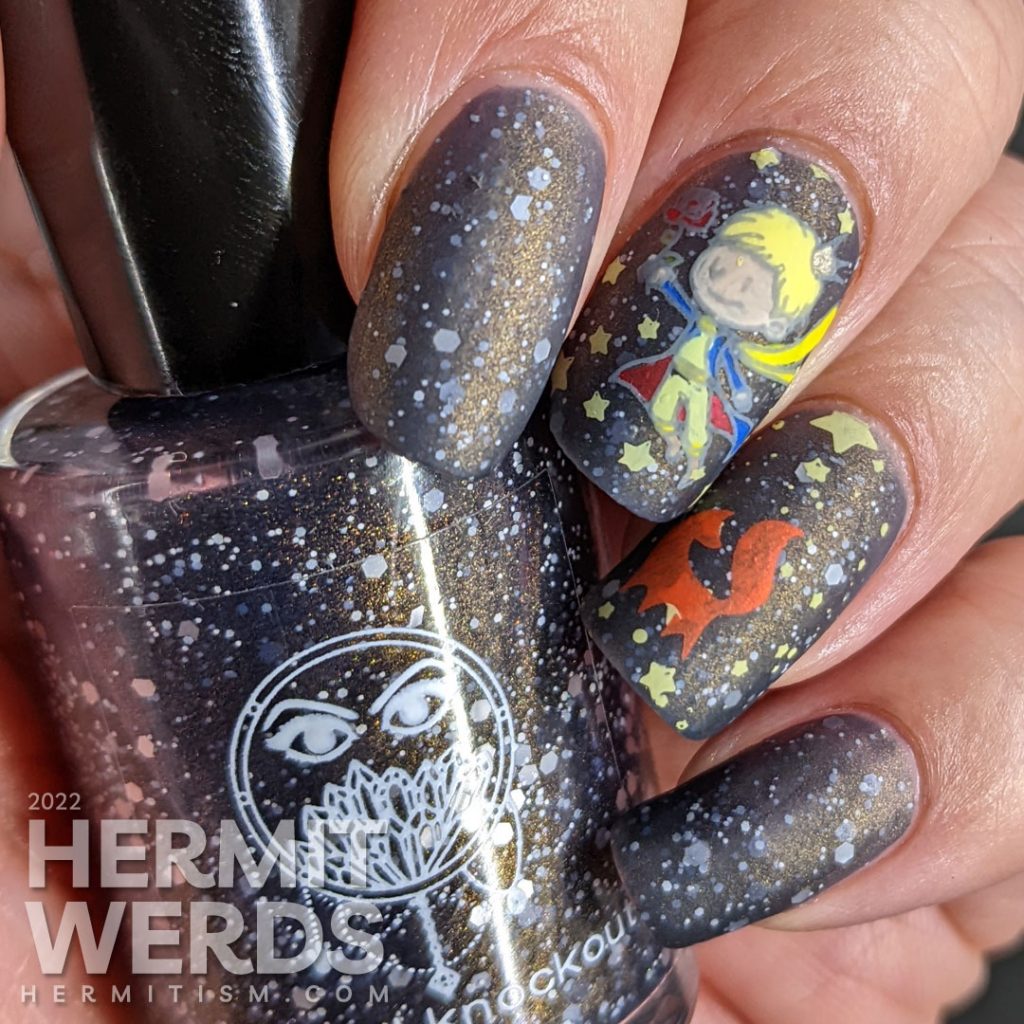 #AZNailArtChallenge – 'O' is for Outer Space
There's quite a variety in this collage and I'm loving all of it. And since I am now caught up, you can see everyone's posts in the group tag quite easily. The next prompt is 'P' is for penguin. I'm sure I have five gajillion different penguin stamping images I haven't used yet. LOL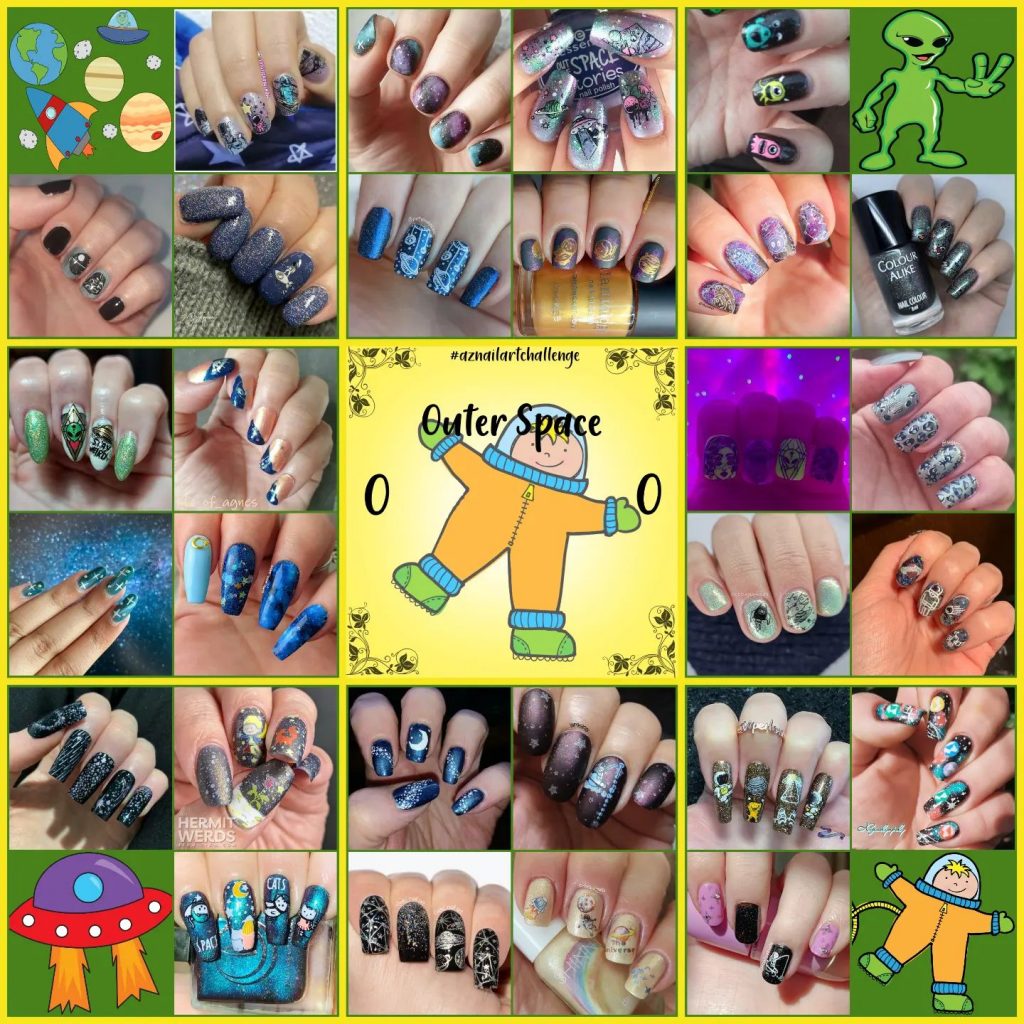 A few more Le Petit Prince photos before the end….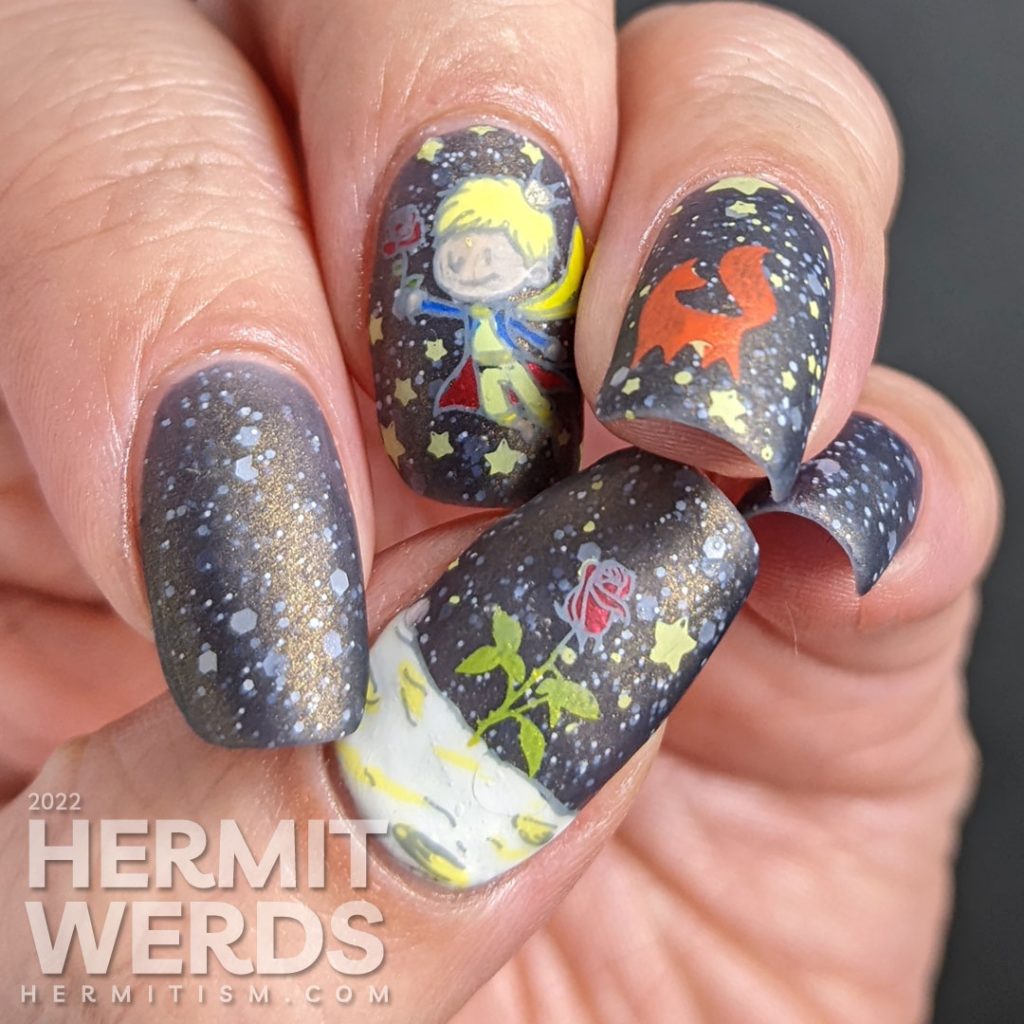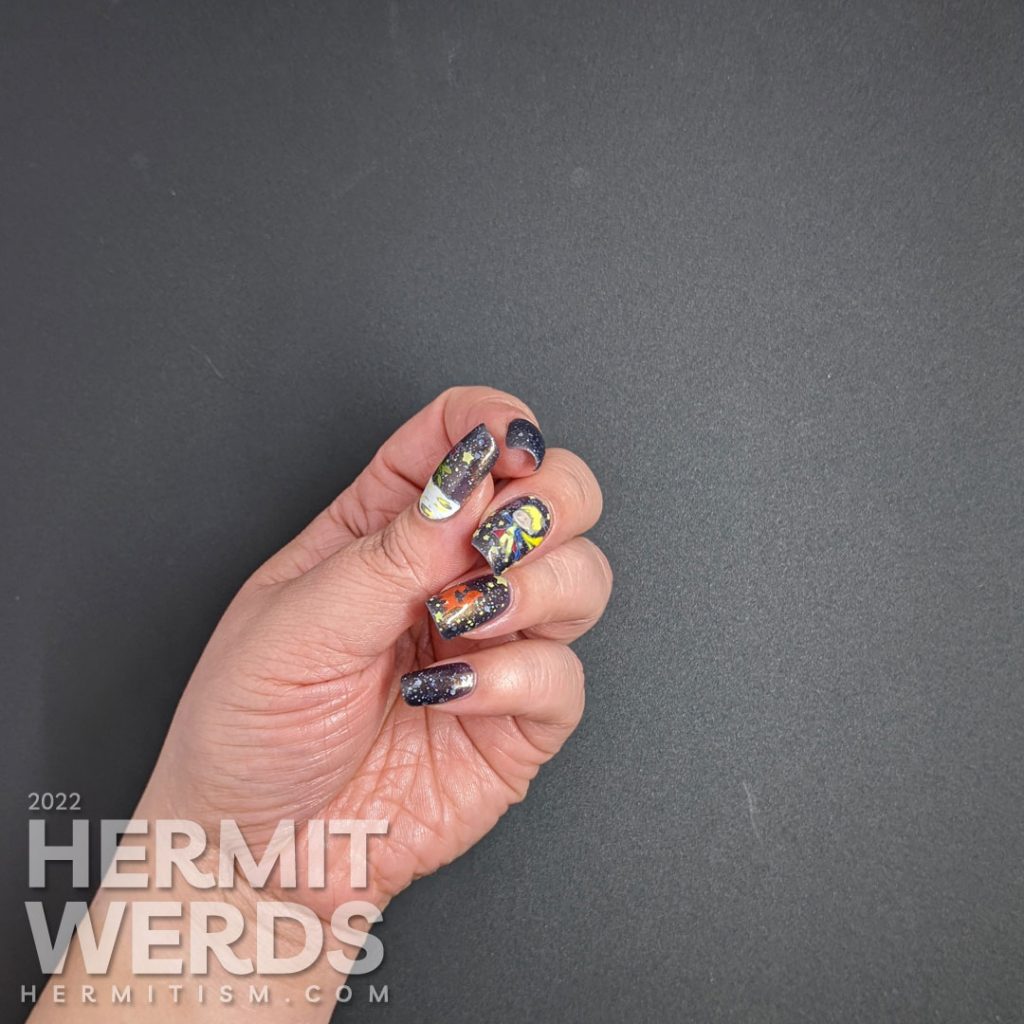 Until next time, friends! 🙋‍♀️