Happy Talk Like a Pirate Day! Or at least the barest edge of the end of it depending on your time zone. I've been keeping busy with IRL things like finishing painting the deck with my husband. It rained a few days ago and the water beading up it made me feel weirdly proud. With Halloween around the bend and other life events, I'm probably not going to post too much this month. We'll see. Nail art is fun and in some ways the false nails allow me to work a tiny bit faster, but they're also harder to photograph so possibly sixes. 😅
Nail art products used
Base Polishes:

All Mixed Up Lacquers' "Marvelous AF"

Stamping Polishes:

Hit the Bottle's "A Vermillion to One", KADS' "39 Blue Green", and UberChic's "Pure Black"

Advanced Stamping Polishes:

Hit the Bottle's "A Vermillion to One"; Maniology's "Caramel" + "Pumpkin Head"; Sinful Colors' "Snow Me White"; and Wet 'n' Wild's "2% Milk"

Stamping Plate:

Moyou London "Atlantis Collection-03"
Items in italics are debuting on the blog for the first time.
I definitely picked the wrong polish for the pirate captain's skin. It was too jelly and came out uneven. I don't know. Maybe he's sickly. I'm sure he's still talking the pirate talk today even if it's to complain about how he feels like death. Walk it off, captain!
This wasn't the nail art design I thought I'd be posting today, but the nail polish I picked as my base (All Mixed Up Lacquer's "Marvelous AF") ended up not fitting what my brain wanted so I found another un-used stamping plate with pirate things. Possibly that's a commentary on how I need to stop buying so many stamping plates. It also came with a cool wavy pattern that I used to help anchor the main images. Naturally, it wasn't big enough to provide full coverage for these long nails, so I stamped creatively so it would look like it was on purpose.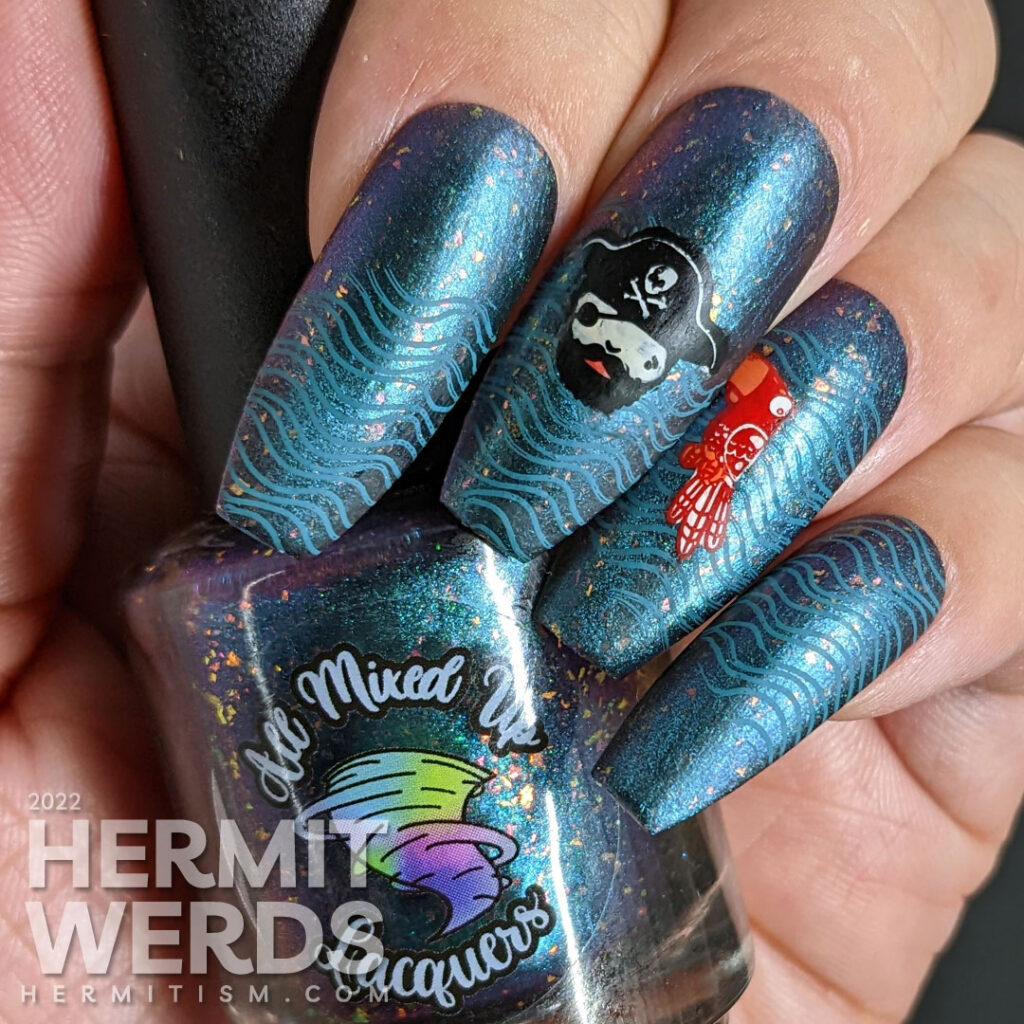 #TalkLikeAPirate
This wasn't from a regular challenge. Our organizer was Heidi (@skull_lover_nails) and the group tag is #internationalTalkLikeAPirateDayNailCollab. I'm really glad she ran this challenge because I needed that extra incentive to post (still posting super late though). I'm not sure if most of the participants forgot to use the group tag or what since the tag doesn't have many posts. 🤷‍♀️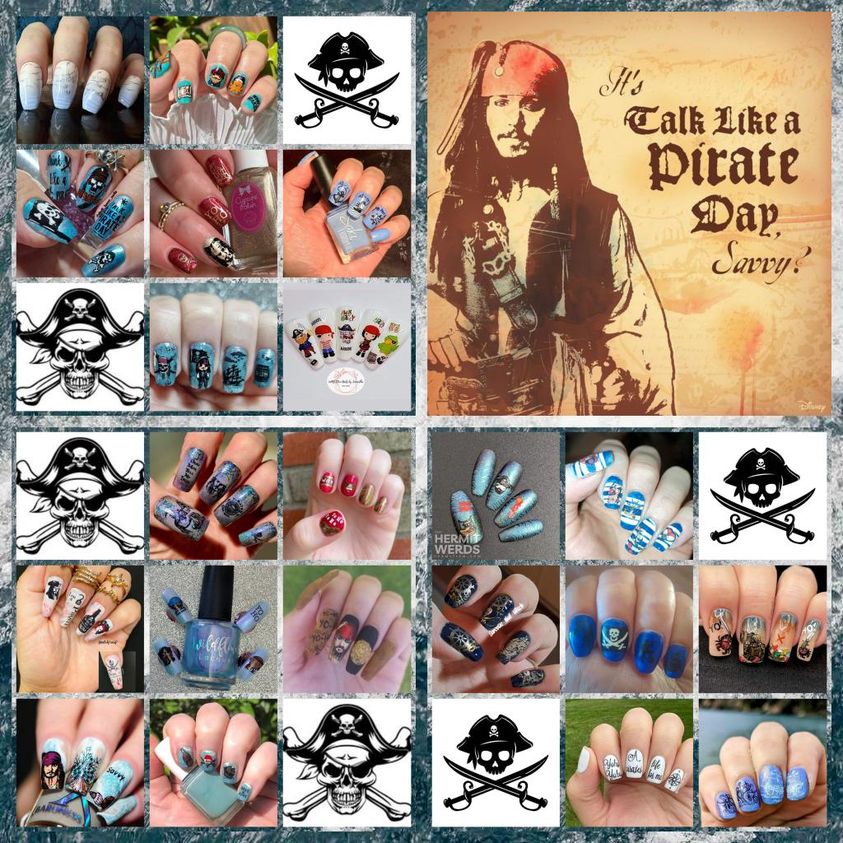 Final pirate nail art photos…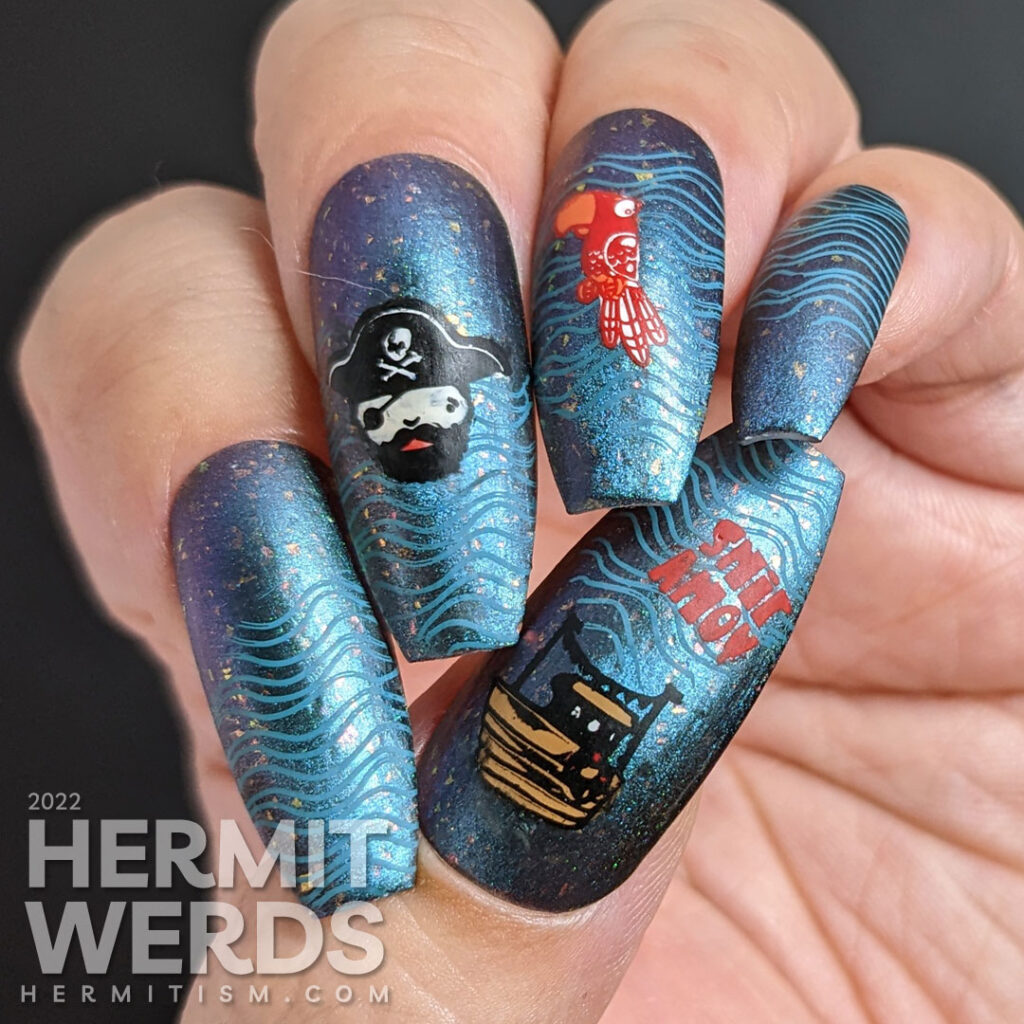 I hope you arrr having a great pirate-y day (or had one). Until next time, friends! 👋