It's late, but it's still Tell a Fairy Tale Day for a bit longer! I chose The Swan Princess for #NailChallenge's Fairy Tale prompt because #GlamNailsChallenge also had a Swan prompt and I thought that made a good fit. There are several tales involving swans in the common fairy tale circuit. My favorite is actually The Wild Swans, where the princess must sew a shirt for each of her brothers out of thistles while never speaking a word to transform them back into men. Definitely an argument for smaller family planning. 😉
The Swan Princess
The tale I picked is a lesser favorite of mine that let me put a crown on a swan (yes, that was my reasoning). In one version of the tale, an evil sorcerer has abducted the princess and turned her into a swan to punish her for refusing to marry him. Each night she returns to her human form and he invites her once again to marry him instead. She always refuses and it's back to the bird life.
Well, eventually a prince sticks his nose into the mess and they fall in love. They plan for her to fly to his castle where he will declare his love for her which will somehow break the spell and they can marry and live happily ever after. Instead, the sorcerer sends his attendant in her place. The prince declares his love for the wrong girl and the princess flies off to die of a broken heart as you do. The prince realizes his mistake and hares off into the woods after her, ends up killing the sorcerer, and that becomes the new Proof of His Love which allows the princess to not die. And they live happily ever after.
Really, I promise I love this story, but I do recognize how silly it is. I particularly love the animated movie version that has one of the best musical sequences to quickly get you through setup details that I had ever seen until Up! (which approaches it from a different direction):
Such an underrated movie. I can't speak for the sequels though. They made a lot and I did not watch them.
Anyway…nail art…
Swan Lake…the polish
I thought it was more than fitting that I had an unused polish from Born Pretty called "Swan Lake". It is a peel-off tri-thermal solar polish, which really means I had to take and edit way too many photos. LOL Also, it's beautiful. Gorgeous. BUT the formula is so thick because of the glitter that application is extremely problematic. I did try adding some nail polish thinner, but it really needs more. Meanwhile, the peel-off properties made it a very bad decision to also use a peel-off base. Heh. So I ended up using Facetune for the first time to hide how very dry my cuticles were because I didn't dare try moisturizing. I would have rubbed the polish right off my nails.
So I love this polish. But I also hate it a little. I really need to try it again with a regular base polish to see if it can last more than a few hours.
Products Used
I very much enjoyed digging out my swan nail decorations again. The last time I used them, it was for a much simpler nail art.
Base Polish:

Born Pretty's "Swan Lake"

Stamping Polish:

Mundo de Unas' Dark Grey"

Advanced Stamping Polishes:

Essie's "Penny Talk", Sinful Colors' "Truth or LavenDare", and Smacker's "Wickedly Stylish"
Swan from eBay.

Stamping Plates:

Born Pretty BP-L104 (crown) and Spring Garden-L002 (swan princess & floral) and YZW-N05 (swan silhouettes)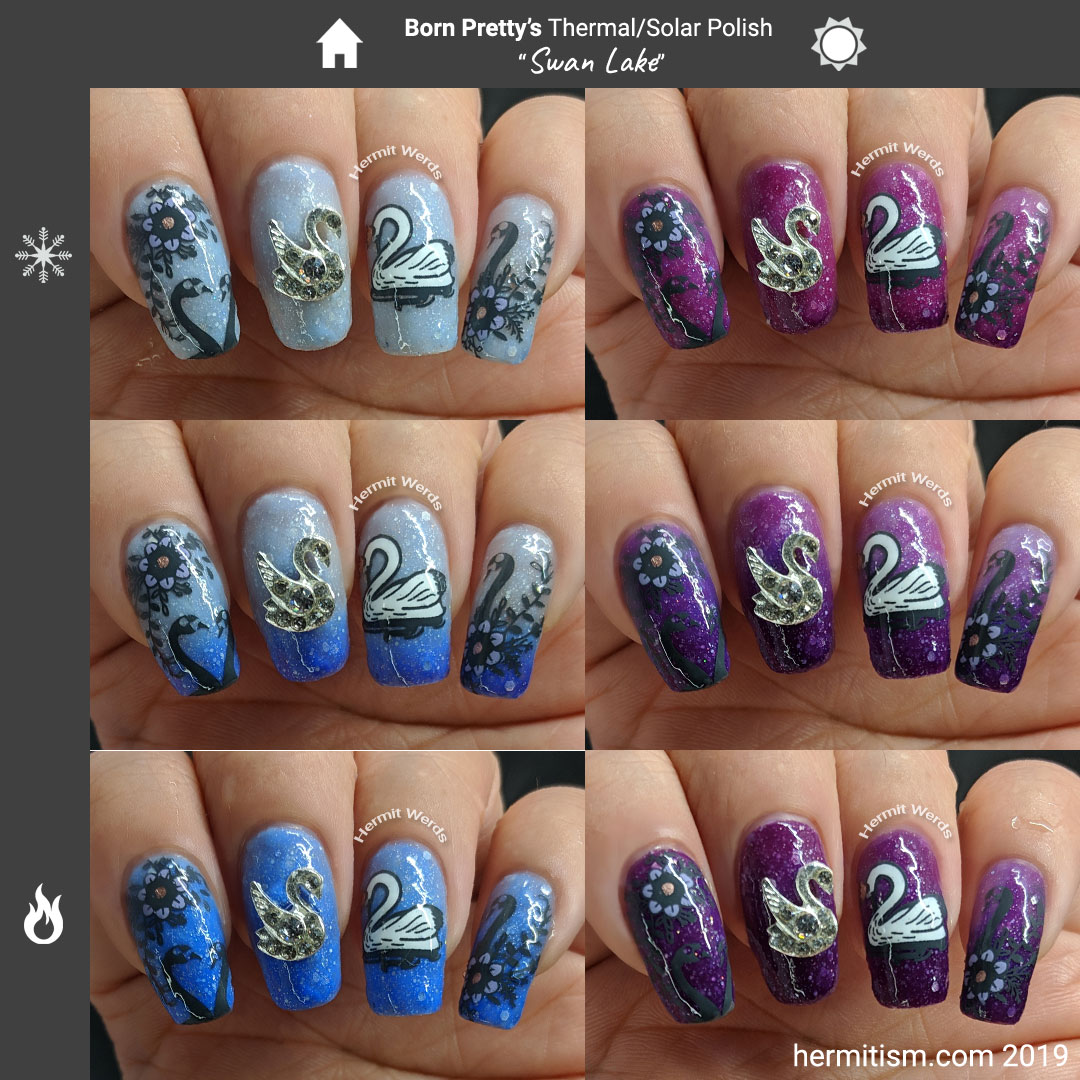 And that doesn't capture how gloriously blurple things gets as you transition from indoors to outside or vice versa…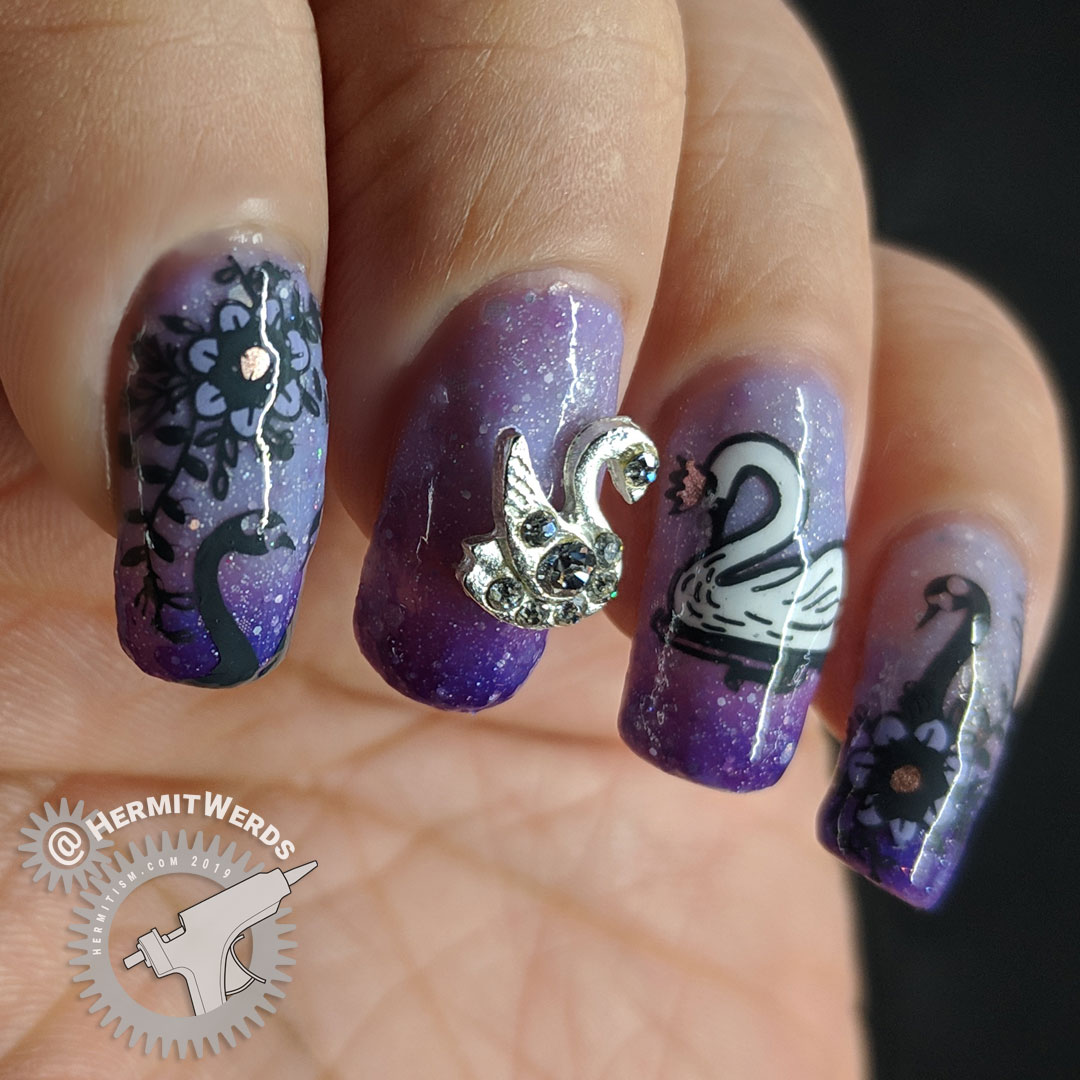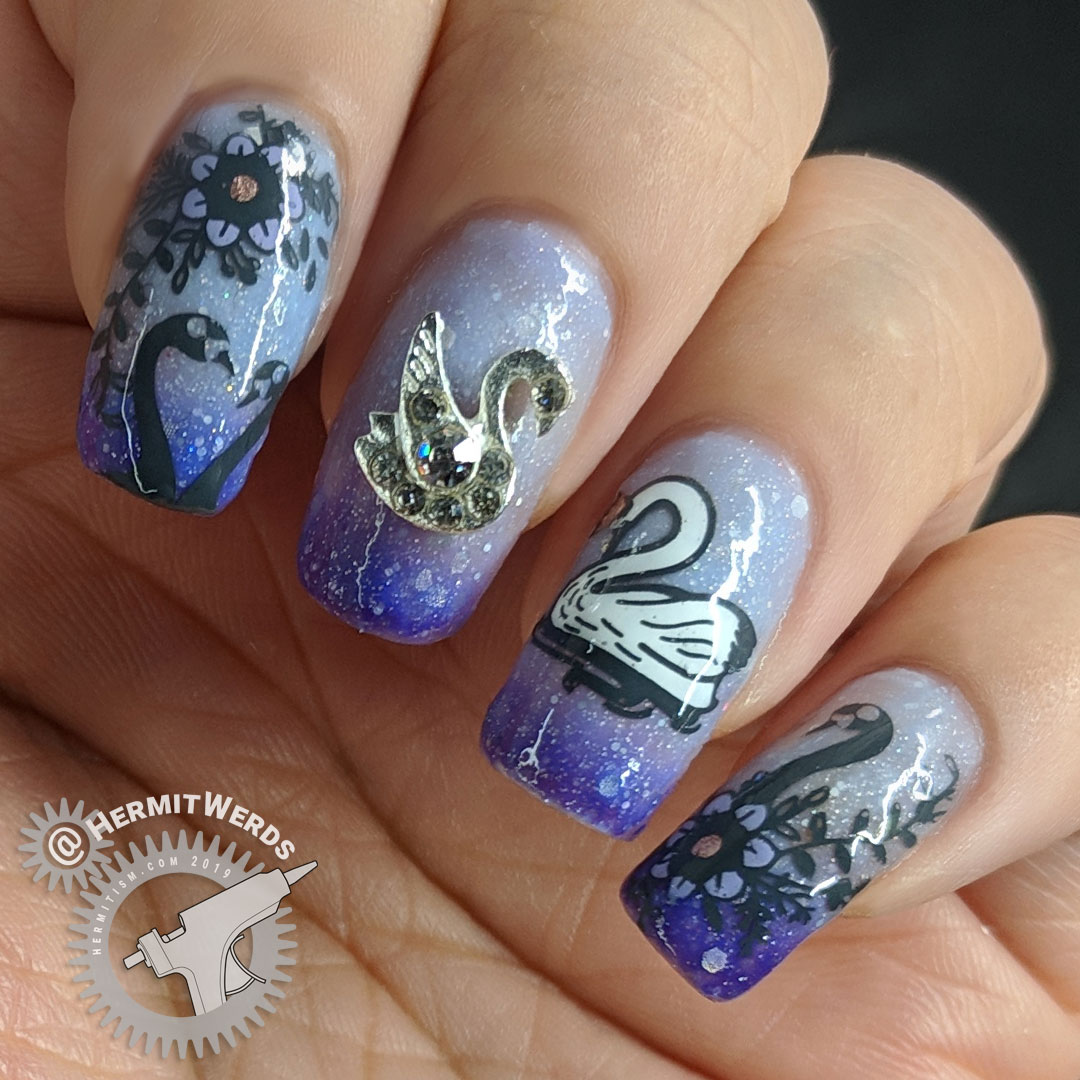 I loved this topic and I hope everyone who participated had just as much fun putting their designs together. Check out the group tag to see the individual posts.