It's International Fairy Day so I thought I'd share this magnetic red nail art with fairies (of course). I paired them with lots of mushrooms because I love the shape of those things and a little splash of holographic polish in the wings. So basically I went full on sweetness and light this time, which makes a nice contrast with the centipede-filled dark fairy nail art I posted last month. 🤣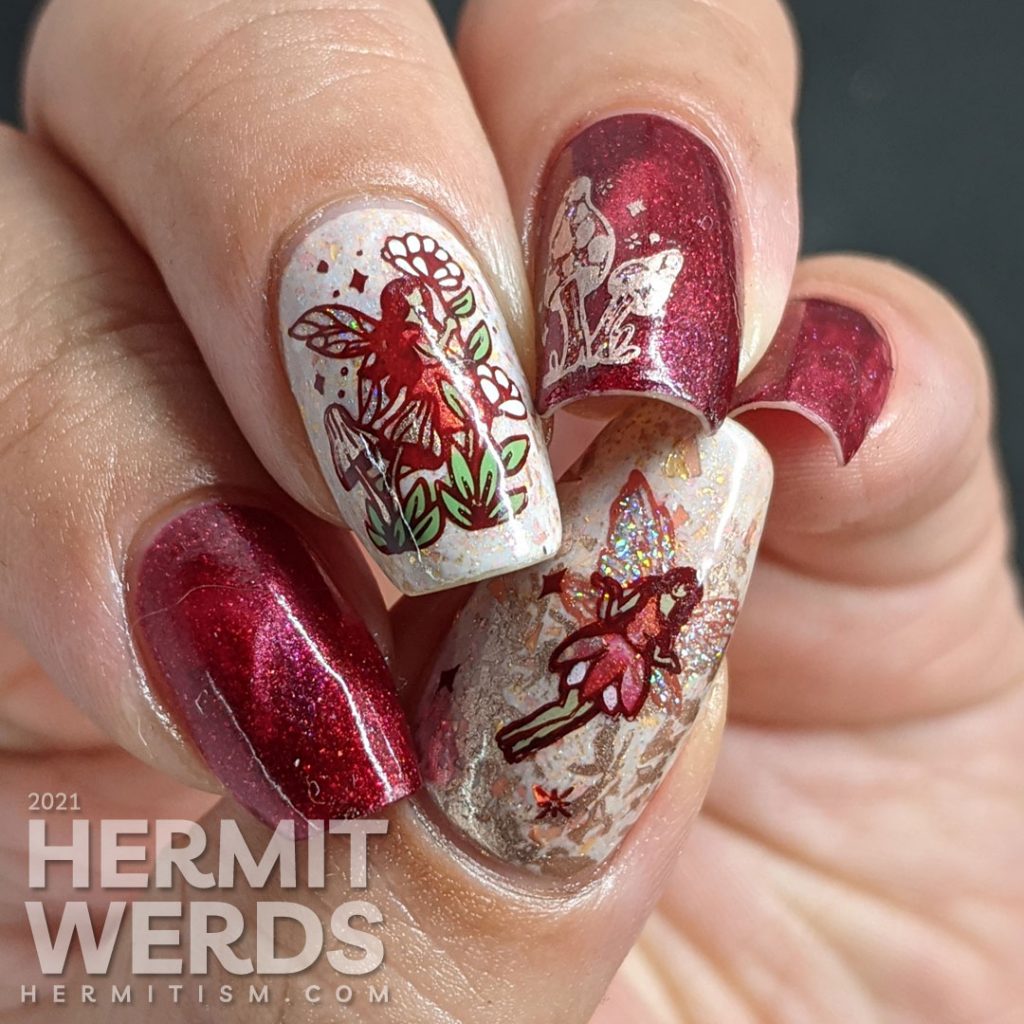 This all went really well with a rose gold crelly "Rose Gold Sprinkles" by Rogue Lacquer that is still available (unlike the rose gold flakie topper that I used in Bee Mosaic). It's super pretty and delicate and has great coverage. Three thin coats and no undie and I have no visible nail line at all.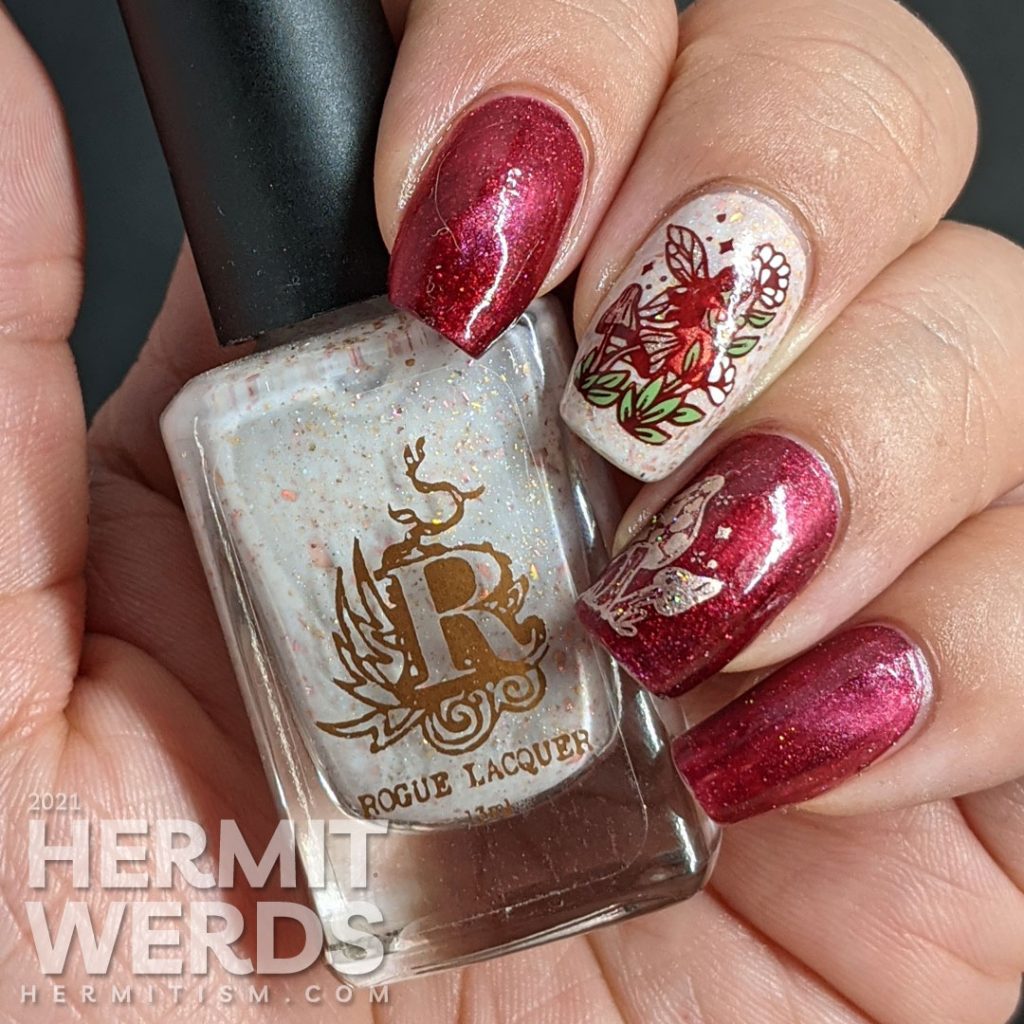 Nail art products used
Base Polishes:

Penélope Luz's "Love Apple" and Rogue Lacquer's "Rose Gold Sprinkles"

Stamping Polishes:

Hit the Bottle's "Roseglow Gold" and Maniology's "Nutmeg" + "Red Sea"

Advanced Stamping Polishes:

Brash's "Green Machine", China Glaze's "Jamaican Out", Hit the Bottle's "Roseglow Gold", ILNP's "Rosewater", Smacker's "Wickedly Stylish", and Zoya's "Ireland"

Stamping Plates:
I'm trying really hard to use my Mani x Me box items closer to when I get them. It's been a little hard this month since I haven't been painting my nails as much, but I'm not too worried about June's pirate-y items since I tend to celebrate Talk Like a Pirate Day in September (plush I'm skipping July's box). Happily this fairy mani knocked both of the fairy stamping plates from April's box into the used category. Now I just have to catch up with allll the other Things. 😱
Let talk about fairies!
I love how much the range of storytelling about fairies has expanded over the years. They're everything from these bright, sweet creatures to people as large as humans with enormous wings and even bigger mean attitudes. Although…frequently stories separate fairies from fae, making them two separate things. Or they're all fae/fairies but the small ones are called pixies. And that size difference usually makes them lower class and looked down on by others in books ranging from the detective/wizard books of the Dresden Files all the way to the Worldship Files series where both humans and fairies combined their "technology" to build a worldship to flee Earth for another planet. This happens in movies as well: Bright basically made them vermin.
As someone who is rather short, it can be offensive at times. Particularly in Peter Pan retellings where Peter deliberately and constantly refuses to translate what Tinkerbell is saying accurately. I enjoy reading retellings, but I have hate quit both Peter and Starcatchers and another one I can't recall the title of for that very reason.
So, yeah, happy International Fairy Day and also respect short people. 🤣
Back to the fairy nail art and peel off base coats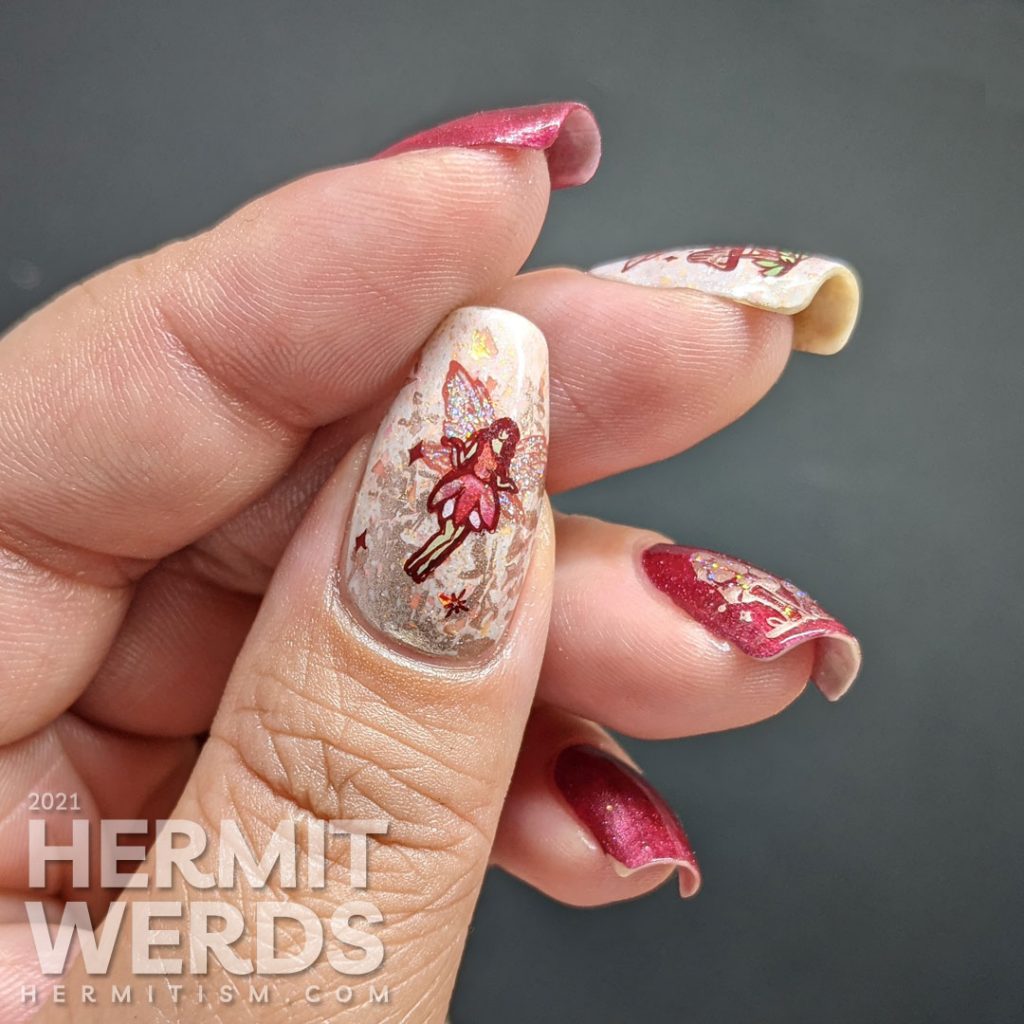 Woops! Just noticed that chip in the polish on my pinkie. I've been trying a new (to me) peel off base coat from IMK Nails called PeelEze. It works a really well…sometimes a little too well since previously I could paint the peel-y base coat right to the edge of my nails and now I really, really can't if I want a mani to last. Plus it's a very thin formula so a little goes a long way and the maker sells refill bottles which is something I always appreciate. Cutting down on packaging where you can is always a good idea.
So what I'm saying is, I like this product and plan to continue using it going forward speaking only as a customer who purchased it and like it.
And now we reach the end with a macro and far away photos.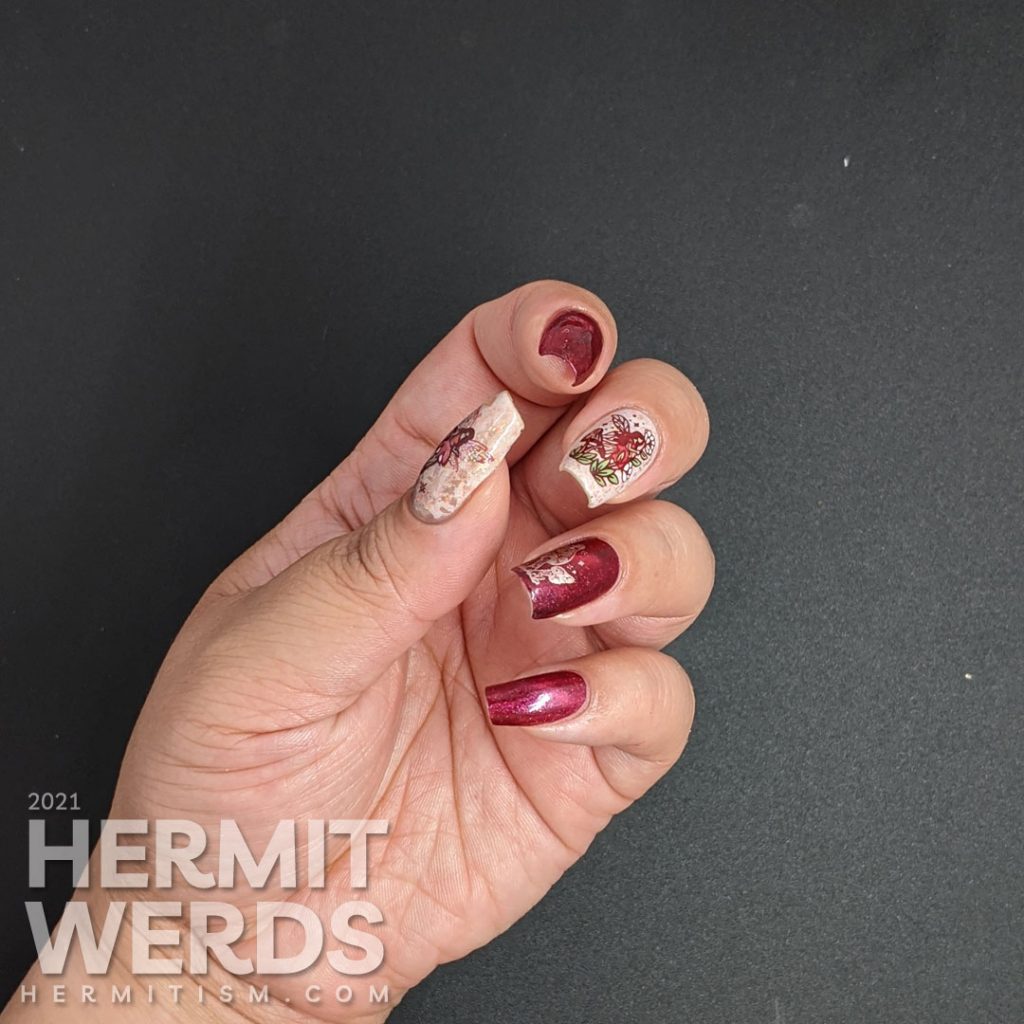 Until next time, friends! 🙋‍♀️