Whyyyy do I always post my @halloweenforevercollab nail art so long after the collage is out? April's theme was dark fairies, which is actually kind of hard to do because all the fairy stamping plates are full of cute and sweet little fairies so people had to get creative. I got to be less creative because I own the Happily Never After set of stamping plates from Maniology and they actually do have three wicked looking fairies on the Sleeping Beauty plate. I decided to combine them with centipedes because who doesn't love a good centipede nail art?
(Also, my cat says 'hello' via hair. 😜)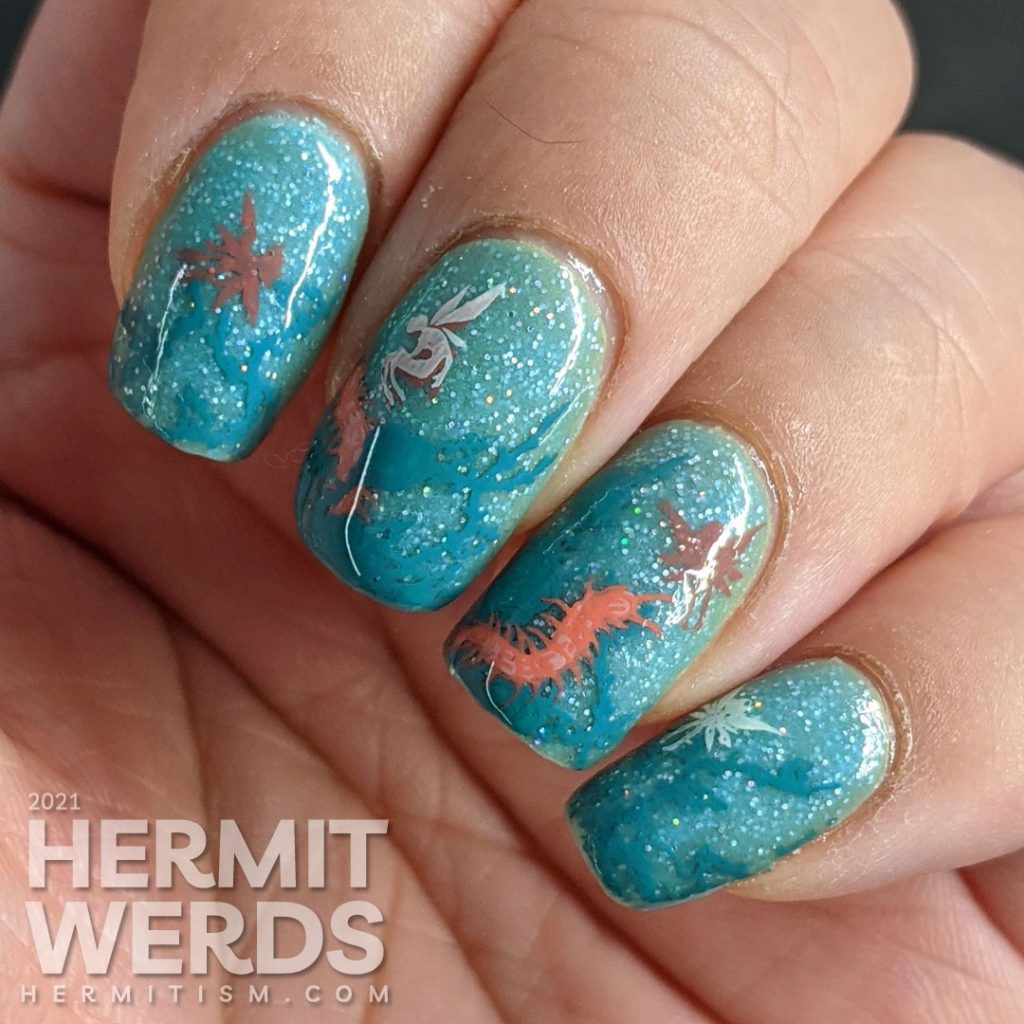 You might note the wear and slight lifting on my index finger. I swear it's because I was using a peel-off base and not because the base polish sucks. I also wore this for several days before getting around to finishing things.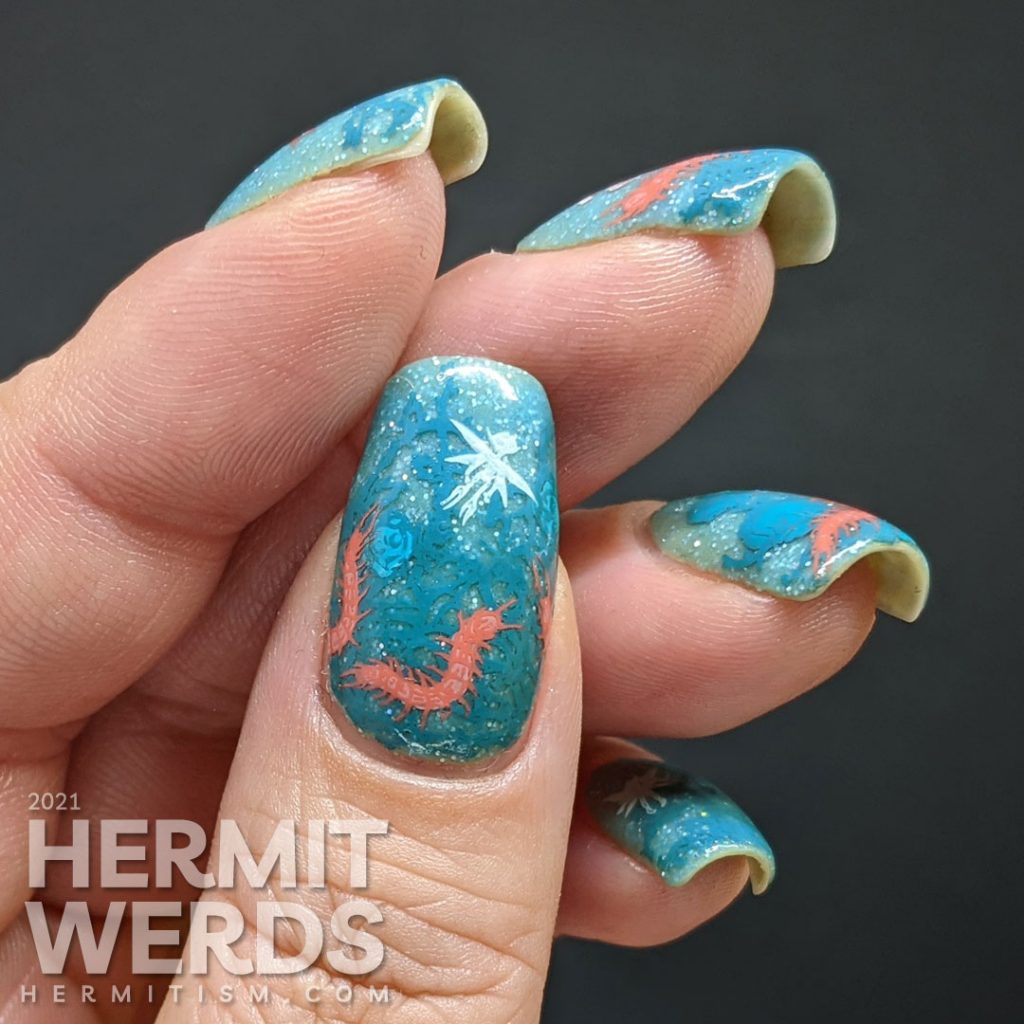 Halloween Forever Collab
As I said, the prompt was dark fairies. I decided mine were like the little fairies from Labyrinth. Maybe not plotting to take over the world or commit genocide, but certainly not nice people either.
Check out the group tag to see all the great looks people painted. Meanwhile, the prompt for May is Disney (or other animated series) villain with neon or glow in the dark polishes. I am going to have a very hard time deciding what to do because there are so many awesome villains out there.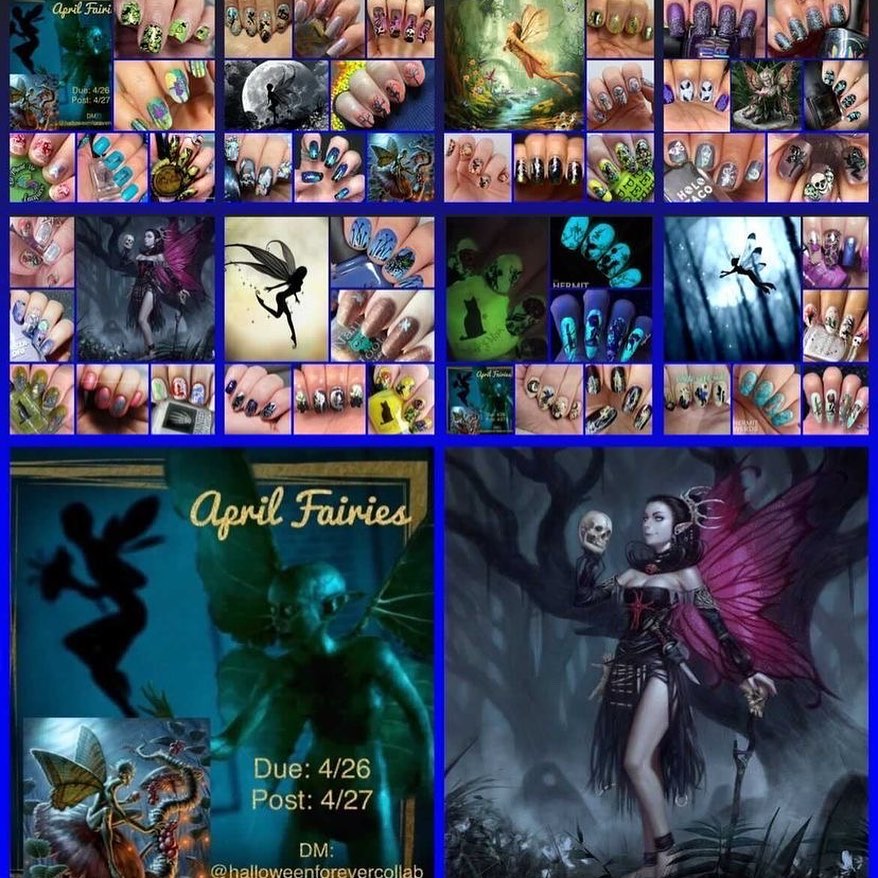 Familiar Polish's "That Tiffany's Glow"
Yes, let's get some wicked glowing going on here. You can see how very blue this polish can get when it's got its glow on. I love how the centipedes stand out against it. My only regret: I filled in the roses fully so they also stand out. If I could do it over I'd just use a jelly polish.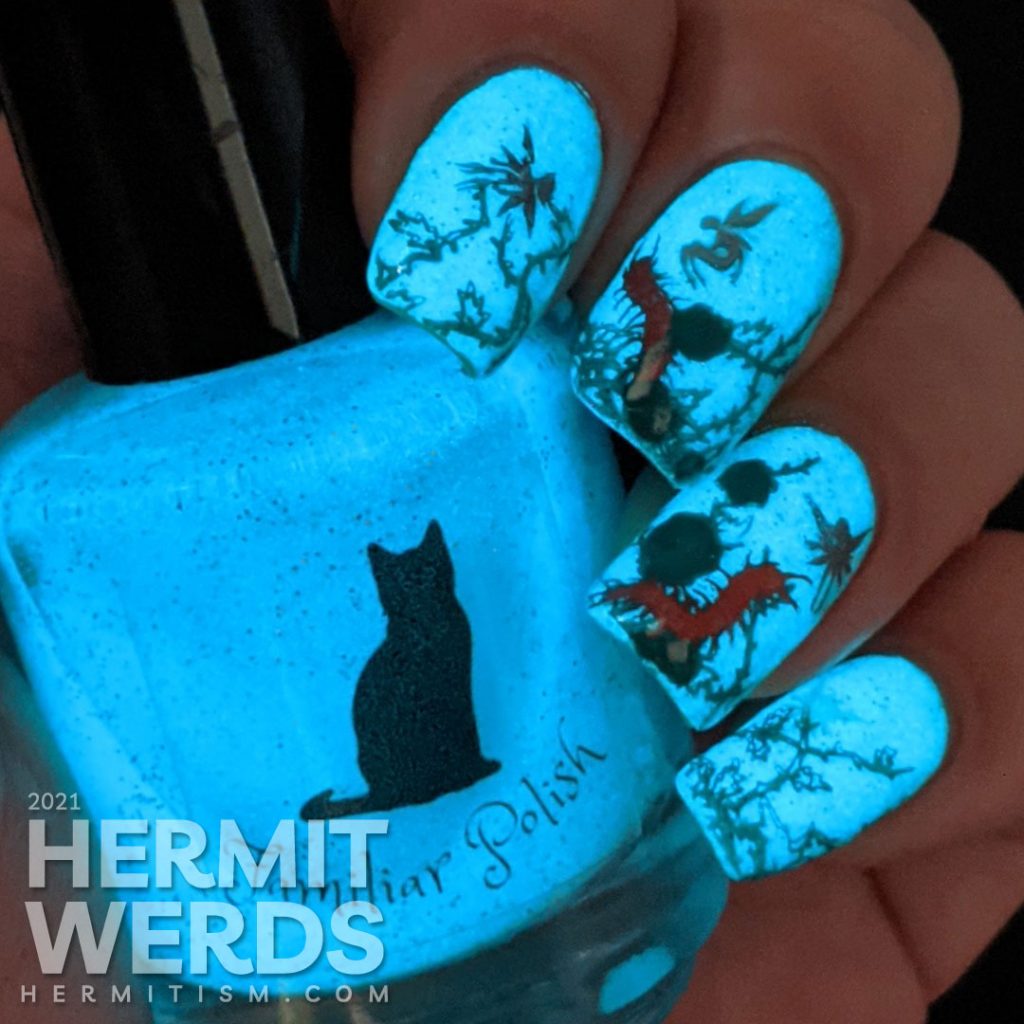 Nail art products used
Base Polish:

Familiar Polish's "That Tiffany's Glow" w/an undie

Stamping Polishes:

KADS' "39 Blue Green"; and Maniology's "Coconut", "Hibiscus", and "Terracotta Rose"

Advanced Stamping Polishes:

KADS' "28 Lake Blue" and "39 Blue Green"; and Maniology's "Coconut"

Stamping Plates:
Overall, this was quite a success. I managed to use everything from my first Familiar Polish order before the next one arrived. (Two new glow in the dark polishes to play with! Woo!). Below I have a comparison of how Familiar Polish's "That Tiffany's Glow" looks in regular light and when glowing. Hopefully Delia will be restocking this one. I cannot imagine that everyone that wanted a bottle managed to get one last time.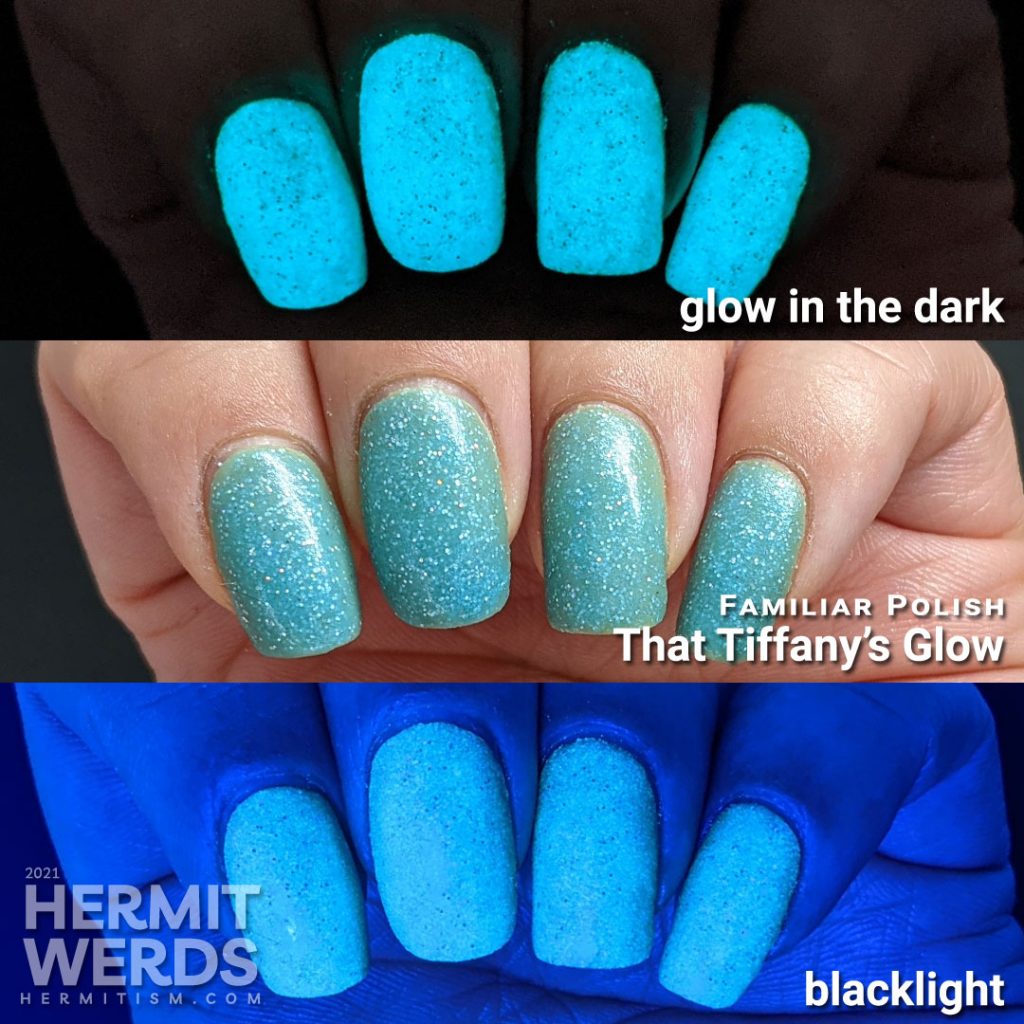 And now a ramble…
Back to the daylight mani. Still loving the centipedes so much. I waited many years to own a stamping plate with centipedes and now it seems like a lot of brands (especially Maniology) have realized that, yes, we want stamping plates with bugs. Like a sucker, I am buying just about every one with a significant quantity of them.
I buy fairy stamping plates too though! April's Mani x Me both had bugs and fairies, a combination I can only approve of. I would have used them for the dark fairy prompt, but they all seemed to nice for the purpose. Bunch of hippies, really.
(I realize this whole post seems like it's singing Maniology's praise. Don't get me wrong, I do love the brand and I've been buying from them from the start of my nail art journey. But! As with all things, I only advocate getting the products you're interested in using. I do not always do this. Sometimes I forget myself and buy something because it's neat and then realize later I don't really care to take the time to use it in a mani, which sucks.)
Anyway…centipedes… I even tried to overlap them with the vines a bit so it looks like they're just hanging out in their home turf. Now the real question is, are they allies or pets of the fairies or do they all just tolerate each other as they live their lives?
Actually, no, the real question is why do none of the Sleeping Beauty tellings talk about all the critters living in the vines surrounding the castle? Like, surely during those 100 years at least one prince was making good progress until a centipede dropped down his doublet and he went screaming off into the thorns and died. This is not a good segue. Why isn't anyone stopping me?
Nail art. Right!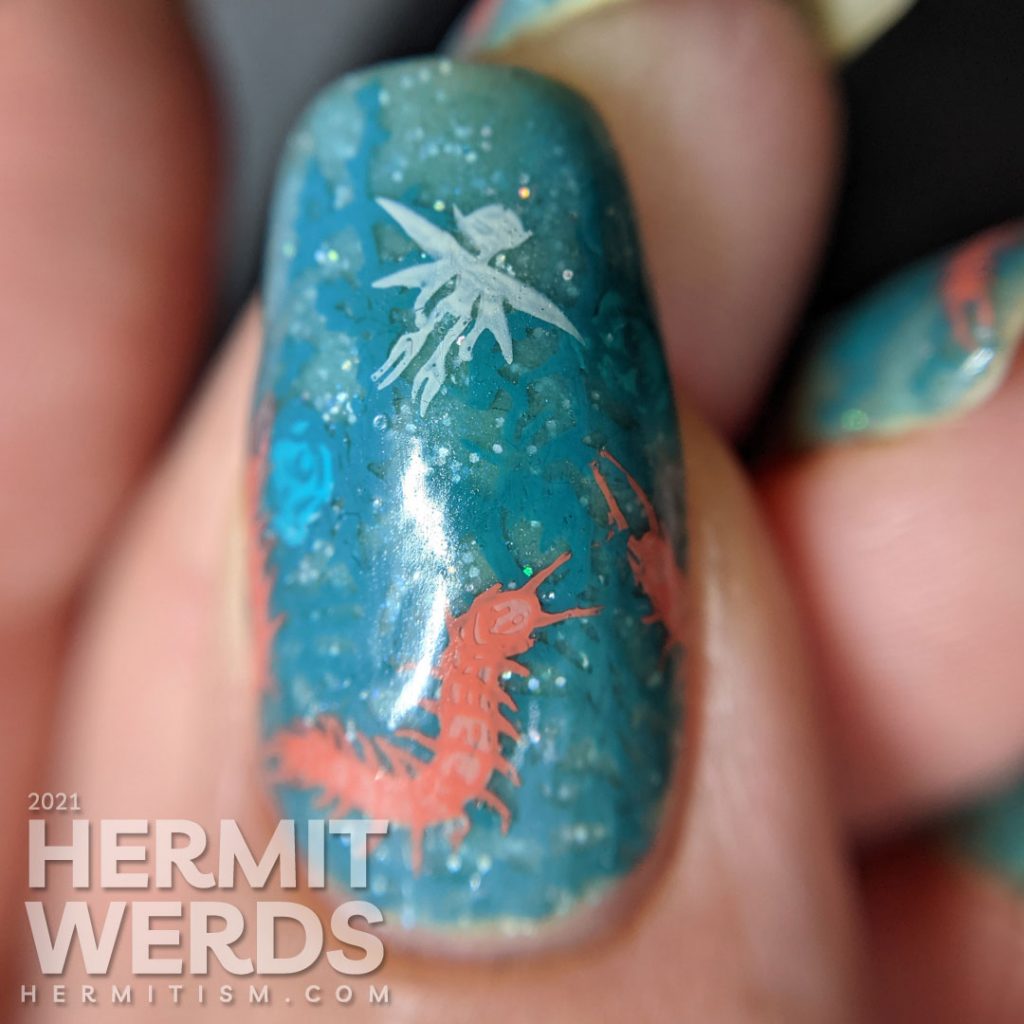 The fairies, at least, still stand out at a distance, but the rose vines almost might as well be a gradient. Sadly the centipedes might almost be worms from here. So sad to be less creepy.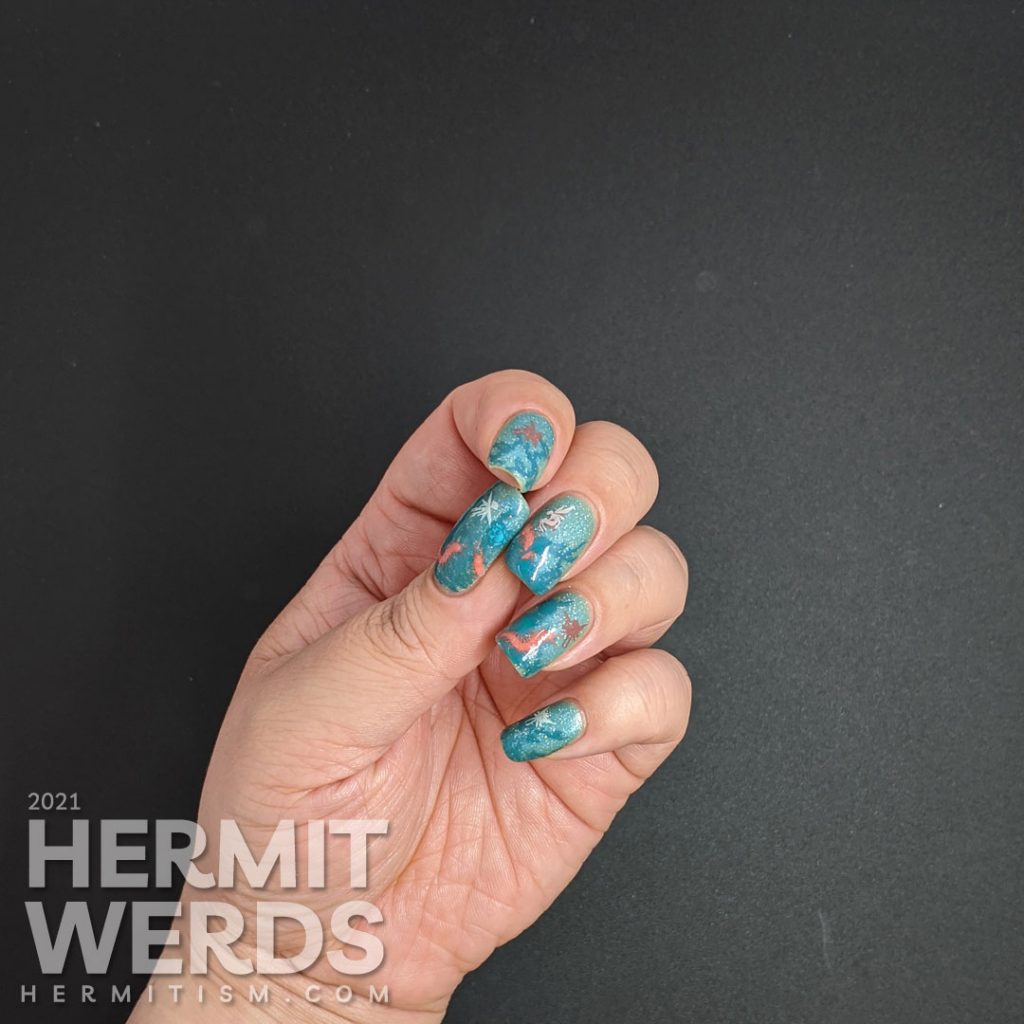 Until next time friends! And surely with a more cheerful subject too. 😆