I really should be going to bed right now, so this post is going to be short and sweet except for the large amounts of photos because omg this magnetic polish is so very pretty. And luckily pretty easy to capture, unlike my Spirit of the Wolf mani. I need to use that polish again and see if I can't capture its gorgeousness better. But meanwhile, onto the magnetic abstract-ish donut fun!
As with a lot of multichromes, it takes different angles and light to get the other colors to show really well. However, even in my most regular of hand poses you can see some yellow and orange shift peeping out. Between that, the magnetic flash, and the blue flakies, this is really magenta and really rainbow all the time. So much that I'm having a really hard time convincing myself to remove this mani and paint my final nail art for the month. 😅
Nail art products used
Base Polish:

Esmaltes da Kelly's "Mahalo!"

Stamping Polish:

UberChic's "Pure Black"

Advanced Stamping Polishes:

Hit the Bottle's "La la la…I Can't Hear You" and UberChic's "Essential White"

Stamping Plates:
I'd originally planned to have stamping on every single nail, but looking at the gorgeous base polish made me step back. Which not only saved me time, but also probably kept this nail art from being too much. The Born Pretty plate had a lot of patterns that made me think donut. I don't know if it's just a me thing or not though…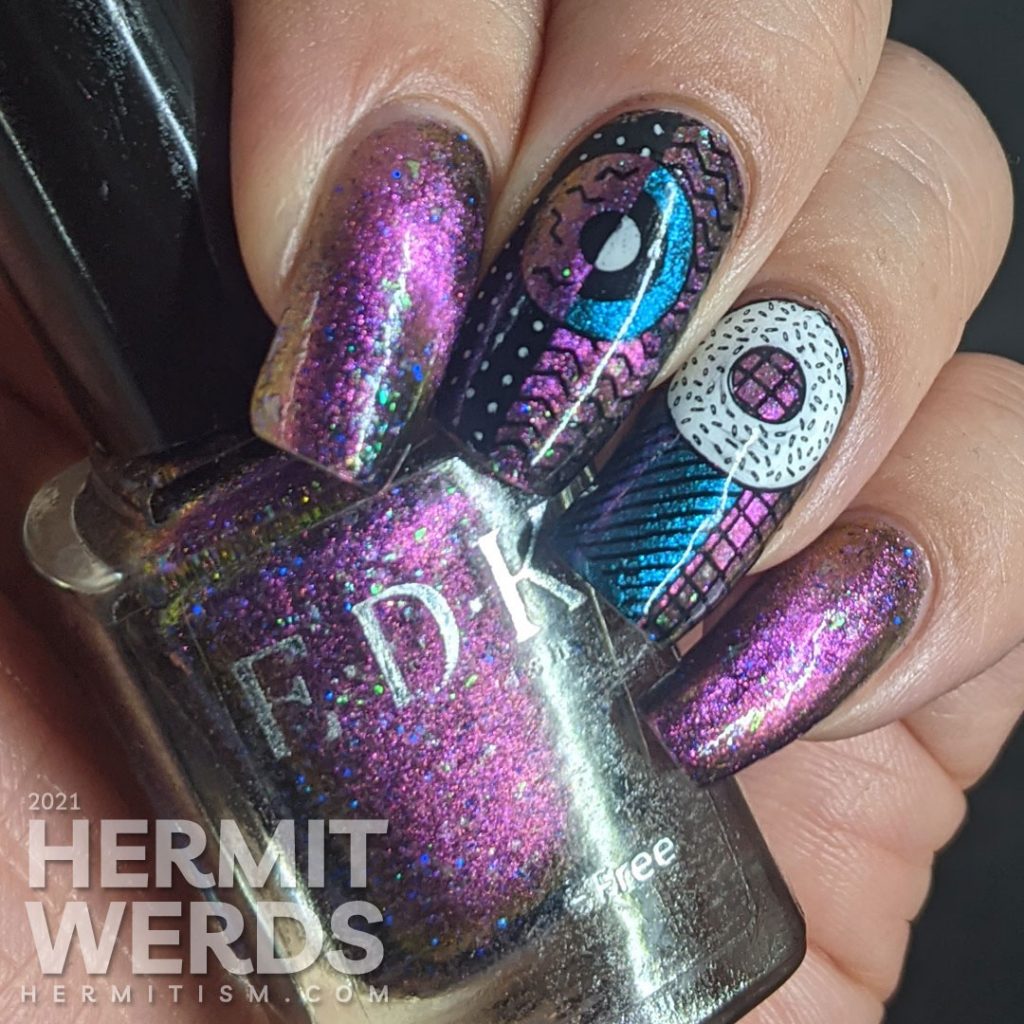 Gloriously enough, Esmaltes da Kelly has another really shifty magnetic polish for sale in April's Polish Pickup. You can bet that I'm going to be throwing it in my cart first thing!
And now for a bombardment of macros…
Seriously, I didn't even have to drag out my natural light lamp. This is all just angles in my usual lightbox. I really think I'm going to have to paint this on my cindy hand and keep it around for a while.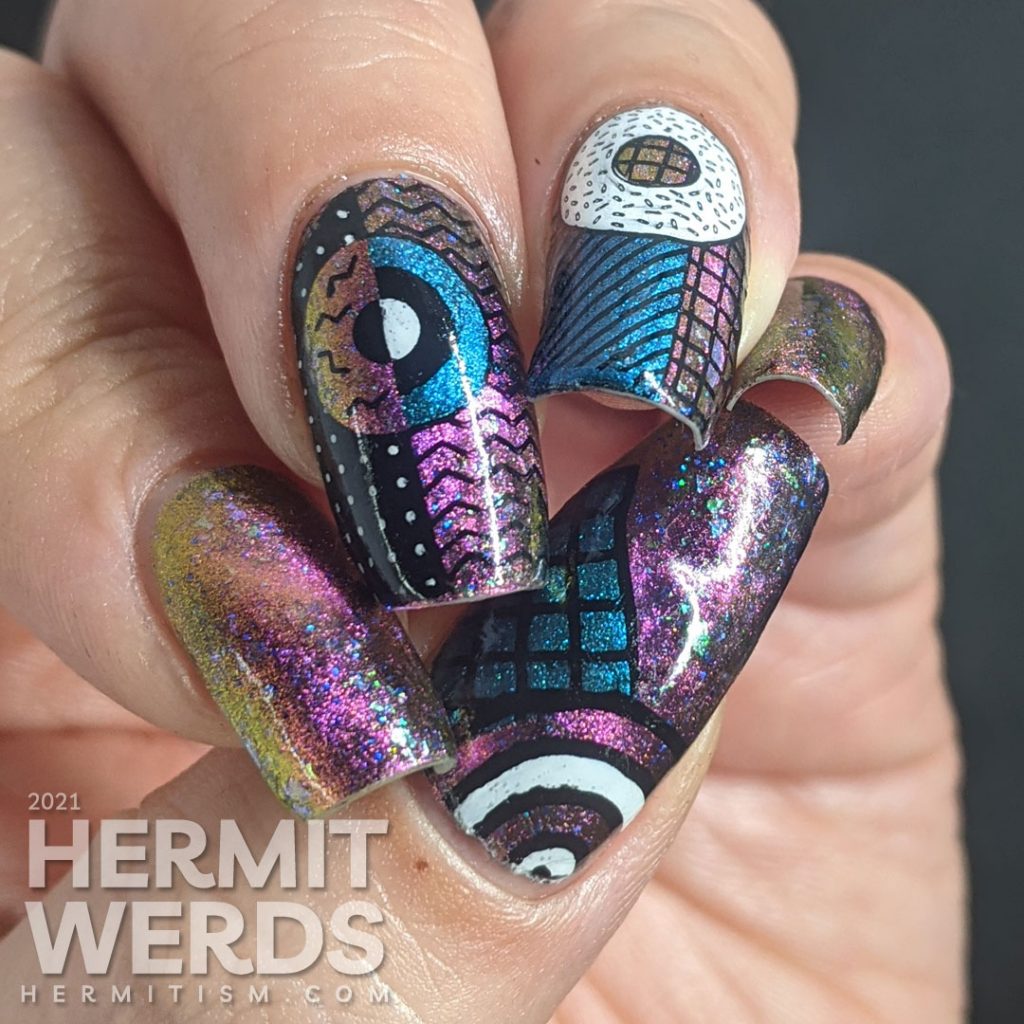 Happily the "donut" part of the patterns stick out quite well since they are very bold. Hurray for donut nails!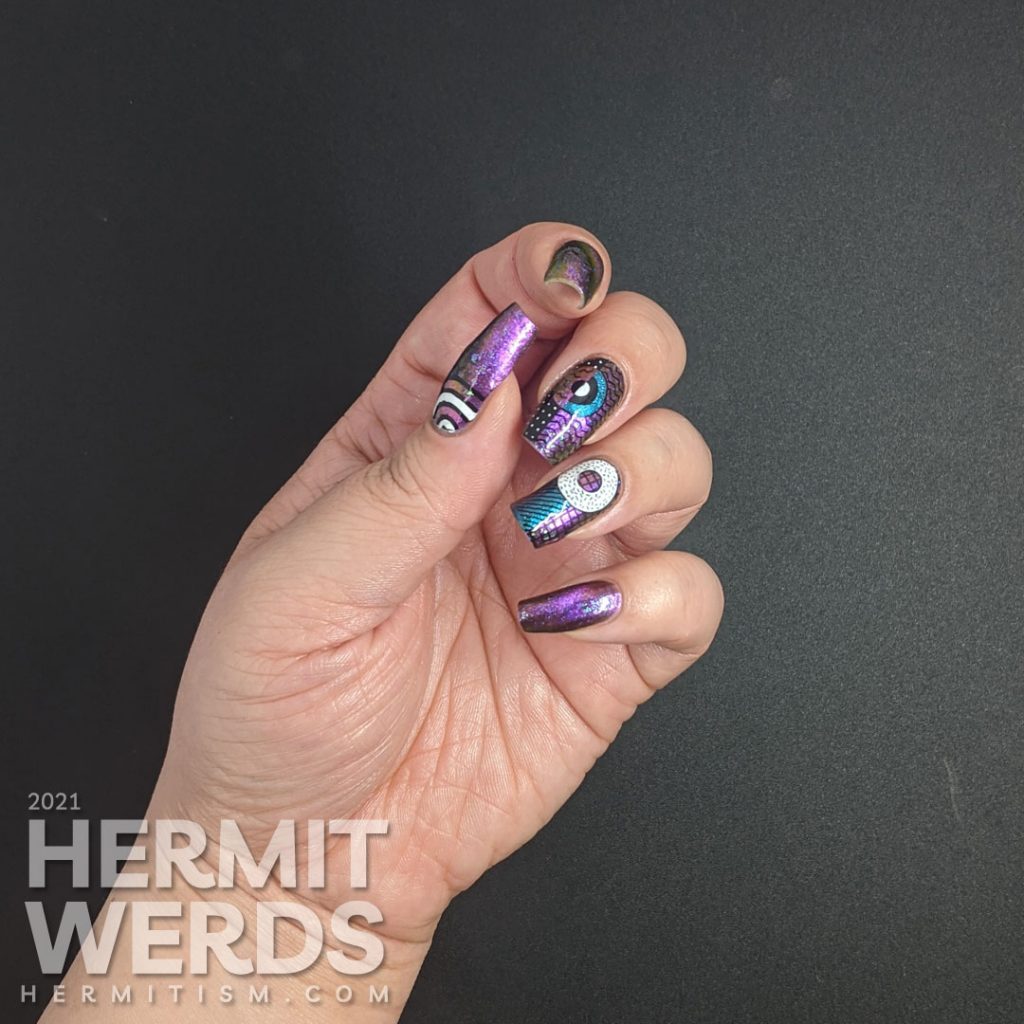 And that was today's very brief and photo-dense post. Until next time, friends! 🙋‍♀️