I never did get around to painting some nail art for the Year of the Dog, so, while many different ideas popped up for #clairestelle8's Far East prompt, I decided to go with the one that I'd be really sad to miss if I didn't get it in this year. It's a little awkward to do a Year of- nail art once the year is over unless you're going to do a whole set and I don't think I want to wait twelve years or do an entire set of these in quite this way. 🙂
I found a great inspiration picture back in February but I couldn't find it when I searched again and I didn't see it in any of my picture folders. So I painted the whole thing and looked at my desktop and…yeah…

There the whole time. Well, I still had this in mind even if I wasn't able to take a fresh gander at it. I wish I could credit the artist, but a google search with the image came up with zero of the correct results. Thank you, whoever you are! I wish memory had gotten me a little closer to the original, but I'll still love both.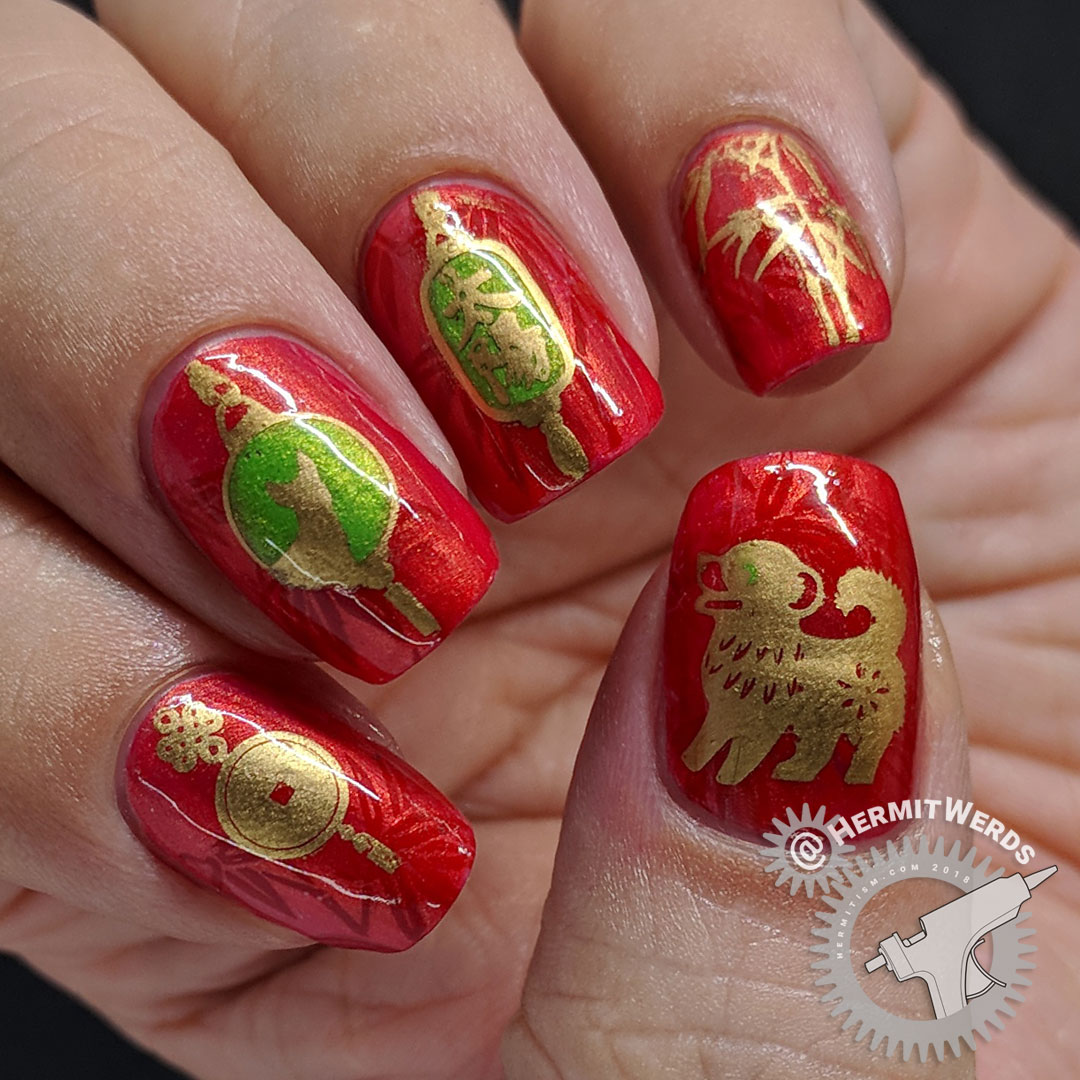 Base Polishes:
China Glaze's "Jamaican Out"
Advanced Stamping Polishes:
Sinful Colors' Nail Art "Worn Before"
Stamping Plates:
Born Pretty BP-X02 (coin & bronze bamboo), Clear Jelly Stamper CjS LC-12 (lamp outlines & text), Moyou London Zodiac Collection 23 (dogs & bamboo)
Freehanded some little tassles and chains onto the lamps.
I use red a lot, even if it isn't the main color of whatever design I'm painting. China Glaze's "Jamaican Out" is one of my favorites. I really want to find a creme with this tomato-y red/darker coral shade. I love this polish so much, but it can be a bit hard to photograph even though it's so fantastic irl. I toned down its uber magnificence by stamping some bamboo on top with a red creme polish. Really should have taken a photo of just that. Sorry. 🙁
Either way, here it is: a Chinese New Year nail art in all traditional colors. Unlike this, this, and this (my fav). LOL