It's been a month since I posted a design on my cindy hand, but here it is with some cacti stamping decals on Masura's lovely dark terracotta polish. I am deeply in love with this color, but the polish was so very thick and dried so fast that painting it on my nail smoothly was a struggle. If the thickness of the polish forumula is a tendency of the brand, I suspect I will always have performance issues with it until I move somewhere a lot more humid. Alas. I see so many ladies using Masura on Instagram and their designs are so lovely, but I will probably not buy more Masura until I'm living somewhere else. :'(
And, yes, I know I can add polish thinner, but there are other brands I also want to spend money on so it's just easier to not buy this one for now. Especially since there are lots of gel magnetic polishes that have formulas I will have no difficulties with. Still gonna keep using "Kashmiri Chili" though, cause that terracotta…
I should note somewhere that this was for @GlamNailsChallenge's cactus prompt. I'm a little behind, but hopefully I will have time to paint some paisley nails tonight so I can post them tomorrow and be caught up.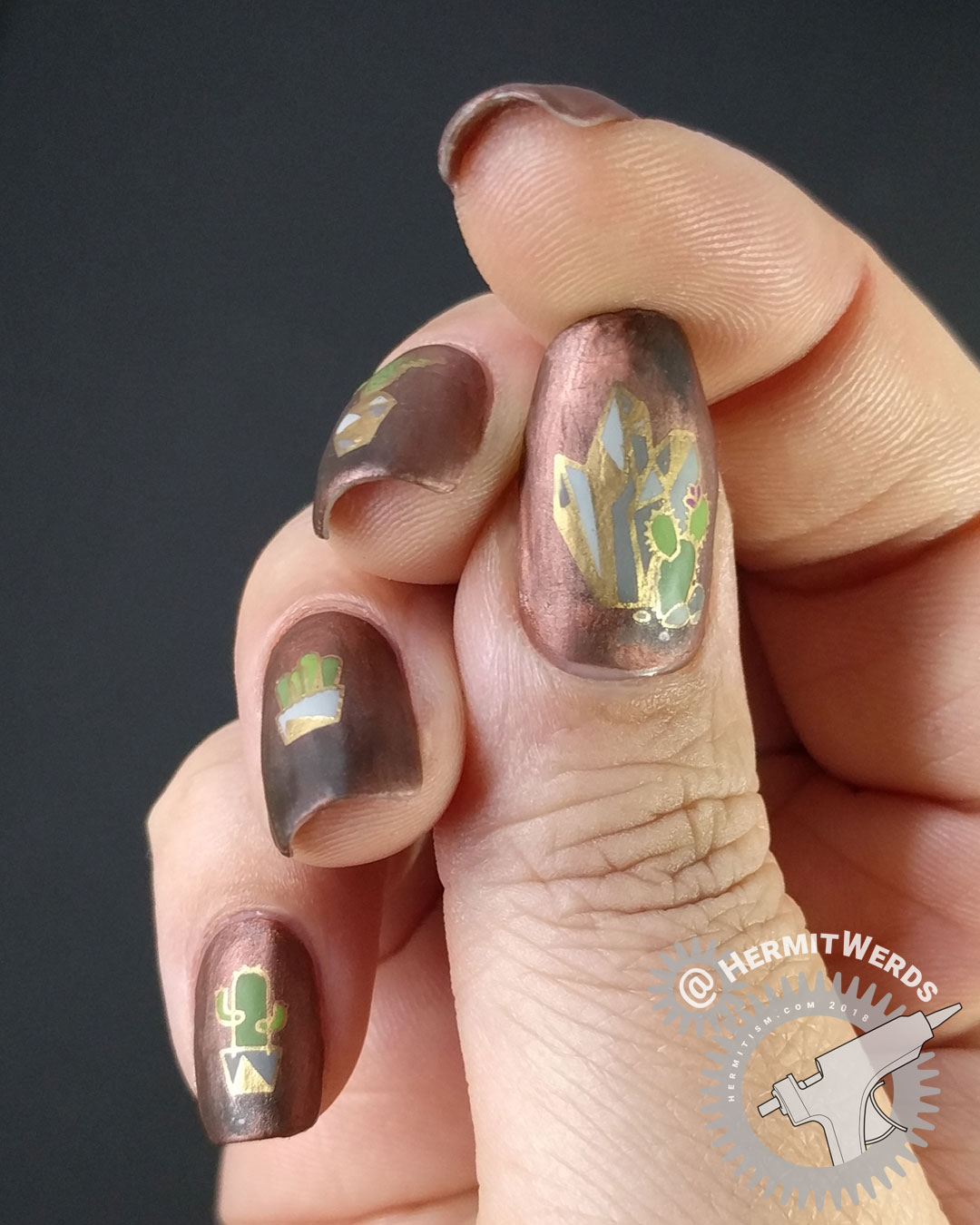 I'm trying to grow out the nails on my cindy hand and it's really not working out. Two of them just want to grow curled in at the edges so the square shape I'm enjoying so much on my left hand ends up not looking square on them. It's very annoying and I can't decide if I want to use nail glue and acrylic powder to force the nail to form the shape I want, have a different nail shape than my left hand or just keep them short and square. I think for now I'll file them down and see how they grow out in the next few weeks. I wouldn't be able to stand if they were as long as my left hand anyway so they're not going to match no matter what. /sigh
Natural nails. :p Right?