Today I have a fruity look with golden pineapples on a sophisticated lace art deco pattern. Then I threw half moons into the mix and wrote up a quick mini tutorial on how to recreate the look.
I honestly don't know what it is about pineapples, but making them the focus of the nail art feels like a whole look. I have golden pineapples this time and last time I went with pink pineapples. Whole look. But you hand me a topic like strawberries and I make it about strawberry popsicles. Watermelon? It's a watermelon bikini.
Perhaps it's some lingering veneer of expensiveness. Because you and I can buy a can of pineapple at the store for a few bucks. But back when people were first learning to cultivate pineapples around the world, only the filthy rich could afford to rent (yes, rent!) a pineapple to display at a dinner. And no one would eat it. The pineapple just got rented out until it rotted. Doesn't feel too off for a fruit that takes a year to ripen.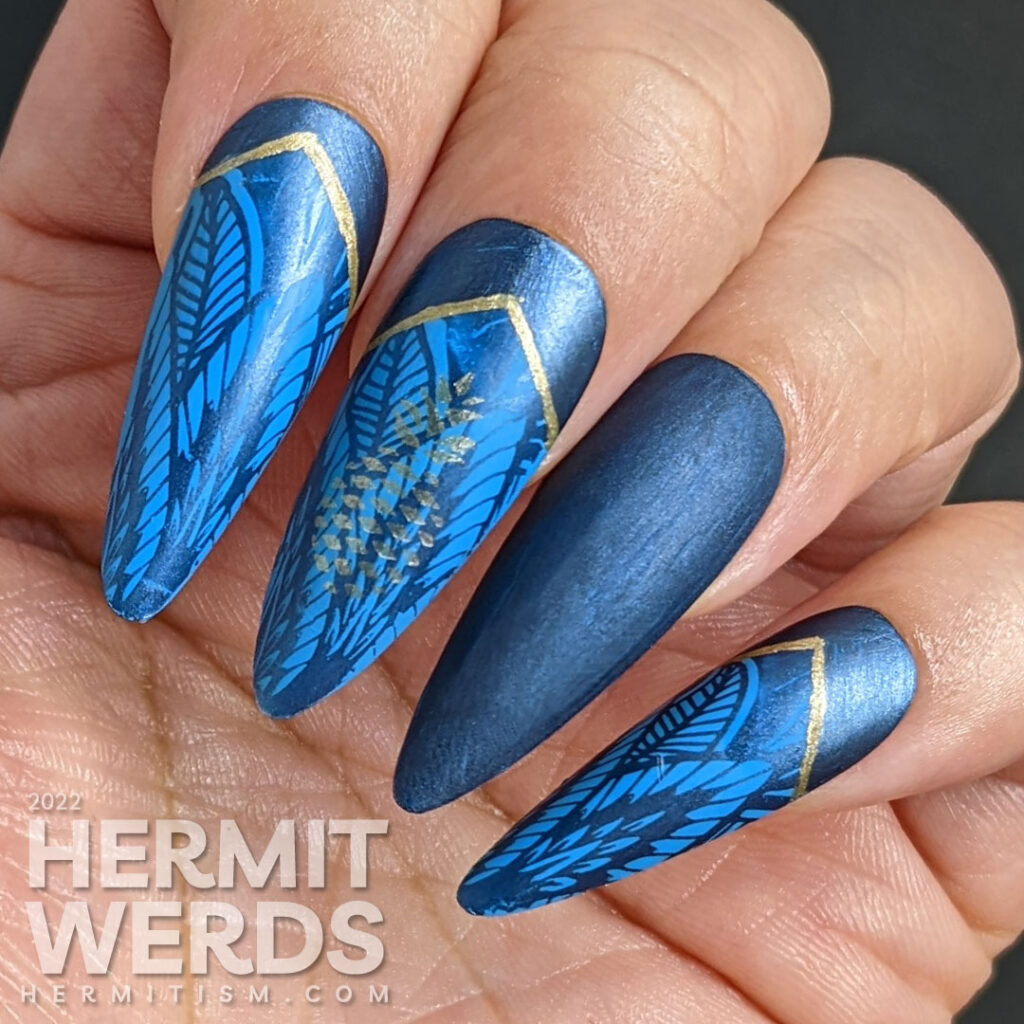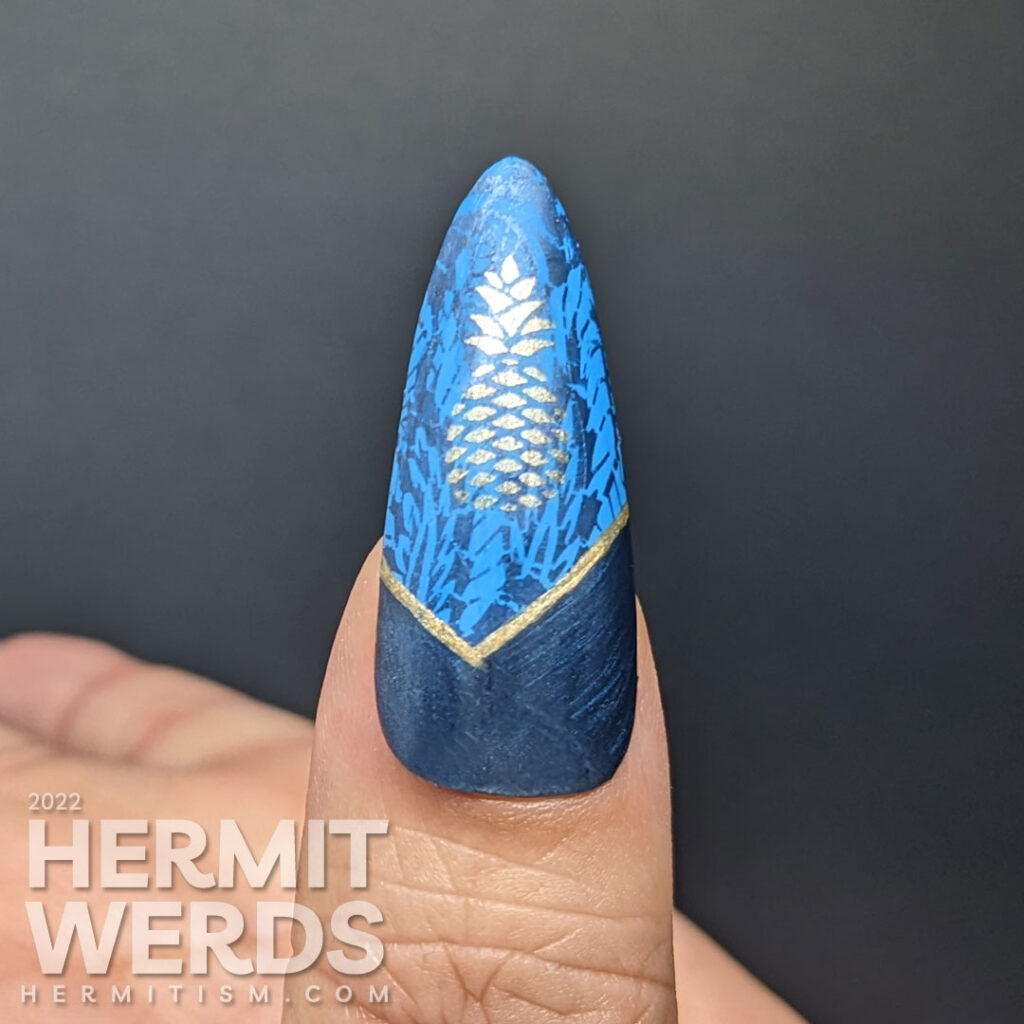 Nail art products used
Base Polish:

Stamping Polishes:

Freehand Painting:

Stamping Plates:
Items in italics are debuting on the blog for the first time.
And now I'd like to whine about gold metallic stamping polishes.
Like…they're all not opaque enough if the lighting isn't perfect. Now, I did repaint my thumbnail cause I painted it upside down, BUT! That only affected the falsies-only photo. Everything else is with the same set and you'll notice the opacity of the pineapple changes with the way the light hits. I could have retaken a few photos and completely fooled you into thinking it looks perfect, but that's silly. The fact is that at some angles you wouldn't even know a pineapple was stamped onto my nail. And it's not my fault. It's just the nature of the polish.
But it is maddening and all of my gold stamping polishes do it. I'm seriously thinking of just buying a small set of metallic stamping polishes from Mundo de Unas. I simply cannot find a replacement for their bronze and they're such gloriously thick polishes. I'll just…stick to the small polish bottles. Oh, bronze, why were we ever parted? 😭
And now a mini tutorial…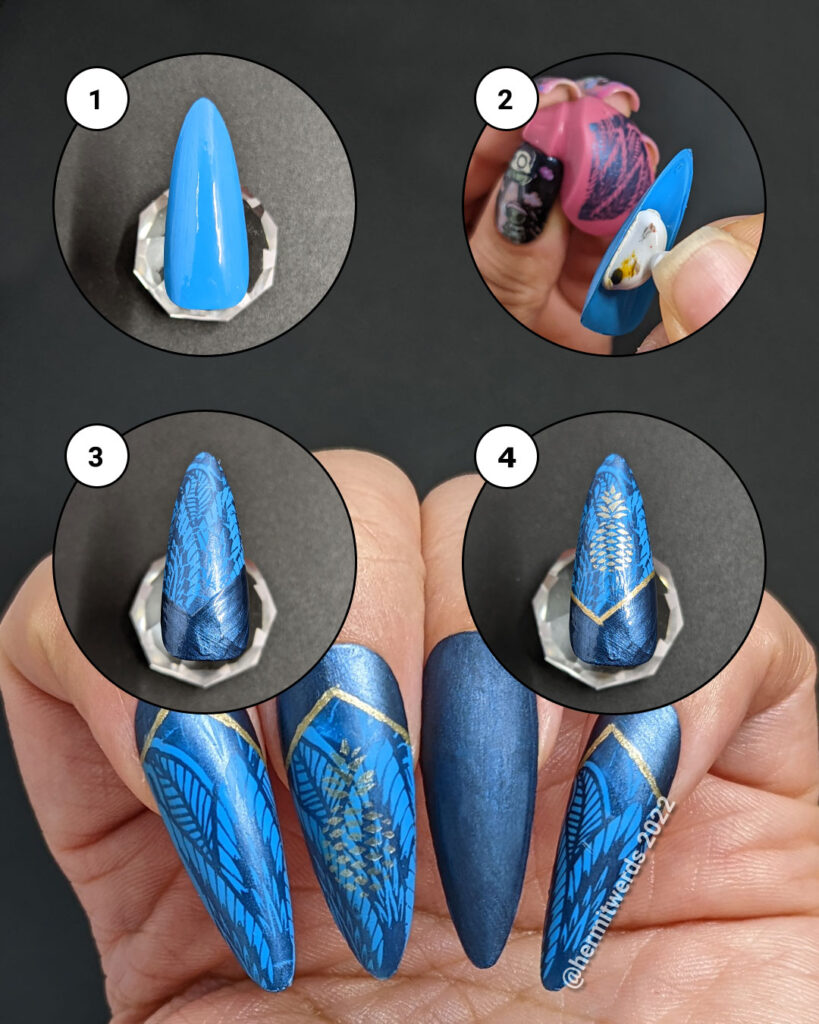 Royal Pineapple Mini Tutorial
Paint a medium blue base onto the nail.
Stamp a pattern onto the nail. If it fits the whole nail, stamp as you will.
If the pattern is too small like mine, stamp it on a diagonal and stretch out the pattern if you can.
Paint two perpendicular swaths of polish. Follow the diagonal if you have one or just make your own. I went off-center and angled differently on each nail, but you do you.
Take a thin brush and paint a gold line where the pattern and solid meet. (Thin gold nail tape would also work here.) Then add your fruit stamp on the accent nails.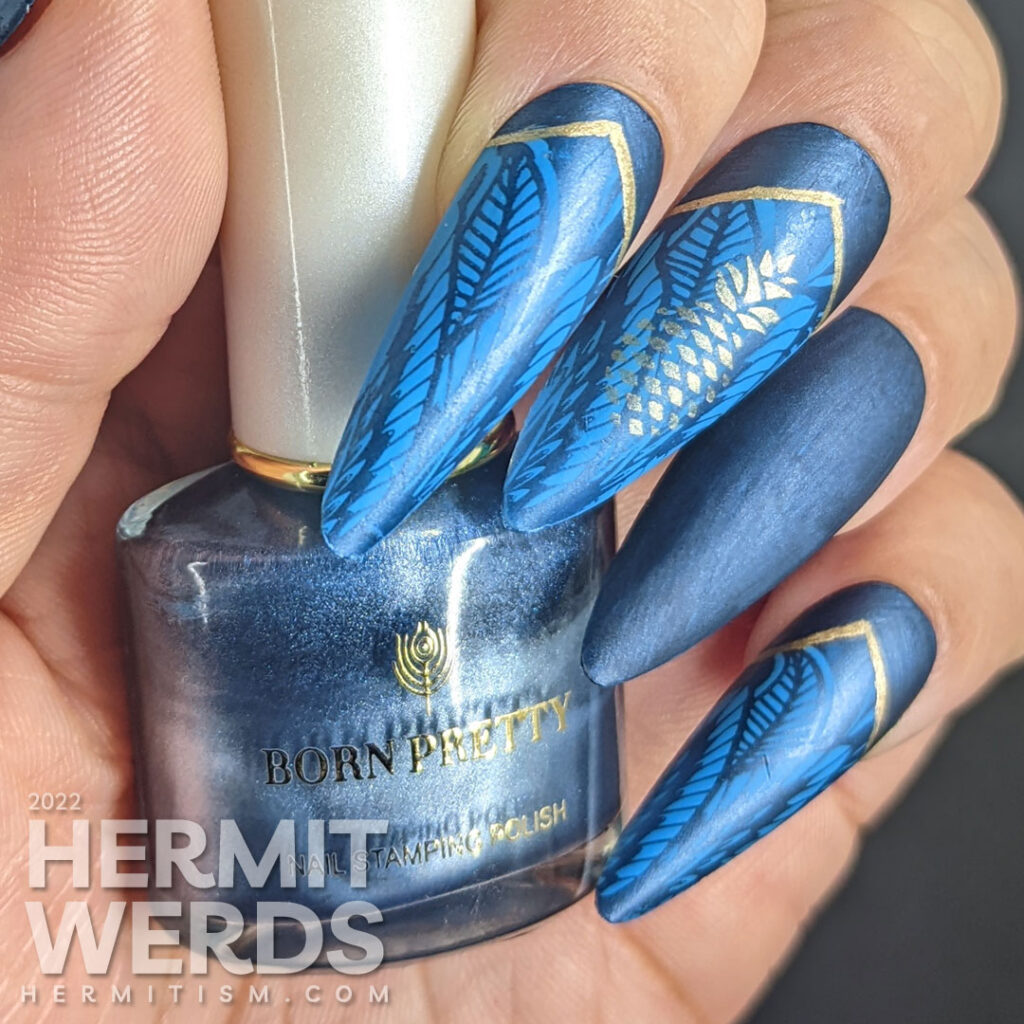 #WhenColoursCollide – Blue, Gold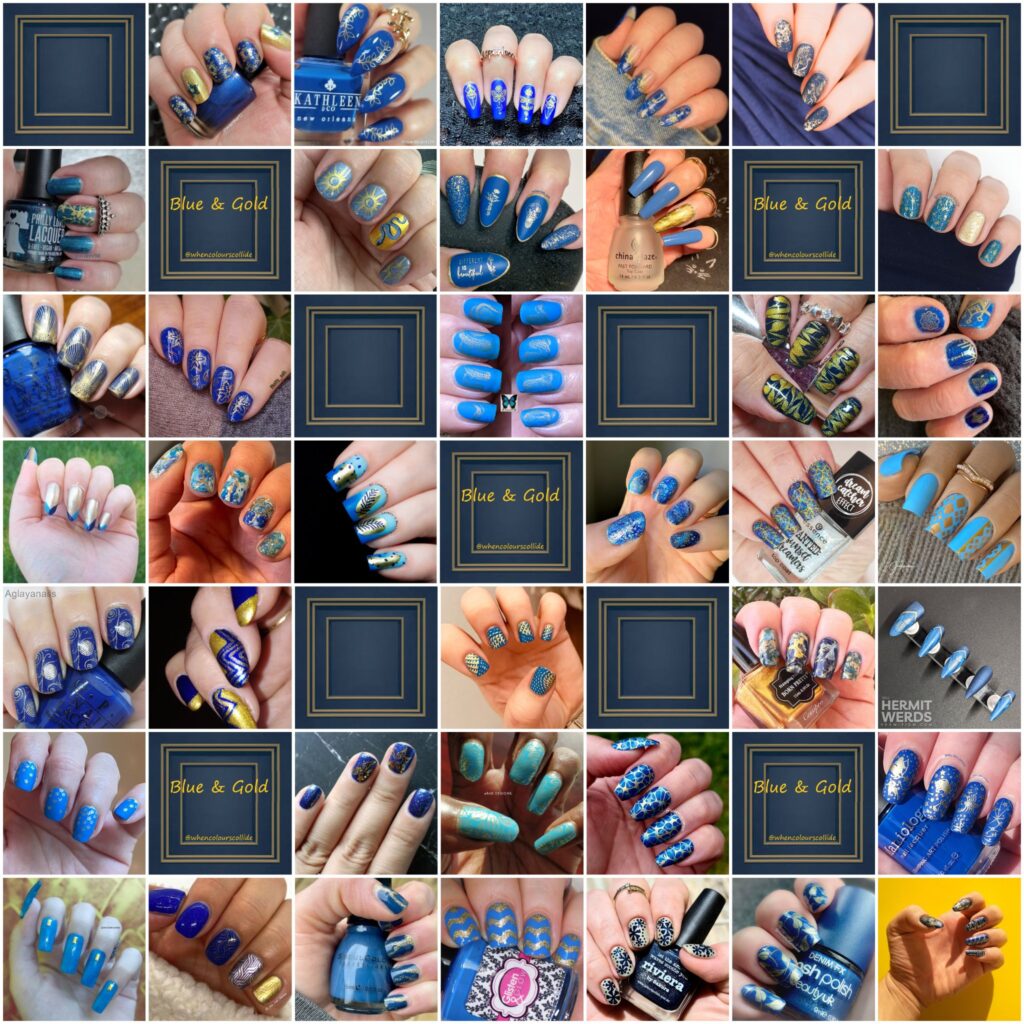 Final pineapple nail art photos…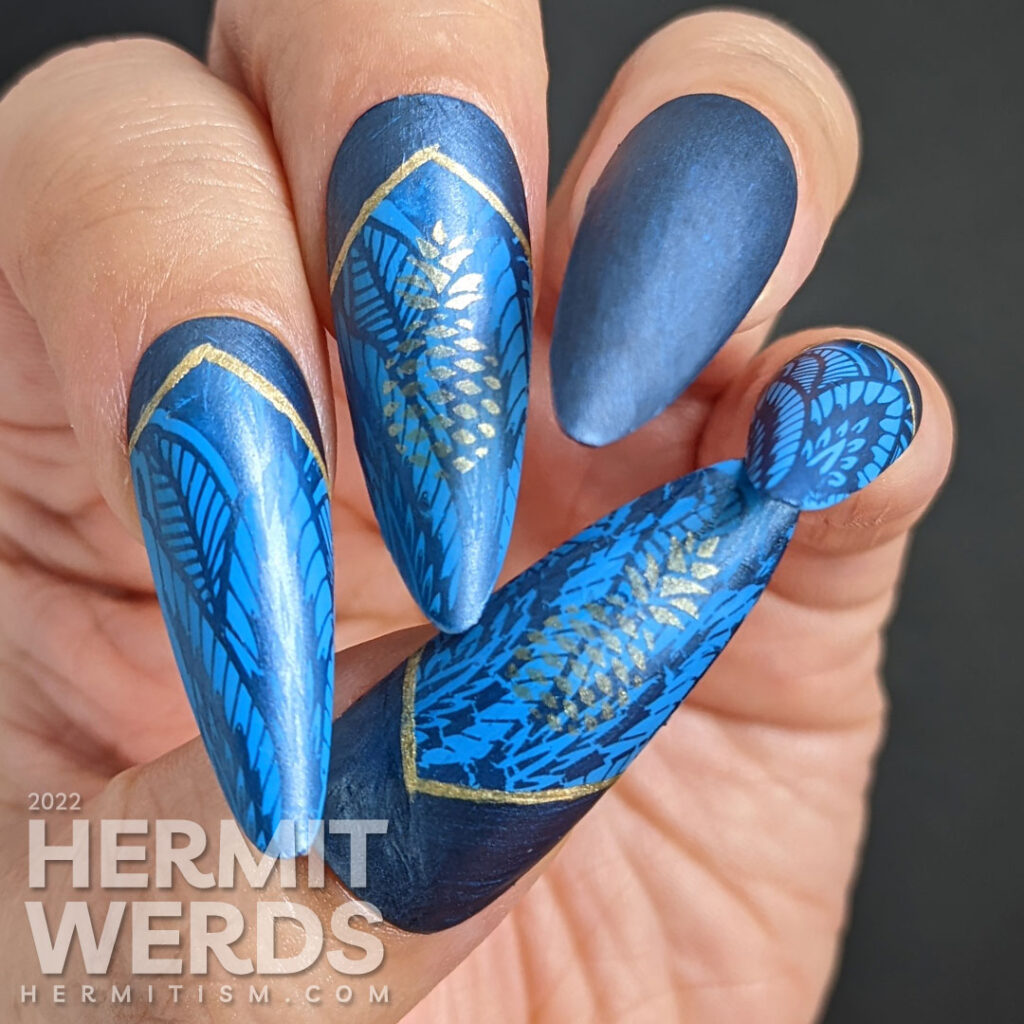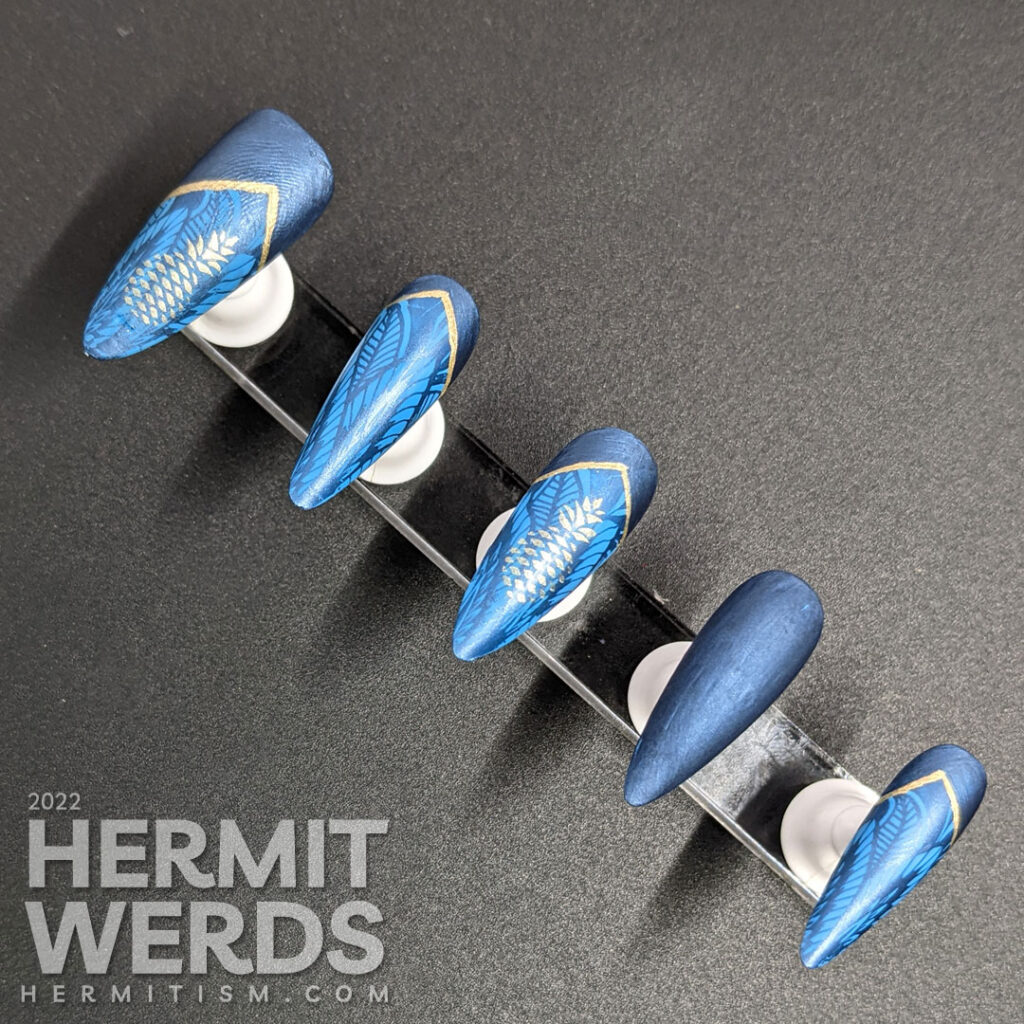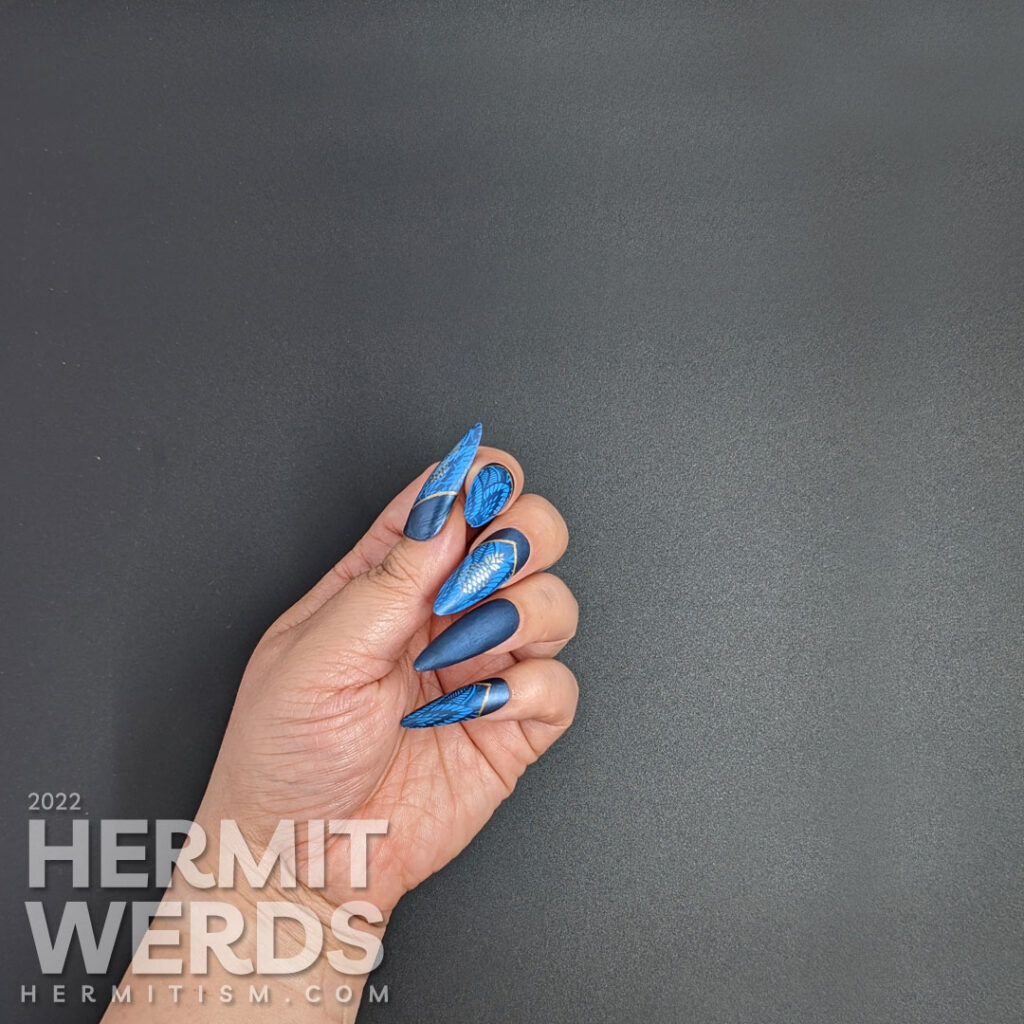 Until next time, friends! 👋