I'd originally planned to do Ocean for the letter 'O', but when it came time to paint my nails, I decided I wanted to do something quite different. I'd recently come across a tutorial for opal-like nails on pinterest and decided I wanted to do that instead. This also coincides with filing my nails into an oval shape for the first time. I think I prefer coffin-shaped nails, but I'll give ovals a few weeks at least before I go back to coffins.

Nail Polish: Essence's "Wild White Ways", Sinful Color's Demi Matte Collection 2015 "V.I. Peach", Sinful Color's "Bright Lucite", Sinful Color's "Hazard", China Glaze's "Dandy Lyin' Around", Sally Hansen's Triple Shine "Pearly Whites", Essence's Galaxy Flakes "Rock My World", Revlon's Parfumerie "Espresso", Sally Hansen's Satin Glam "Silk Onyx"
Charm: half pearl charms from Walgreen's nail art charm wheel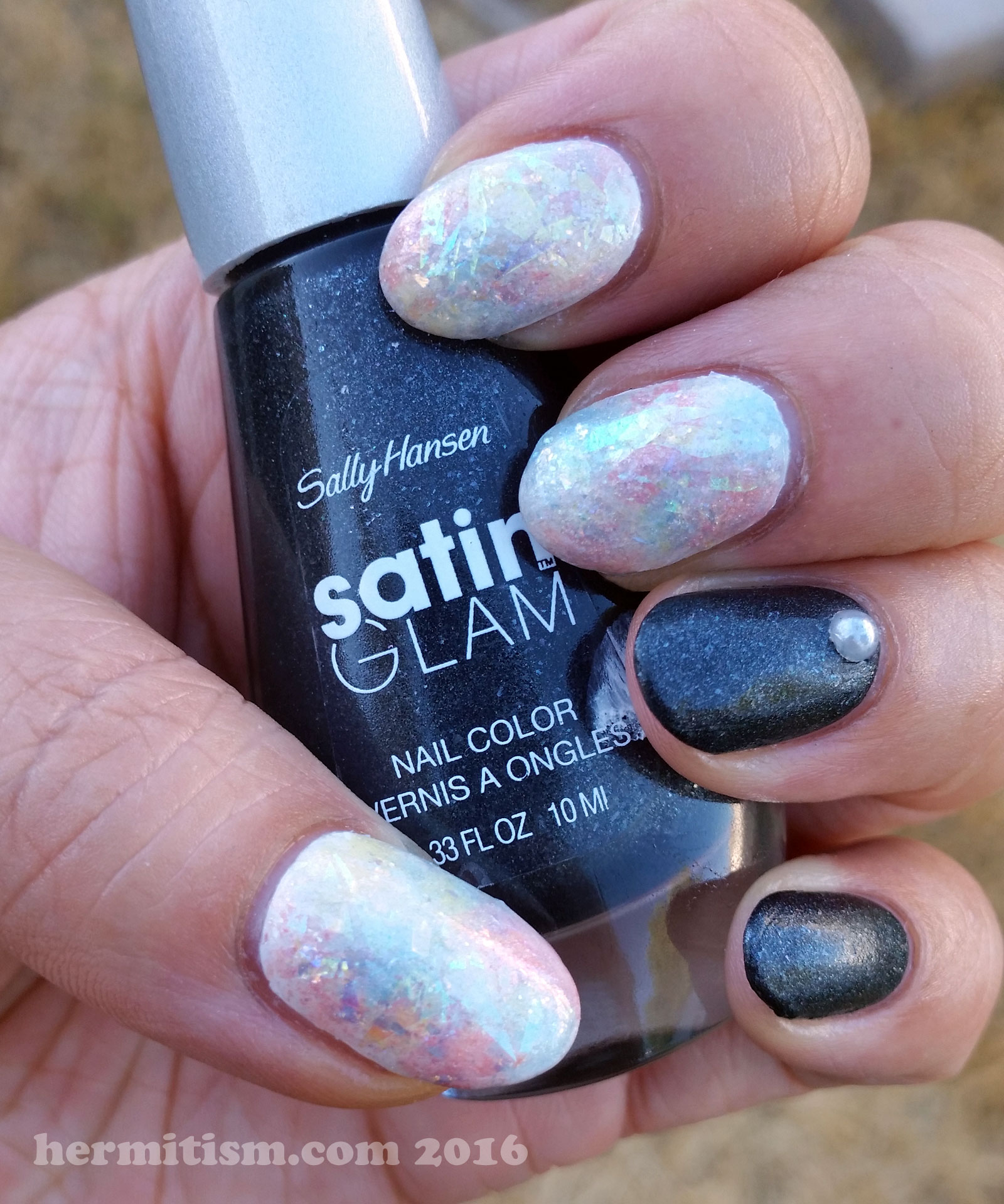 Here is the amazing tutorial by Glitter Fingersss. Aside from the polishes used to create the opal effect, the tutorial also called for "cracked ice foil". I already had some shimmery cellophane from the craft store, so I cut that up and applied it to my nails with clear polish. I also used a translucent shimmery white instead of a nude polish to mute the color gradient. While she went with more glitter for her other nails, I opted to for greater laziness and painted my nails with an oil slick matte black. There was a time when I would have stopped there, but my nail charm bag was already out so I tried out a pearl on top. Yes! It made it all look more complete so I stuck it down with some matte top coat and called it good.
I can't keep my eyes off of these nails. And it was nice to take a break from stamping. I do love my stamping plate collection quite a bit, but I don't want to be a one trick nail artist either. Trying something new was a lot fun but this does leave a very thick layer of nail polish on your nails. I am not sure how long I will be able to resist gnawing on them. We shall see.
For more participants in the 'O' week of the ABC Challenge, check out the Inlinkz: