It's funny how we associate different things with different seasons even though they often exist all year round. Like…pumpkins being a fall thing makes sense because that's when they are ready to be inserted into your face or plopped on your front stoop (this year I'm seeing a lot of "we used peanut butter and squirrels" horror shows…I mean….it works). Foxes, however, exist all year round, but I mostly see prompts for them in fall. It's those orange coats. All the other foxes know exactly whose fashion sense is to blame.
(Until we get to winter and the finger pointing switches to arctic foxes instead. 😂)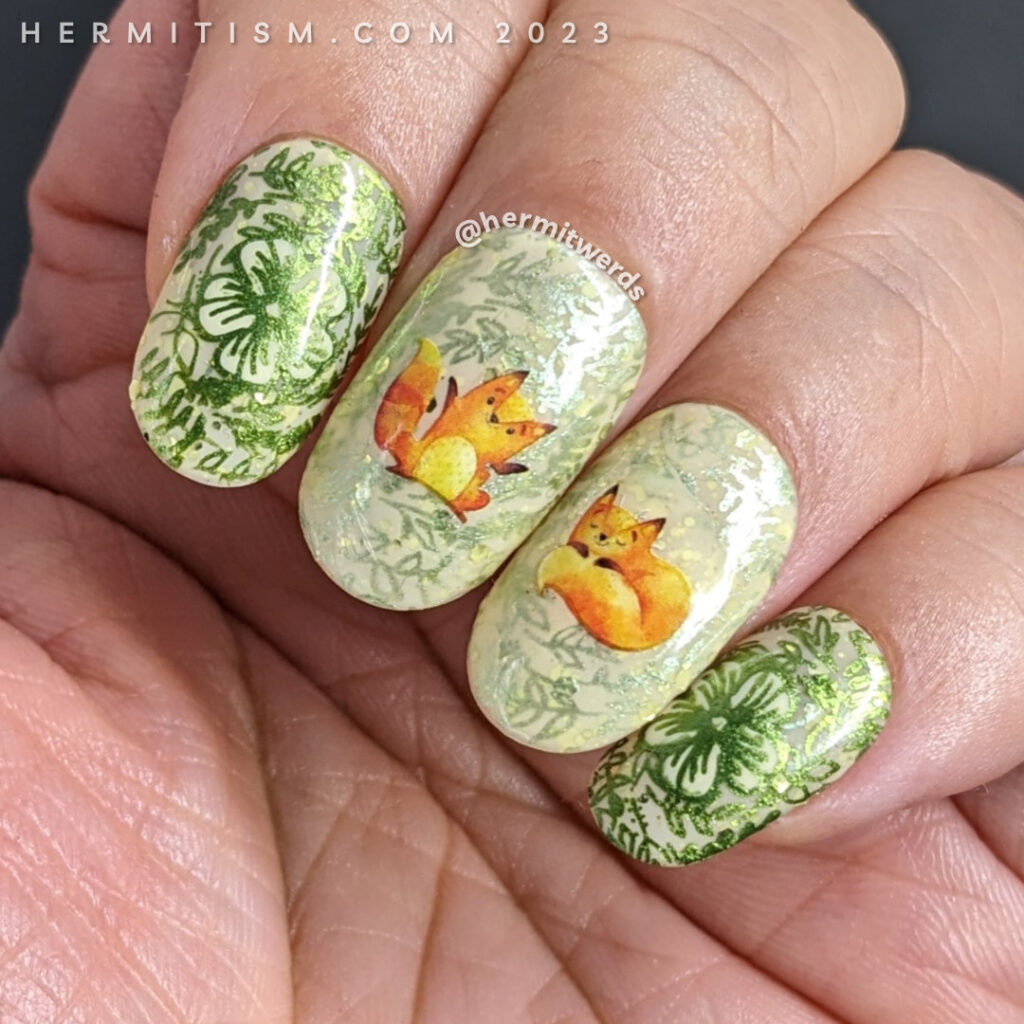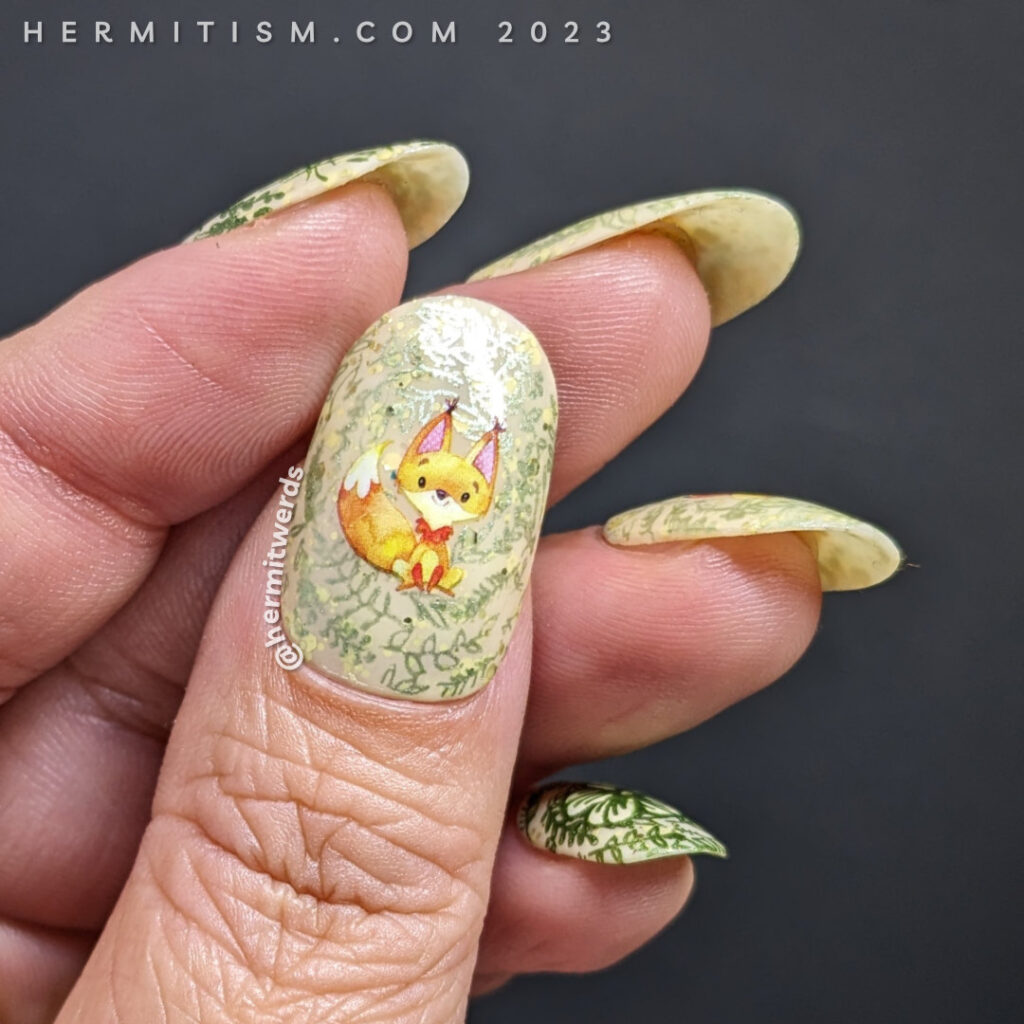 Nail art products used
Base Polish:

Sally Hansen's "Buttered Popcorn"

Stamping Polishes:

Reverse Stamping Polish:

Maniology's "Coconut"
A fox and deer water decal sheet from Aliexpress A1252

Stamping Plates:

Born Pretty "BP-L029" (flower)
Maniology "Chic Peek BM-XL472" (leaf pattern)
Items in italics are debuting on the blog for the first time.
Today's look could have been much simpler, but of course I had to add some stamping. It all started with a little sheet of water decals of foxes and deer (plus one moose). I thought they were cute and hit the buy button. Years pass, as they do while we buy more than we can use. Then I had a fox prompt and even though I have stamping plates that needed using, I really did love those water decals. So I dug out a light-colored polish I hadn't used yet and threw it down.
Que existential crisis of why does Lisa think this is important
Here is where I could have made my life simpler. The polish is a crelly so the background was interesting enough, but I wanted to do a little vine stamping. However, you have to be careful with water decals because not all of them are equal, especially when you buy them from China. I once purchased two of the same set of water decals accidentally and there was a distinct difference in quality between them. Poor print quality and not very opaque vs a very lovely water decal with crisp details. Both from China. So what I'm saying is…don't forget to bookmark the sellers that have good water decals and also be careful what kind of background you put them on because it might show right through them even though it's very light. Still upset about the quality of these cat water decals.
I stamped in light pink. There is no justice in this world, people!
Ahem. So I was already gambling because I don't take my own advice. I have no idea if these foxes are going to be opaque or not, but I still wanted to stamp. I have needs. I hedged my bets by using a full nail stamping image where all the greenery circles around an empty center. Perfect. I even used a lighter color on the fox nails, which was good because "Mangrove" would have been too dark. And it worked! But then I hated the empty centers on the outside nails. I tried stamping just a random bit of green in that center like it's always been this way. No. Ugly. (Just take my word for it because I didn't take any process photos.) Finally, I settled for making two flower decals and filling them in with a creme that almost matched the base.
And now that's my favorite part of this mani even though the foxes were the point. Is that a win? I don't know. *sings out a Rachel Maksy "Good enough"*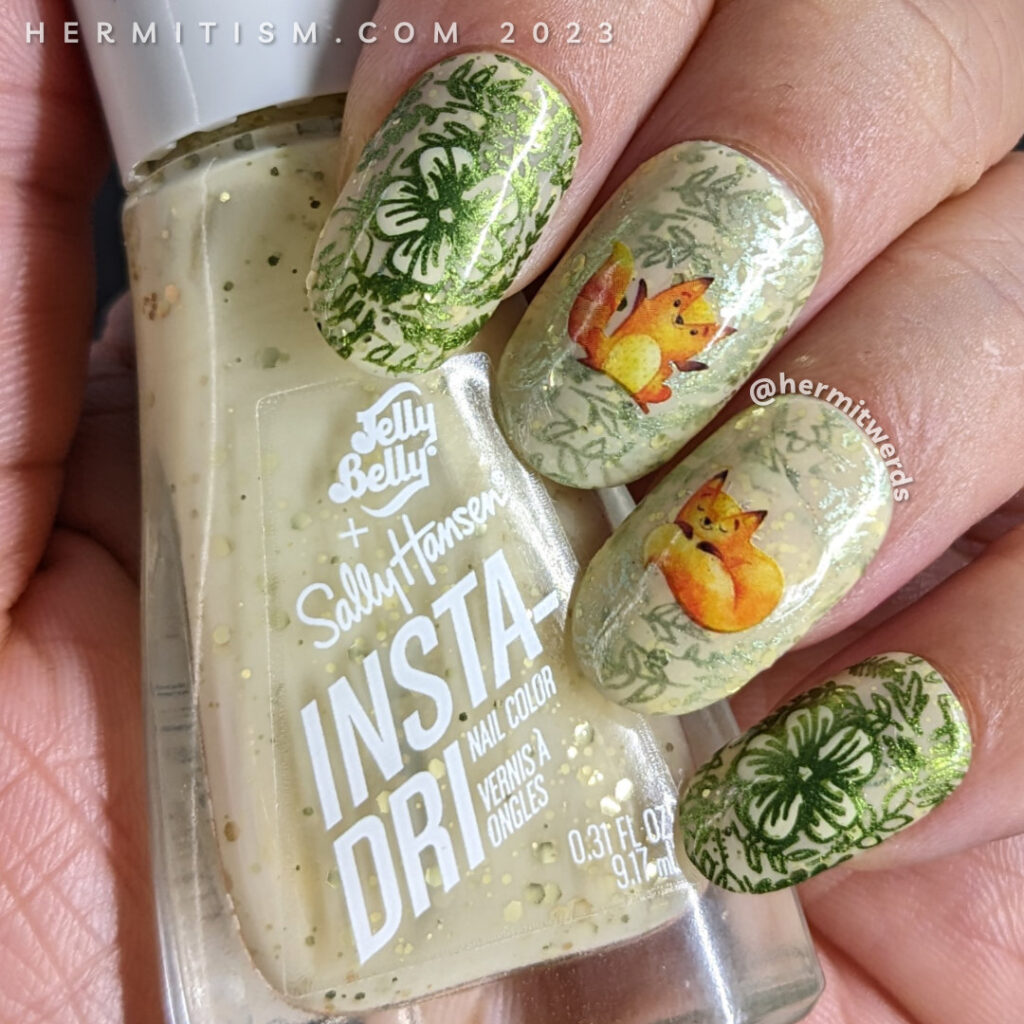 Final fox nail art photos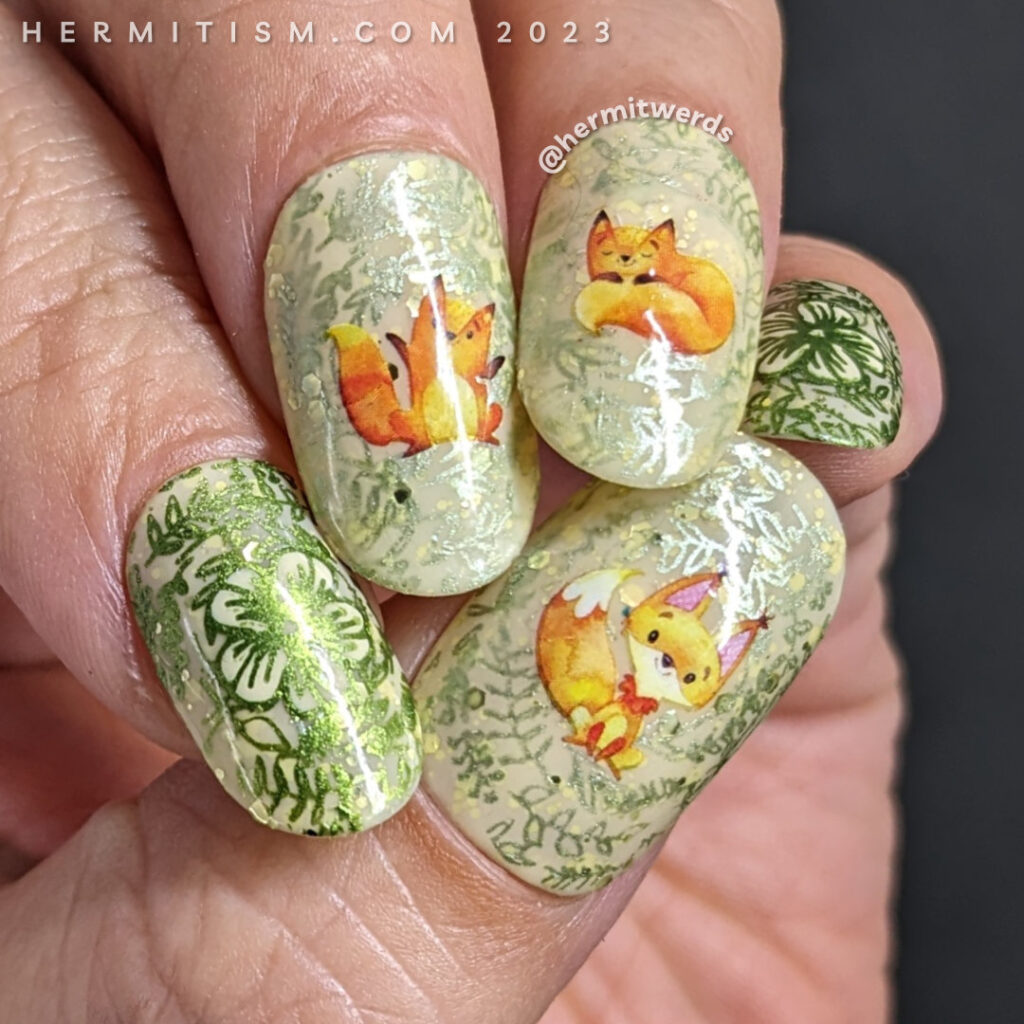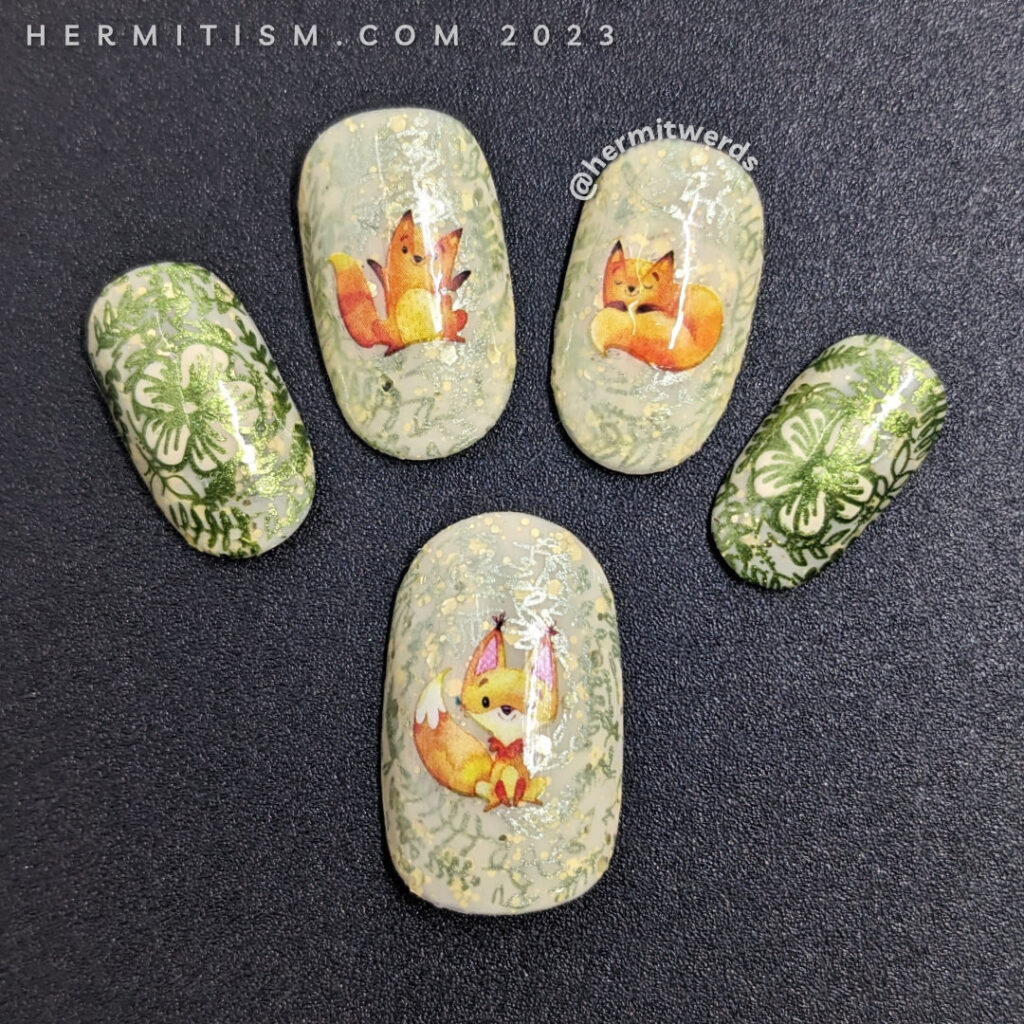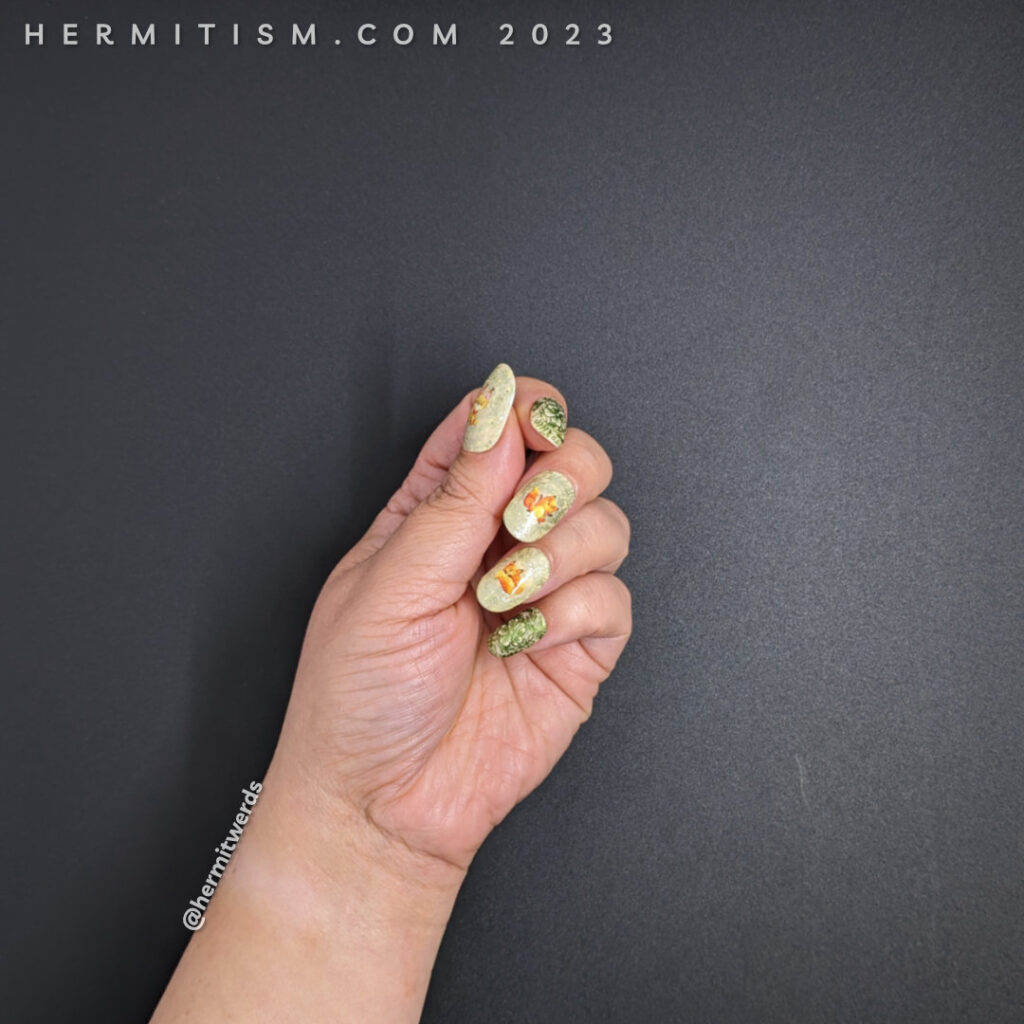 According to my SEO helper thing, this blog post still sucks even though I said "fox" many times. It's fine. Google hates me anyway because I don't run ads. So…until next time, friends! 😱