The internet was made to share pictures and videos of cats. This is fact. And that's how I learned that tiny feral kitten bebbies that are ungratefully hissing at their human rescuers are called "spicy". Such a fitting term and I am here for it. So when I had a collab come up with spicy as the prompt, I knew I was going to paint kitten nails. However, most stamping plates focus on adult cats or at least they're chibi-fied and who knows how old they are. So I got creative and tapped into a stamping plate of "hostile" cats that could be kittens.
Awww and the kitten on my thumb is an angel because it's asleep. Being spicy is hard work!
Nail art products used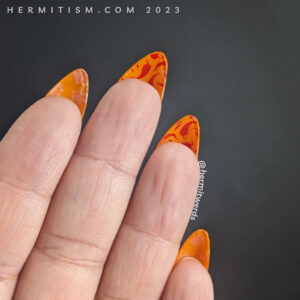 Flipside Nail Polishes:

Hit the Bottle's "A Vermillion to One" and Maniology's "Restless Dahlia"

Base Polish:

Familiar Polish's "Neon"

Stamping Polishes:

Advanced Stamping Polishes:

Hit the Bottle's "A Vermillion to One", Maniology's "Gold Rush", Pretty Serious' "Overcast", and Sinful Colors' "Snow Me White"

Stamping Plates:

Born Pretty "BP-X11" (paw print understamping)
Fashion Disaster "Tee 1" (devil cat, summoning cat "hex", and angel cat)
Moyra "Gastromania" (hot peppers understamping)
Pict You "PY-J027" (clouds)
Zjoy "Plus 052" (flame background)
Items in italics are debuting on the blog for the first time.
I started with the flipside nail technique where you stamp on clear falsies and then feel smug whenever you see that extra little detail that chances are only you will notice. And, oh, did I search through all my stamping plates just to find those hot pepper images that I knew I had. The bigger my collection gets, the harder it is to find things. 😅
I decided to pair the hot peppers with paw prints and then foolishly stamped the paws with a too-light color. You can still see them if you squint, but I might as well have just stuck with the hot peppers for everything.
Finally, I went with a glow in the dark base polish. I had an unused orange called "Neon" from Familiar Polish. I decided I wanted to double down on the spicy energy and added some flame stamping on all the nails in a contrasting finish. That way the flames wouldn't distract from the kittens, but they would add some subtle contrast. I think they looked really cool with the glow in the dark and UV light.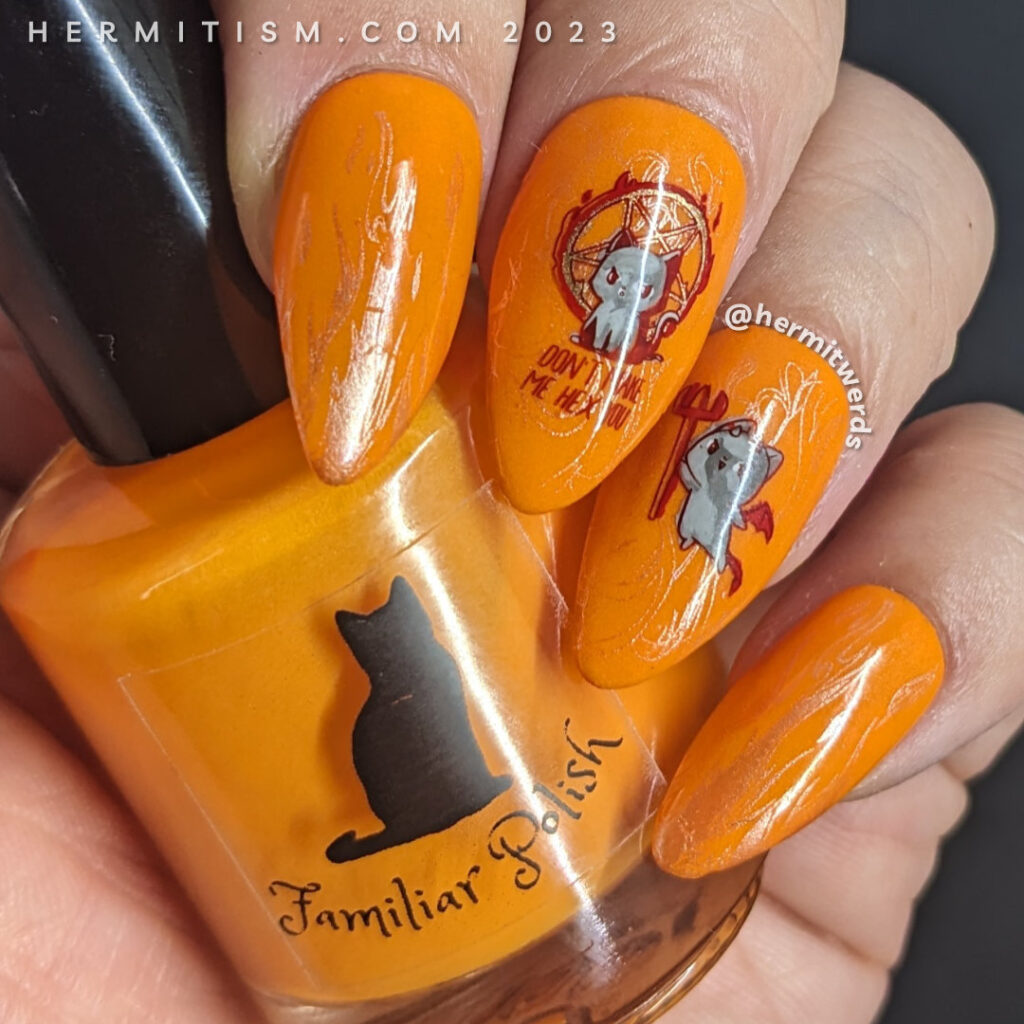 #DesigningWithDenise – Spicy September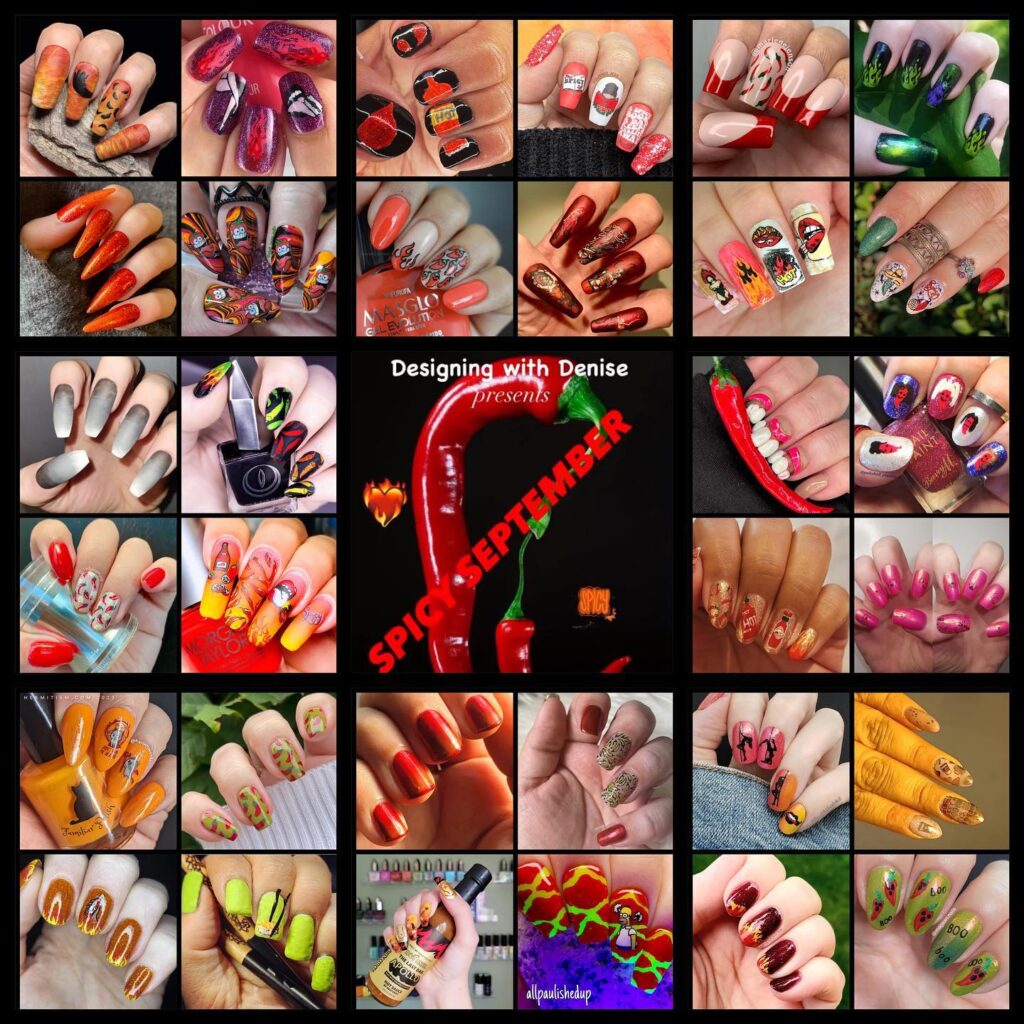 Final spicy kitten nail art photos
The UV actually looked really freaking cool. It turned the flames and clouds from orange to magenta.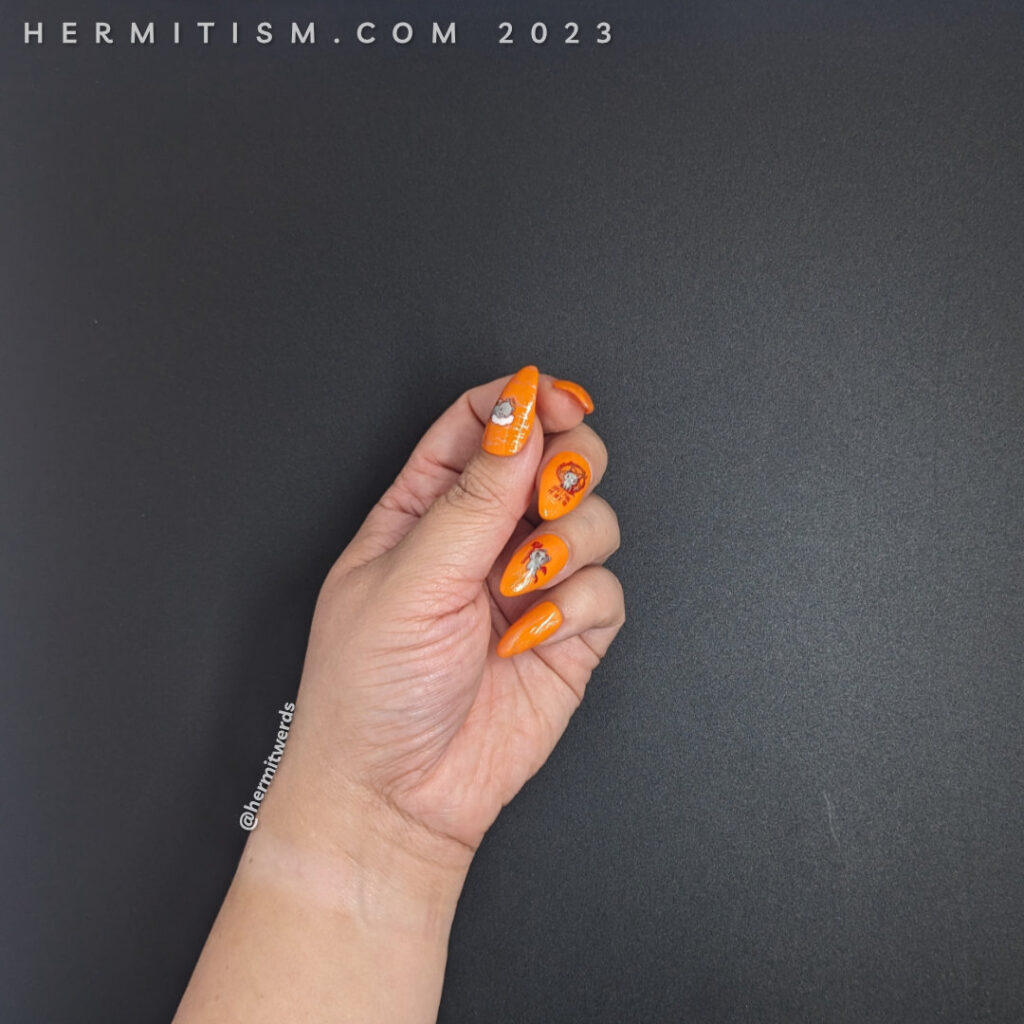 Until next time, friends! 🙋‍♀️