Black Friday has changed a lot over the years, but generally speaking I think it's gotten less deadly but ultimately not more relaxed. The stress of it has just stretched out across the whole month. A kind of long wander through sales with a few extra good prices tucked in here and there, but you don't know if you actually did get the best offer that month. My husband even observed that the price went up $200 for the tv we wanted. And there's still competition for the best stuff so you have to hope it doesn't sell out.
I'm happy to report that none of the polishes I wanted were sold out. 💪
…At least when I was buying… 🙈
Anyway, I felt like that battle between maker / retailer / customer would be well-represented as a fight between Jurassic dinosaurs! Haaaapppy Holidays! 🤣
Nail art products used
Base Polish:

Moon Shine Mani's "Castlevania"

Stamping Polishes:

Hit the Bottle's "Laid to Zest" and UberChic's "Essential White" + "Pure Black"
I tried several different reds against "Castlevania" but everything was either too contrasted or just blended in. Finally, I decided to try a bright but darker orange stamping polish I'd purchased recently and it worked!

Advanced Stamping Polishes:

Sinful Colors' "Snow Me White" and Zoya's "Dove"

Stamping Plates:

Apipila "Loving" ("Win"), Hit the Bottle "Bah Humbug 03" (shopping text, "shop", "to"), Moyou London "Jurassic Park Collection-03" (fighting dinosaurs: t-rex, spinosaurus, triceratops)
Items in italics are debuting on the blog for the first time.
I can't even remember where or when I saw it, but I absolutely loved a nail design with bold colors in the background and only black and white for the stamping decals. Must copy! So I stamped a riot of shopping text "buy", "rush", "shop", etc. for the background and kept the dinos simple black outlines filled in with white/light grey. The t-rex and triceratops had to go on the bottom because of how the picture cut off (it makes me laugh whenever I see it because it looks like t-rex is screaming the words in the background. anyway…), but I was able to stick t-rex and spinosaurus any which way I wanted.
#DesigningWithDenise- Dinosaurs and Digestive Delites
Denise has been clever with how she names her challenges lately so people can take several different interpretations. This is extra kind to people who stamp because you can't paint nails for something you don't have some kind of image of. Continuing the theme of kindness, Denise has decided to pause the challenge until next year.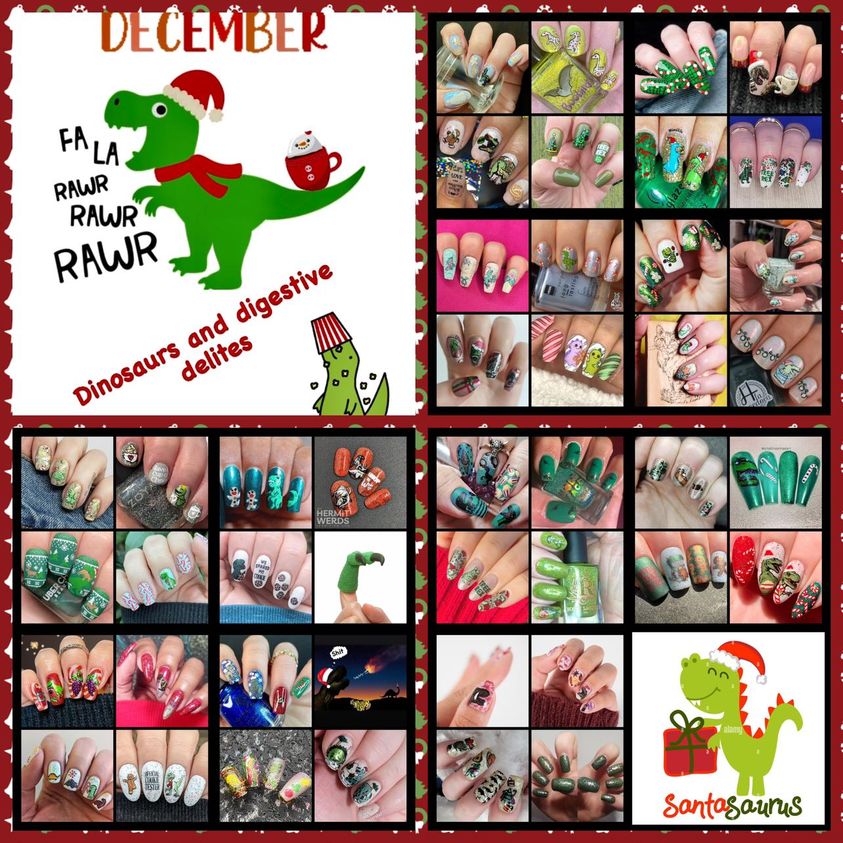 Final Shopping Dinosaur nail art photos
Until next time, friends! 🙋‍♀️