It's incomprehensible to me why anti-Semitism persists in existing, but it really feels like it's shouting a lot louder right now. So even though I am not a Jew (or a Christian or anything but someone who can cherry pick any holiday they want), I thought it was time to paint some Hanukkah nail art. Sometimes all you can do is send out love when other people are being hateful.
That and delete your Twitter account and vote. Voooote. Seriously, dropping Twitter is more about how your personal details are veeery vulnerable with their reduced workforce. But please always vote.
Nail art products used
Happy Hanukkah
Base Polishes:

Maniology's "Mangrove"
I started off with "Lime Pine" but it ended up feeling too bright when I stamped "Mangrove" on top so I just painted the whole thing over with "Mangrove" and stamped the background pattern with a darker creme "Lilypad".

Stamping Polishes:

Essie's "No Place Like Chrome" and Maniology's "Lilypad" + "Sticky Black"

Advanced Stamping Polishes:

Essie's "No Place Like Chrome", Pretty Serious' "Strigformes", and Maniology's "Lilypad", "Mangrove", "Mint" + "Sticky Black"

Stamping Plates:

Maniology "BM-H02" (dreidel), Moyou London "Time Traveller Collection-05" (art deco background), "Stampholic-08" (menorah, menorah setting with food and gifts)
Items in italics are debuting on the blog for the first time.
I really don't have much in the way of stamping possibilities for Hanukkah so I mustered up what I had (menorah, dreidel, scene with menorah) and tried to zhuzh up the rest with a fancy background pattern. Naturally a stamping plate I just ordered that is all Hanukkah will supposedly be arriving later today (Maniology 263, although Clear Jelly Stamper also has CjSC-28 if you no longer buy from Maniology). I expect I will be painting Hanukkah manis in other December/Novembers and maybe try more of the traditional foods beyond latkes. 🤤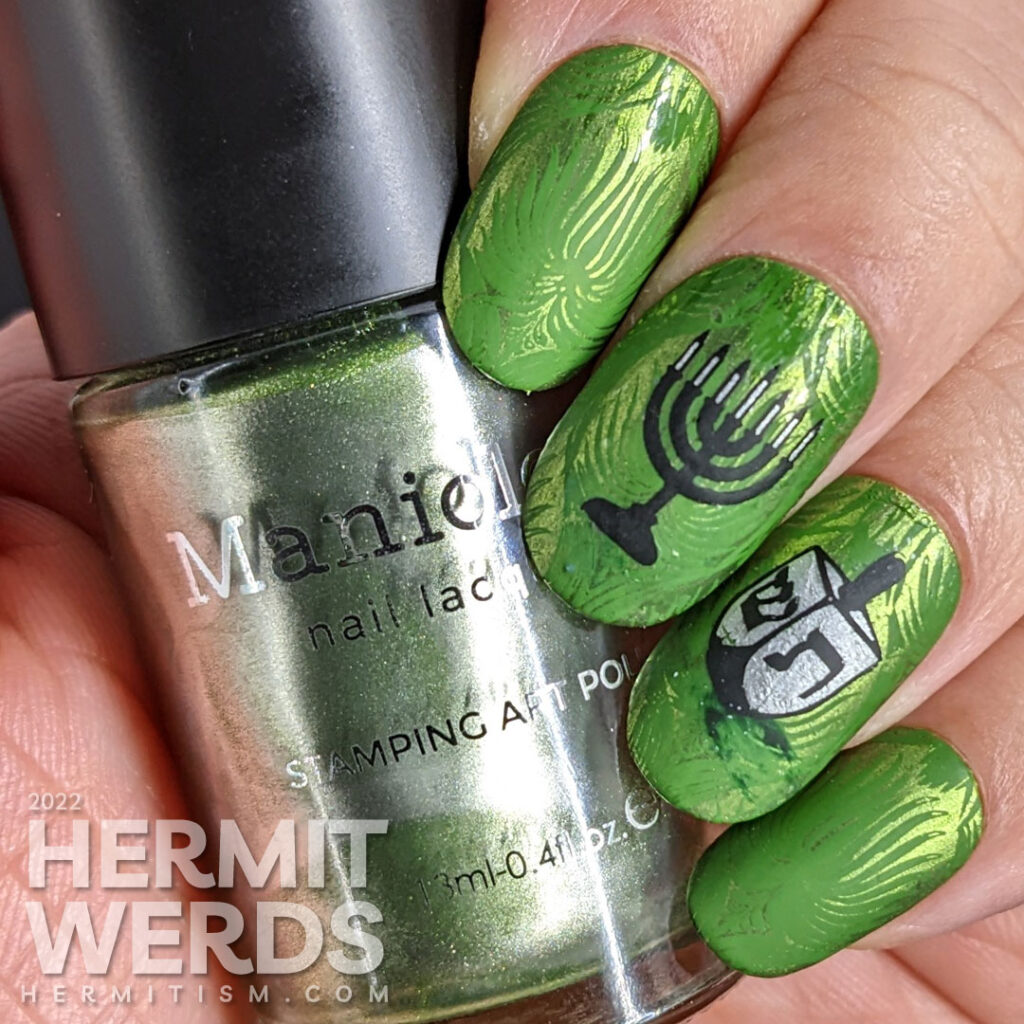 @WhenColoursCollide – Green / Black / Silver
My color scheme was set by this challenge, but there is another challenge for December holidays which is why this is posting before Hanukkah is celebrated this year (December 18-26).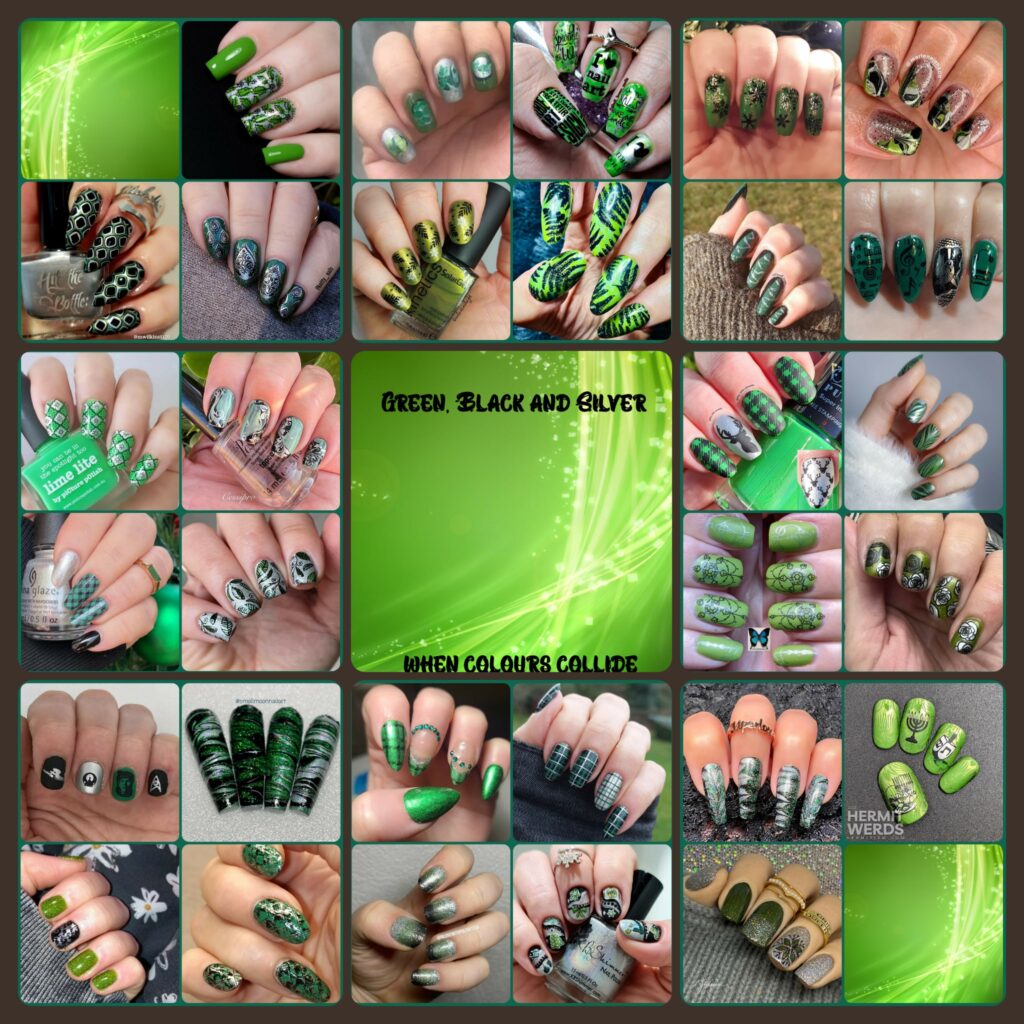 Final Hanukkah nail art photos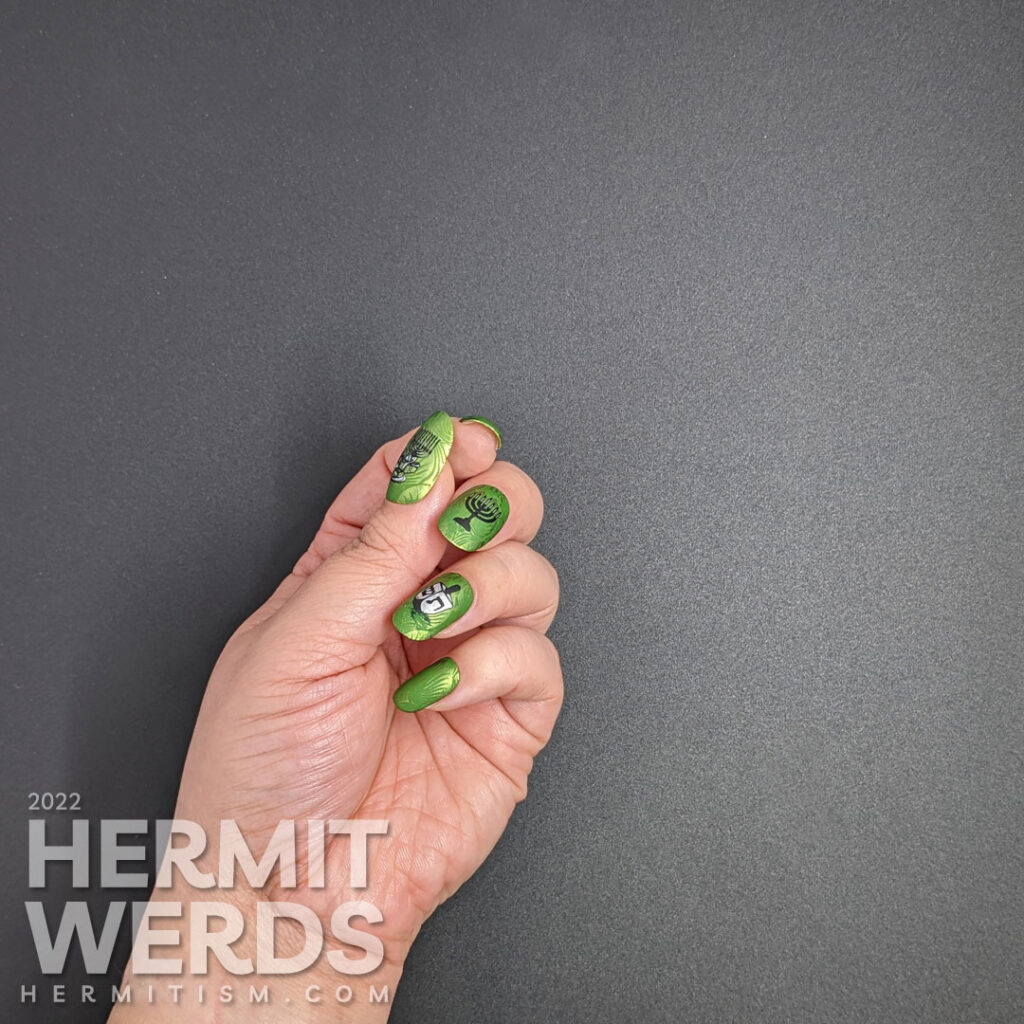 Until next time, friends! 🙋‍♀️