It always make me laugh how every summer we all go tropical and ocean-y instead of camping, which is far closer to what most of us end up doing in the summer. That and picnics. 🤤 So I was quite happy to paint a camping nail art and actually had quite a few options to choose from. I went with a design that can either be seen as someone setting out to camp (city to mountain to camping) or returning from a camping trip (tent set up at night, drive out of the mountains, return to the city). I love that it works both ways. 😁
Nail art products used
Base Polish:

Esmaltes da Kelly's "Dragon"

Stamping Polish:

UberChic's "Essential White"

Advanced Stamping Polishes:

Essie's "Sunshine State of Mind"; Hit the Bottle's "Dead or O-live"; KADS' "Cloud Dancer"; and Maniology's "Lace" + "Zinnia"

Stamping Plates:

KADS "Fashion-025" (mountain scene, mountain road scene, and leaving city scene) and Moyou London "Fall in Love Collection-10" (mountains, "wild heart")
Items in italics are debuting on the blog for the first time.
Oh, my base polish! Esmaltes da Kelly's "Dragon" is so shifty! It was so colorful that I actually decided to use as little color as possible in my decals so they are mostly filled in with black and white jelly polishes. I added a little yellow for the stars, a little green for the trees/grass and some orange for the sun/tent and that's it. Just focus on the stark beauty of the mountains and the base polish.
The mountains on my index and pinkie fingers had some stars above them as well, but I took them out because they wouldn't cover the whole nail. I could have snagged a few extra stamps of stars to fill that part in, but I thought it would be more neutral without them.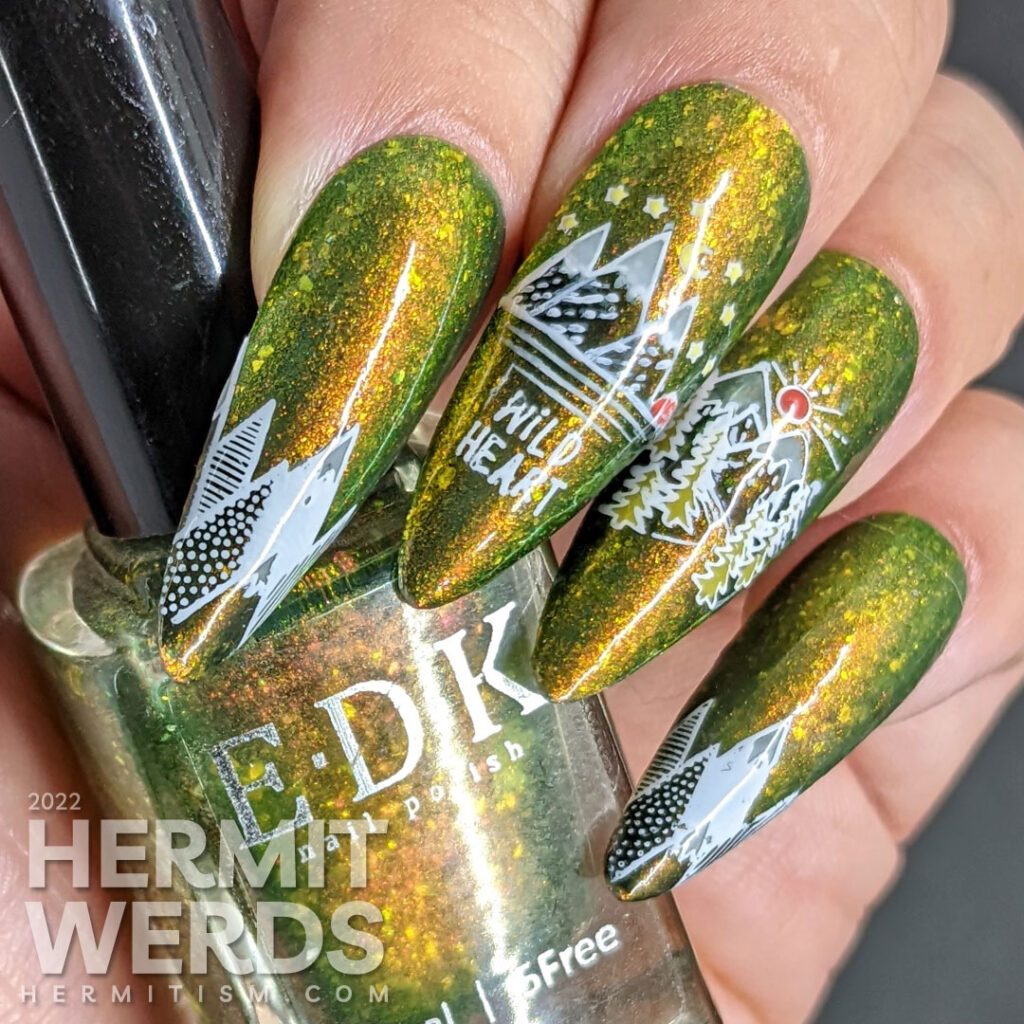 #SaucyManiSquad – Happy Camper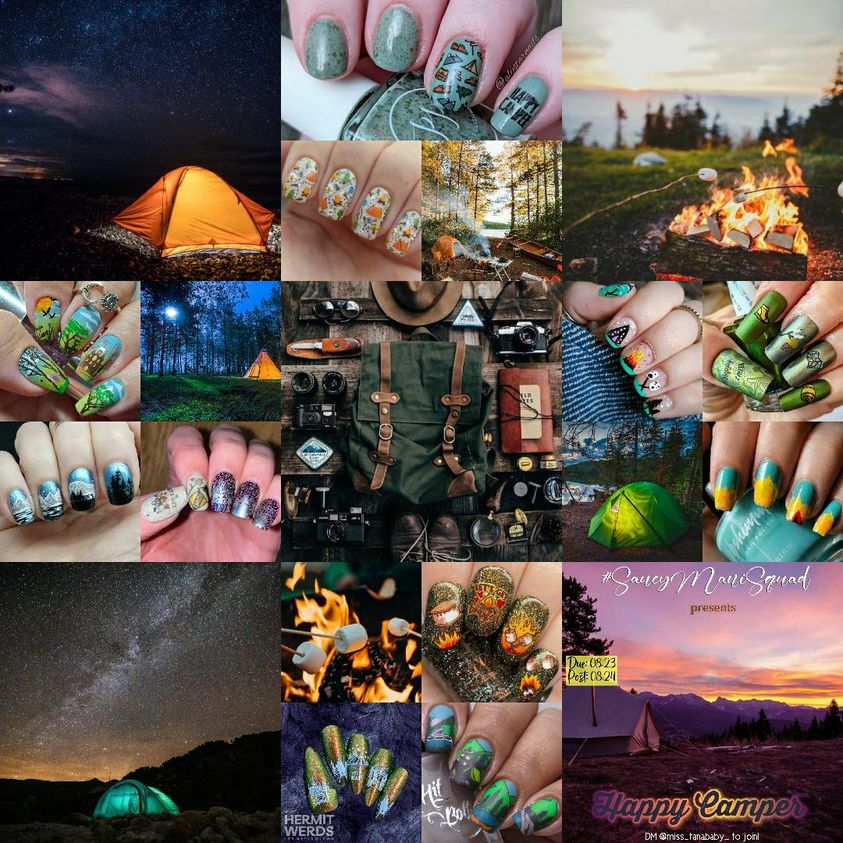 Final camping nail art photos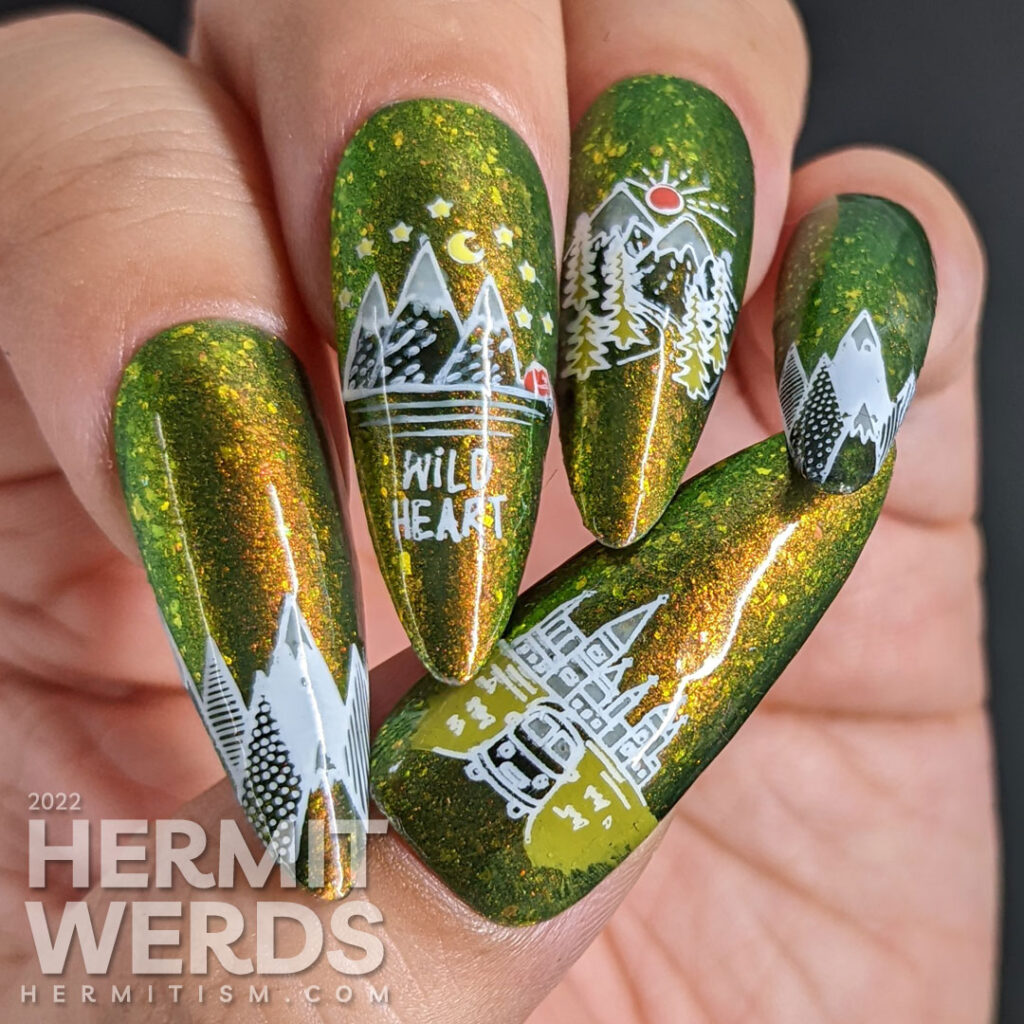 Until next time, friends! 👋