I'm still trying to catch up on the few AZ Challenge prompts that I missed (especially since this is the last round). Today I'm covering 'J' is for Junk Food, but I also painted for 'L' is for Lucifer just in case I didn't get to that one. However, I had a clever plan so I should be posting that one soon-ish. (I do have 'K' is for Kingdom to fit in first though.)
I had an unused large stamping plate full of Halloween-esque foods with a style that is a little more cute than Maniology's M248, which I have used before. The "devilish" donut was an obvious pick and I decided on the "eye" scream image because I love puns. Both junk food images had a smaller background pattern that I used to create a subtle background stamp using a yellow stamping polish. If you squint, you can see them in the background.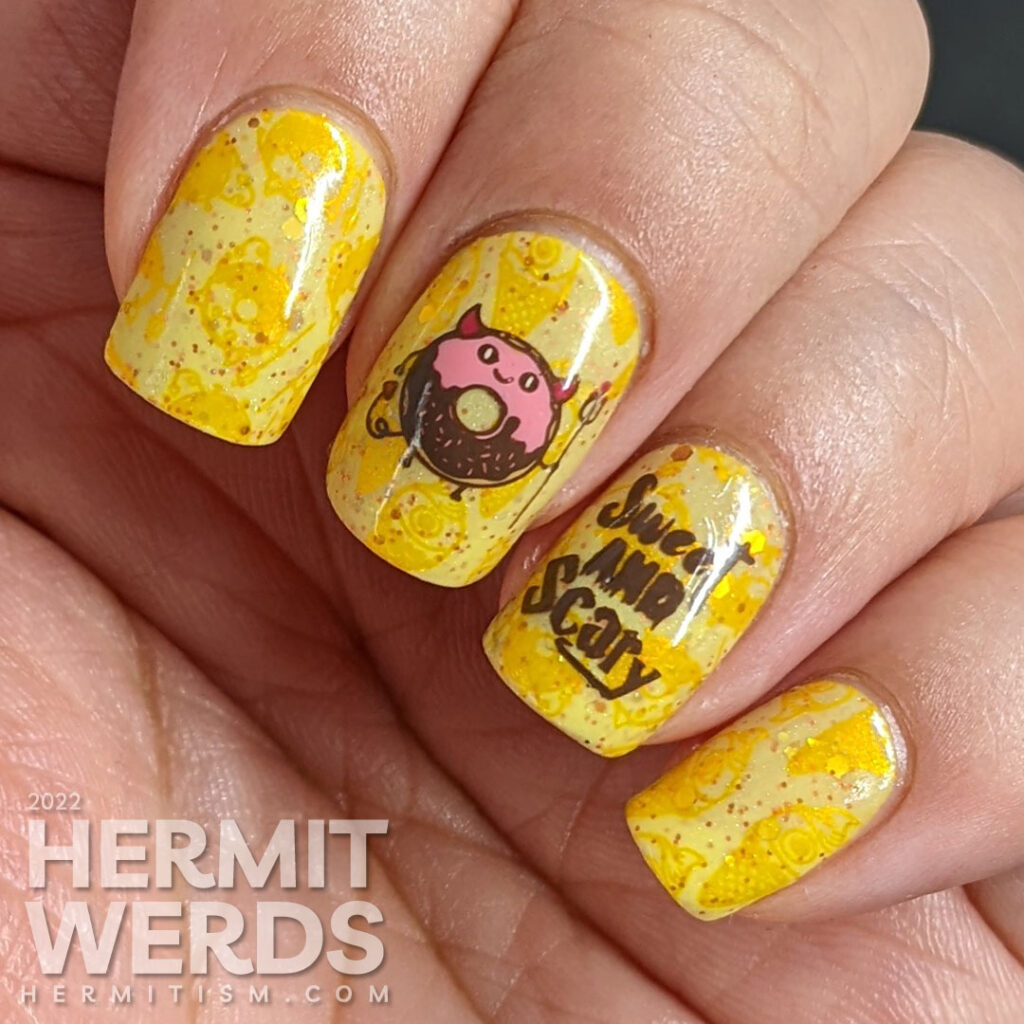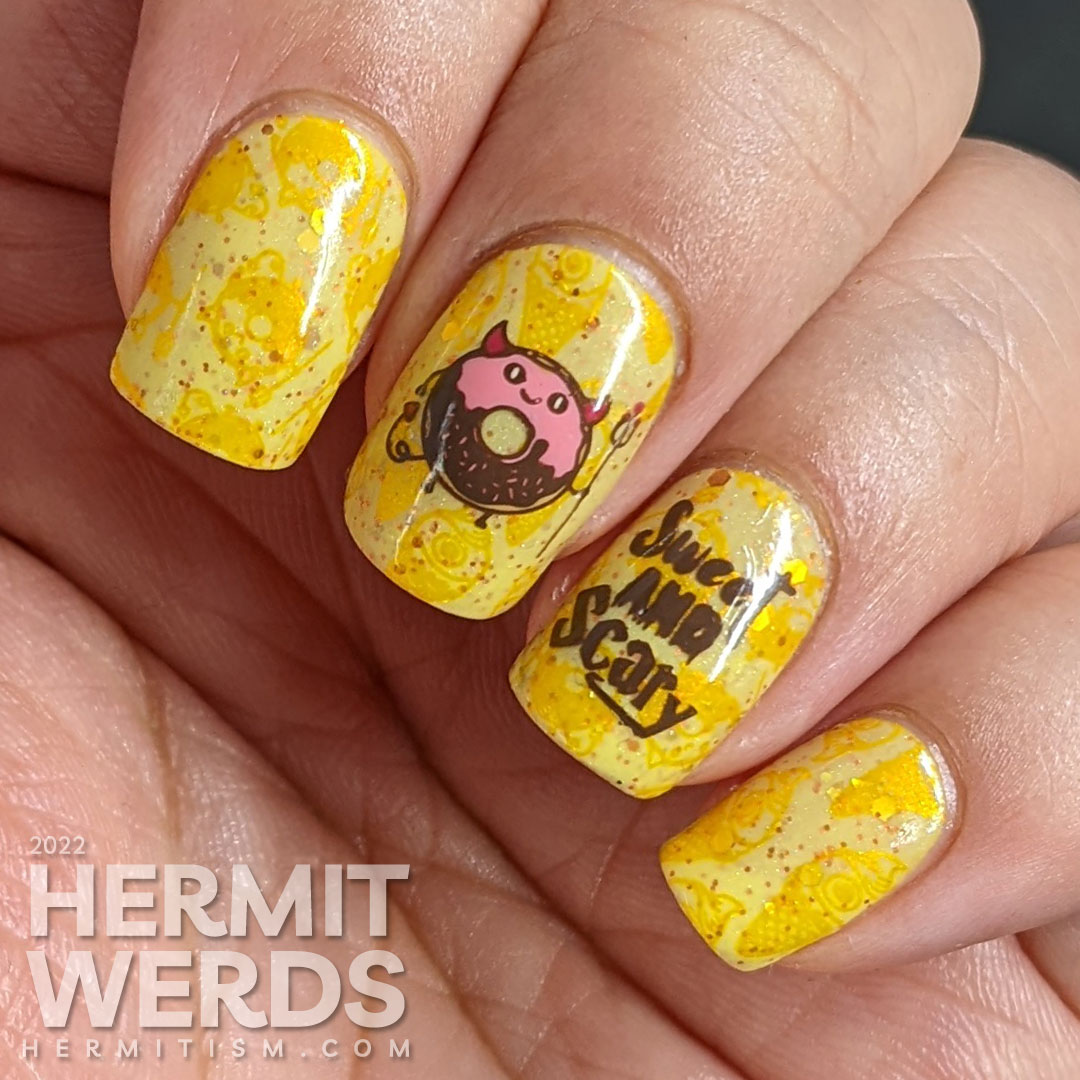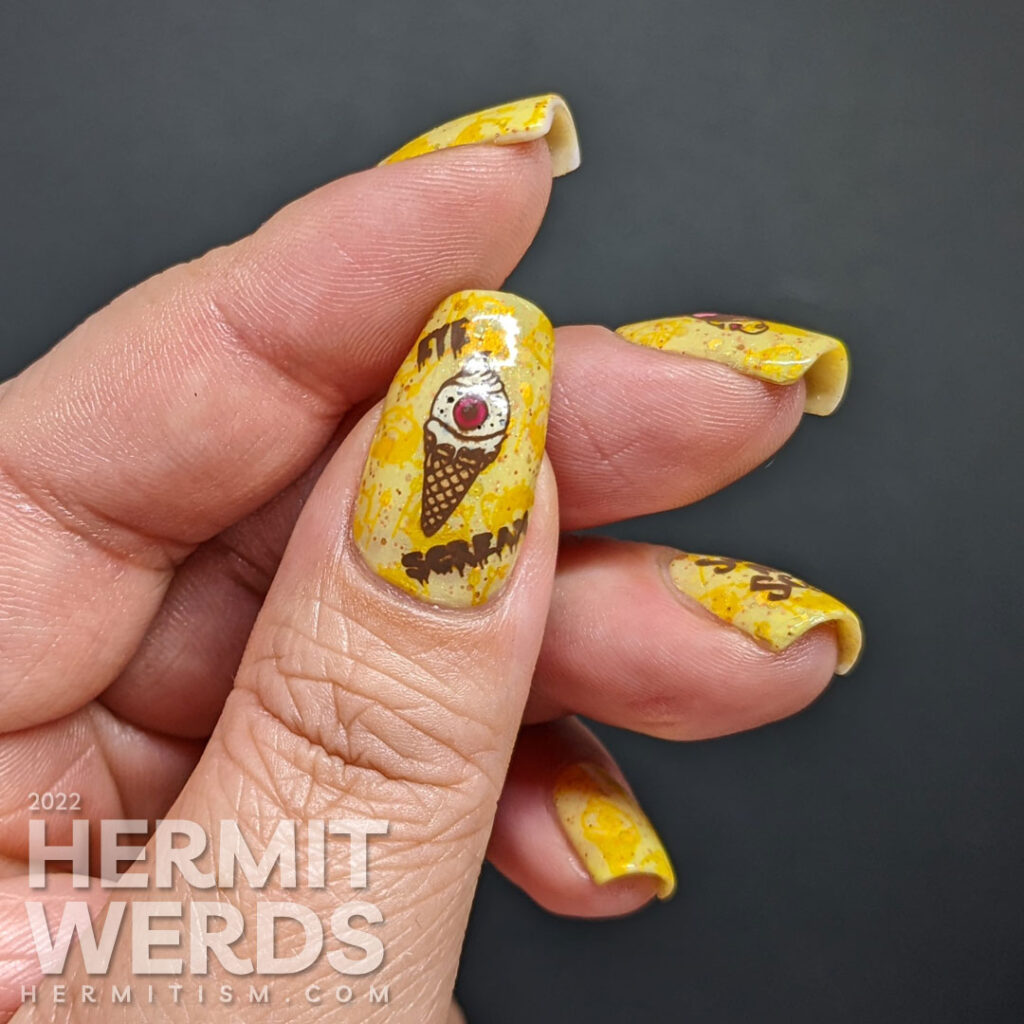 Nail art products used
Base Polish:

Moon Shine Mani's "Chica Loves Pizza Way Too Much"

Stamping Polishes:

Advanced Stamping Polishes:

Born Pretty's "Cherry Blossoms"; Familiar Polish's "Bespeckled"; Maniology's "Coconut" + "Latte"; and Sinful Colors' Demi Matte "RADiant"

Stamping Plate:

Hit the Bottle "Dreadful Delights"
Items in italics are debuting on the blog for the first time.
It always adds just a little bit to a nail art when the prompt and one of the main polishes I use match somehow. So I very happily used this Moonshine Mani polish called "Chica Loves Pizza Way Too Much" to fit the junk food theme and also because the color yellow makes you hungry. Red does too, btw. And now you should examine how many of the fast food joints you visit use these colors a lot. 🤣
Next time I will hopefully be painting pizza nails, but I'm not gonna say no to dessert today.
#AZNailArtChallenge – 'J' is for Junk Food
Mind you I am not in this collage since the time of the prompt is long since past, but I love what everyone painted so I thought I'd include it anyway. Some brand names. Some full meals. All junk food. 🤤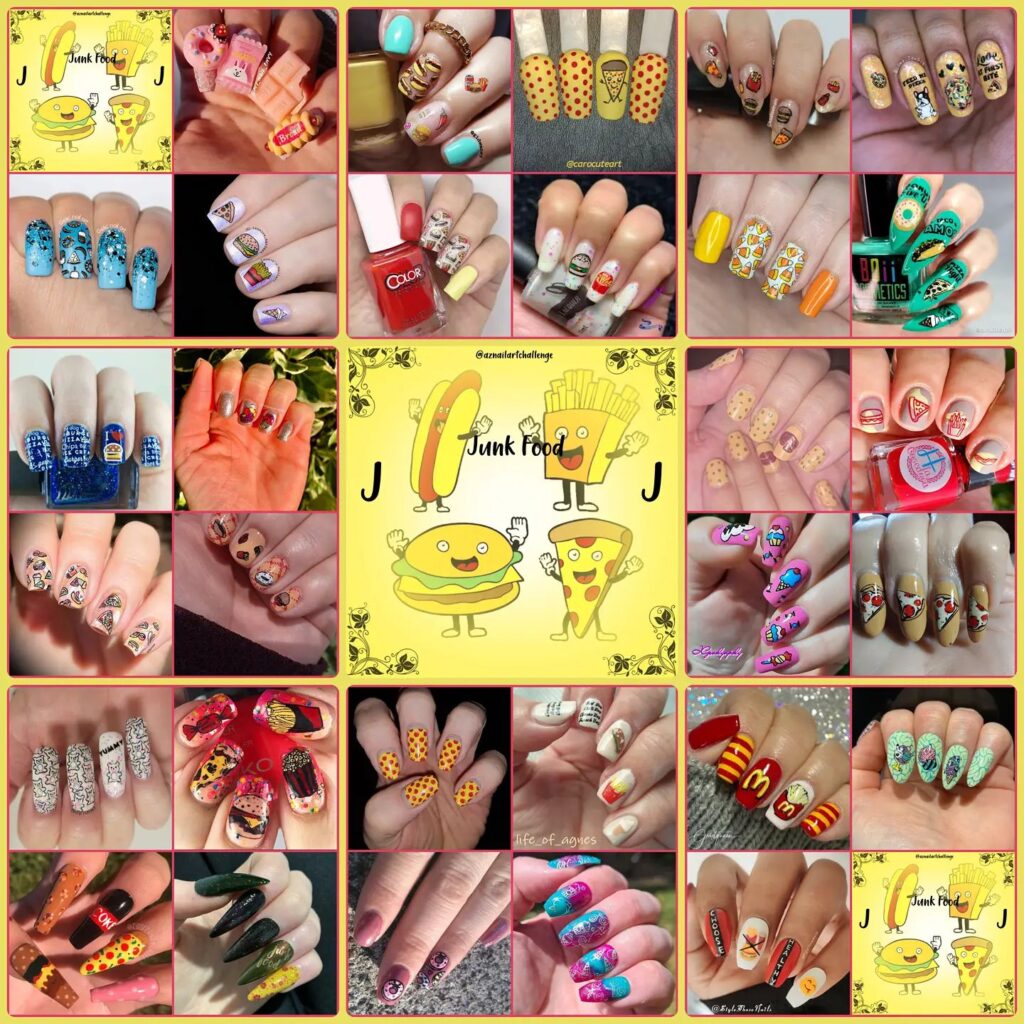 Junk food nails final photos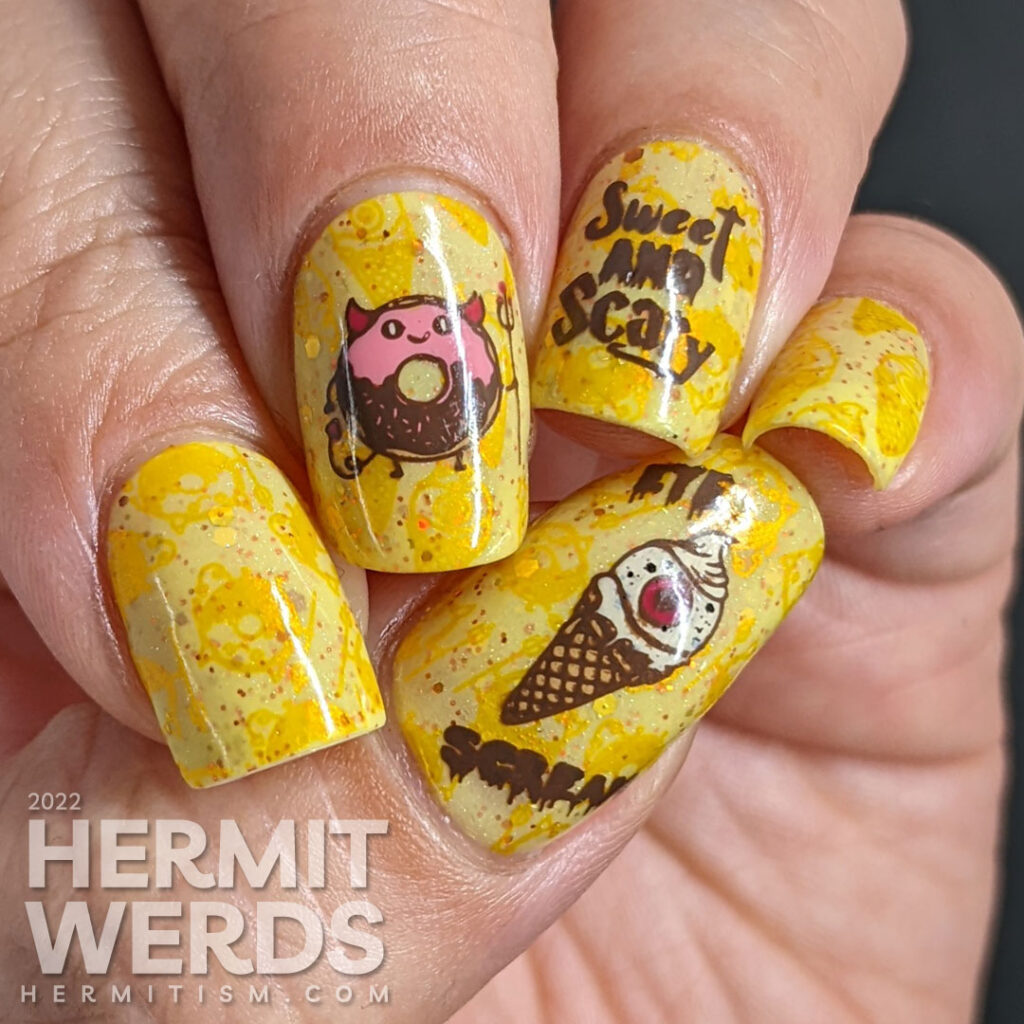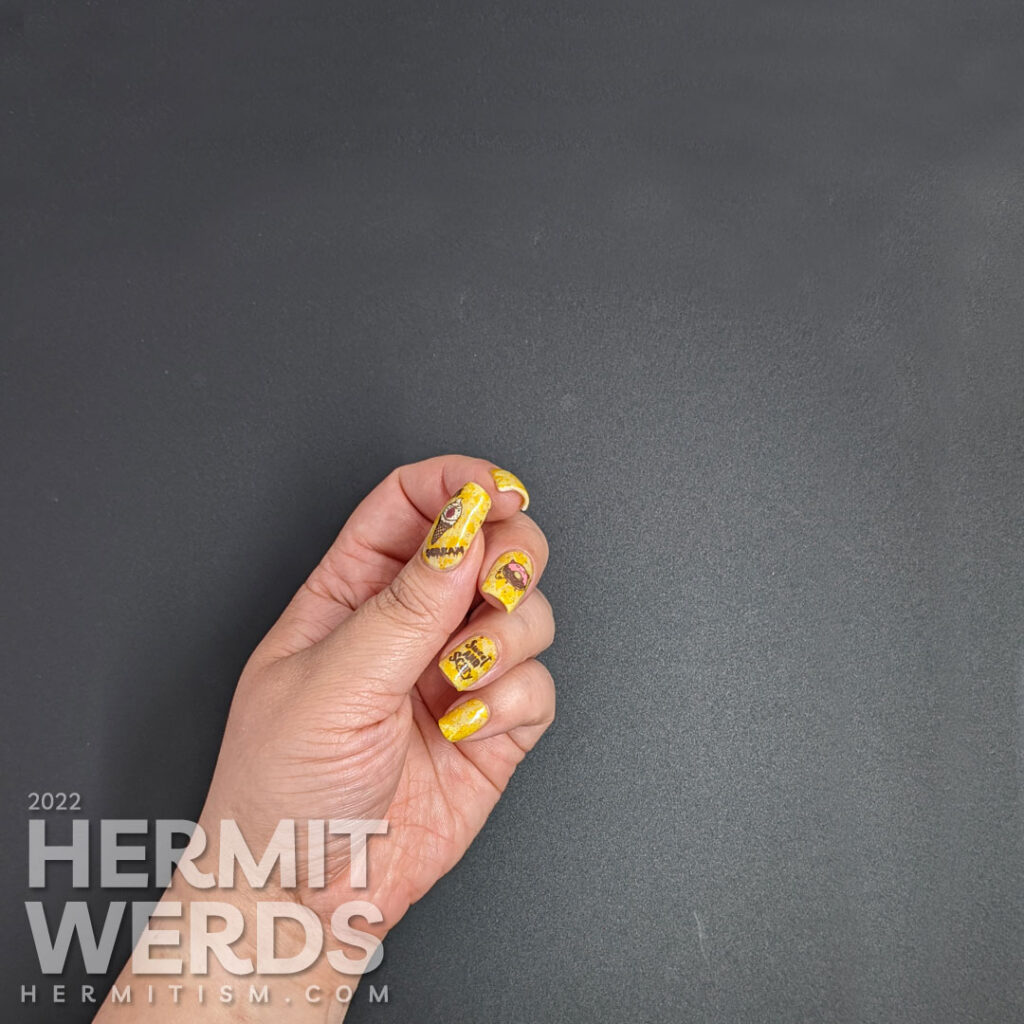 Until next time, friend! 👋