In the early 2000s shirts and stickers with cute animals saying or doing anti-social things got really popular. I remember thinking they were pretty fun, even though I was too cheap to buy my own. They're no longer mainstream, but, thanks to the internet, you can still own a "not listening" bunny t-shirt. Looking back, I wonder if they hit so hard because we were at the cusp of women (esp girls) being allowed to tell people (mostly men) to go away. There's still a lot of societal pressure to "be polite" to people that are stomping on your boundaries, but a lot more of us will cheer you on and wave NTA flags.
Anti-social stamping plates for the win
The FB group buy stamping plates that Fashion Disaster released really remind me of all that cool swag. In fact, her second release with two large plates of Tee designs straight out says "I don't do people" (and I just got my shipping confirmation for them *sqee*). Today's nail art is from her earlier release of Kawaii Halloween designs that's more focused on just the cute animals and not accompanying phrases. I love them. Morbid bunnies are good bunnies. More chainsaws, please.
Here is a link to the FB group. Mind you, I can only tell you I got what I purchased now; not that you will also have a good transaction at a later date when pre-orders are opened again. I noticed The Charity Box abruptly dropped off the face of the planet with the FB group deleted and no explanation as to why. Was it legal? Was it a fight that made someone want to Quit Right Now? I have no idea. Luckily it happened before I finished putting together a page linking to all these groups. If I'm not enough in the know to tell you why The Charity Box is gone, I don't think I can steer you right on these word-of-mouth FB groups. Sorry. 😟
Nothing like a little bit of murder bunnies to cheer me back out of that last paragraph. Am I right? 😆
Nail art products used
Emo Bunnies
Base Polish:

All Mixed Up Lacquers' "2 Sweet 4 U"

Stamping Polish:

Maniology's "Shattered"

Advanced Stamping Polishes:

Essie's "No Place Like Chrome", Frankensteined "grey french tip", Jenna Hipp's "Daft Pink", and Maniology's "Woolly"

Stamping Plates:

Fashion Disaster's "Kawaii Halloween-02" (knife and chainsaw emo bunnies) and Creative Shop's "200" ("how about never" and knifed heart)
Items in italics are debuting on the blog for the first time.
So…I adore this solar polish by All Mixed Up Lacquers. "2 Sweet 4 U" is a light pink indoors and a darker purple outdoors. I maybe should have found the time to take photos outside, but I was lazy and just used a UV light in my Shotbox. The polish transitions back really fast so all my photos are mid-returning back to pink with the UV light still on. 😆 And really they were part of a Valentine's Day duo and are all sold out so I probably shouldn't gloat about how much I lub it and it is my precious. (*pst* I used the other polish here.)
Anyway…Instagram prompt for emo bunnies. Anti-social bunnies felt like it fit the bill. Pairing it with an extra cute base polish felt like the only thing to do. Awesome anti-social phrase from Ukraine-based indie stamping plate maker Creative Shop made my life feel complete.
I would not have guessed it and it certainly wasn't advertised this way, but the base polish turned out to look awesome under a UV light! I mean…it's not glow in the dark, but I'm a little sad I didn't know about the UV thing prior because I would have filled in my decals to capitalize on this. Next time…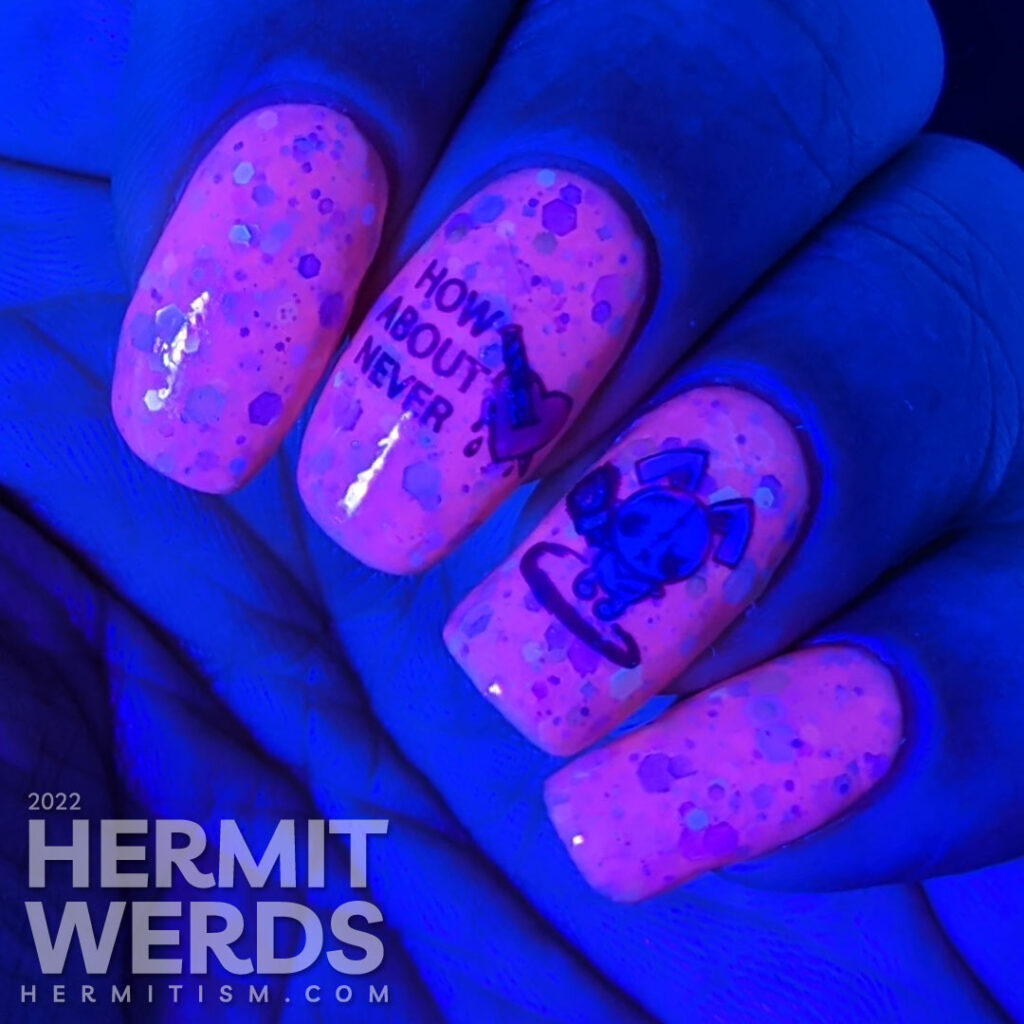 Some final photos. Yeah, the polish is already separating on my pinkie finger. I use a peel off base and got too close to the nail's edge on my flimsiest nail. My bad.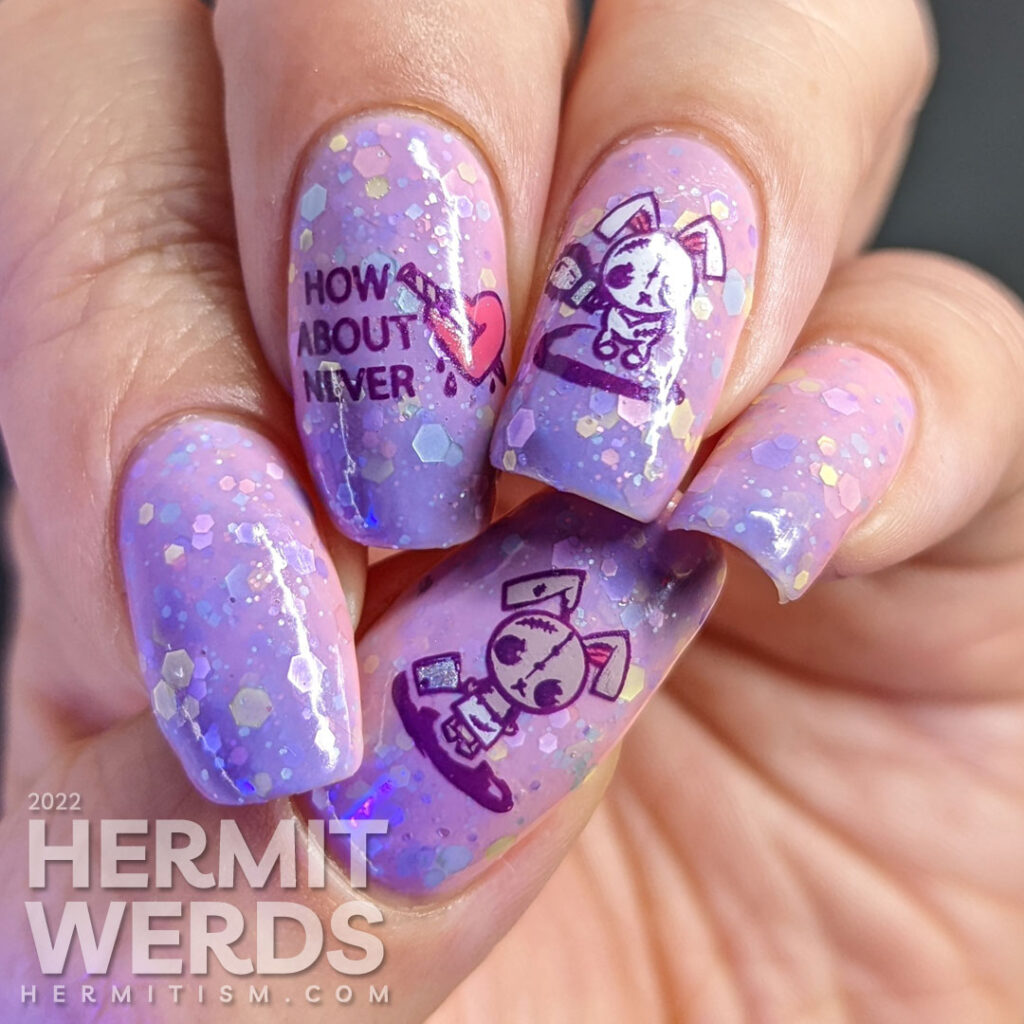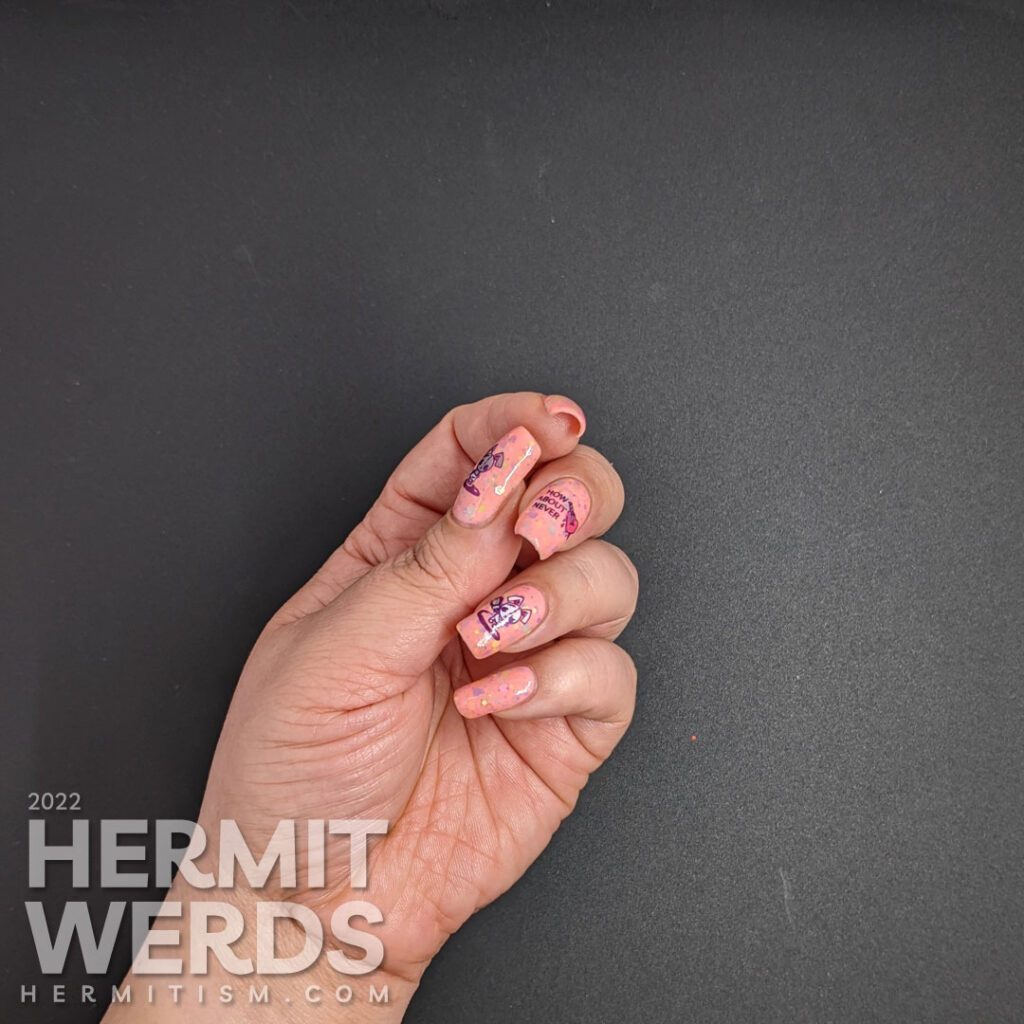 Until next time, friends! 🙋‍♀️