Negative space ghost images are fairly common on Halloween-themed stamping plates, but I hadn't gotten around to using any of them until now. I bracketed my inner-nail ghosts with the negative space stamping. But this mani really became extra special because of the indie polish I used as the base. It's sun/UV reactive and a solar polish!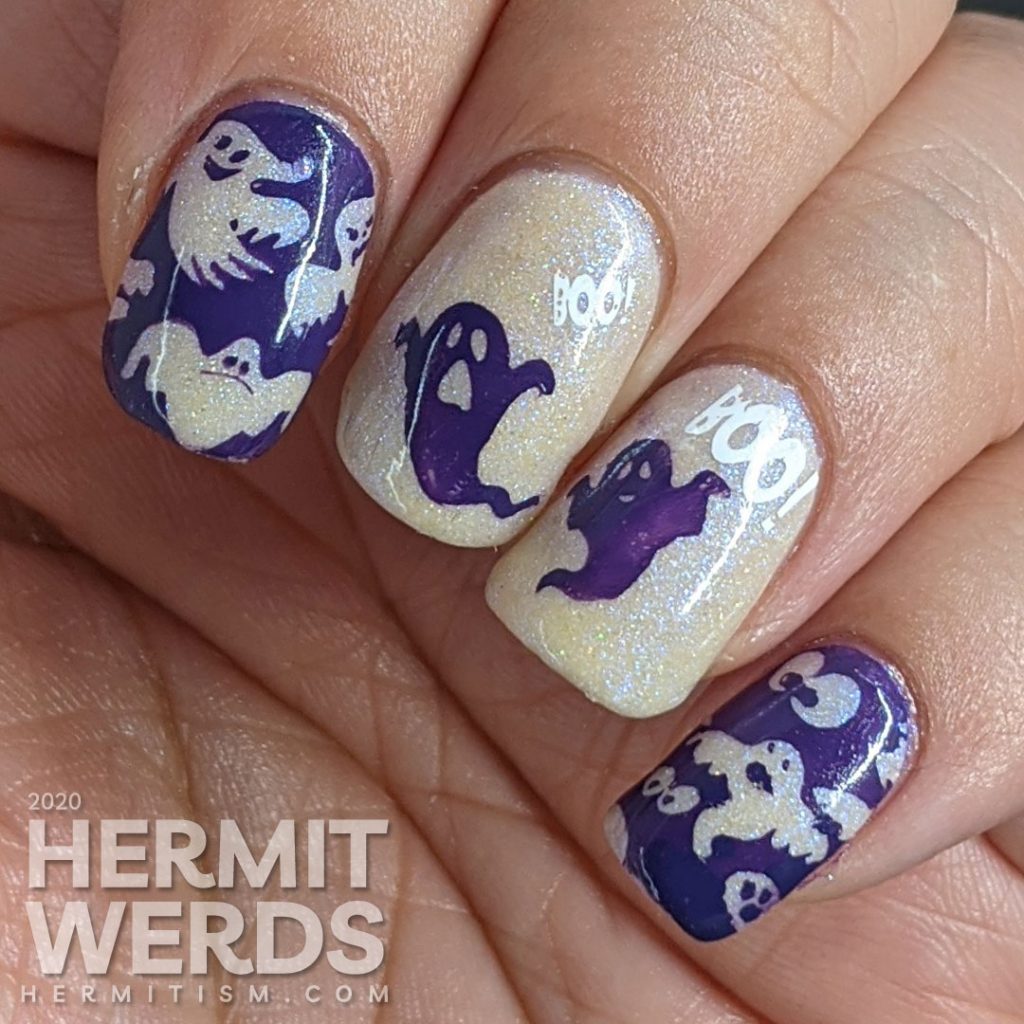 ---
Interlude from nail art's past…
Purple and white is such a fun color combo. I was pretty sure I'd painted another Halloween mani in these colors before and I had in 2018. Lots of bats and a gorgeous purple jelly filled with glitter…
---
Now back to the ghosts… 👻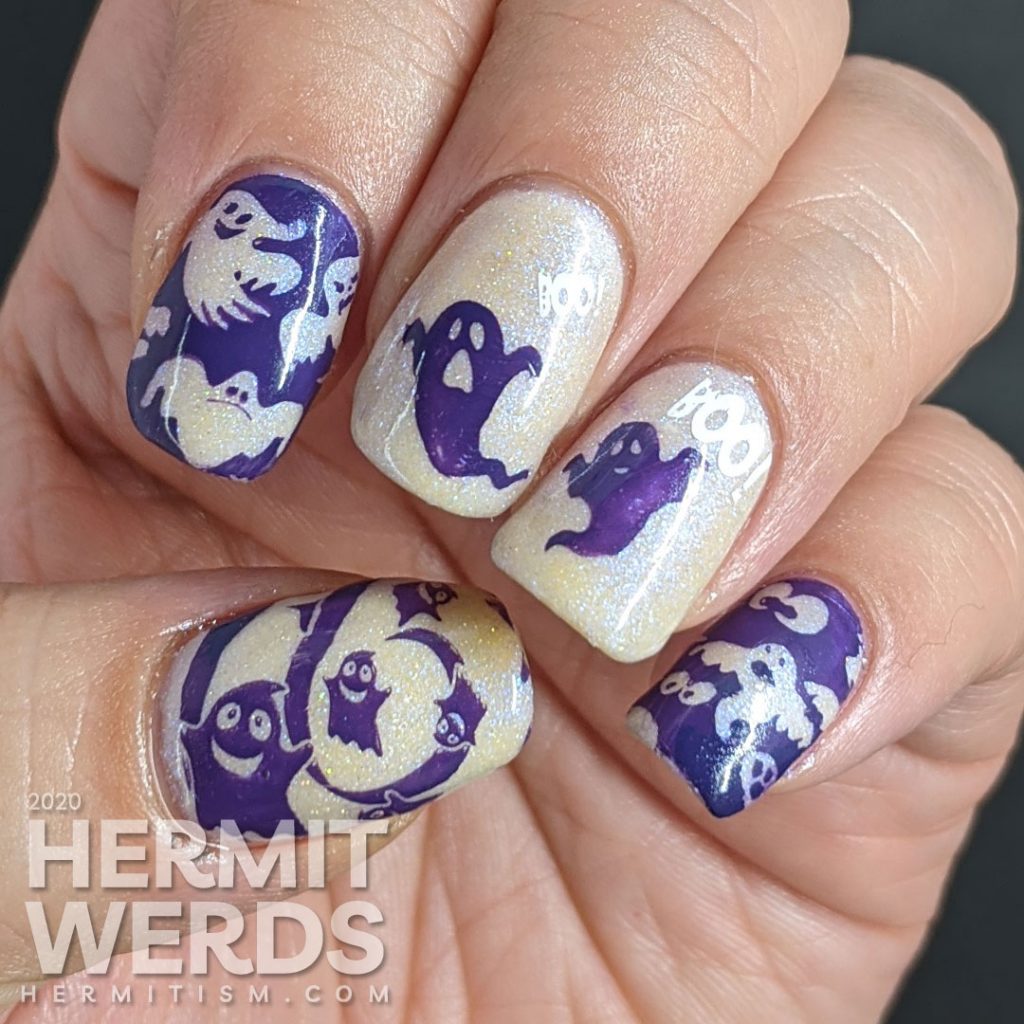 Products used
Base Polish:

Lucky 13's "Can I Keep You"

Stamping Polishes:

KADS' "07 Purple" and UberChic's "Essential White"

Stamping Plates:

DXE23 ("boo"s), Esmaltes da Kelly All Hallows' Eve, hēhē hehe-57 (ghosts), and SPH-008
Since the base is sun/UV Reactive, I thought I'd add a few "Boos" that would really show up at glow time. But it turns out the polish really is rather off-white when placed next to an ultra white stamping polish so it became a cool accent in all circumstances. Including when the base polish turned blue when exposed to solar light.
Only the blue solar effect stopped working when I topped everything with my usual Seche Vite top coat. I peeled it all off my nails and checked to see if the opposite side would still turn blue under my UV lamp and it did. So…something about my top coat destroyed everything. 😭
There will be more glow-y nail art. We will try to have it all again next mani! *shakes fist*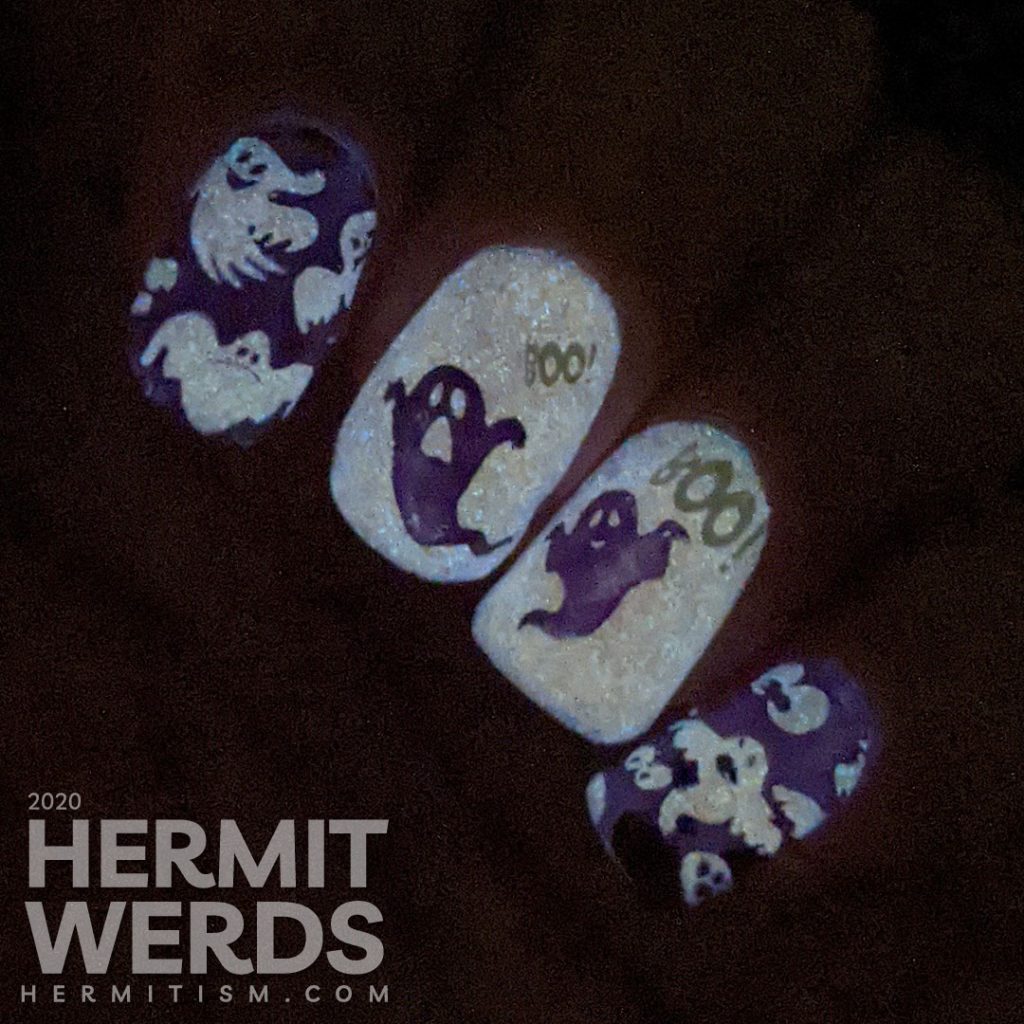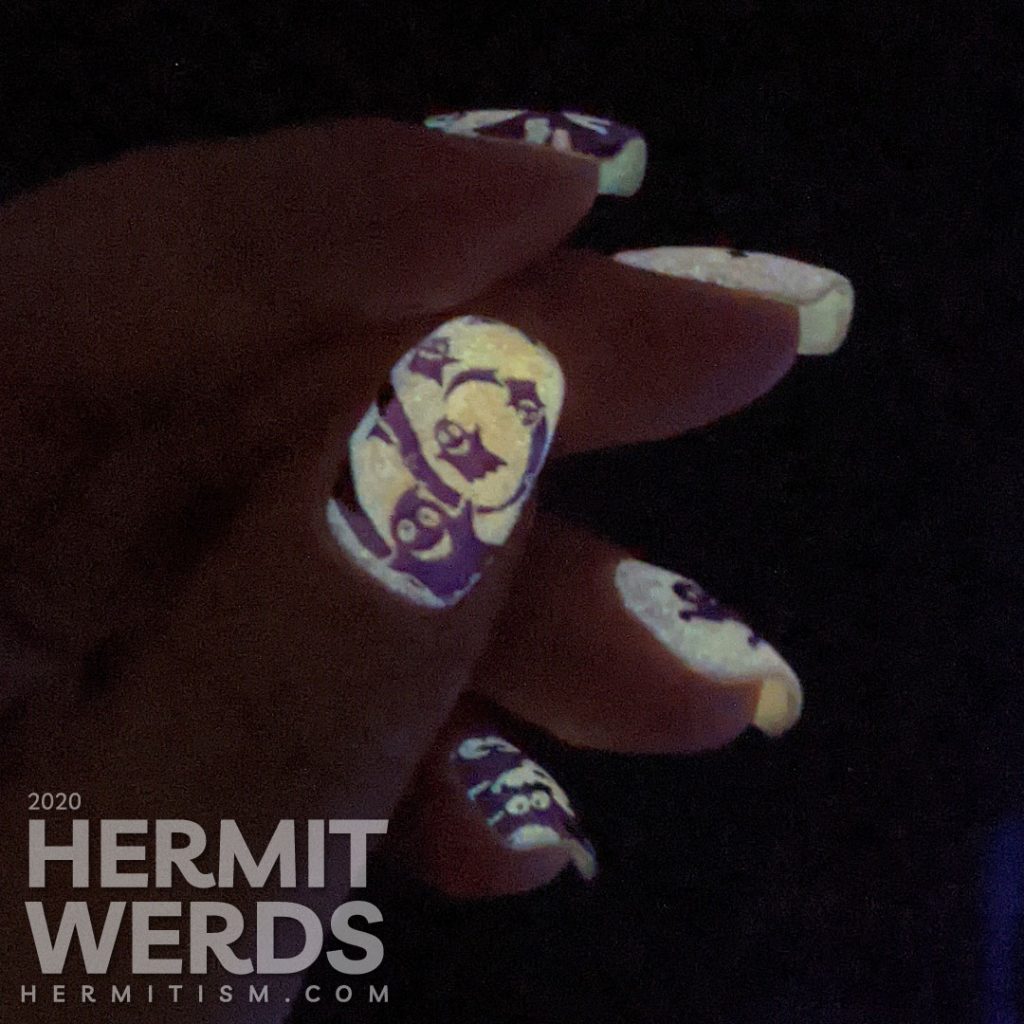 Now you can't see "boo". Heh. But the rest of the design is quite bold and holds up at more of a distance.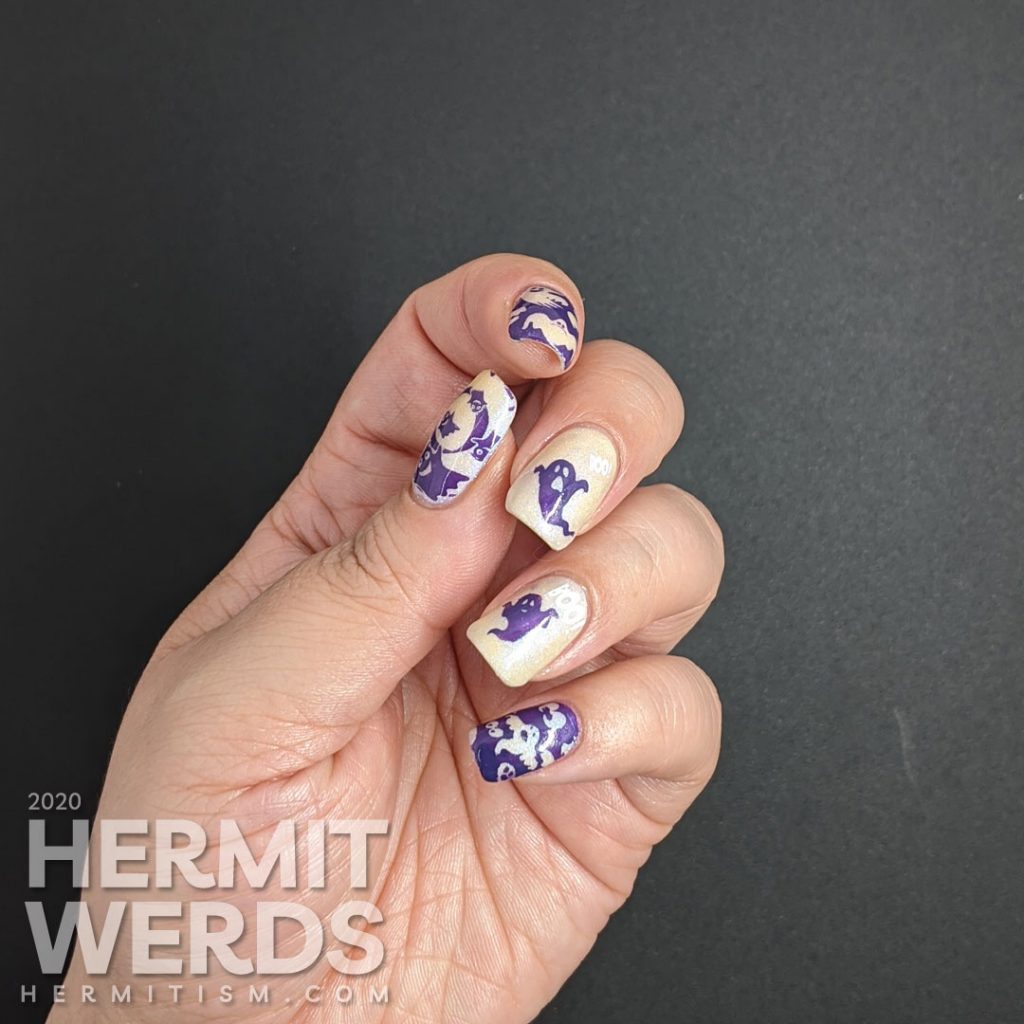 'O' is for October collage
It has been a while since I participated in the #AZNailArtChallenge. It was at 'D' is for Dandelion and I had just enough juice left in me to finish and turn in my mani. So I'm in the collage, but still haven't posted it to the blog or Instagram. Another lingering to-do from earlier this year…
Since the theme was October and not Halloween, we got quite a mix of different manis. Check out all the lovely nail art on the group tag. Oh, and, the next prompt is 'P' is for pumpkin if you're interested in participating.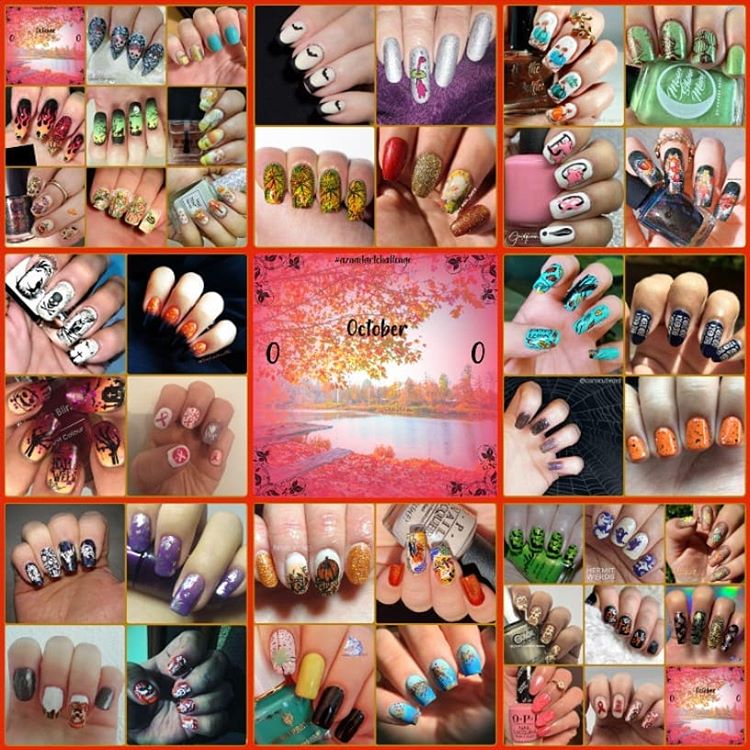 And that's all I have for today, friends! Hopefully I'll have time to put together another nail art post for tomorrow! 😅