Today's look was inspired by one of my Instagram friends who passed away on January 20th. Donna was a wonderful, sweet friend and I am among many who will miss her. But also, happily, among many who will remember her. Which is the gift that social media has given us: the chance to meet so many people who we'd never know otherwise that enrich our lives.
Donna Wooley Karl
Social media also allows us to leave a digital legacy behind. Donna's work can be found here: @dwooleybooger (nail art), @blueyesandgray (makeup), and Itty Bitty Nails (blog). Donna's amazing fortitude and resilience is a lesson to take to heart. I tend to disappear off of the internet when I'm not feeling well. She was starting a Facebook page to normalize her health problems and discuss how society can treat patients better.
Donna had been focusing on makeup/advocacy in the past year, but her nail art favored florals and butterflies so Valerie (@vjoysnails) and Darlyn (@gridqueen) put together a collab to celebrate our friendship with her and mourn her passing on that theme. Many of us also decided to use a magnetic polish because Donna loved them. Check out the group tag to see everyone's nail art for our beloved friend.
My magnetic tribute
Florals, check! Butterflies, check! Magnetic, check! Remembering a good friend, check!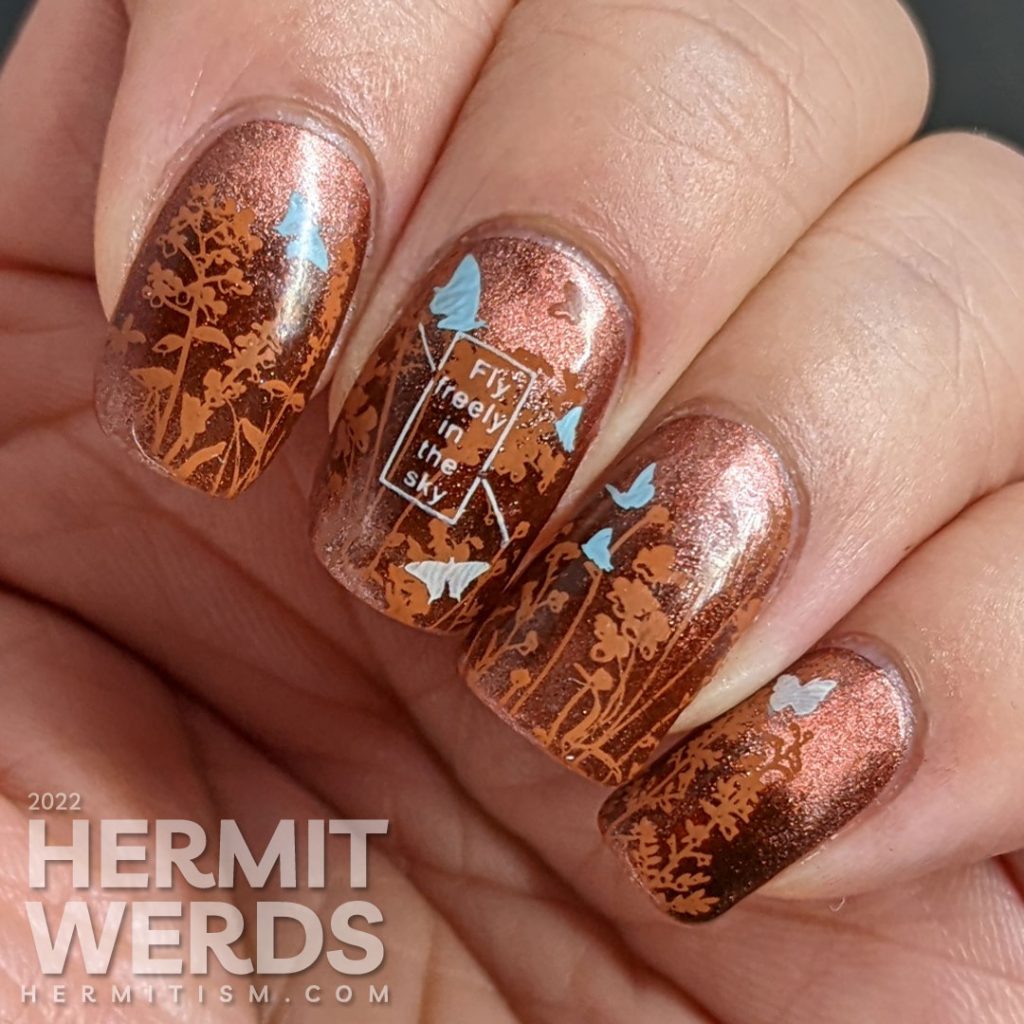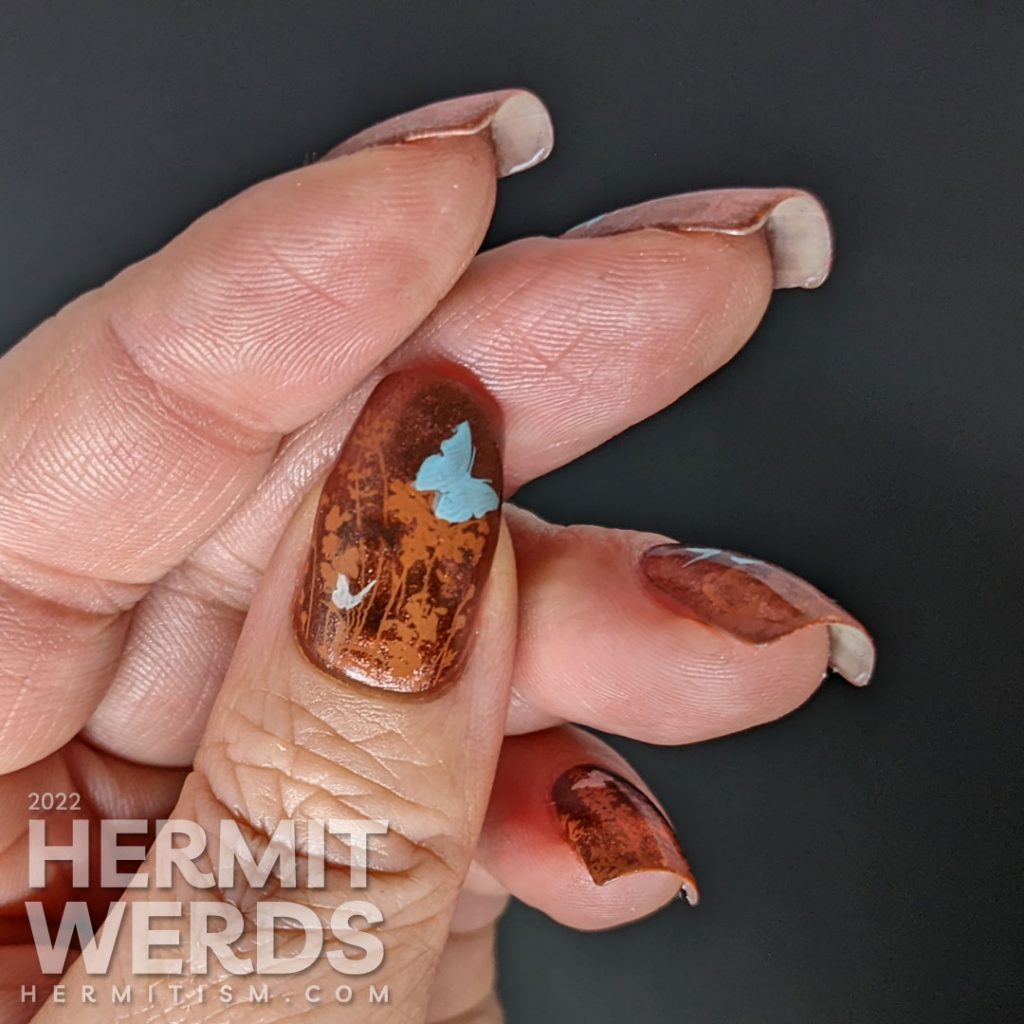 Nail art products used
Base Polish:

Magna Nails' "Copper"

Stamping Polishes:

Stamping Plates:
Before the blog, I purchased a few made for tv magnetic polish sets that would pop up in weird places like Bed, Bath, and Beyond. And I used them. Badly. I wanted to paint a tribute worthy of Donna's love for magnetic polishes so I made myself take the time to learn to use my "magic" magnetic stick. Branching out from the simple cats eye magnetic look allowed for a deeper color at the tips of my nails which highlighted the simple floral stamping perfectly. Seriously, this short little video has made all the difference.
And, really, that's why I've used so many magnetic polishes lately. Because I painted this as soon as I heard about the collab and it made me a lot more excited to use mine.
A look at this as purely floral nail art (not that the butterflies hide much), but I am trying to remember to take more progress photos:
And even more photos because this really has been my favorite floral nail art in a long time.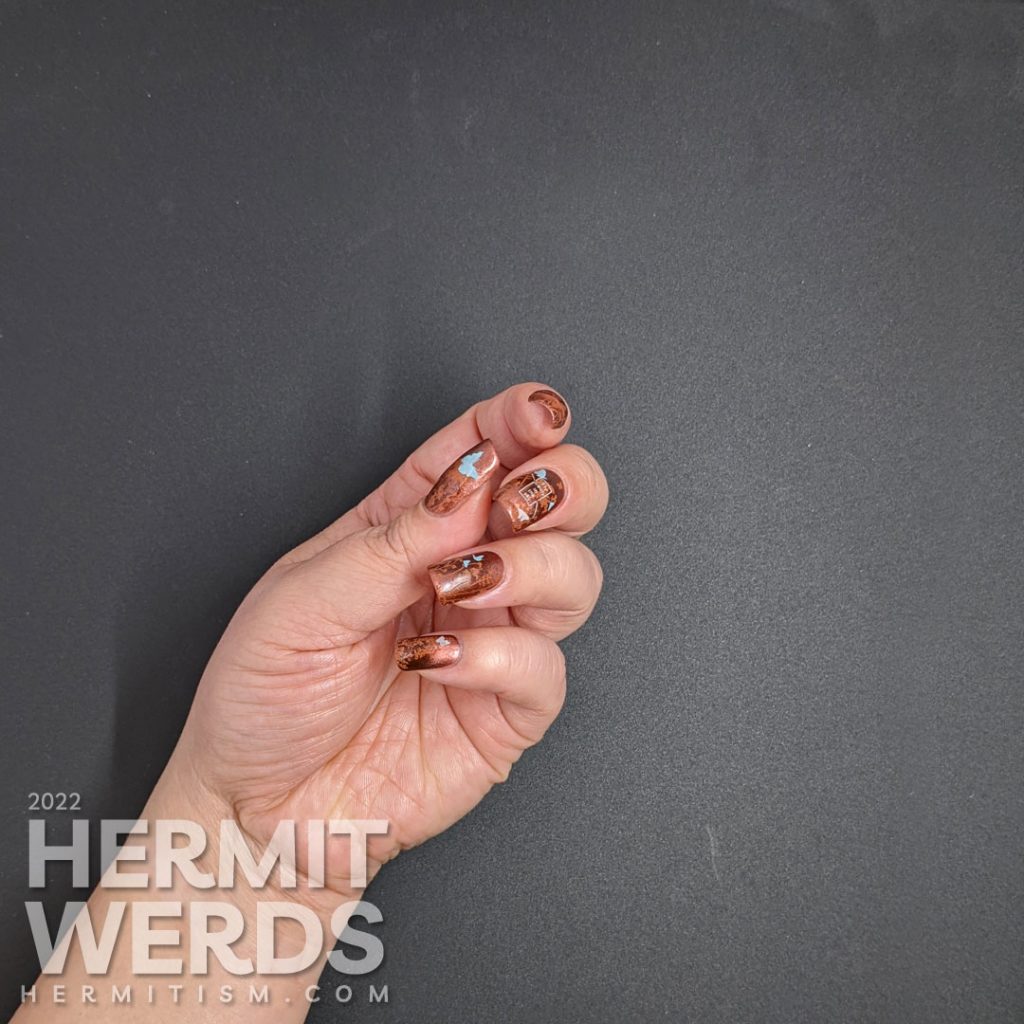 Good-bye, Donna. You are loved and remembered. 💕