Today I have a simple nail art on top of a gorgeous nearly-neutral jelly polish. It's been the first time in a long while that I have combined two nail art challenges, but the fall color scheme from #pantone2020winterchallenge fit well with #aznailartchallenge's 'P' is for Pumpkin prompt. Plus I had a new stamping plate from Maniology's Mani X Me box from October 2020 that had a few cornucopia images with pumpkins. A perfect fit!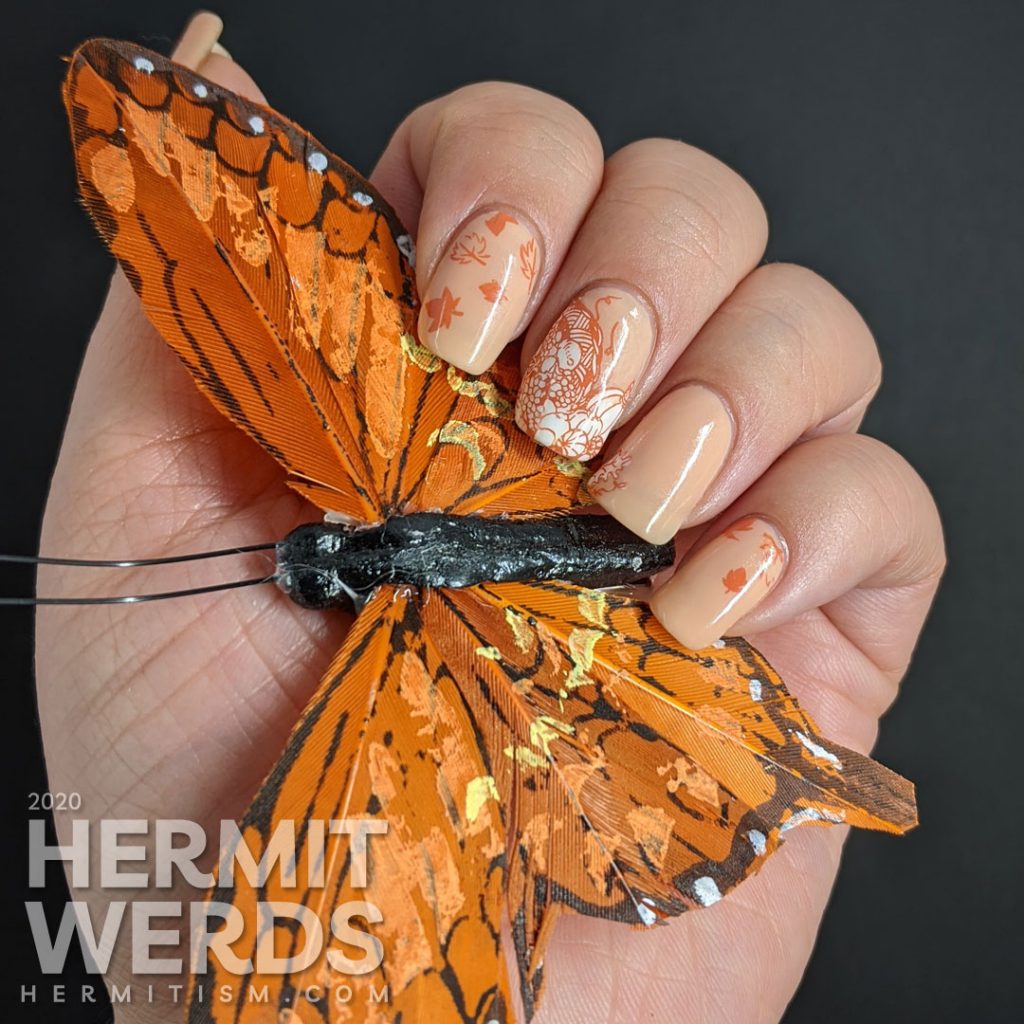 #Pantone2020WinterChallenge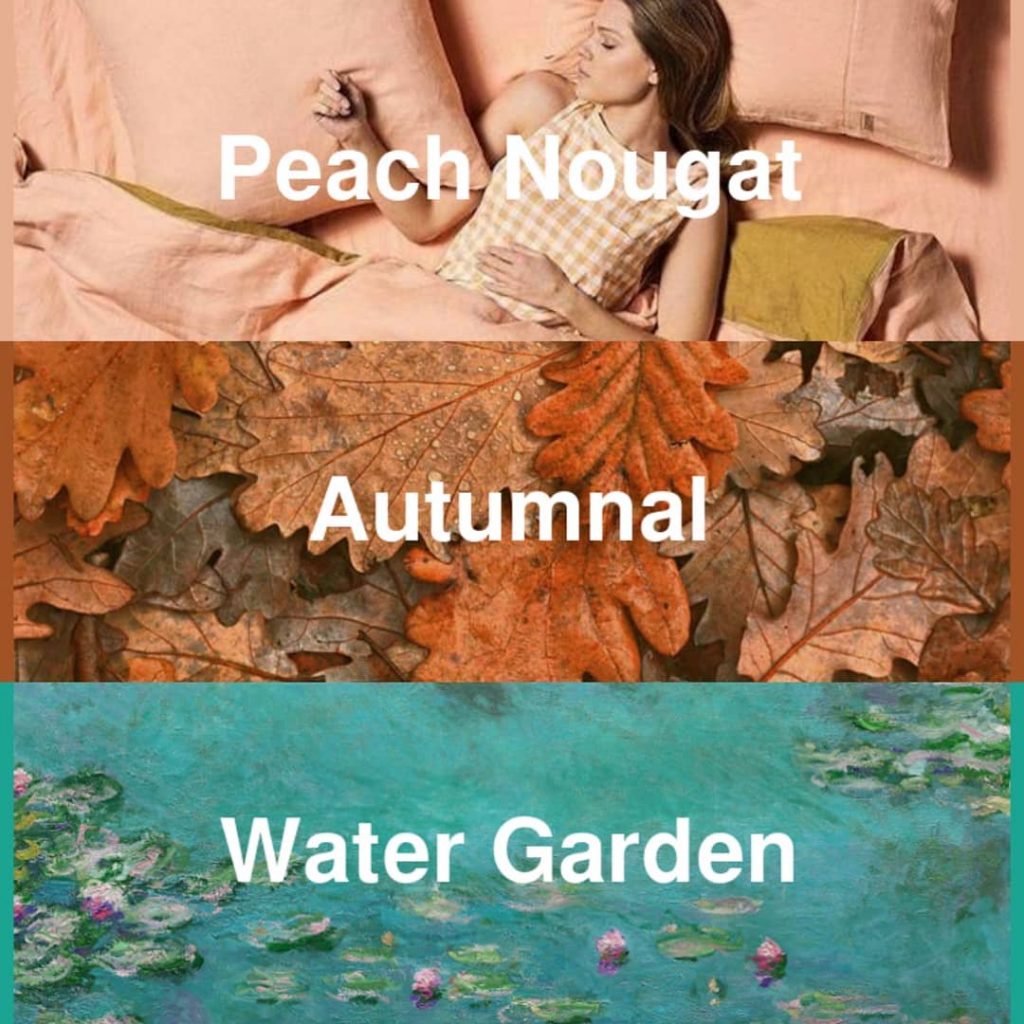 Ine's equipment is giving her trouble, so I'm sorry to say we don't have one of her gorgeous collages for the main color: Pantone's Peach Nougat. It's so lovely and soft. I was happy to find I had a perfect fit for it in a little bottle of jelly polish from Nee Jolie. They don't use names for their polishes so we'll boringly refer to it as NJ-005. 😜
Secondly I matched Autumnal with a great darker salmon stamping polish from KADs called…"Salmon". I've been buying and using more of their stamping polishes. They work quite well and have special caps with built in polish "pens". I expect I will be getting more during China's Singles' Day sales (Nov 11th). Ah, November. The glorious month of greed. 🤣
I did have a few polishes that could have matched with Water Garden, but I liked the dynamic I had so…
Nail art products used
Base Polish:

Nee Jolie's "NJ-005"

Stamping Polish:

KADS' "34 Salmon"

Advanced Stamping Polish:

L'Oreal's "à la Meringue"

Stamping Plates:
I'd originally planned to throw a matte top coat on and fill in the off-white areas with a tiny bit of watercolor pigmentation, but I kind of liked how simple this all looked so I decided to leave well enough alone.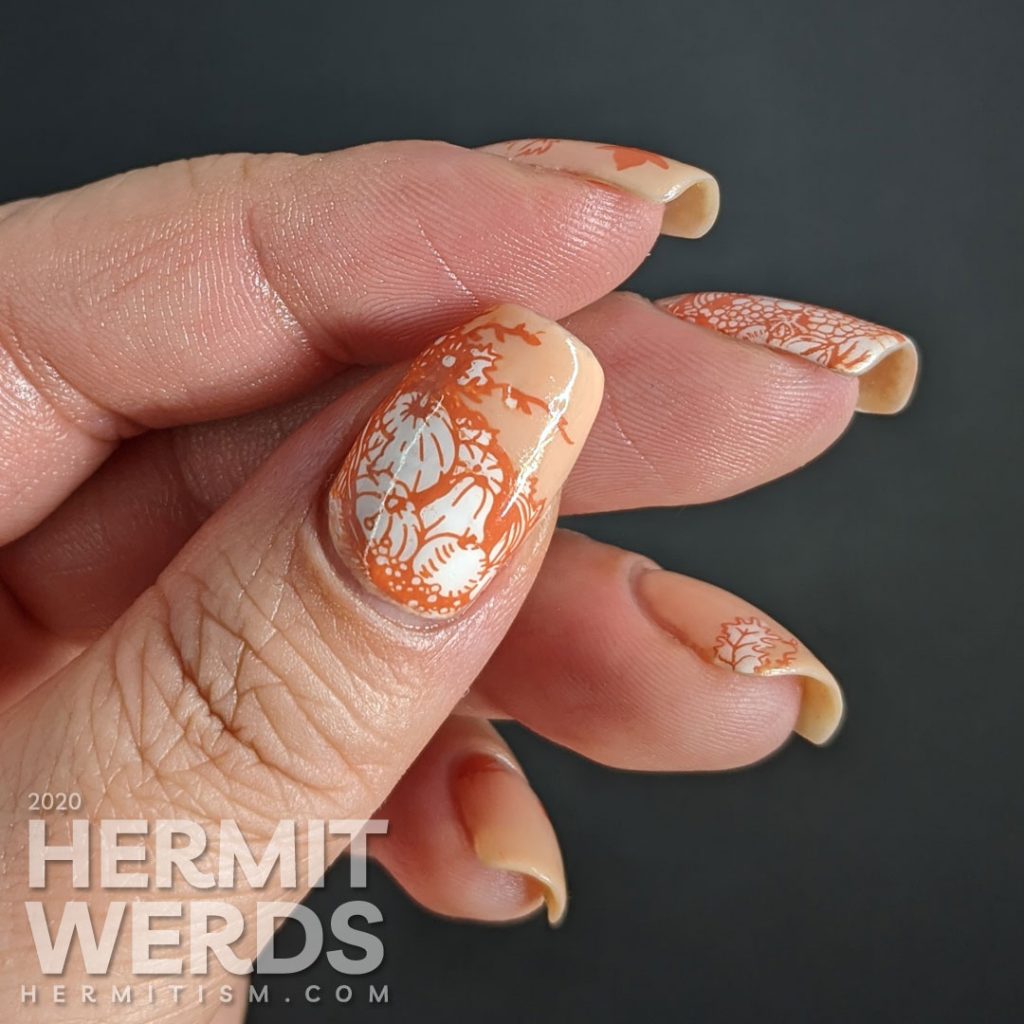 You can definitely tell the base is a jelly polish on my ring finger in this photo. Visible nail line (after four coats!) is small price to pay for such a lovely squishy finish. I love jelly polishes! 😍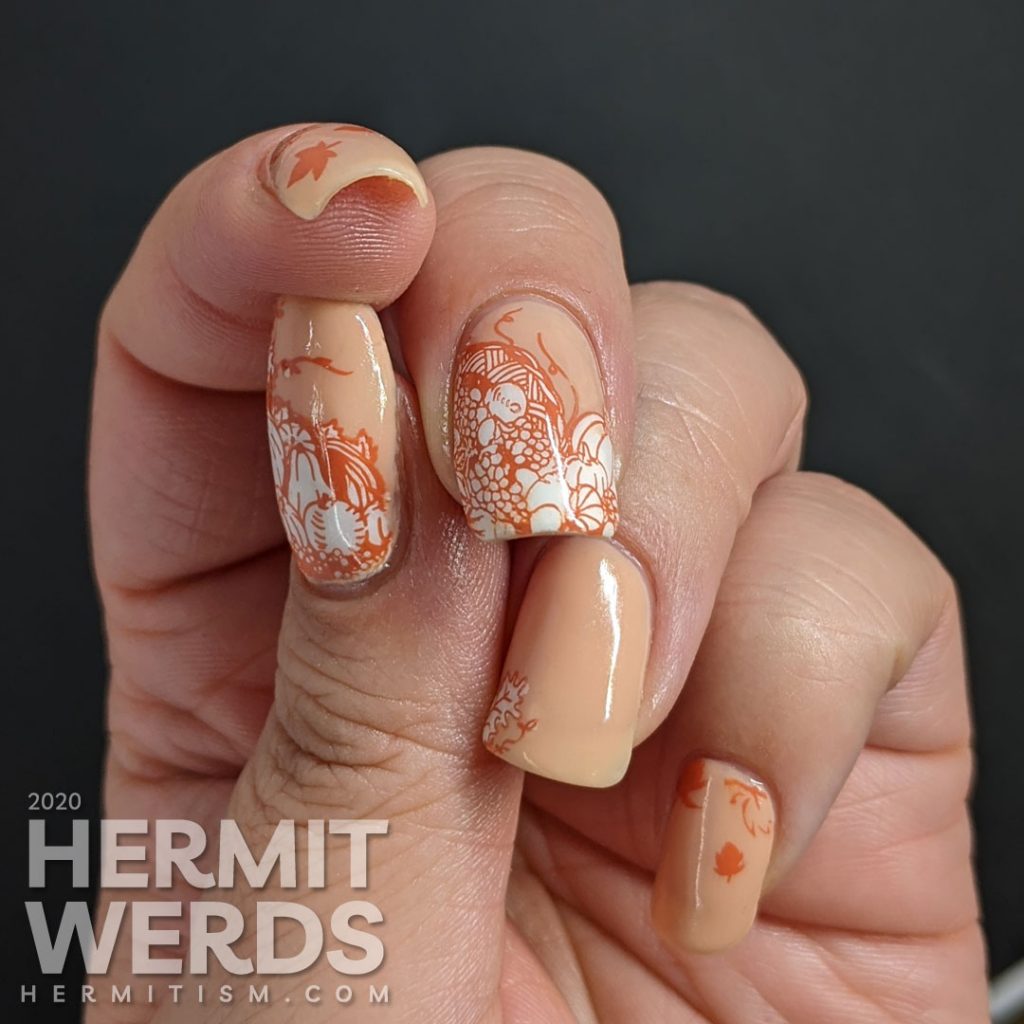 Sadly the design doesn't translate as well from a distance. Too much detail for the harvest images. The leaf-y nails still look great though.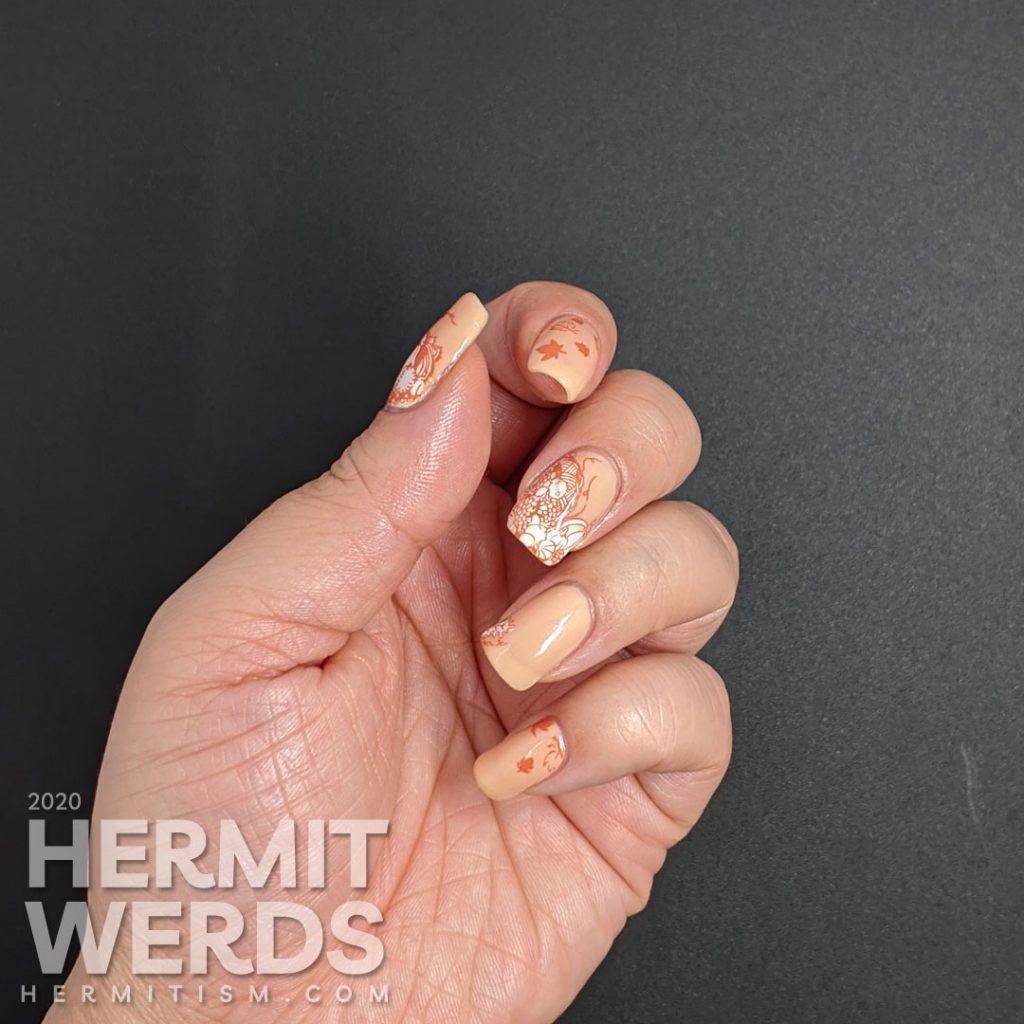 #AZNailArtChallenge collage
And finally we have the lovely collage of all the pumpkin nail art. Gorgeous! You can see that several of the ladies were still feeling the Halloween spirit. I suspect I would have been with them if I hadn't already shared a Jack-o-Lantern nail art this year. Check out the group tag to see everyone's lovely manis up close!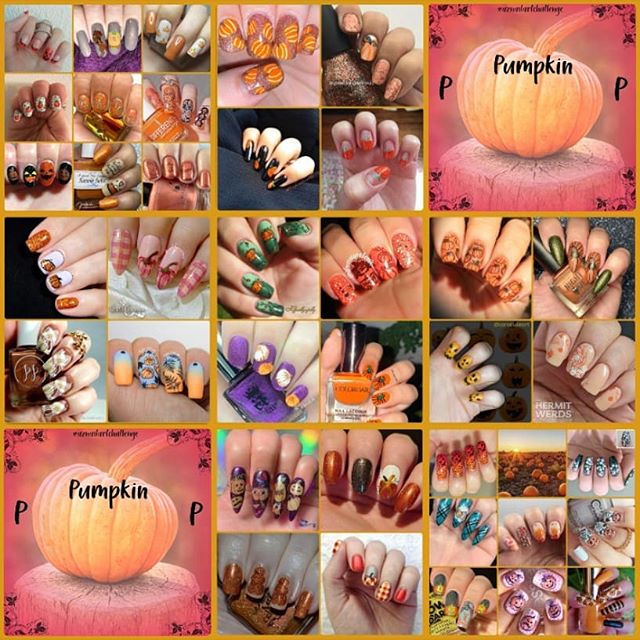 That's all for today! I hope you're all able to enjoy the lovely fall weather (if it's fall by you). I know I'm trying to enjoy it while it's nice. 😂