Inktober 2020: Week 1 | Week 2 | Week 3 | Week 4 | Week 5
I can't believe Week 4 is over! Subject-wise I was all over the place, but I still went with a lot of animals like scorpion and lobster which are both part of the Phylum Arthropoda (which I love). I also went with a fable reference, which is something I like to do every now and then. Also, the Tangle Reference page has been updated again if you're wondering what pattern is what. But first…let's go with a little personification…
19. Dizzy
This is pretty much one of the first ideas that fell out of my head so I went with it. I actually love the teacup ride. If you and your fellow passengers time throwing your weight around at the right moments you can get an amazing amount of spin that can be just as sensational-y fun as a rollercoaster. Plus the lines are shorter. 🤣
For the tangles I used a familiar tangle (Courant) with a dessert-inspired tangle called Barquillos by Maria Tovar.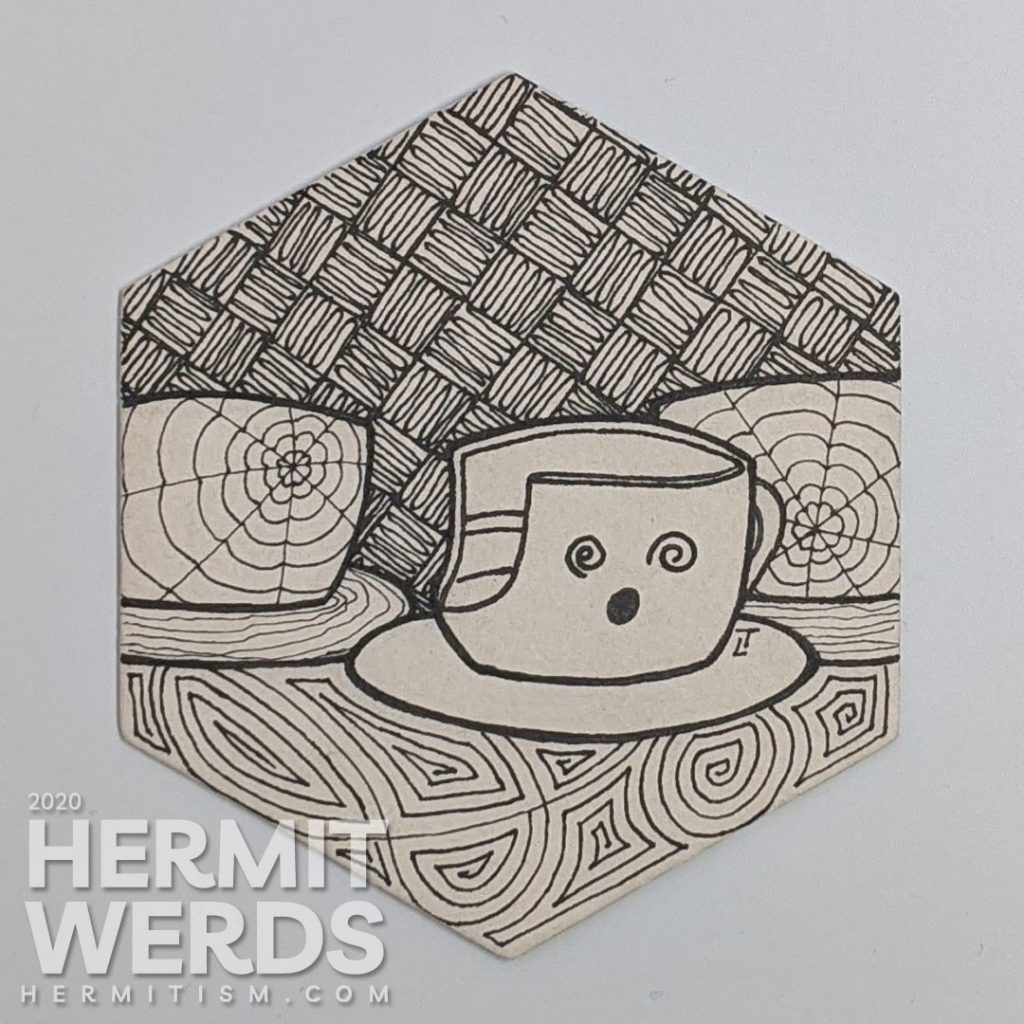 20. Coral
If this were a nail art challenge, the prompt would be very easy for me now that I've gathered a lot more coral nail polish. Instead I had to dig deep because I didn't feel like drawing ocean coral. I decided to go with the little critters who make the coral. Introducing: polyps. Here's a National Geographic video that's a little simple, but I good introduction to how teeny tiny polyps have made something as large as the Great Barrier Reef.
For the tangles I used a familiar tangle called 'Nzeppel and a new one called Equerre by Geneviève Crabe.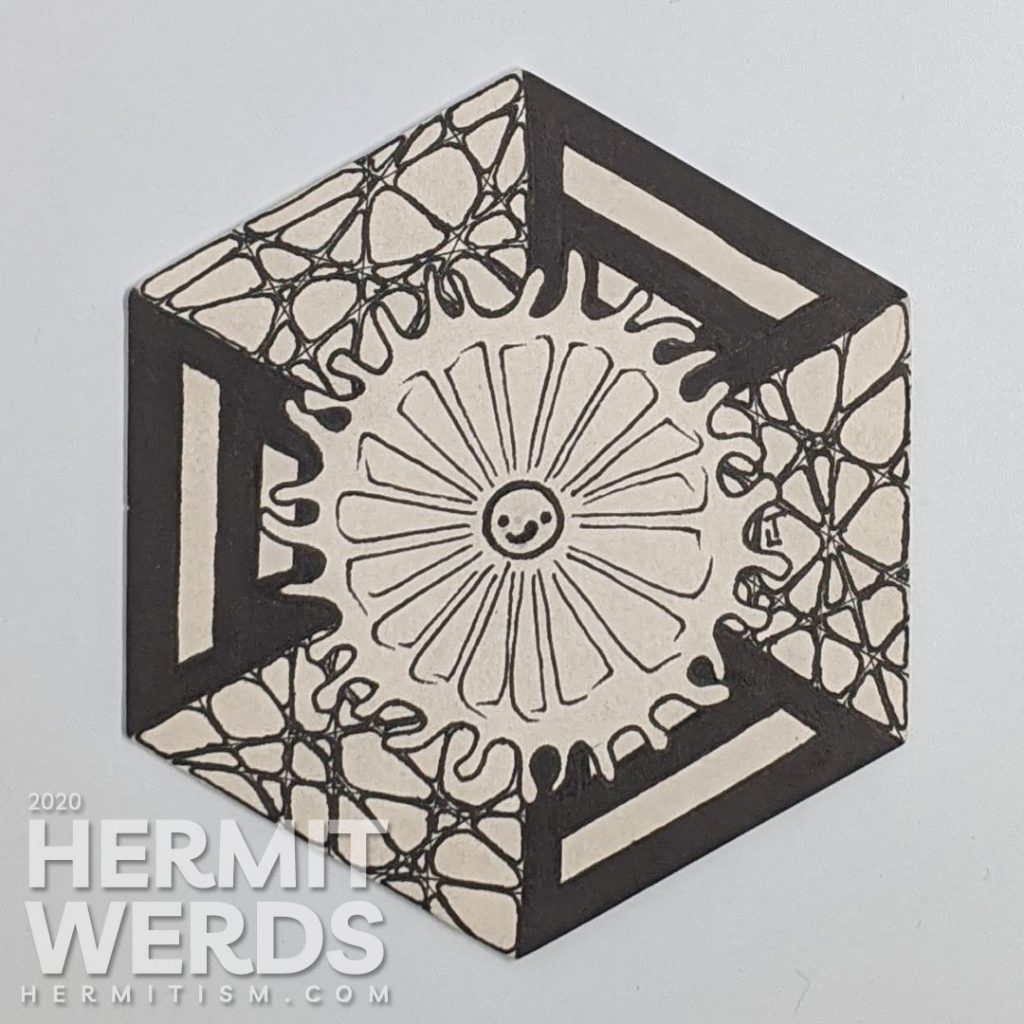 21. Sleep
Nothing is cuter than a tubby cat drawing so that was my subject of choice for drawing something sleeping. I also kind of love how the tangles made great patterns for the pillows our kitty friend is snoozing on.
For the tangles I used two familiar tangles: Jonqual and Hibred. Then I used a tangle I'd learned previously but not used yet called Centipede.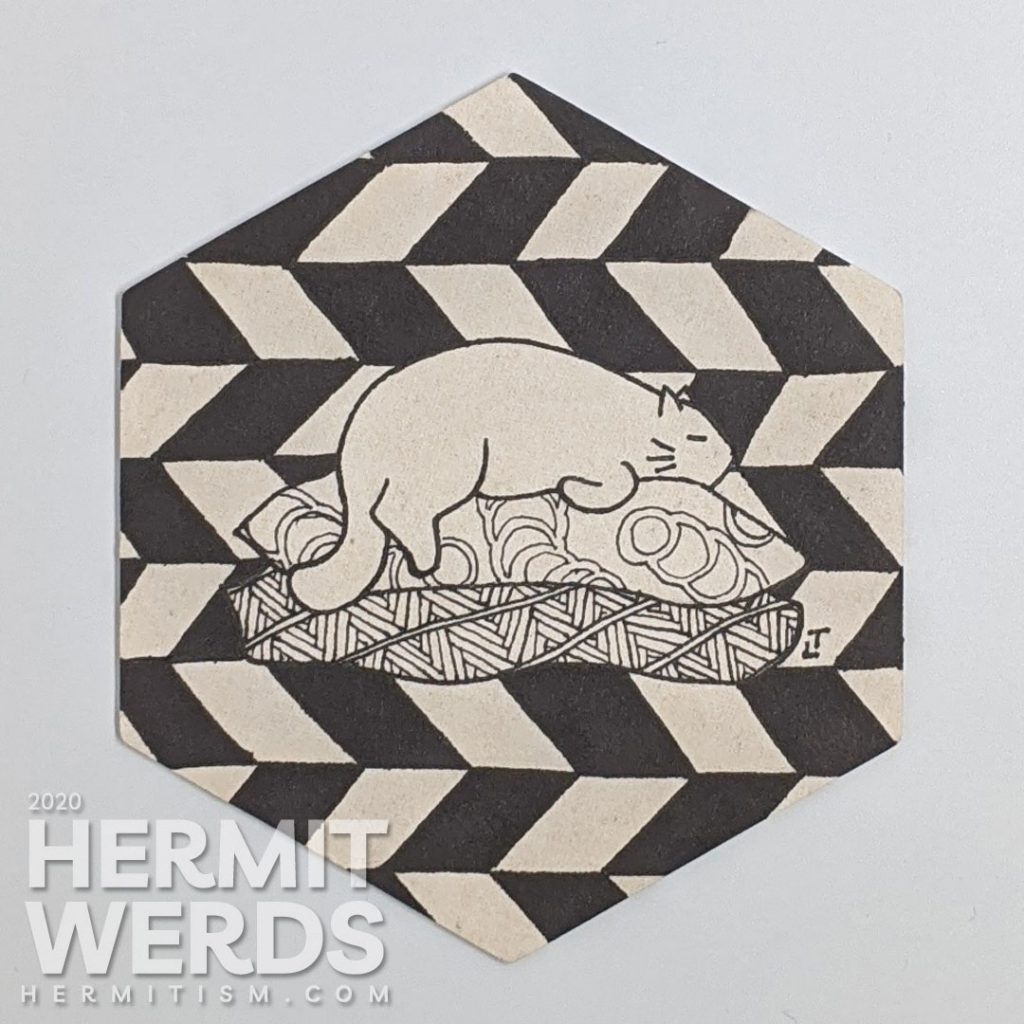 22. Chef
Somehow my brain translated the crab (Sebastion) vs chef scene in The Little Mermaid into a lobster chef. I got nothing. I really had to lean on Angela Nguyen's How to Draw Cute Animals book to keep myself from overcomplicating this drawing because I just wanted to draw every little tiny limb and whisker. Lobsters are so cool!
For the tangles I used only new tangles on this one: Kelp by Nancy Domnauer and Banderole by Lizzy Mayne.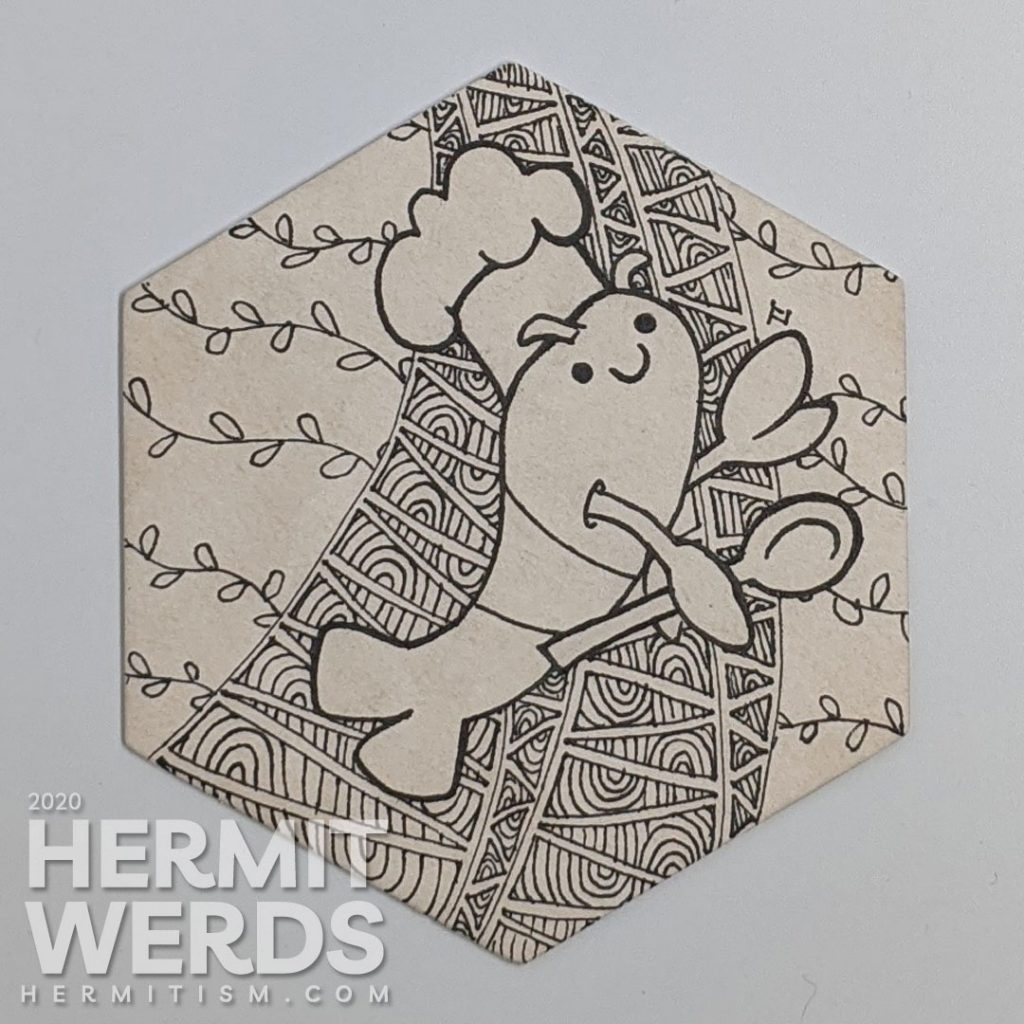 23. R.I.P.
I know it's Halloween and drawing something Halloween-ish would have been a pefect fit for R(est) I(n) P(eace), but let's be honest. It's me and this prompt could also mean just rip. As in farting. So that was what I was going to go with, but then I sat down and realized…I love sleep. So I murdered an alarm clock instead. Rest in peace, little buddy. 😢
For the tangles I used only new tangles on this one: Lettuce Farm by Suzanne McNeill and Indy-rella.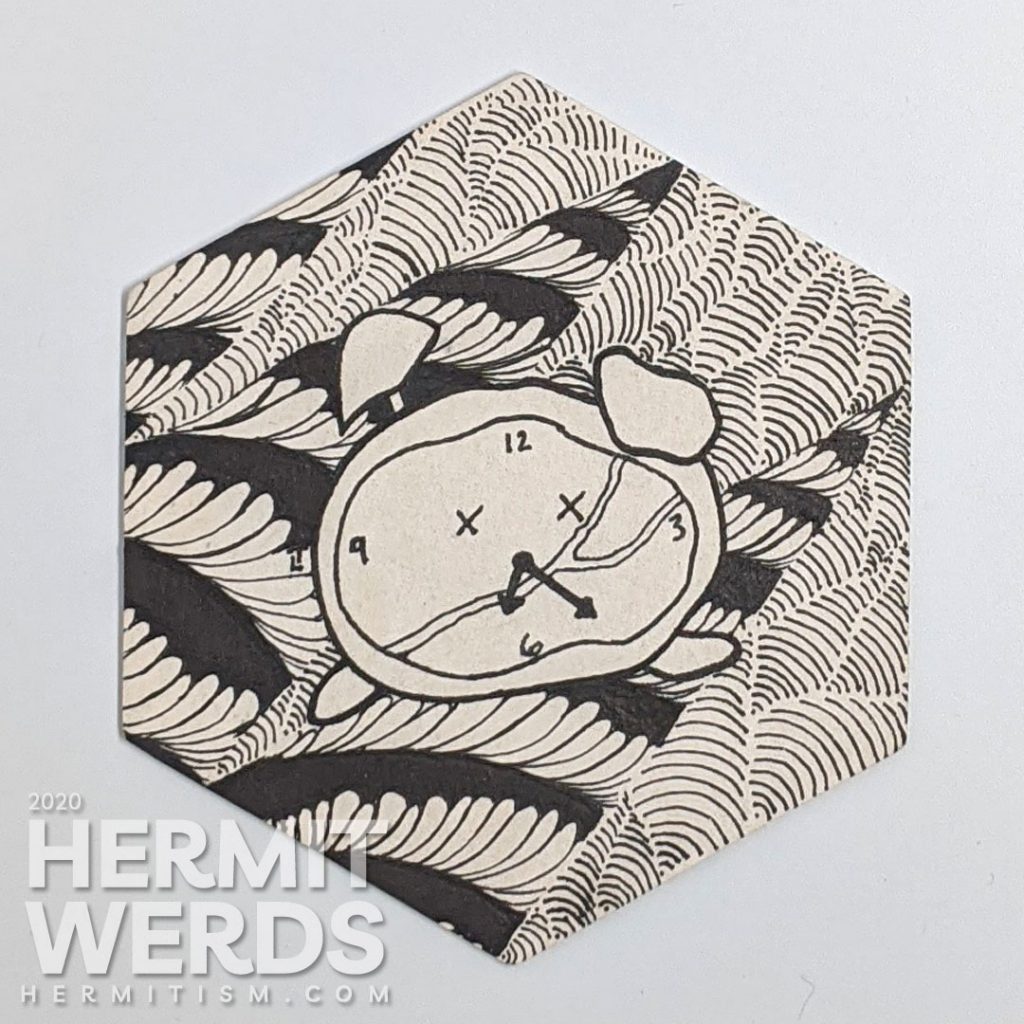 24. Dig
Moles are so cute. I love how big their feet are compared to the rest of their bodies. I…may need to make it a life goal to hold a mole in my sweaty human hands and pet its little head. Does anyone have a socialized pet mole because my life goals shouldn't be about torturing local wildlife? 🤔
For the tangles I used just one bold, new tangle called 2V by Ginny Lu.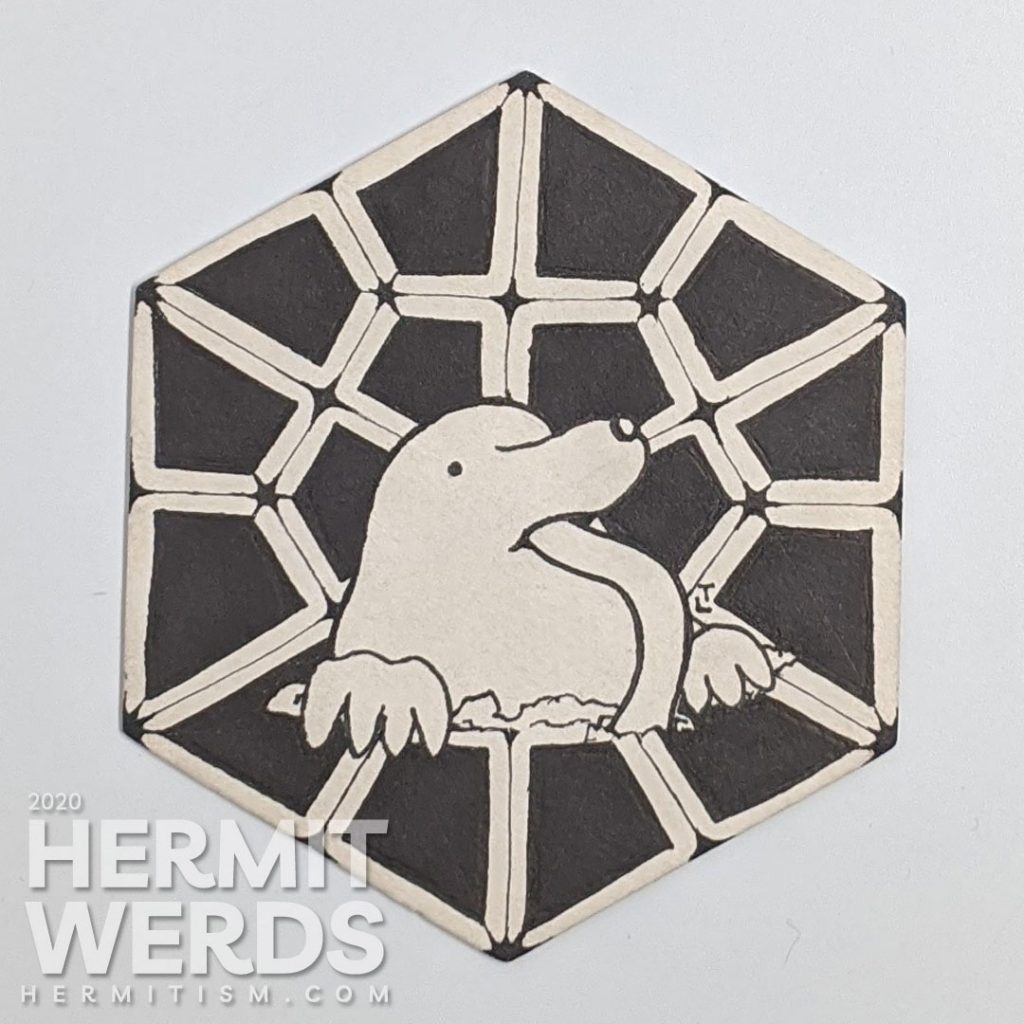 25. Buddy
One day a scorpion asked a frog to carry it across the river on their back since it could not swim. The frog hesitated, fearing the scorpion's sting, but the scorpion assured them it would be safe since it did not want to drown either. So the frog agrees and they set out. Midway across the river the scorpion stings the frog and as they are both drowning the frog asks the scorpion why it had doomed them both. The scorpion replies, "I couldn't help it. It's in my nature." (Read more about this fable on Wikipedia.)
Now on one hand, a totally unfair characterization of the nature of scorpions. On the other, a really great story about not trusting people who are toxic because they will hurt you even when it's not in their best interest. *cough*Go vote!*cough*
Obviously they're still good buddies at the time I drew my picture. What a peaceful scene. 😱
For the tangles I used two familiar tangles: Pip-in and Emingle.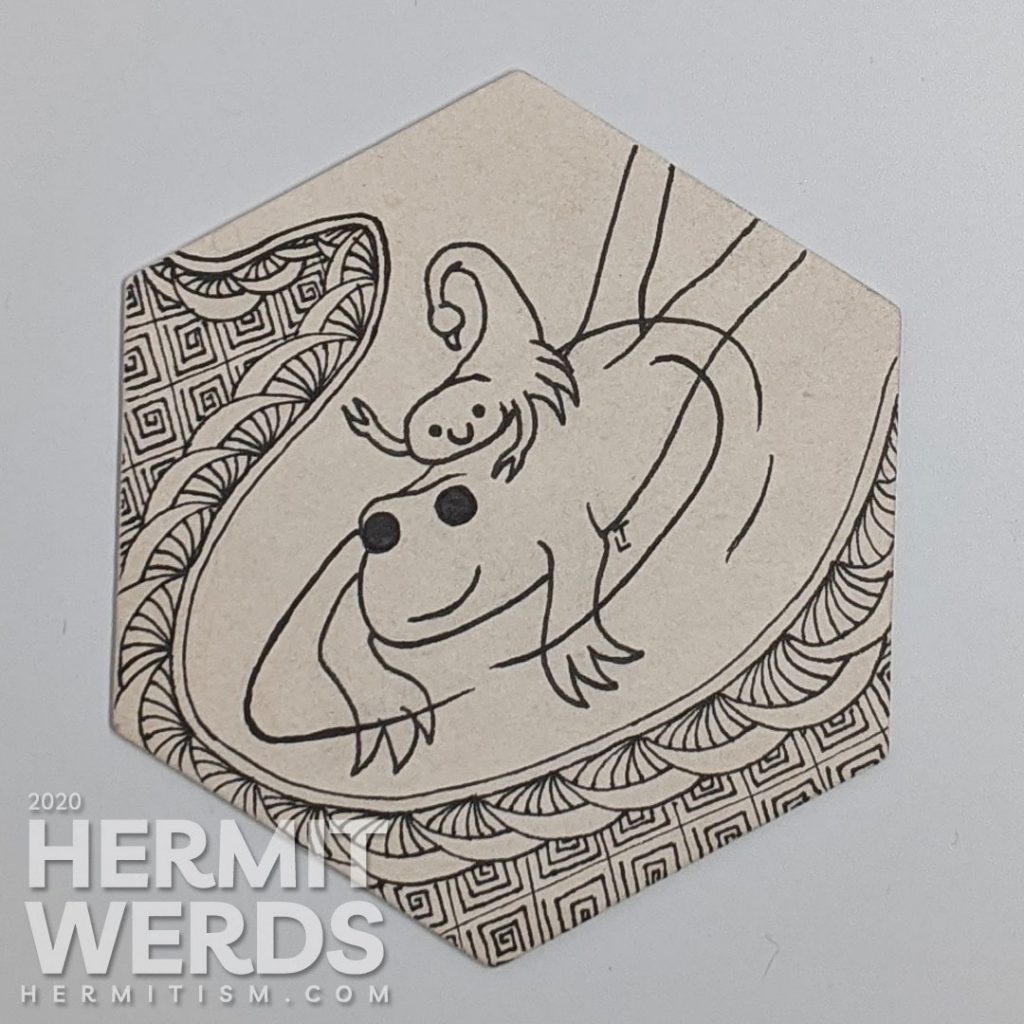 Week 4 is done!
Less than a week left. It would be ridiculous for me to even question that I won't finish (barring death or something big like that). I know I can do this. However, I shall also be grateful to not have an assignment each day in November. I haven't been able to exercise like I was doing before this and I find myself missing it.
Although now it's all cold outside and even snowed this morning so I'm thinking I need a walking treadmill to keep up the new old habits I learned while I was gone. 10K steps in the cold = no thank you. 🥶
Until next time, friends. Since the month ends on Saturday the final post might actually land on Sunday this time. We shall see. 😜