Hello, again! I'd semi-planned to go through a list of all the tools I've been using for this week's post, but I realized with one week left to go, that list could still change. So that along with my final thoughts will be in Week 6. Today we'll talk a little bit about all the different tile sizes and such that the Zentangle® founders, Rick and Maria, have created and marketed. And this does work well in Week 5 because the last three days use Zendalas instead of the regular tiles. First, a list of the different tiles that are 100% cotton, archival, and come in three colors (white, black or renaissance) unless otherwise noted:
Square – 3.5″ x 3.5″
3Z – 3.5″ equilateral triangle
Zendala® – 4.625″ circles
Bijou – 2″ x 2″ square
Opus – 10.5″ x 10.5″
Apprentice – 4.5″ x 4.5″ on Bristol paper
ATC (Artist Trading Card) – 3.5″ x 2.5″, white-only, this is a general art size and not a Zentangle method thing
Then there are several project packs where they send you a bunch of supplies shrouded in mystery (because they'll send you different colors of certain supplies, etc.). (I tend to hate that sort of thing because I always assume I'll get the color I didn't want.) (Stop judging me. It really has happened one too many times. 😝) But the packs do come with projects so that may help if you need more guidance to get into a thing.
My favorite would be Project Pack No. 04, except I hate the scratchy lines they used to draw the chart. I don't know why they chose that style since they are artists and own plenty of rulers. Anyway, you make a Tangle Spinner filled with your favorite patterns and the design of the chart itself is very cool. I kinda want to make something similar to just hang on the wall…
Zentangle Mosaic
Speaking of walls…Bam! 🌋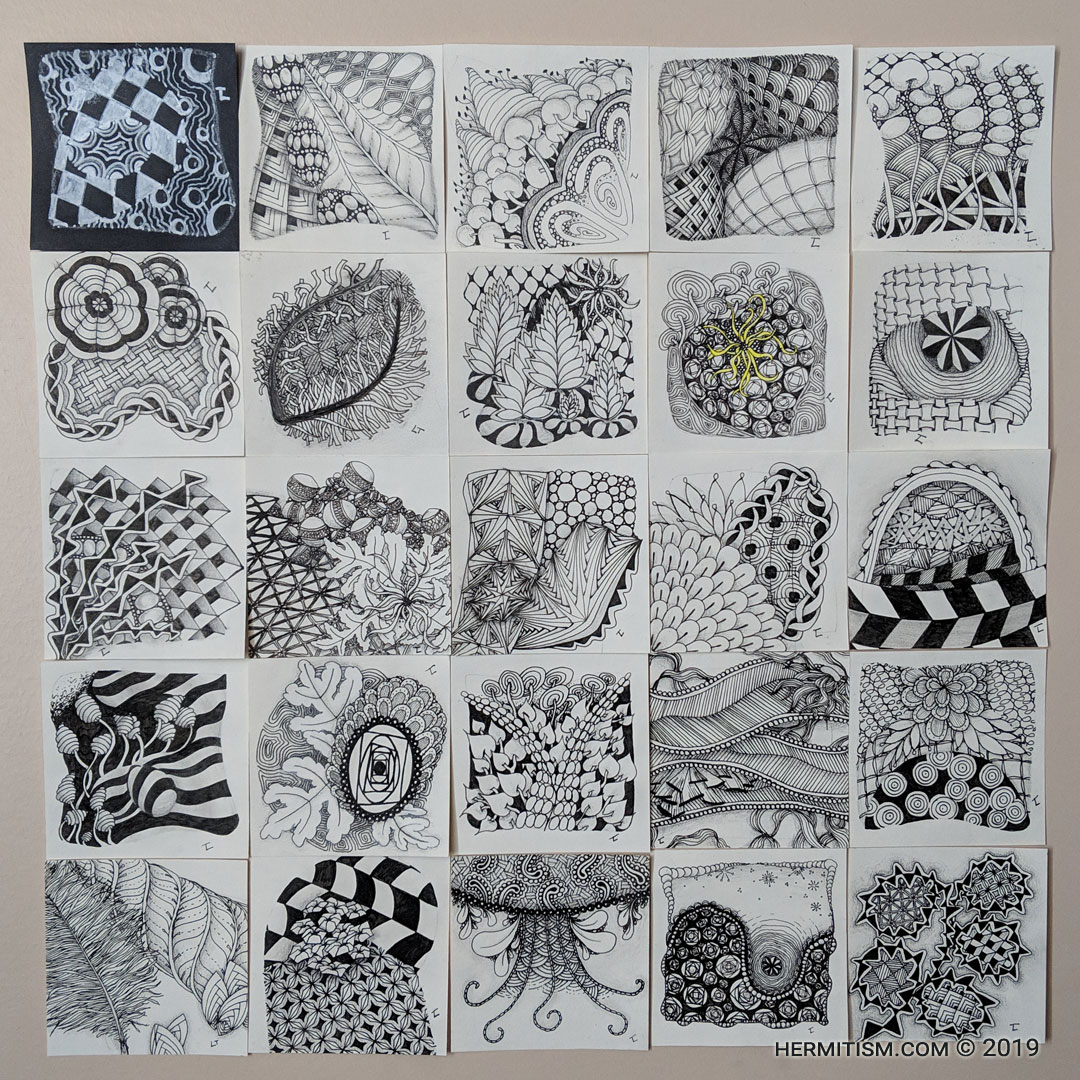 At the start of week 5 you're supposed to create another mosaic with all your tiles and study it to see where you want to grow next. I stuck mine to the wall on Day 32 because I wasn't going to cut out my beginning tiles from my sketchbook and I wanted a full square. So what you're seeing is Days 9 to 32 + an extra tangle. What I found was that my tiles weren't perfectly sized. LOL They're pretty close, but I'm sure the official supplies are cut more accurately. Which leads into Day 36–which, yes, is in Week 6–where the extra exercise is to create an ensemble of your tiles by taping them together and draw your Super Big tangle on that.
And I'm sure some would find that enjoyable, but why not just buy an Opus? It's the same size and then you don't have the edges or those gaps in the corners because the square tiles are rounded. Plus it's more expensive to tape: an Opus is $4.40 and nine squares are $5.14 (shipping not included). I can see where it could be a cool exercise if you changed the paper color or deconstructed into a different pattern as you crossed tiles, but that's not what they are suggesting. They're not even suggesting you make unusual shapes (which could be quite fun if you added in the triangles and mini squares).
I don't get it. But if it's something that works for you, go for it with all your heart. I'll just skip the part where I cut up my paper and use the whole thing. 🤣
Day 29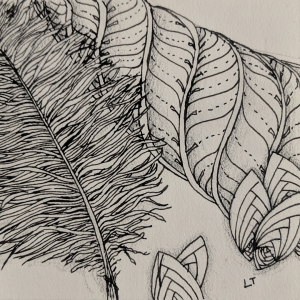 I really didn't want to draw this one. Krahula's instructions were to draw a feather by tangleating Verdigogh and then finish up the tile with other tangles. I just…didn't want to draw a feather because I tend to suck at them whenever I paint them. But all the drawing I've been doing lately did help and my feather didn't turn out too badly. I just don't find it a soothing exercise like Krahula does, unfortunately.
I added some tangleated Betweed to make a kind of pine cone shape and ended with a long strip of Finery. Now that's a tangle I find relaxing. 😉
Finery
Verdigogh tangleation
Betweed tangleation
Day 30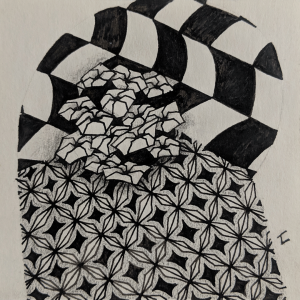 Today is full of tangleations as ordered by the author. I feel like I could have been more imaginative than I was, but I didn't put in enough time experimenting with different tangle transformations. That sort of playing around is as important (and fun) as learning new tangles and I should try to do it more often. While this day's tile didn't feel very special, I did come up with an idea for Shattuck that I used the next day…
Bales tangleation
Festune tangleation
Jonqal tangleation
Day 31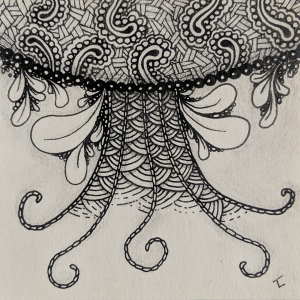 I had a lot of fun with this one. Turning the dividing lines of Shattuck into cute scale-y tentacles was just pure fun. I hadn't planned to fade out the inner lines into nothing, but it felt like it fit as I was drawing them. Meanwhile, the paisley-like tangle, Paizel, is not one of the official Zentangle patterns, but I love it. It's so cute and approachable.
Flux tangleation
Shattuck tangleation
Paizel with perfs
Day 32
Since the book slowed down on teaching new patterns, I started going through tanglepatterns.com's list of official patterns and picking up new ones. So today I added the asterisk-like Ahh to the mix, even though it's not in the book. I've also been slowly going through the tangles I have learned and drawing them out so I can make a page with all of them listed. It's taking longer than I'd hoped because the book is not a reliable source on how the tangles should be drawn. There have been enough discrepancies that I will probably talk about next week. So I'm taking the time to not only practice before drawing them, but researching them as well. I'm just lucky the Tangle Patterns web site has made that research very easy for me. 🙂
I think this is my favorite tile to date. I did bring in an old Micron 03 pen for the finer lines. My fountain pen's nib is a bit thick.
Ahh + Therefore
Gneiss
Vitruvius with perfs
Crescent Moon
Isochor
Day 33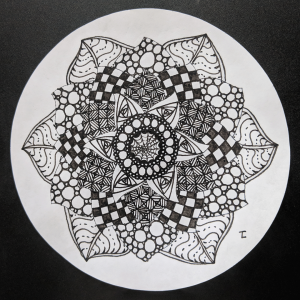 The last three Zentangles for the rest of the week are drawn on Zendala (circle) tiles. Krahula provides a different mandala pattern each day and you transfer it to a tile and fill it in with tangles. I probably should have made more of an effort to print mine on nice paper, but I got lazy and used regular white printer paper.
I also did not shade any of the three because the extra exercises involved doing more with them. I'm not 100% certain I will do those exercises, but for now the tiles remain un-shaded. Because you have to repeat your tangle several times around the mandala, it's both great practice and repetitive.
Finery
Tipple
Knightsbridge
Yincut
Paradox
Onamato
Crescent Moon tangleation
Day 34
I decided to take the classic fret pattern used in Emingle (not in the book) and turn it into a triangular tangleation. But then the fine lines in the 'Nzeppel I drew in the center looked like they did not belong with the bolder patterns. So I ended up going back and adding a bunch of fine lines inside some of my tangleations and then extending 'Nzeppel into another shape. Somehow it came together in the end. And the new pattern feels pretty different from anything I've drawn so far. I'd hesitate to say I made an absolutely new pattern since there are already so many out there I don't know of. But maybe I did!
I really have gotten better about smearing my pen lines, but I got careless again with this tile. *sigh*
Emingle tangleations
Striping
Knightsbridge
'Nzeppel
Day 35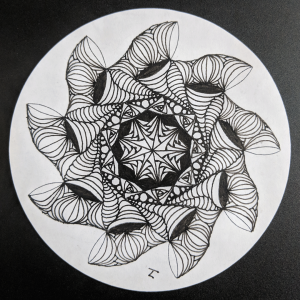 The sample Zendala in the book used Paradox on all of the outer spaces. It looked so awesome it was hard not to copy it. But I'd learned a new tangle called Swells that fit the outer ring of shapes. Then Isochor fit in the second ring of shapes. And now looking at this tile again, I realize that combination is pretty similar to using Paradox on both rings. Well, I tried to be original! 😅
Swells
Isochor
perfs
Paradox
Betweed
Zendalas are not my favorite kind of Zentangle to draw. All that repetition may be good practice, but it also leads to complacency so that I forget what I'm supposed to be drawing and make mistakes. And they take so much longer to finish! I'm just grateful I had my mandala "string" all laid out for me because making my own would have added even more time to it. Although…I suppose once you've drawn one, you can save and re-use it however many times you like.
Color Happened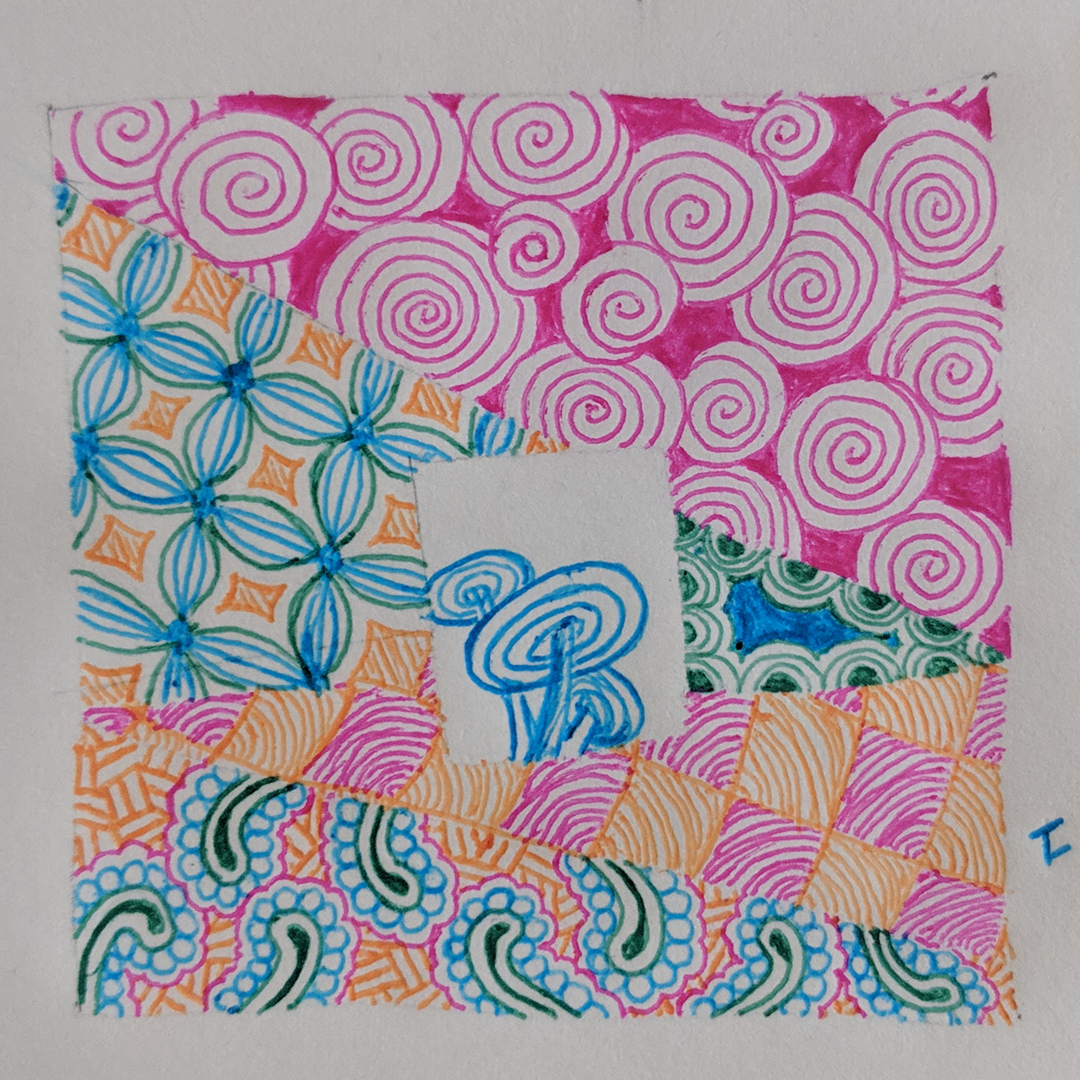 I finally found time to use the colorful pens! The ink flow on them is not great, but that's dollar store pens for you. The rainbow addict in me immediately wanted more colors! More! We'll see what happens after I finish up the book.
One week to go! 😱
(Okay, let's be realistic. I do plan to go through some of the extra exercises so it's probably going to take two more weeks after that to get everything I wanted from the book's suggestions.)
Until next time, friends! 😘