[press sample]
Yes. Today is a day of romance. Possibly. Or less cheerful things if you are alone and unhappy about it. For the record, I will be eating leftovers and not even sneezing in the direction of a restaurant because my husband and I are just not big on these commercialized "special days". We ate out on a day when it wasn't a struggle. LOL
But it is fun to paint heart designs, right? So today I'm reviewing my final two polishes from Born Pretty with Frankenstein's monster and his bride (who by the way actually rejects him so you see how I'm here for you no matter what your situation). So we have a beautiful dark red/burgundy stamping polish called BP-WR01 "Orange Autumn" (#42856) and a tri-thermal polish that looked like blood to me, so of course I wanted it called BP-DT10 Graceful Soul (#43620).
BP-WR01 "Orange Autumn" (#42856)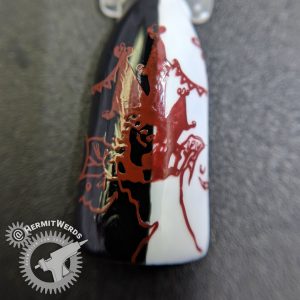 This worked well for me as a stamping polish. Nicely opaque, not thick at all, and yet it did not dry so fast that I had to rush to get my stamping done quickly or it wouldn't work. Now, because it doesn't dry quickly and isn't thick, I did find that I had to be a little more careful about letting it sit for a bit before painting any clear stuff on top to prevent smearing. You can only float the brush so much. LOL
I have not yet used it to paint a nail, but given its opacity when stamping it shouldn't be difficult. I could have hoped that it was a little more red, but given the name I think the slight orange leaning to be expected.
BP-DT10 Graceful Soul (#43620)
I was worried about this one even as I coveted the bloody appearance I saw in photos. Some of the photos made it look more brown than red, which is hardly gory enough for me. My fear was correct but not in a bad way. Because this a tri-thermal polish, sometimes the ends will look brown instead of red. It's all just part of the delights of it and I found I enjoyed the extra shift-iness, even when it showed me how very cold my hands were getting at night. Brrr! Hopefully my photos tell the tale of how much fun this polish is.
I used three thin coats to achieve opacity. Now you'll also notice that at its very hottest (think taking a bath or washing dishes), it ends up having the same finish as my opal white polish. Which is awesome and beautiful, but also sucks if you put a peel off base coat underneath. If any of it separates from your nail (and I have had it separate smack in the middle of my nail before), it will show when in that hottest state and then you may have to remove it early.
Love in the Time of Monsters
I'd initially planned on keeping this simple with just the decals on my middle and ring fingers, but using the stamping polish was so much fun I decided to add a bunch of barbed wire and then suddenly my thumb was included when I was going to be lazy. I love monster manis too much. LOL Plus I've been wanting a good dark red polish for at least a year now.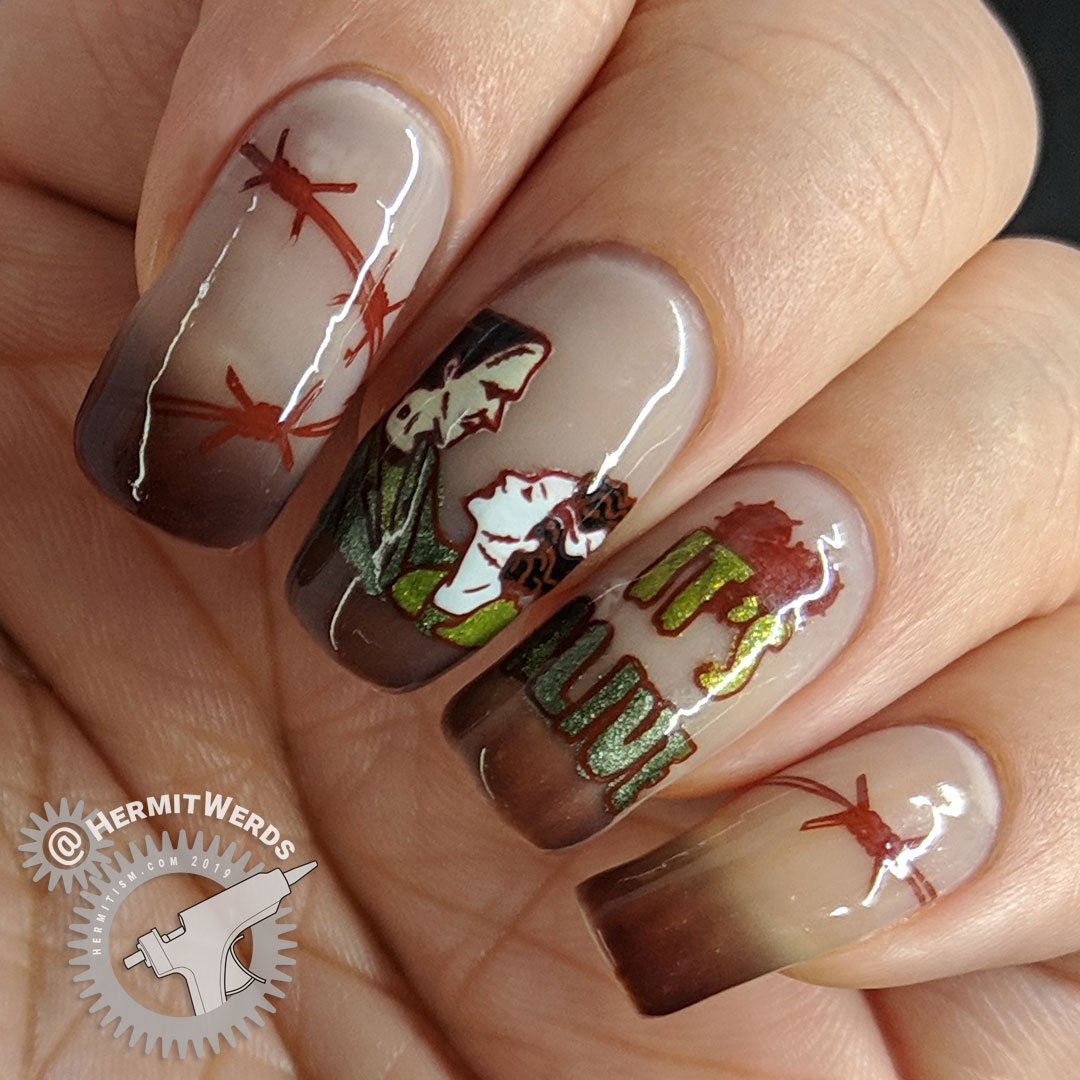 But, wait, I'm sure you're curious to see what it looks like in different states…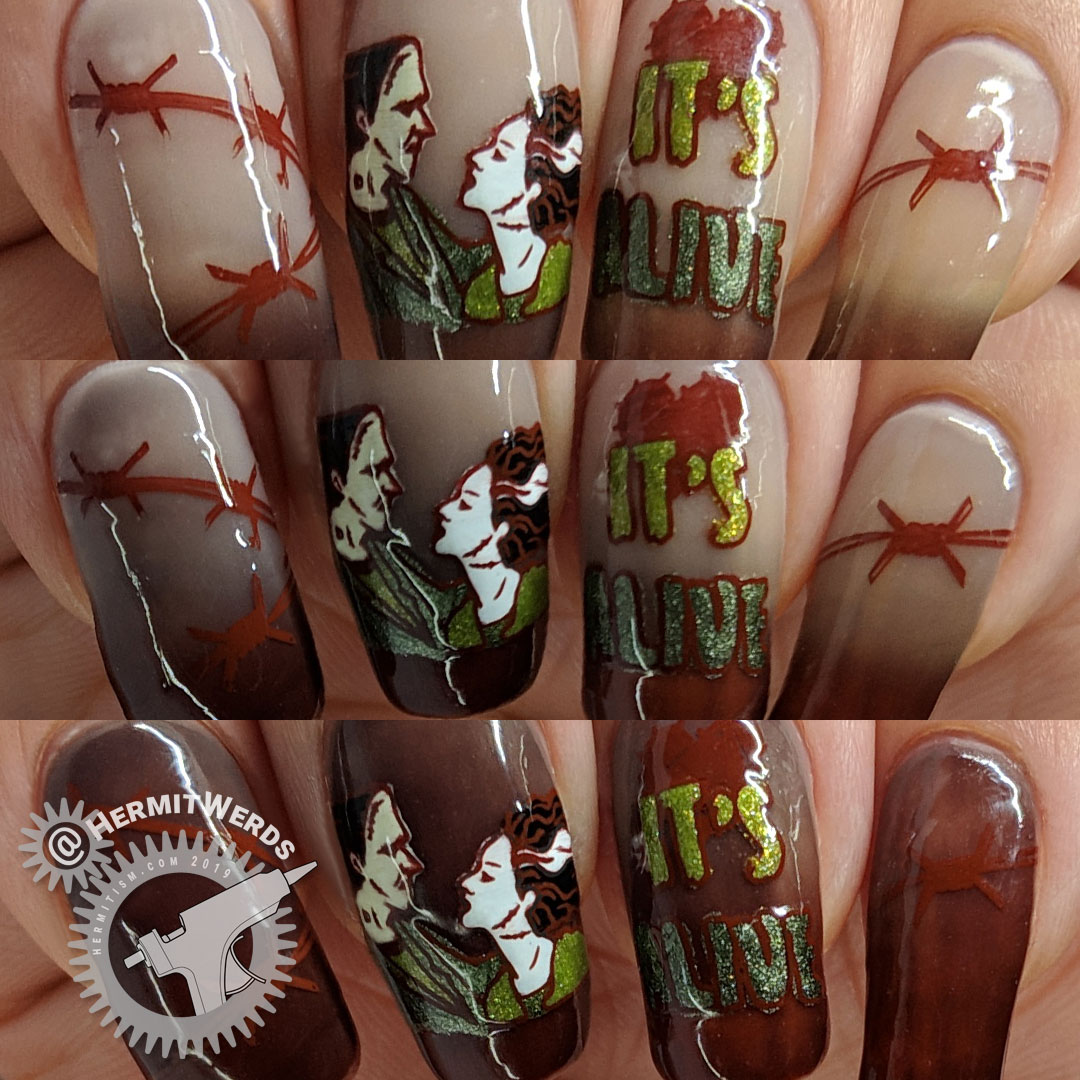 So much fun. 🙂
Products Used
Base Polish:

Born Pretty's BP-DT10 "Graceful Soul" (press sample)

Stamping Polish:

Born Pretty's BP-WR01 "Orange Autumn" (press sample)

Advanced Stamping Polishes:

Butter London "Dosh", L.A. Colors Art Deco "Black", L'oreal "A La Meringue", and Manga Nails "Emerald"

Stamping Plates:

Born Pretty Halloween-L003 (barbed wire heart) and Maniology BM-S248 ("It's Alive" and Frankenstein couple) & Basic Instinct BM-XL301 (barbed wire)
Application was pretty simple once I factored in more drying time for the stamping polish. I was having so much fun with the barbed wire that I took a full-nail image worth and tacked two rows together so I could get one long string on my thumb. So much implied danger!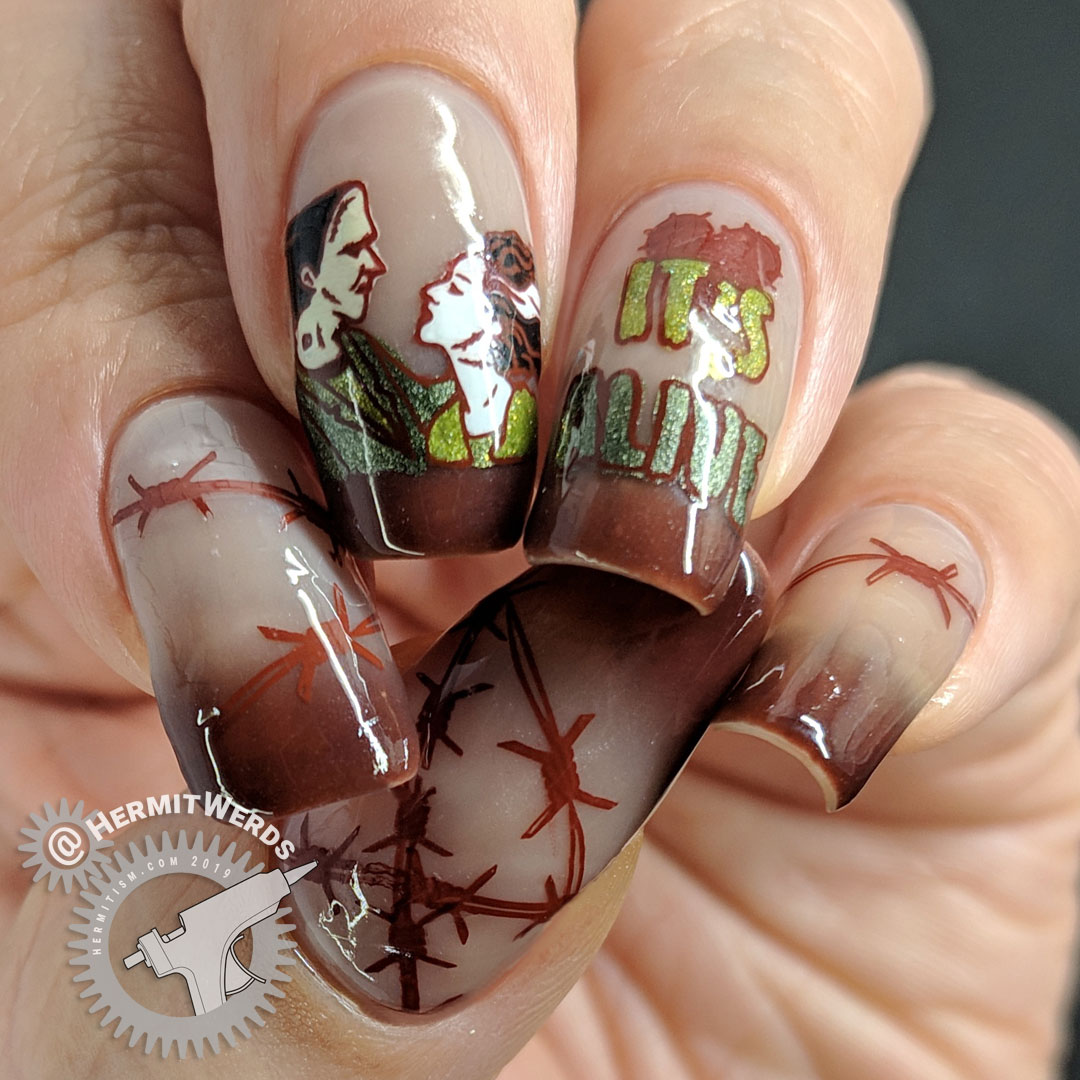 Also, I just realized last night that I have only used little flashes of red in my Valentine's Day manis. I find it incredibly funny that this is the design where all my red comes out and it's because it looks like blood to me. Not morbid at all…no.
Final Thoughts
I'm so glad I asked for these. And it will only be a short time before you see me use "Orange Autumn" again. I've got designs to paint with it that I could not do before because the dark red I had to use for stamping wasn't even beginning to be opaque. I am…unthwarted and unleashed.
If you're interested in either polish they can be found on Born Pretty's website: BP-WR01 "Orange Autumn" (#42856) and BP-DT10 Graceful Soul (#43620).
Thanks so much for sending these polishes to me, Emily. I had a lot of fun with them. And until next time, friends! 😉