I don't know about you but I've been operating with a personal list of holidays I celebrate for a while and it's now bleeding into my nail art. So I had to paint some shark nail art for Shark Week (July 22-29 in 2018). I was looking around without much luck for where I could fit it in and #AZNailArtChallenge had a Lace prompt. Well, we can make this work somehow, I thought and started poking through my stamping plate collection for a lace design that looked like water. I had one stamping plate that fit the bill: Major Dijit-09. It even had two options on it!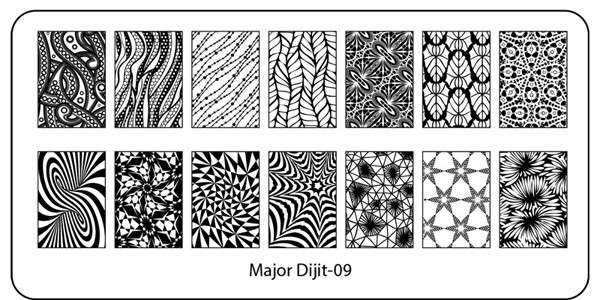 I decided to go with the first one, but there was another problem: the lines were vertical and I needed them to be horizontal. I would have to stamp it on its side and it wasn't wide enough (even for my shorten-ed nails). So I turned to my trusty Pueen double stamper and used the rectangular side to stretch the pattern so I could make it fit. Success! (See photo of just the lacey background further down the page.)
Longer nails?
Now if my nails had still been 2cm long, here's what my strategy would have been: I would have painted my nails a lighter blue for the sky and made stamping decals out of the lace with the polishes I used here, then positioned it in an even-ish line at the bottom of my nail. Then I could have free-handed in the water line and maybe even a delicious, unsuspecting water bird for my shark to nom on. Nom Nom. 😀
New stamper!
I recently received a big silicone stamper head from Beauty BigBang as a press sample. It is the stickiest stamper I've ever used and I'm trying to figure out how to get the best results from it. I really needed a bigger stamping head because, while I have two clear stampers that are just as large, I don't get good results from them (dry climate). With it, I was able to pick up the entire shark in one go. However, it didn't pick up all the polish so I had to go back and fill in parts. I think it's because I was too heavy handed. I'm going to experiment more and you'll get the review once I've figured it out.
And here's a shot with just the background. I love how it worked out. Sinful Colors' "Peri-twinkle" is such a lovely shifty polish and that really works well under the neon blue creme.
Check out all the gorgeous lace nail art from the group and if this collage wasn't enough, there's always the group tag: